News
Nice Guys Do Finish First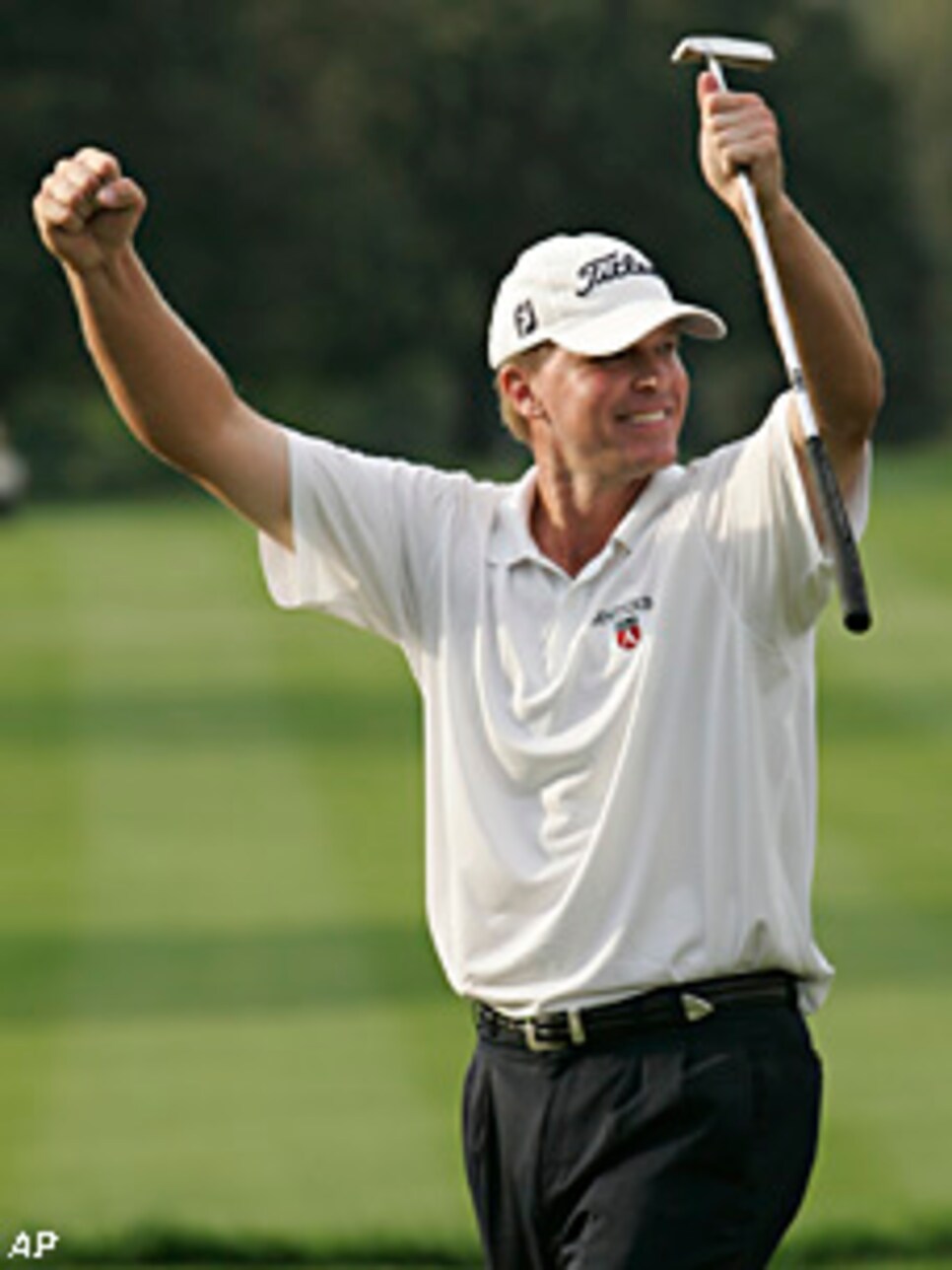 Steve Stricker is a rarity in the world of professional sports.
Back home in Madison, Wis., Steve Stricker is just a regular guy. "That's just the way he is," said father-in-law Dennis Tiziani on Sunday, after "Strick" won The Barclays for his first victory in six years. "When he comes here, when he comes home, he's one of them. He's the one cooking food, making sure everybody gets fed."
Out on tour, Strick's an approachable, down-to-earth, regular guy, too. Maybe too regular, too nice a guy, to be a cold-blooded closer of a golf tournament, especially a big one like The Barclays: Going back to the quote from his father-in-law, it seems like everybody has fed off Stricker as he hit the part of the learning curve where pressure hits the swing changes and the inevitable meltdown occurs. Starting back at Winged Foot during the 2006 U.S. Open, and progressing through the British Open at Carnoustie, Stricker has put himself in position, only to be fast-food for the field on Sunday.
This past Sunday at Westchester C.C. wasn't like that, although there were moments early in the round where it appeared that Stricker would be too soft for his own good. His family could even feel it. Gathered around the TV set at Stricker's home in Madison, Tiziani watched with Stricker's wife, Nicki, his 8-year-old daughter, Bobbi, the wife of caddie Tom Mitchell and the most recent addition of Team Stricker, 15-month-old Isabella Nicole. She was too young to know any better, to have sat and watched the front nine at Carnoustie, where her dad, one of the best putters in the world, missed a couple of three-footers to fall woefully behind in the chase for the Claret Jug. Not Bobbi. "Every time Steve had a putt, she would go behind the couch," Tiziani said. "She'd say, 'Grandpa, is daddy going to win?' ''
Honestly, Tiziani didn't know what to tell her. With three holes remaining at Westchester, it looked like K.J. Choi's tournament. The Korean was dropping cross-country putts on the back nine -- having a 43-footer go in the hole after being redirected by Hunter Mahan's ball marker at 15 to take a one-shot lead. Stricker turned in even par and bogeyed the short 10th and No. 13. With Ernie Els and Phil Mickelson making a move, the first round of the FedEx Cup playoffs looked like it was slipping from Stricker's grasp.
But Stricker didn't disappear. After hanging close to Choi with a 2 at 14, he rattled off three closing birdies for his first win on United States soil since the 1996 Western Open at Cog Hill in Chicago. For clarification, his last victory was the 2001 WGC-Accenture World Match Play Championship in Australia. That was the week nobody showed up and those who did, didn't appear to care. Tiger Woods skipped. Ernie Els got off the plane and toured the course in a cart, beer in hand, and lost to Pierre Fulke in the semis. Vijay Singh lost early to Toru Taniguchi. Stricker beat Padraig Harrington, Scott Verplank, Justin Leonard, Nick O'Hern, Taniguchi and Fulke in the finals.
At the time, Stricker was 91st in the World Rankings and had not made a cut on the PGA Tour since the previous July. Bobbi was born in 1998, moving wife and caddie Nicki off the bag and into the role of mother. Stricker went into a slide, and it was blamed on a combination of Nicki not being there with him and the love of hunting over hitting balls. In truth, he asked Nicki to quit her day job and take care of Bobbi because he didn't want the friction hurting his marriage. It took the impending birth of Nicole for him to get out of the tree stands in Wisconsin and into Tiziani's three-sided mobile home that serves as a hitting bay at Cherokee C.C. in Madison.
"It seemed like every time Nicki and I have had a baby I've had a good year," he said. "I think just maybe it puts me more at ease or whatever. But during that time when I wasn't playing so well, I got into some bad habits before we had children and I ended up firing my wife as a caddie, basically, because things were not working out so well and I didn't want anything to come between her and I. When she's on the road with me every week out of the year, caddieing, seeing her 24 hours a day, seven days a week, to not seeing her, it was hard. Probably could have been an excuse somewhat, but I'm over that. They understand that this is what I need to do. I understand that I need to be out here and they understand that this is where I need to be, and she's very supportive that way. It helps to have a good wife at home."
After missing his card at Q School in late 2005, Stricker literally dug it out of the snow, hitting ball after ball in a sweatshirt by the warmth of a space heater as the drifts built at Cherokee. According to Tiziani, the golf coach at the University of Wisconsin, Stricker got his arms back out in front of his body, got the core rotation right, dropped the idea of a flat wrist on his backswing, and he started to find the golf course again.
"We do a lot of hunting together," Tiziani said. "When you leave camp and can't get back, you're lost. Steve needed to get back to where he was. He was the 11th-best player in the world (in the late '90s). There were things we worked on since college, but like all players, they think they can do it a better way, so they search for a better way. He just needed to go back to the things that worked for him when he started. To his credit, he got out by himself and he got back in by himself. What comes first, confidence or good shots? I tell him neither, fundamentals."
After going to David Leadbetter and Butch Harmon, Stricker had to figure it out for himself. "He just had to process it," Tiziani said. "You can see by the way he puts his socks on, by his hunting room at home, everything has its place. Watch how he cuts his lawn, how he eats, he's a process guy. He's been that way since college."
A third-place finish at Houston in 2006 was the first indication that Stricker has resurfaced. He went on to win Comeback Player of the Year and was on leader boards again this year at Quail Hollow (Wachovia), Oakmont (U.S. Open) and Congressional (AT&T National) before finding a way to lose. Stricker thought they were building blocks, while everybody else said they were choke jobs.
"The deal was to keep getting in that position," Tiziani said. "That resilience he had to have, he does have it, he has to have it. He just had to keep getting in that position. As unassuming as he is, sometimes that's not good. He just had to get a little tougher. You've got to anticipate it. He took two good hooks by Choi and he stayed in there. He's going to be good for quite a while to come. He's just now maturing."
At 40, Stricker showed us that it's OK for a grown man to cry. He teared up during the greenside interview with Peter Kostis, again in the media center, again on the Golf Channel set, and again Sunday night, when the plane touched down in Madison and the family was there to greet him.
It also helps to have a good husband at home, as Nicki and the kids had on Monday when they celebrated Bobbi's upcoming birthday -- she turns 9 on Aug. 31 -- and cooked his pork tenderloin and brats on the grill. Tuesday, he was out with Dennis cutting trails to the deer stand, getting ready for winter. Steve rode point on his four-wheeler while Dennis followed along behind with a brush hog, clearing a 72-inch pathway in Wisconsin woods, "Here's a guy on top of the world and nothing had changed," Tiziani said. "That's the kind of guy he is."