News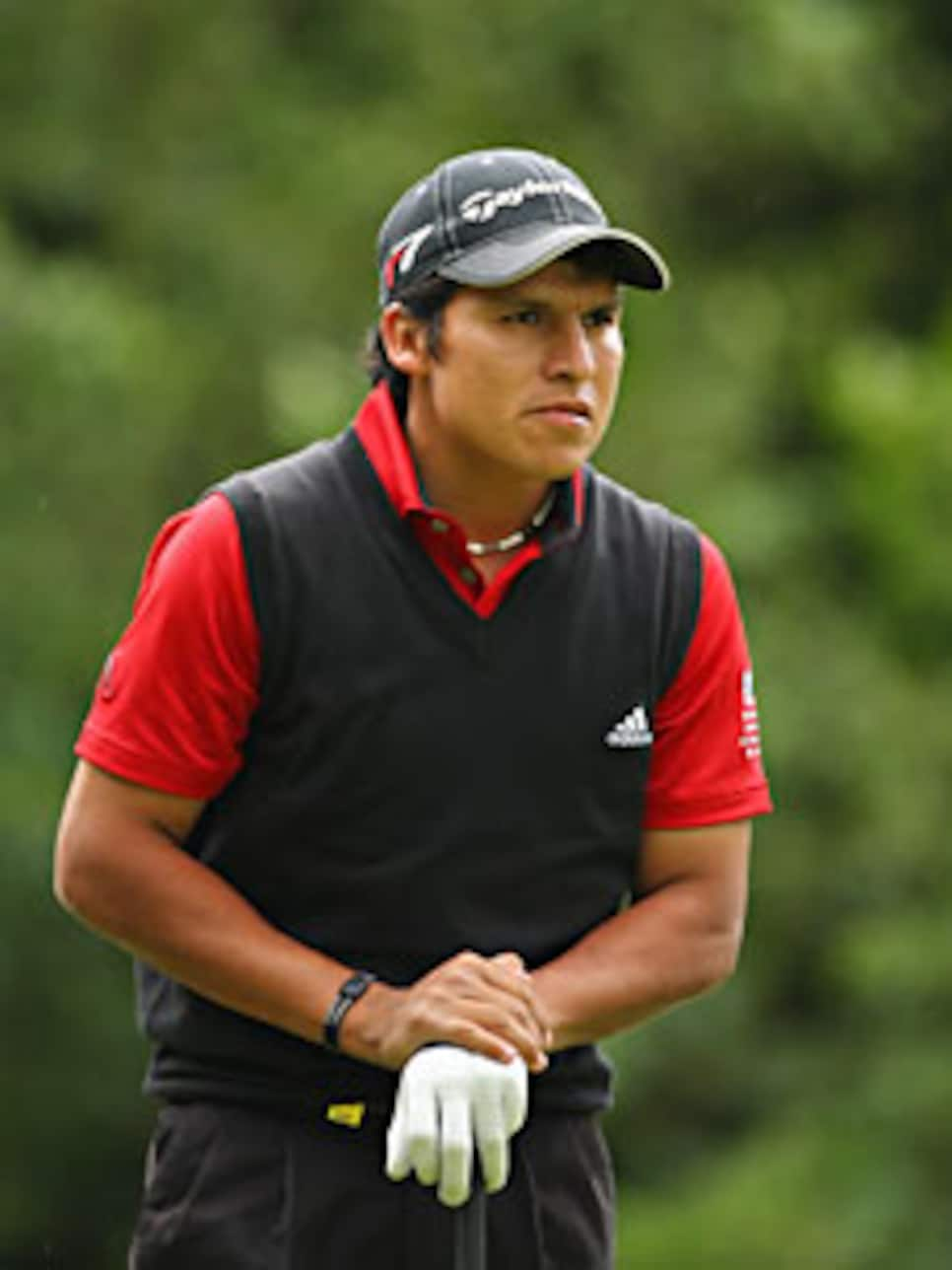 10 birdies in 16 holes made the golf world take notice.
AKRON, Ohio (AP) - Ian Poulter set the stakes at $20 a hole in a friendly skins game Tuesday afternoon at Firestone Country Club, but then he backed away from his tee shot and looked over at Andres Romero.
"Hang on," Poulter said. "You were third at the Open, won in Germany. Let's see ... that's $1.5 million the last two weeks. We can play for whatever you want."
Romero struggles with English, but the 26-year-old Argentine understood enough that a smile creased his face.
He was still smiling some two hours later when he smashed his tee shot down the middle of the 464-yard 18th hole at Firestone, leaving him only a sand wedge to the green that he spun back to 8 feet. Poulter stuck out the end of his putter and nudged him in the back, but Romero still curled the putt in the right side of the cup.
It has taken Romero eight years to find his way since turning pro at age 16.
He spent one year in Europe's minor leagues before earning his card, finished 35th on the Order of Merit as a rookie on the European Tour and turned just about every head along the way.
"He just makes it look so easy," Graeme Storm said. "He's fearless."
The rest of the world is just beginning to find this out.
Romero sent shock waves across Carnoustie two weeks ago when he made 10 birdies in 16 holes on a track reputed to be the toughest links course in the world. Even with a double bogey from the gorse, he found himself leading the British Open with two holes to play when the pressure caught up to him.
Opting for an iron out of the rough, his ball shot into the Barry Burn, ricocheted off the stone walls some 50 yards across the adjacent 18th fairway and out-of-bounds by about a yard. Romero's first instinct was a 3-wood, and he went back to that for his fourth shot with an incredible play to 25 feet, allowing him to escape with only a double bogey.
He caught one more piece of bad luck on the 18th when his par putt spun out of the cup. He wound up one shot out of the playoff, which Padraig Harrington won over Sergio Garcia.
Instead of sulking, he found a small measure of redemption seven days later when he fired at every flag and won the Deutsche Bank Players Championship of Europe, moving him up to No. 29 in the world. That was enough for him to qualify for the Bridgestone Invitational, an $8 million World Golf Championship that starts Thursday.
And it keeps getting better.
No sooner had he walked off the 18th green than someone mentioned he would be playing with Tiger Woods the first two days.
But he couldn't find the right word to explain what was going through his head.
"I had a third at the British, a win, now playing with Tiger," he said through Nelson Silverio, a bilingual PGA Tour official. "It's great. I didn't even have this tournament on my schedule, and now to be paired with the No. 1 player in the world ... it's complicado."
He shook his head, and spoke again to Silverio.
"There's a lot going on," he said. "And I'm just really looking forward to it."
Maybe it was just a coincidence, but the International Federation of PGA Tours announced on Monday that the Tour de las Americas had joined as an associate member. The Tour de las Americas is based in Venezuela and staged 14 events last year. Whether it's the next bastion of golf remains to be seen, but South America is flying high these days.
Angel Cabrera won the U.S. Open at Oakmont by beating the top two players in the world ranking, Woods and Jim Furyk. Then came Romero, who came within two holes of giving Argentina another major champion.
"He has a lot of quality, a lot of ability," Cabrera said, before reverting to his native tongue. "Mucho, mucho talento."
They were teammates in the World Cup last year in Barbados and one shot out of the lead going into the last round, when the putts stopped falling and they had to settle for a tie for fifth.
Romero had won a tournament in Argentina and was on his way to Munich to resume his European Tour schedule when he watched the final round at Oakmont as Cabrera surged into the lead and delivered Argentina its first major in 40 years.
"He definitely inspired me," Romero said. "It was great to see him won on TV, and I think it opened my eyes and told me that I could do this, also. It not only helped me at the British Open, but it inspired me to win last week."
Along with talent, Cabrera sees a desire that comes from starting with nothing.
Romero was born in Tucuman and grew up in a poor section of Yerba Buena, a short walk from a golf course whose members made their money in the sugar industry. He watched them play, took a job as a caddie at age 10 and was taught by an uncle, who gave him his first full set of clubs when he decided to turn pro as a teenager.
There are times when Romero looks a lot like Garcia did when he was a 19-year-old in 1999, giving Woods all he could handle in the PGA Championship at Medinah. He has a powerful array of shots, and he rarely considers the danger.
Even with his brilliant play at the British Open, he is still somewhat of an unknown. And he figures to be lost in the crowd playing with Woods, a five-time winner at Firestone.
"They'll know who I am," he said, pausing to smile, "because it's in the pairing sheet."