News
Does It Get Any Better Than This?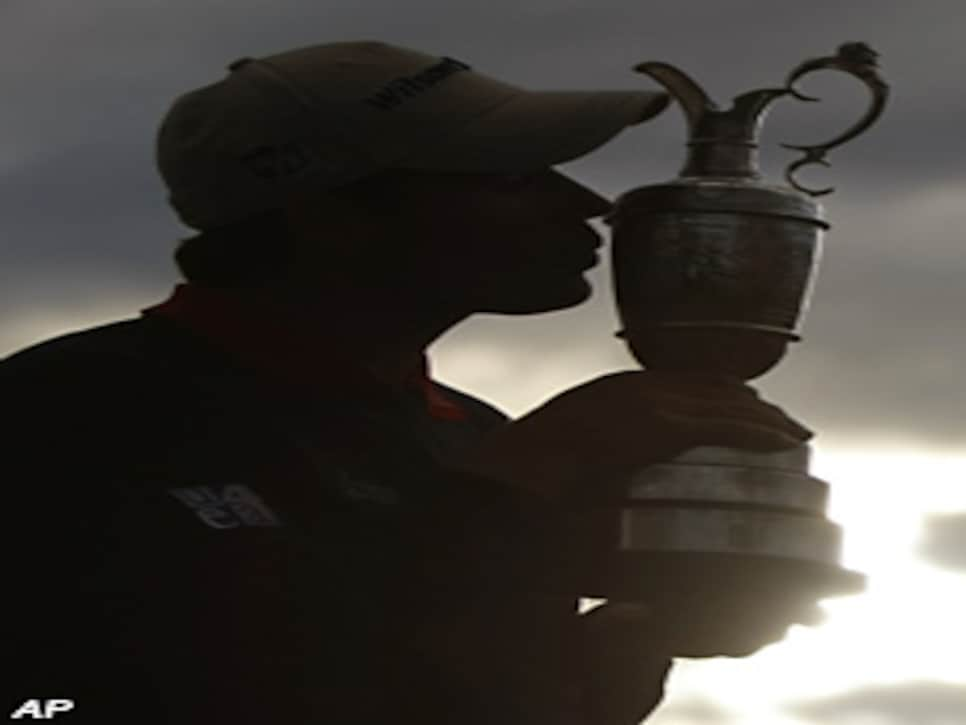 Is this the greatest prize in golf?.
Do we really need to have another conversation about why the British Open is the best major in golf?
Perfect venue. Perfect setup. A course that would yield to good shots -- Andres Romero made 10 birdies in a stretch of 14 holes -- but punish wayward shots. Romero made one bad swing, on the 17th tee, and paid with a shank from the deepest rough on the course and a double bogey that killed his chances.
And what about the Greek drama (or tragedy, depending on which guy you were backing) that played out between Padraig Harrington and Sergio Garcia? The last two hours of the tournament were absolutely riveting -- reminiscent of the back nine battles at Augusta in the late 1990s. The consensus in our area of the press room was that this was the best major in terms of drama since the Tiger Woods-Bob May PGA shootout in 2000. Personally, it's the best I've seen since Tiger won by 12 in his first Masters start as a professional in 1997.
In a 20-minute stretch, Garcia went from a shot ahead to two behind Romero, and Romero went from leading the tournament by two shots on the 17th tee to trailing a completely different player -- Harrington, who had eagled 14-by two shots when he finished the hole. Because the last two holes were so hard, no lead was really safe. Harrington seemingly gave the tournament away by hitting into the burn twice on 18, then Garcia couldn't close the door with a par on the toughest finishing hole in golf.
Trailing by two in the playoff, Garcia hit a heroic approach shot from the deep left rough on 18, only to miss a putt on that green for the second time in 45 minutes. He didn't just lose the British Open once. He lost it twice.
In the aftermath, we also got to see just how raw the emotions are for both the winner and loser. Harrington was frank about what the double bogey on 18 would have meant to his career had it cost him the Claret Jug. "I don't think I ever would have recovered from it. I would not have been a competitive golfer again."
And Garcia was still punch drunk in the interview room 30 minutes after the finish, railing about having to wait for an attendant to rake the bunker on 18 in regulation, and implying that his career is cursed with bad luck. "I should write a book on how to not miss a shot in a playoff and shoot 1-over," he said. "It's the way it is. I guess it's not news in my life."
In his acceptance speech, Harrington said Garcia was young and would win plenty of majors. But after this kind of gutting, it's hard to imagine he'll get over the devastation any time soon. Right now, he's not even pretending he will.
Can we just skip Southern Hills and get started on 2008?