News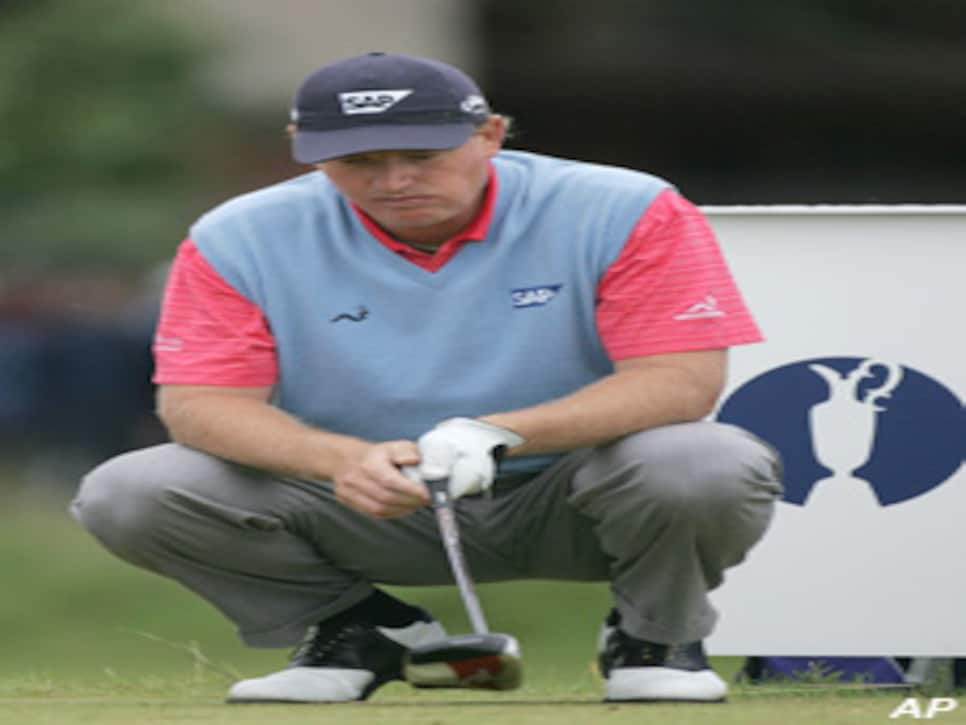 One wayward tee shot might have been the difference for Ernie Els.
CARNOUSTIE, Scotland (AP) - With apologies to all weekend hackers, there are no mulligans in golf.
He should have been right in the thick of things at the British Open after making six birdies Saturday. Instead, he could only grumble about what might have been, knowing he'll go to the final round needing to overcome a disheartening six-shot deficit to Sergio Garcia.
"I had a lot fun," Els said, "if not for one bad tee shot."
One bad swing. That's all it took for Carnoustie to show its bite on a day when plenty of players had their way with the hallowed links. Els was among them, joining 26 others in breaking par with a 3-under 68.
Of course, the South African could easily envision signing for a 64 -- 65 at worst -- if only he had been allowed a do-over at the sixth hole, a privilege held dear by those who play the game for fun. That would have put him within striking distance of Garcia, close enough to put some real heat on an emotional young player still seeking his first major.
"You can play really well," Els mused, "and you can have a bad swing here and there and make a big number."
This isn't baseball, where a batter can miss with his first two swings and still hit a grand slam. Every golf swing goes on the card, and the number goes even higher when you pull your tee shot out of bounds, as Els did at No. 6.
He wound up with a devastating triple bogey on the 578-yard, par-5 hole, known as "Hogan's Alley" and rated the next-to-easiest hole on the course this week.
Most players, Els included, view Hogan's Alley as a convenient place to shave a stroke off the score, especially when it's playing downwind as it was in the third round. A par is acceptable. Make bogey and count on walking away disappointed.
Well, imagine how Els must have felt putting down 8 -- a snowman in golf parlance -- on his card. Of the 70 players who passed through Saturday, 27 made birdie, 29 took par and eight more settled for bogeys. Only Els and little-known Frenchman Gregory Bourdy scored worse than double bogey.
"I'll take 6 right now," Els said, as if pleading for a second chance. "But 8? It's hard to come back from there."
Actually, Els made quite a comeback. He birdied five of the last 11 holes, leaving him with a 3-under 210 that at least provides a glimmer of hope. But he can't bear the prospect of sitting there Sunday night, watching Garcia take custody of the claret jug after holding off Els by two or three shots.
"It's kind of in his hands now," Els conceded.
The course dubbed "Car-Nasty" for the way it roughed up the world's best golfers back at the '99 Open is much tamer this time around, with wider fairways, thinner rough and softer greens.
The feared gusts off the North Sea have yet to rustle. It's been damp and chilly and gloomy most of the week, but that's to be expected in a Scottish summer.
But Carnoustie isn't considered the toughest links course in championship golf for nothing. It can still show its teeth when a player lets his mind wander. If the hands are a fraction off or the hands come through the swing a split-second quick, a hefty penalty will often be assessed.
Els wasn't the only contender who blew up on one hole. Miguel Angel Jimenez was 1 under for the round until he took a double-bogey 7 at the 14th. Boo Weekley took a double bogey at the par-3 eighth and faded from contention with a 75. Lee Westwood isn't likely to be a factor Sunday after doubling the 12th.
Ian Poulter got as low as 5 under on the day before Carnoustie's brutal finishing stretch showed its teeth.
Poulter drove into a gorse bush at No. 15 and wound up with a double bogey. He also hit into the Barry Burn, took two more bogeys coming in and signed for a 70 that could have been so much better.
"Two bad golf shots on a day that was pretty flawless," Poulter said, sounding a lot like Els. "I could have been 8-under par, 9-under par. It was flawless until I struggled with the tee shot off 15."
Els had someone to commiserate with right in his group -- playing partner Paul Broadhurst also knocked one out of bounds at the sixth and made a double bogey. In other words, one twosome accumulated a total of 15 shots before moving on to the next hole.
"It made me feel a bit better when I saw Ernie Els go out of bounds as well," Broadhurst quipped.
Like Els, the Englishman bounced back with a 31 on the back nine. He, too, is sitting on the fringe of contention at six shots back. He could have been much closer.
"Some seriously mixed emotions all the way round" is how Broadhurst described it when the day was done.
"I had a great start, a nightmare middle and dream finish," he added. "I've experienced everything today."