News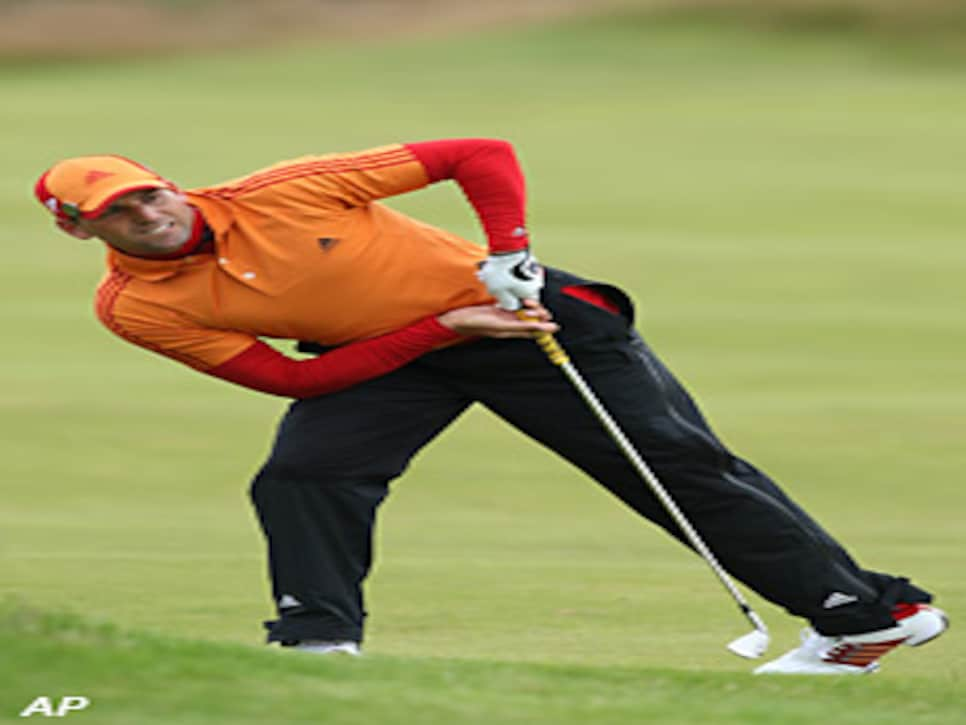 The finish line is in sight.
CARNOUSTIE, Scotland -- They've booked a parade for Carnoustie on Sunday.
Now, it's just a question of if it goes off as planned.
Sergio Garcia has played himself into position to be the only active major championship winner in his 20s. And holding up the Open Championship Trophy wouldn't be the only accomplishment late Sunday afternoon. He'll be unloading a career's worth of luggage.
Since 1999, Garcia has been the Next Great Hope -- the guy who was supposed to be the dynamic, young, and cocky foil to Tiger Woods. For a week every two years, at the Ryder Cup, he's looked like that guy. Just on his record in that competition alone (14-3-3), he's earned status as one of the elite golfers in the world--somebody who belongs in the same conversation as Woods, Phil Mickelson, Vijay Singh and Ernie Els.
It's just the rest of the stuff that's gotten in the way.
We all have growing pains. Sergio's have just been on television. He's been famously immature -- throwing a shoe in anger after slipping on a tee shot and spitting into the cup after a bad hole. He's done some bizarre things, like twitch the club 20 or 30 times over the ball in his pre-shot routine in some kind of agonized ritual. He's had some of the most schizophrenic television interviews in sports -- where he ping-pongs between proud of shooting 66 and resentful that he isn't getting as much attention as other players.
And he's crashed and burned on Sunday with startling regularity. Last year at Hoylake, Garcia yipped his way out of the picture by the third hole in his final-round pairing with Woods, the second time he's not been ready for prime time in a major championship pairing with the World No. 1.
"The way I'm hitting the ball this week, it's right there for me to take," he said, after shooting 68 and building a three-shot lead over Steve Stricker. "Tomorrow could be a very memorable day."
It's easy to say from a desk out of the rain and wind at Carnoustie, but Garcia's job on Sunday is pretty straightforward. He can take all the drama out of this tournament by playing the front nine in what has been real par this week--3-under 32. That would give him the cushion he needs when he gets to the scariest finishing holes in golf in 17 and 18.
Garcia's fireworks on those two holes Saturday show just how fine a line you tiptoe. At the 461-yard 17th, he yanked his approach 20 yards left and beaned a photographer. From a nasty downhill lie in the wispy grass, he pitched to three feet and saved par. A worse bounce off that guy's neck and Garcia would have been lucky to make 6.
On 18, laying back off the tee is an option on the 499-yard par-4, but the fairway pinches in short, with a burn on the right and out-of-bounds left. Garcia hit 2-iron again, this time into the deeper rough, then blasted his approach shot to 10 feet. Miss anywhere on the left half of the green there and the ball caroms over the out-of-bounds stakes that line the side of the green. Jean Van de Velde proved in 1999 that even a three shot lead over the final two holes wasn't safe.
What does that mean for Sunday? If one of the seven players tied for third at 3-under -- say, Ernie Els or Padraig Harrington -- can come out and play the first three holes in 3-under before Garcia tees off, it could get interesting. Or, if Steve Stricker continues to channel Ben Hogan with a putting stroke, we could get some final pairing drama.
More likely though, is that coronation Garcia has been waiting