News
Garcia holds steady; Tiger seven back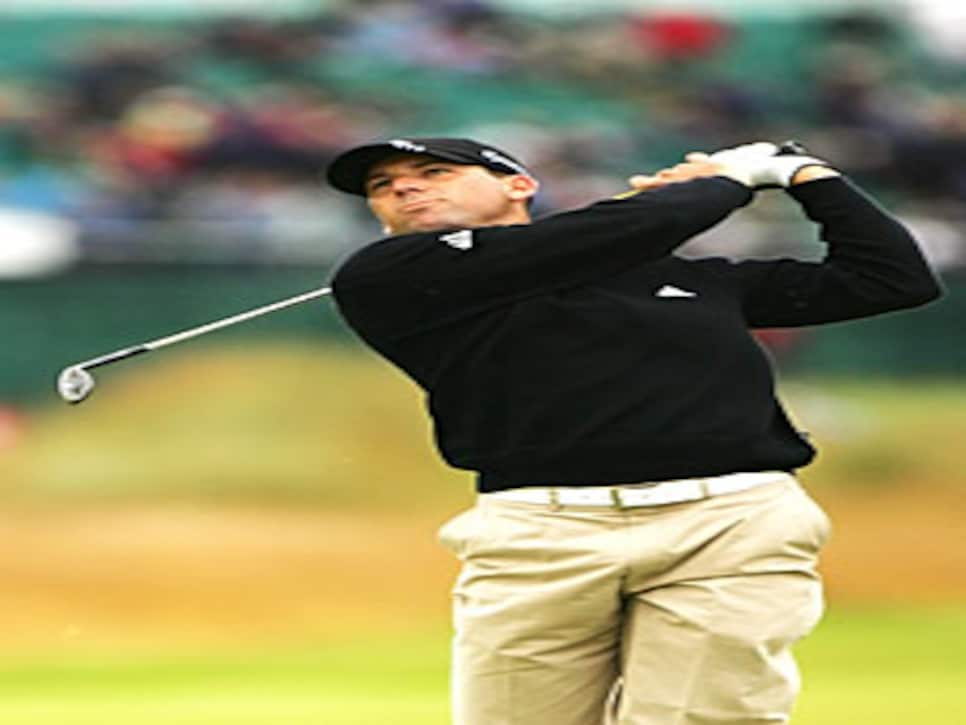 Garcia will enter the weekend seeking his first major win.
CARNOUSTIE, Scotland (AP) - Instead of charging, Tiger Woods got in trouble on his first swing of the day at the British Open.
Woods yanked his opening shot into the Barry Burn, looking on in disbelief as the ball dribbled into the meandering stream. He limped home with a 3-over-par 74 that left a daunting seven-shot gap between him and leader Sergio Garcia.
The world's best player has plenty of work to do this weekend if he wants to become the first in more than a half-century to win a third straight Open championship.
Garcia followed a brilliant 65 with a workmanlike, even-par 71, sinking the sort of testy putts that have bedeviled him through his career.
"I managed to not make many mistakes," he said. "I didn't play as well as yesterday, but I was quite consistent."
K.J. Choi, who has two PGA Tour wins in the last two months, made a spirited run at Garcia with a 69. The South Korean got within a shot of the top spot before a bogey at the brutal 18th hole left him two back at 4-under 138.
"I didn't think I would be in this spot going to the weekend," Choi said.
After opening with a fine 69, Woods stepped to the first tee with an iron in his hand, intending to play if safe on the 406-yard hole. The burn curls in front of the fairway, then fades away down the left side -- not much of a threat unless a player really messes up.
Woods did, his right hand flying off the club as a course worker frantically waved behind him, signaling the ball was heading left. Way left.
It bounced a few times and hopped into the creek.
Woods managed a weak, pitiful smile and slowly shook his head as he looked at his yardage book. He needed a do-over and wound up with a double-bogey 6 on the hole, a grim start to a 3-over 39 on the front side that knocked him off the leaderboard.
He closed with a bogey on the stingy 18th for a 1-over total of 143 at the midway point.
Hey, at least Woods will be around for the weekend. Phil Mickelson seemed destined to miss the cut in his second straight major after slumping to an ugly 77 for a 148 total.
"I thought I was playing a lot better than this," moaned Mickelson, who has only one top-10 finish at the Open.
He had to take a one-stroke penalty at No. 2 after his ball plugged into the soggy turf. On the PGA Tour, he could have taken relief for an imbedded lie, but not under the Royal & Ancient rules.
At the 18th, Mickelson lost two more strokes. He drove into the Barry Burn, wound up missing a 3-foot putt and took double bogey.
Garcia had his eyes on a bigger prize than just making the cut.
After making seven birdies Thursday on a course that reduced him to tears eight years ago, the emotional Spaniard settled for a nice, solid round on Day 2, which began under ashen skies but morphed into a brilliantly sunny afternoon along the North Sea.
A year ago, Garcia played with Woods in the final group Sunday but never seriously challenged for the championship, fading to a tie for fifth.
Now, it's Woods chasing Garcia, who has switched to a longer putter that lodges in his belly. The new club seems to be working; other than a three-putt bogey at No. 4, Garcia's stroke on the green was confident and true.
"I just feel a bit more comfortable than I did with the little putter," he said. "Under pressure, I think I can put a better stroke on it."
Spain's Miguel Angel Jimenez had one of the best shots of the day, nearly making a hole-in-one at the daunting, 248-yard 16th. His tee shot stopped just inches beyond the cup for a tap-in birdie, on the way to a 70 that had the "Mechanic" solidly in contention for his first major title.
Garcia, Jimenez and all the other Europeans are trying to break the continent's eight-year drought in the majors. Scotland's Paul Lawrie was the last to win one, at this very course in the '99 Open -- which, of course, is mostly remembered for its brutal conditions and Jan Van de Velde squandering a three-shot lead on the 72nd hole.
Paul McGinley, a Ryder Cup stalwart for Europe, was heading the same direction as Woods. The Irishman followed up Thursday's 67 by shooting 39 on the front side.
A program note: Be sure to tune in for the next episode of "Boo Does Britain."
Boo Weekley, a country boy from the Florida Panhandle, was making quite a splash in his first Open. He may be scared to drive on the left side of the road and not that impressed with British cuisine, but he was doing just fine at Carnoustie with a 2-under 140 total that put him four strokes behind Garcia.
Weekley got as low as 4 under before back-to-back bogeys at 15 and 16 pushed him to a 72.
Wearing camouflage long johns under his golf attire, Weekley was asked about his impressions of the British Open growing up. "I don't watch golf," he replied. "If it ain't huntin' and fishin', it don't interest me."
First-day sensation Rory McIlroy, an 18-year-old amateur, struggled to a 76 after rousing the galleries with a a bogey-free 68. Still, the star-in-the-making from Holywood (Northern Ireland, not California) was sure to make the cut in his first Open.
"Just to play the weekend at the Open is fantastic," he said. "Hopefully I can enjoy the next couple of days and play some good golf."