News
The Rise and Fall of European Golf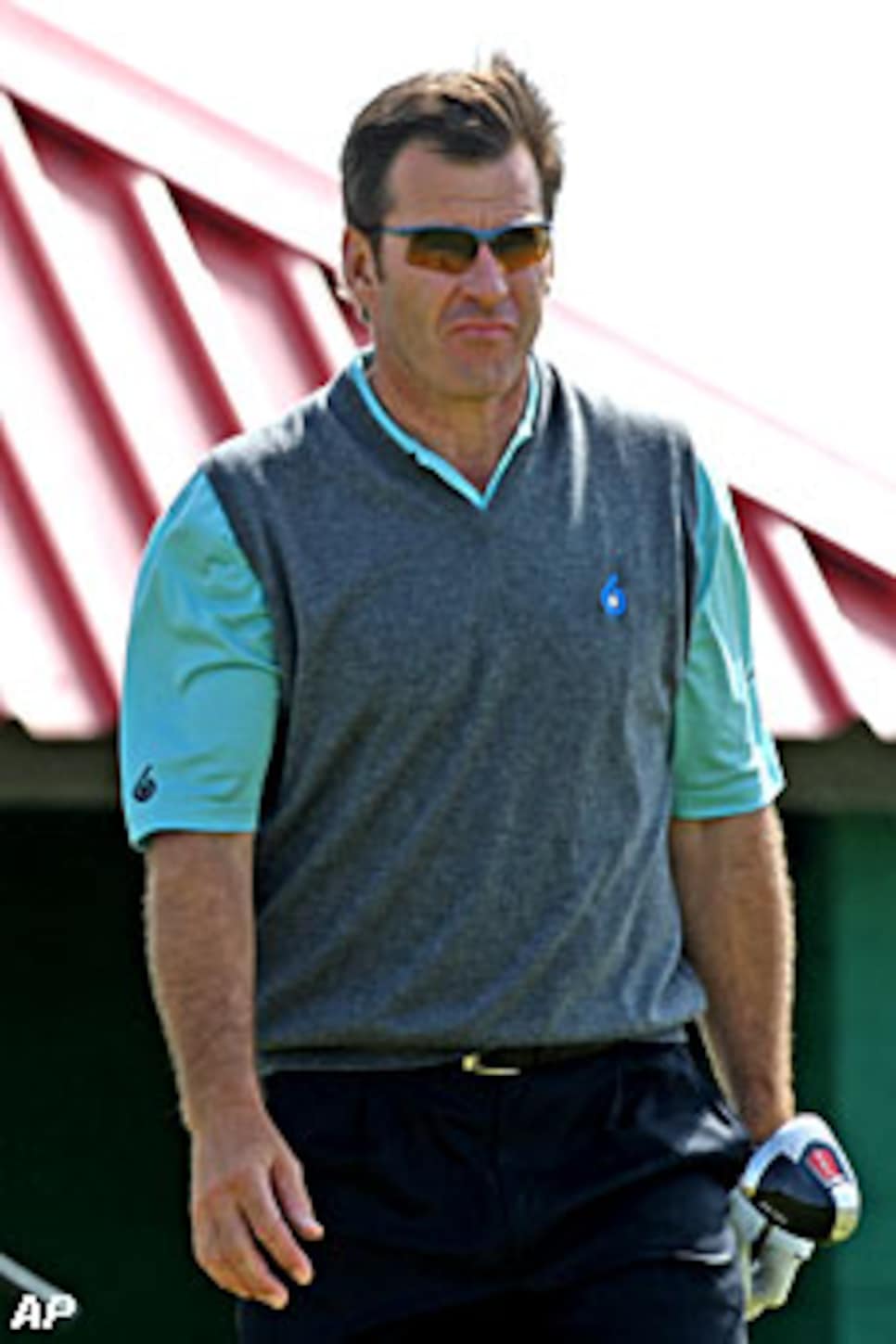 Faldo tries to focus the Euros on winning the Majors.
CARNOUSTIE, Scotland -- Seeing Mike Tirico walk through the press tent on Wednesday was a reminder that ABC was back doing golf this week, and that meant the Big Three of Tirico, Nick Faldo and Paul Azinger in the booth here the Open Championship, and on the telly back home. "I'm not sure about Big Three," said Tirico. "But Zinger I agreed we're going to give Nick a lot of grief this week."
Faldo deserves a little good-natured grief for mixing his roles as outspoken television analyst and incoming Ryder Cup captain. On Monday, two days before his 50th birthday, he made the claim that the problem with European golf at the present time is that the lads are generally too rich and too friendly to win major championships. He compared this generation to golden era of Euro golf and noted that the rivalry between himself, Seve Ballesteros, Bernhard Langer, Sandy Lyle, Ian Woosnam and Jose Maria Olazabal is what drove golf on this side of the pond for over two decades.
That, and the immeasurable competitive spirit of Seve, who announced his retirement on Monday, was the spark that made Tony Jacklin's job easier as Ryder Cup captain. With Seve saying goodbye, Faldo turning half-a-hundred and Langer getting ready for the Champions Tour, this week does unofficially signify the end of an era. Faldo's problem is that nobody wants the baton.
Between the eras and Jack Nicklaus and Tiger Woods the best major champions in the world were indeed Faldo & Co. Nick won six, Seve five, Sandy. Bernie and Jose Maria two a piece and Woosie was sober long enough to win a Masters. That's 18 majors between Seve's first Masters in 1980 and Olazabal's last green jacket in 1999, where the dominance came to a screeching halt. Since then, the Euros have to go back eight years, to the British Open at Carnoustie in '99, to find a homebred champion.
It goes without saying that this is when Woods started collecting majors the way Greg Norman used to garage Ferraris. But Faldo thinks it's more than the Tiger Factor that has led to this drought. It's competitive edge. While being buds is the reason for Ryder Cup dominance, it's also the lone wolf mentality that you don't see out of this present generation of Padraig Harrington, Luke Donald, Paul Casey, Justin Rose, Ian Poulter and Sergio Garcia.
There are actually more Euros in the top-50 of the World Rankings than Americans. John Huggan, our European correspondent, makes this point as a veteran observer: Faldo, Ballesteros, et al., learned to win on this continent while the new age Euros have benefited from a more open-door policy in Ponte Vedra. Nobody wins a bunch in the United States other than Woods,Phil Mickelson and Vijay Singh.
But in the mind of a major champion like Faldo, it's more about attitude. "None of us went round together, we all kept our cards close to our chests," Faldo said. "There was a genuine competitive barrier between us all…Now the current generation are all having lunch together and then they go off and play for a million dollars. Everyone wanted us to be a part of their gang but we never were. It is interesting to me that now they are all so much more chummy. They seem to want to sort it out with their clubs while we sorted it out with our minds."
Faldo, who will serve double duty this week as a player and broadcaster, made a trip through the interview room on Wednesday, and tried his best to diffuse the issue. "It's not directed at individuals," he said. "It's just interesting to see what we did and what they're doing now."
Harrington and Darren Clark had the most victories in America among the present generation with two each. They have 11 and 10 victories on the European Tour, respectively, having contended in majors, but have never punched it in. Rose has been on the board the most this year in majors, but is going through his learning curve. Donald, who was married in Greece last month, has two second place finishes in '07 that he felt should have been victories. Casey shot the best round at Oakmont, but couldn't back it up. And then there's Garcia, yipping his way out of the top 10.
This subject was served up to Colin Montgomerie on Wednesday when he came into the tent for his pre-tournament news conference. There no one more appropriate to weigh in, since the Scotsman has been Europe's Order of Merit winner a record eight times--and winless in majors. But Monty wouldn't give the story any legs, saying that it wouldn't disrupt the camaraderie at Valhalla next September. "Yes, Nick is captain and we're very privileged to have him as captain. I think he'll be a fabulous captain," Montgomerie said.
In other words, he wasn't going there, and neither was Garcia, the most talented ball striker among the young Euros. So much has been expected of the Spaniard since the '99 PGA, but he's recently given in to a belly putter. Perhaps Carnoustie is where it turns around, the place where he shot 89 and cried in his mother's arms.
It's been 31 majors. It's about time.