News
Didn't You Hear Me, Tadd?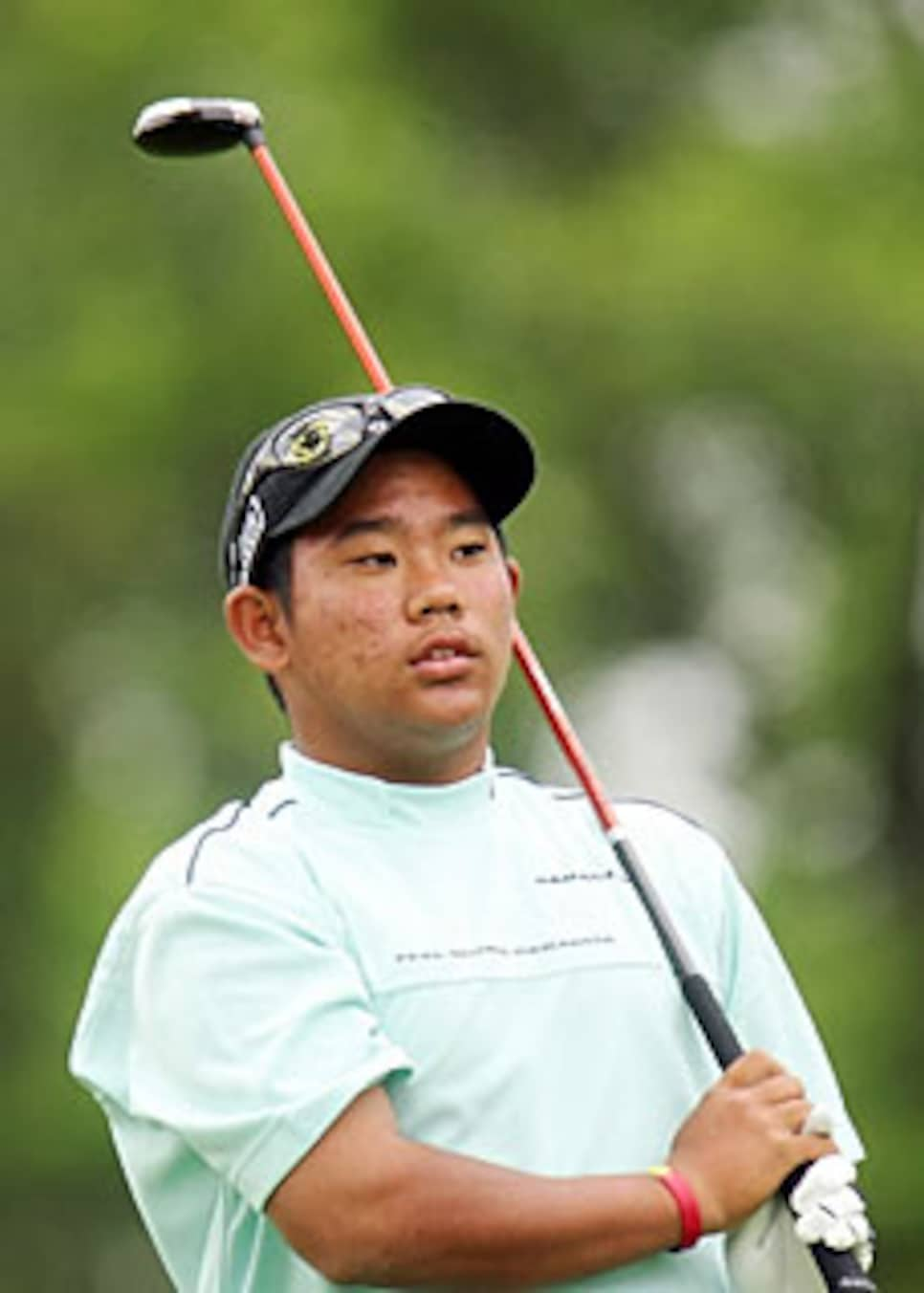 Tadd Fujikawa has turned pro ... at age 16.
In this year's Jan. 19 issue of Golf World, I offered some words of advice to Tadd Fujikawa, the Hawaiian teenager who thrilled the world of golf -- and a considerable portion of the world outside golf -- by becoming the youngest person to make a cut in a PGA Tour event in 50 years at the Sony Open. My advice? Don't rush into adulthood. Stay a kid for as long as you can. Fujikawa, however, has about as much respect for my opinion as another talented teen from Hawaii who ignores my incessant pleas to step out of the spotlight and be a person first and a golfer second. Fujikawa announced last week that, at the ripe old age of 16, he is turning professional. Not one to take rejection well (all of us writers bruise easily), I decided to take the column I wrote in January and see if I still agree with its points. Here we go:
Among the less attractive aspects of the rather remarkable culture that bubbles up from the melting pot called America is an obsession with youth and impatience with progress. Everything has to happen yesterday. Talent is often viewed as a commodity to be cashed in rather than a gift to be nurtured. The joy Tadd Fujikawa brought us last week at the Sony Open in Hawaii should be savored, not exploited. And if there are any words to say to Tadd beyond "thank you," they are these: Take your time -- and enjoy. Before you know it, it will be tomorrow.
Damn, I'm good! Oh wait, this is not about me. It's about Tadd. The amazing thing is that when I wrote that, I never dreamed tomorrow would come this quickly. I thought the kid might turn pro after high school which, even at the age of 18, would be a mistake. I never thought he would jump into the kettle of boiling water at the age of 16. Hey Tadd, do the words "Ty Tryon" mean anything? Have you heard of anyone named Michelle? How about David Clyde? Google him, Tadd.
More important than the fact Fujikawa became the youngest person to make a cut in a PGA Tour event in 50 years, and more important than the pair of 66s he posted on his way to a 5-under 275 and a T-20 finish in the Sony, is the passion he brought to the golf course each day. The joy he clearly experiences playing the game was as inspiring as the shots he hit. Each pumped fist, each shout, each dropped putter and raised hands to the air when the ball found the cup were a celebration not just of his play, but also of the human spirit. He reminded us of why we play the game, and why we love the game.
For the money. That's why we play the game, right? For the money. Trust me on this one Tadd, there is a reason they call work work. I love writing. Absolutely love it. But don't ask me how I feel about my job at 3:30 a.m. on a Sunday night when I am in a hotel room somewhere trying to come up with an opening paragraph and the muse is refusing to pay me a visit. Golf, like everything else, takes on an entire different character when a paycheck is attached to it.
By all accounts, Fujikawa is not even supposed to be with us. When he was born a little more than 16 years ago, 14 weeks premature, the odds on him surviving were even money. He was small enough to hold in one hand and even now, at 5-feet-1, it is as if he is waiting for the other half of himself to show up. But the spirit Fujikawa displayed at Waialae CC was giant-sized. It was not the product of a carefully orchestrated public relations campaign but rather a spontaneous expression of who he is.
Turning pro at the age of 16 makes sense for Tadd only if he and those around him think he is never going to be big and strong enough to compete as a touring pro and that it therefore makes sense to cash in financially on his popularity right now. Certainly, Matt Kuchar would have a larger portfolio now if he had struck while the iron was hot after his strong performances in the 1998 Masters and U.S. Open. On the other hand, Tryon has probably already gone through the modest seven-figure sums he got from Callaway and Target when he turned pro at 16 -- never to be heard from again.
When I was Fujikawa's age, I played golf whenever school, work and daylight allowed. And of all the golf courses I have played since, of all the tournaments I have written about, my favorite memories of the game are still at Castle Hills GC in New Castle, Pa., chipping for quarters with Rick Plonka and Tim and Tom Birney in the fading light as evening surrendered to night. Or playing a cross-country hole from the 15th tee back to the 10th green. Or playing skins and trying to make the guy with the winning putt laugh so hard he had no chance of making it.
Actually, when I was Tadd's age I was still trying to decide whether I wanted to be Bobby Kennedy or Herbert Warren Wind. I had pretty much already ruled out becoming either Arnold Palmer or Roberto Clemente, my two childhood Western Pennsylvania heroes. But the truth is the hearth of passion burns the hottest the closer to home it is. I've covered all the major golf championships dozens of times over, the Olympics, heavyweight championship fights, U.S. Open tennis finals, the Final Four, baseball and football payoffs and still my best memories are of high school basketball games in a jam-packed gym on a freezing January night. It sure beats the 1993 B.C. Open.
Don't lose that, Tadd. Laugh. Pump that fist. Shout for joy. Don't make golf become work just yet. The PGA Tour has been around for more than 70 years. It's not going anywhere. Any money that might be thrown your way now will still be there after high school, after college. This relationship you have with golf is something special. Enjoy it. Stay a kid as long as you can. Be an inferno that burns for years and not a comet that flashes brightly and then fades to black. We need you. Golf needs you.
Heck, I need you. I want to keep writing about all the fun you are having. I don't want to be writing about how you are struggling against the adults and how you don't appear to be having any fun on the golf course. I have written enough of those stories over the last year to do me quite well for the rest of my life. They are, quite simply, among the hardest stories I have to write. It pains me to see children turned into commodities. Legally, I know it would never hold up, but I support strict age limits on playing professional sports. The way it is now we are relying on parents to make the right decisions. How's that working out? We need our young talent to burn brightly over time, not flame out in a year or two.
Fujikawa became the flavor of the moment last week at the Sony, knocking a certain other Hawaiian teenager off the menu. Now comes the really difficult part. Offers of sponsor exemptions have no doubt already arrived. And someone somewhere is no doubt thinking of offering him a fat check to turn pro. When those opportunities knock, wisdom (and perspective) need to answer the door. Thanks, Tadd, for reminding us what it is like to be young and unspoiled. Please, don't be in any hurry to get old. There are a lot of holes left to play.
I knew we were in trouble here when the Fujikawa camp allowed a Golf Channel camera crew to accompany him to his first day back in high school after his performance at the Sony Open. That is not taking it slowly. I'll predict this right now: Tadd will not do nearly as well next year at the Sony Open as he did this year. Next year he plays with the burden of expectation and the pressure of being a professional. It won't be a game any longer, it will be work. There is still one way this might have a happy ending: Show some restraint in scheduling. Don't go to every event that tosses a check at your feet. If you do, the next thing you know you will be shooting 82 or withdrawing with two holes to play. Please, consider me. I've written that story enough times already. Good luck, Tadd. The games are over and the work begins. See you in the middle of some dreary night when we are both searching for the muse.