The Loop
I frequently get asked about the best way to ship golf clubs. I've maintained that I still like to keep my clubs close to me and on the same plane that I'm on. After a year of travel, I lost only one set. [Moment of silence . . .]
Airlines are now charging as much as $50 for a second checked bag (even more for a third bag), so it would seem shipping your clubs, especially if you're willing to have it take five business days on both ends of your trip, might be worth looking into, and may even be cost effective. Or is it?
I called FedEx and got a price quote for a 35-pound golf bag going from my apartment in New York City to the Olympic Club near San Francisco. I picked the Olympic Club because it's a golf course close to a big city. I asked for two-day delivery going there and ground delivery (five business days) coming home. I asked for $1,000 worth of insurance and for door-to-door service. They quoted me $301.68 going out, $70.52 coming back for a total of $372.20.
Then I called The Luggage Club and asked for a quote using the same conditions. The only difference, The Luggage Club told me it would take six business days coming home. Their price was $263.29.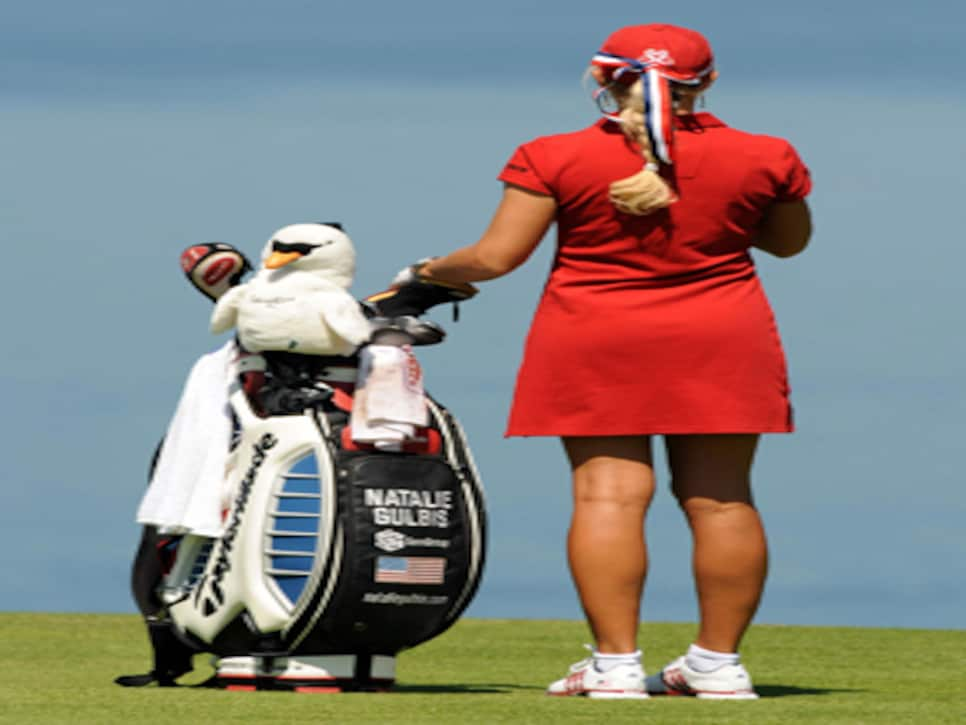 Here's a press release (not an endorsement) about the LPGA picking The Luggage Club as its bag carrier and details about a discount if you use them too. (In an effort to illustrate this blog, I deemed it a good excuse to post another picture of the LPGA's version of a Bond girl, Natalie Gulbis, and a good view of her clubs.)
LPGA joins forces with The Luggage Club__* *
*The LPGA last week announced a new partnership with The Luggage Club that will offer reliable and secure shipping of luggage and clubs for LPGA members and fans alike. The Luggage Club (TLC) specializes in door-to-door pick-up and delivery service of luggage, golf clubs, skis, mobility-impaired equipment and business goods.
As part of its partnership with the LPGA, TLC will offer LPGA members, staff and fans a 15-percent discounted rate on all services. This will provide for a safe, reliable method of shipping their luggage, golf clubs and other packages around the world.  TLC has the capabilities and experience to accommodate door-to-door luggage and goods delivery to more than 220 countries and territories located throughout North and South America, Africa, Asia, Australia and Europe. Given the global nature of the LPGA membership and schedule, this provides a seamless and easy option for transporting luggage and golf clubs for members' multi-week and sometimes multi-month trips.
Members and fans can take advantage of the 15-percent discount by logging on to LPGA.com and clicking on The Luggage Club ad on the homepage.*
If you take 15 percent off 263.29, you get the price down to $223.80. You get the benefit of not having to lug your luggage, but it's still $123.80 more than you'd pay for the plane you're on to carry your clubs, and you don't have the combined seven- or eight-day delay.
As for Natalie, I know you have the new deal with The Luggage Club, but if you need your bags picked up and delivered to and from your door, I'd give you what's left of my significantly depleted 401k to be your personal cabana-bag boy. I don't have much else to offer.