The Loop
12 suggestions on how to fix and improve the World Golf Hall of Fame
I've never understood Hall of Fame debates. It should be that rarest of black-and-white matters: a figure is or isn't an icon of the sport. If you're disputing an athlete's merits, chances are they're very, very good...but not great.
And we don't care about the very, very good. Hall of Fames should have the same mantra as Top Gun: for the best of the best.
This discussion has surfaced following Zach Johnson's British Open victory. To some, capturing the claret jug raised Johnson's profile from "Oh yeah, he won a Masters, right?" to "This guy is an all-timer!"
Johnson's win unquestionably puts him alongside unique company. But superstar status? Not to sound cruel, but no one has ever gone to a tournament because Zach Johnson's in town.
Ultimately, this discussion is rendered moot, as to reach the World Golf Hall of Fame, all one has to do is open the door.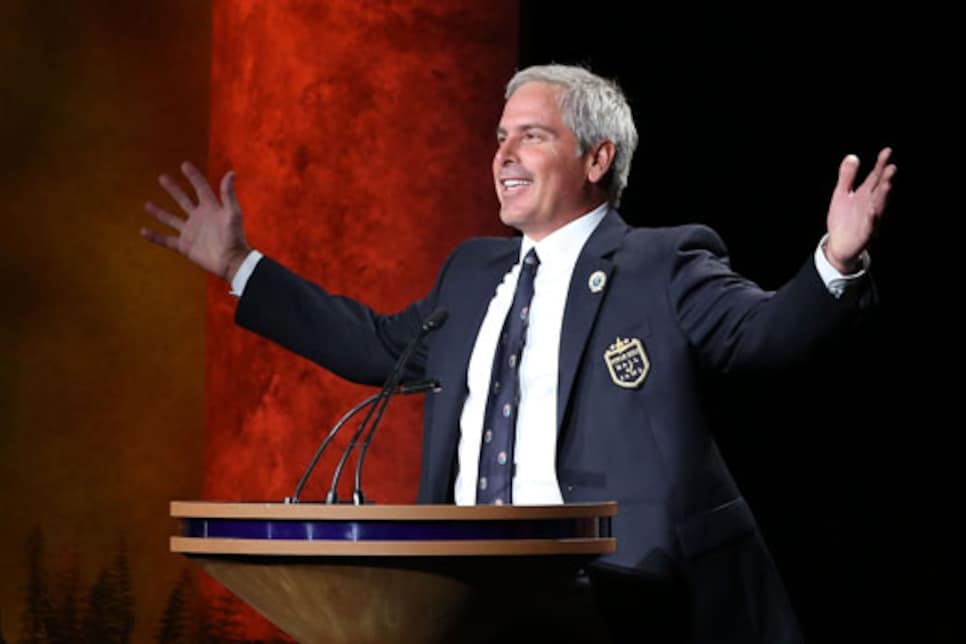 But these problems pale in comparisons to golf's library of legends.
The World Golf Hall of Fame has been around for nearly 40 years, yet holds little eminence or prestige within the game, let alone the sports world. While sound in concept, the execution has been extremely flawed.
This issues range from low election standards (seen most recently with Colin Montgomerie's induction in 2013) to it's St. Augustine confines, which, although nice, is not synonymous with golf in the same manner that Cooperstown is with baseball.
To be fair, the World Golf Hall of Fame is aware of such hurdles. Golf Digest's own Ron Sirak, a member of the hall's selection committee, addressed how they are going to tweak some of the issues going forward.
However, the ailments are systematic and can't be alleviated with quick fixes. The World Golf Hall of Fame, in perception and palpability, needs to be annihilated and started from scratch. Here's our proposal to construct a workable World Golf Hall of Fame.
Raise the age barrier from 40 to 55__
__Basketball wouldn't enshrine LeBron James into Springfield in the midst of his playing career, yet current golfers are routinely deified at St. Augustine. Once players reach the age of 40, they are eligible for induction, which is why Phil Mickelson has been in the hall since 2012.
This honor should be celebrating a career, serving as the final chapter to one's narrative in the sport. This shouldn't happen while that story is still being composed. Moving the qualification age to 55 will give the ceremony more credence.
Speaking of ceremonies...
Jim Nantz is master of ceremonies, Dan Hicks is the studio host and David Feherty works the interviews__
__You can argue his virtues on the NFL or basketball, but when it comes to golf, Nantz's aptitude as a historian, storyteller, moderator and announcer are unquestioned. Nantz is the rare media personality who can enhance an event with his presence, which is why his involvement is imperative.
To me, Hicks is one of the more underrated sportscasters in the business. You always feel safe with him steering the wheel, and he'd be excellent at setting the table for this event. And my feeble words can't paint the color of Feherty's character. Just know that if we want to make this enjoyable, Feherty is a must for entertainment.
If you're inducting someone, give them the proper travel arrangements__
Normally I don't look to the British Empire's 19th century colonialism for inspiration. Nevertheless, something feels inappropriate about the plaque of the aforementioned Monty - he of zero majors - residing next to Old Tom Morris.
I do think there's a place for guys like Curtis Strange or David Graham, but they should be in an entrance-level exhibit. As you go further into the Hall of Fame, you hit another echelon of players, names likes Mickelson, Nick Faldo and Seve Ballesteros. At the Hall of Fame's core reside the immortals: Jones, Nicklaus, Hogan, Palmer, etc.
This configuration has a two-fold purpose, serving as an educational tool to the museum's entrants while properly slotting the game's greats into context.
Fix the locker room exhibit__
__This suggestion is strictly for my dad. We visited St. Augustine some years back, and as an avid club collector, he was intrigued by the locker room showcase, a display featuring the bags and tools of the HOF members.
Or should I say, was intrigued. Instead of seeing Nicklaus' MacGregor sticks or Palmer's Wilson Staff instruments, their designated areas were filled with present-day gear, featuring Nicklaus' personal brand and Calloway's new clubs in Palmer's locker. I hadn't seen the man so crestfallen since he found out I was taking a basketball class as a college course.
The Hall of Fame is a museum, not an advertising platform. It should be presented as such.
Less players, more figures of the game__
__Dan Jenkins, only the best damn writer the sport has ever seen, wasn't inducted until 2012. A. W. Tillinghast was just enshrined last year. Harvey Penick is the only instructor in the Hall, while Pat Summerall hasn't been given the invite.
Instead of giving the nod to borderline players, bring in the instrumental figures that spent their time outside the ropes. After all, who do you think had a bigger impact on golf: Bob Charles or Bill Murray? By the way...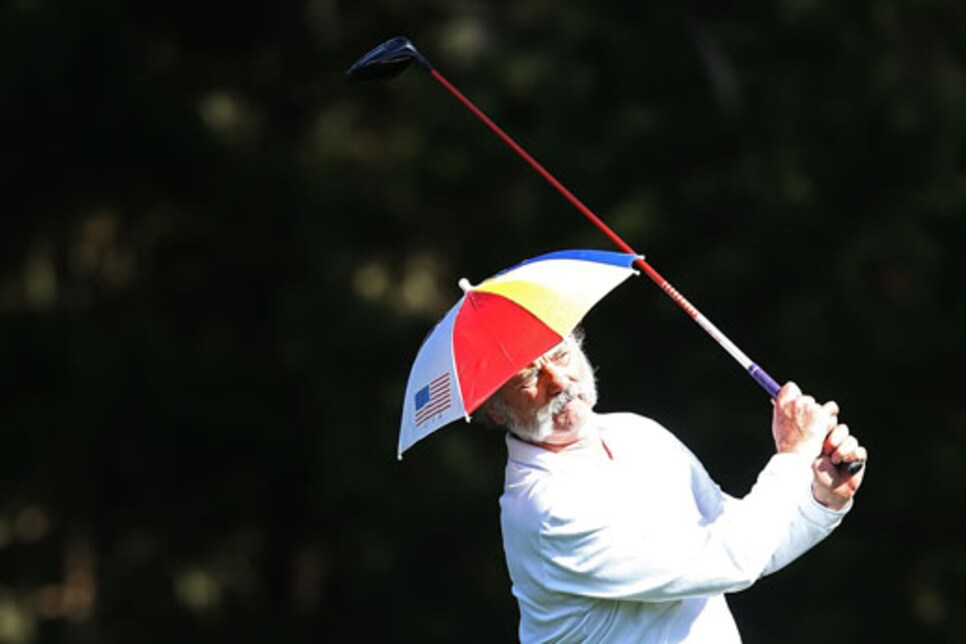 __Technically, there's precedent, as contributions from entertainers Bob Hope and Bing Crosby are commemorated in the World Golf Hall of Fame.
Not that Murray hasn't earned this distinction on his own stature. He's produced as many memorable moments at Pebble Beach as the 18th hole. You can't play a round without someone quoting Carl Spackler. He's wrote a best-selling golf book, and caused an international incident with a golf cart.
Hell, forget inducting him; build Murray his own wing.
Make the event EVERY year, not biennially__
__After a string of less-than-ideal player inductees (cough cough Lanny Wadkins, Fred Couples cough cough), the event will now be held every two years, with the hopes that this timetable raises the level of faculty among entrants. While we give the committee a golf clap for the effort, this move will be counterproductive to the Hall of Fame's consequence. In short: out of sight, out of mind.
This is where the non-playing dignitaries factor in, and could fuel the event in years when the players' pool is thin.
Move the museum to St. Andrews__
__In terms of location, the World Golf Hall of Fame is a hell of a lot better than Canton, Ohio or Springfield, Massachusetts. (That's right, two shots in one column at Canton. Swear this has no correlation to my last girlfriend being from the area, breaking my heart and spiraling me into a depression which has no light. As far as you know.)
Alas, alluded to above, when one thinks of St. Augustine, you don't associate the World Golf Hall of Fame, and vice versa.
Our location needs to breathe golf. The type of ambiance that swaddles you like a child. Coming to this site should feel like a pilgrimage. The type of place like...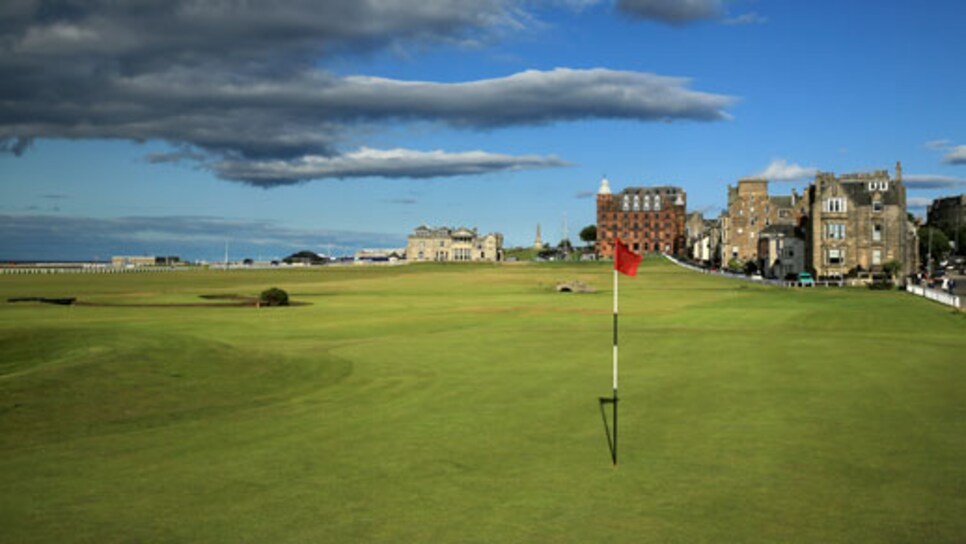 Make sure the game's best are in attendance__
__This has plagued the World Golf Hall of Fame in the past. It shouldn't be a song-and-dance to get these guys in the audience. Forget that Cooperstown's stage is filled with living Hall of Famers. If the WWE can do it, I'd like to think golf can make it happen.
And we're not just talking about the the game's greats. We want the current pros in attendance as well, helping bridge the past to the present. Logistically, that could be a nightmare. Which is why we are going to...__
Build a tournament around the event
__You know, like our All-Star idea! It's actually not a new pitch: the Colgate Hall of Fame Classic at Pinehurst was a regular tour stop for years. As we've seen in Hollywood, reboots are all the rage, which is why this gets our green-light. Plus, it gives us another tournament at St. Andrews!
Add a wing for Long Drive champions, Putt Putt medalists and Golden Tee legends__
__This is a self-serving agenda. Because after this post, the only way I'm getting invited to the Hall of Fame is through my Golden Tee prowess.