Courses
America's 100 Greatest Golf Courses/2009-10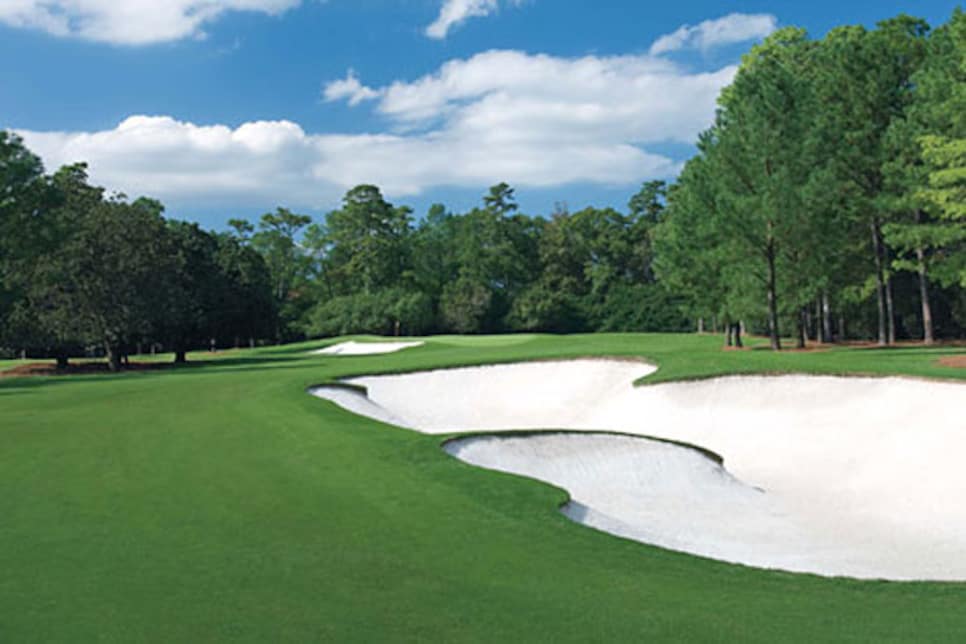 __1. AUGUSTA NATIONAL G.C. /__Despite controversial course changes, the home of the Masters jumped to No. 1 on the list for the first time in our survey's history. A view of the first hole (above). More photos of Augusta National G.C.
America's 100 Greatest is the leading symbol of golf-course excellence, the oldest ranking in the game, with the most rigorous requirements and therefore the most respect. It's the exclusive club even exclusive clubs want to join, the one nearly every architect has designs on. The time has come to reveal Golf Digest's latest version. Prepare to greet eight new members and -- oh, yes -- a new No. 1 course.
This can only be termed an upset. Augusta National Golf Club is now the No. 1 course in America, edging the usual titleholder, Pine Valley Golf Club, by the statistical equivalent of a six-inch putt.
It's like Andy Roddick defeating Roger Federer, like Nebraska beating Oklahoma, like Mickelson besting Woods. It can happen, but you don't expect it. This is the first time Augusta National has ever topped Golf Digest's biennial ranking of America's 100 Greatest Golf Courses, and the timing could not have been more surprising. In recent years, Augusta National seemed to be falling out of fashion. The course had been stretched and pressed to fit modern technology at the cost of public opinion. Former Masters champions Jack Nicklaus and Arnold Palmer scolded the club for creating a beast they didn't recognize. Masters fans moaned that the thrill was gone from Sunday afternoons. Architecture buffs scoffed at Augusta's aggressive tree-planting in an age when trees are being toppled at nearly every other championship venue.
Why did it happen? The nature of our course-ranking survey doesn't provide easy explanations. We have more than 900 evaluation panelists. We don't ask them to pick a No. 1 course, a No. 2 course and so on. Instead, we ask them to evaluate all courses and score each on a scale of 1 (Unacceptable) to 10 (Absolutely Perfect) on seven evaluation categories: Shot Values, Design Variety, Resistance to Scoring, Memorability, Aesthetics, Conditioning and Ambience.
Panelists don't even provide a total score for each course. Instead, we average their scores in each category, then total those averages (in the process doubling Shot Values, long considered the most important criterion), and the highest total score wins. In the end, their scores produce more than 504,000 individual elements. Augusta National edged No. 2 Pine Valley by just 36-hundredths of a point.
One panelist who returned to Augusta after a 20-year absence was "extremely impressed" with the work Tom Fazio did in "improving" the golf course, but another "marked it down slightly because of the radical changes throughout the years," and a third set his emotions aside and judged dispassionately, saying, "Although it's not my favorite course in the world and not my favorite style, it is hard to argue with the idea that it's spectacular, with few weaknesses."
Perhaps more enlightening is the fact that a large number of panelists used Augusta National as their standard when evaluating other courses. The risks and rewards of Amen Corner were often cited as benchmarks when judging the Shot Values of another course. Augusta's greens and surrounds were referenced when determining the Resistance to Scoring of other candidates. The Aesthetics and Memorability elsewhere were often compared to Augusta's statuesque pines, blazing azaleas and fluffy dogwoods.
Pine Valley's slip to No. 2 should not be deemed a demotion. It remains the consummate test of shotmaking, relentless in its challenges: every fairway, every green a haven besieged by wastelands of sand, pine, bramble, brush and more sand. Its score of 73.03 was almost good enough to remain No. 1, and gave it a healthy lead over No. 3 Shinnecock Hills.
Pine Valley had been out of the top position only once before in the 25 years that we've numerically ranked the top 100. In 2001, it dropped behind Pebble Beach Golf Links before regaining the top spot two years later. Back then, we suggested Pebble Beach's upward move was because of a dramatic new par-3 fifth hole on the ocean and improved Conditioning for the memorable 2000 U.S. Open, but that was merely speculation. This year, Pebble Beach is No. 6 among America's 100 Greatest, and No. 1 among America's 100 Greatest Public Golf Courses, a position it has maintained since we introduced that ranking in 2003.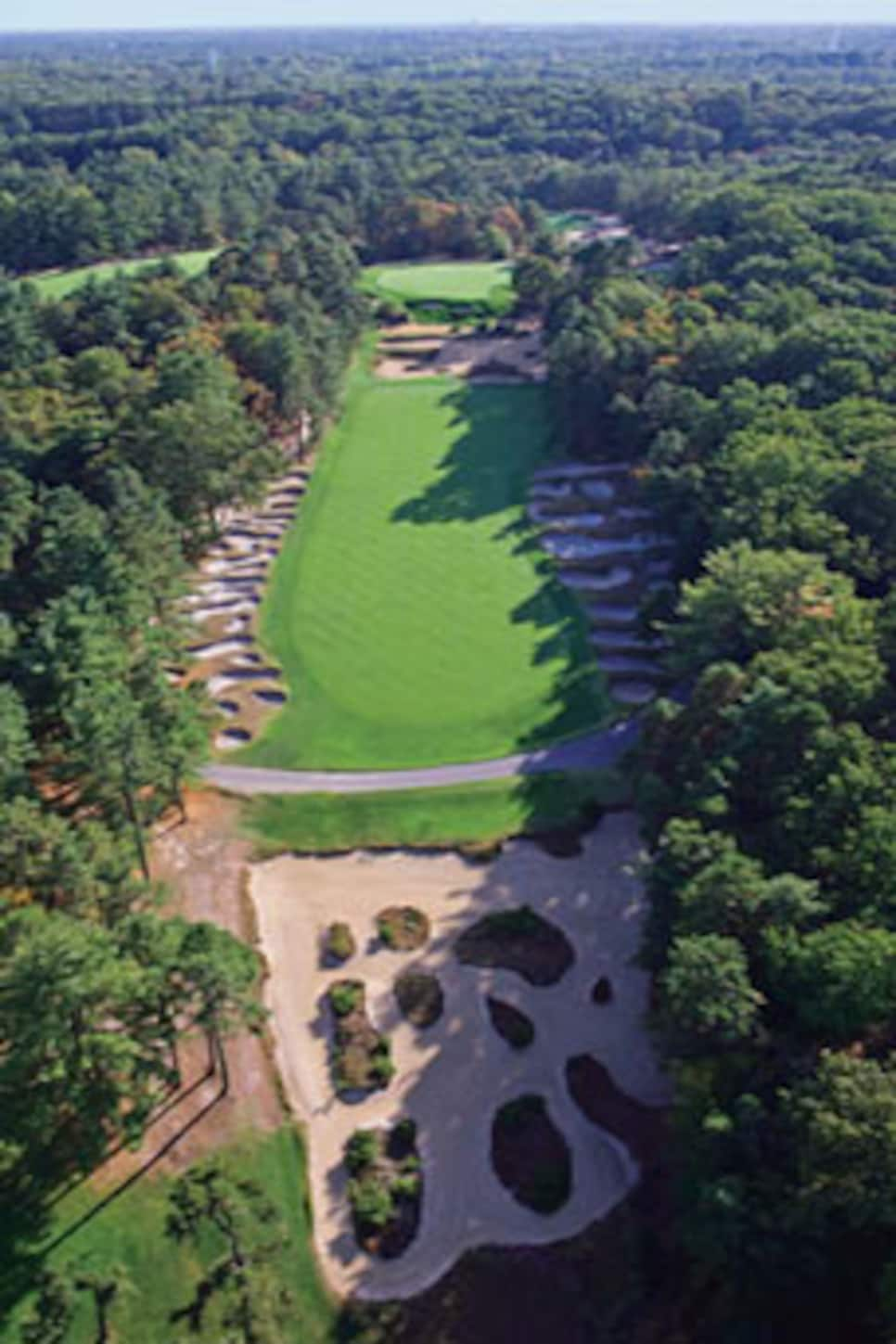 For the fourth consecutive survey, a different course has reached the top 10 for the first time. This year it's Fishers Island Club, a rollicking Seth Raynor-Charles Banks design that skirts the Long Island Sound shoreline on a tiny New York island. It's No. 9 on our list, a remarkable achievement for an ancient mariner that disappeared from America's 100 Greatest in 1975 and didn't return to the list until 2001. It features Raynor's usual assortment of hole replications with his usual geometrical splendor, but in surprising locations -- hilltop Eden and Biarritz greens, for example, and a Redan green on a par 4. It bumped Crystal Downs, the Alister Mackenzie-Perry Maxwell masterpiece in Michigan that went from No. 10 in 2007 to No. 16 this year.
In 2005, C.B. Macdonald's groundbreaking National Golf Links reached No. 9. It dropped to No. 13 in 2007 and to 15 this year. In 2003, Oak Hill's East Course climbed into the top 10 for its first and only time but dropped to 27th in 2005. This year, Oak Hill is nearly all the way back, at No. 11.
Not that there's anything wrong with being outside the top 10. Any spot on America's 100 Greatest is special. The competition is fierce, with at least 200 courses having a mathematical chance of making the list during this latest survey period. There are only eight newcomers, and two of them are former members returning to the list.
The highest ranked newcomer, No. 27 Club at Black Rock, overlooks Idaho's Lake Coeur d'Alene. A Jim Engh fantasy-turned-reality, it's perhaps the most unusual and controversial layout on the 100 Greatest, with features like bobsled-run fairways and sinister, squiggly bunkers blasted from tons of rock and embossed into the landscape. Powerful in appearance, Black Rock is thrilling to play, although with rock formations as stalwart stanchions, it has some abrasive rubs of the green.
No. 39 Sebonack Golf Club, less than a thousand yards from Shinnecock Hills and cheek to cheek with National Golf Links, is a stunning product of Tom Doak-Jack Nicklaus synergy. Pundits spin it as "Tom's bunkers, Jack's greens," but in truth it's just the opposite. Doak convinced Nicklaus to go with small greens of sweeping contours and little imperfections that Jack had never done on his own. Jack insisted that Tom tone down the proposed ragged, jagged bunker faces to make them palatable to high-handicappers. Tight, firm, beige turf (a mix of fescue and Colonial bent) showcases every knob and dip that was painstakingly crafted for specific strategies. Just three years old, Sebonack will be the site of the 2013 U.S. Women's Open.
Canyata Golf Club, No. 42 on our list, is the creation of energy-industry CEO Jerry Forsythe. He grew up near tiny Marshall in east central Illinois, and when he wanted to convert 300 acres of childhood memories into a family retreat, he hired Chicago golf architect Bob Lohmann to build a modest three-hole layout. Lohmann's then-associate, Mike Benkusky, stretched it to nine dazzling holes, then convinced Forsythe to go for a full 18. Two million cubic yards of churned earth resulted in Canyata, with massive fairways flowing around waterscaped ponds, faux creeks and adjacent woods, and enormous greens guarded by a glittering array of bunkers. Play is so light there's seldom a divot or ball mark in the bent grass, although that might change now that Forsythe is offering select memberships. The name is pronounced "can-yay-tah," which we take to mean Paradise in a Farm Field.
No. 68 Stone Canyon Club is a fitting punctuation to the career of now-retired architect Jay Morrish. His routing climbs the slopes of the Tortolita Mountains north of Tucson, jumps ravines and strolls down canyons spiked with saguaro cacti. Artful contouring mimics the ebb and flow of the rugged terrain, deep bunkers cast ominous shadows, and the glorious panorama from elevated tees includes the distant Santa Catalina Mountains at the east end of the Sonoran Desert. Ancient granite boulders and outcroppings don't just frame holes at Stone Canyon, they play an integral part in many design strategies.
Late in his life, Donald Ross suggested that Philadelphia-area Aronimink Golf Club was possibly his finest design. If it still is, it's thanks to the efforts of Ross restoration expert Ron Prichard, who earlier this decade erased heavy-handed contributions of architects Dick Wilson, Tom Fazio and Robert Trent Jones. Prichard removed hundreds of trees, rebuilt Ross bunkers as craters with hints of sand and re-established greens to original sizes, reclaiming crucial ridges and plateaus in the process. So expertly did Prichard channel Ross, he can be forgiven the liberty of freelancing a few chipping areas not on Ross' blueprints. Aronimink had been among Golf Digest's exclusive rankings for 36 years, dropped out in 1999, returned in 2001, dropped off again in 2007 and is now back at No. 76. Maybe, just maybe, it's back for good this time.
Accepting the challenge of creating a companion 18 to famed No. 14 Pacific Dunes and No. 33 Bandon Dunes, but without the possibility of ocean frontage, Bill Coore and Ben Crenshaw created Bandon Trails (debuting at No. 80), a layout so compelling it needs no seascapes to command attention. Bandon Trails starts and finishes in serious sand dunes, and the remainder rolls through Oregon forest. With the exception of Crenshaw's pet 14th green, a ledge protruding from a hillside, the putting surfaces seem merely swept from the forest floor. Bump-and-run is the game here, but the curvature of each hole requires thoughtful bumps and targeted runs.
If you're wondering, Bandon Dunes Resort is not the first entity to have three courses among America's 100 Greatest at the same time. Pebble Beach Corp., owner of No. 6 Pebble Beach and No. 51 Spyglass Hill, also had The Links at Spanish Bay on the 100 Greatest in 1991-'92 and again in 1997-'98.
Hugging the gentle scrub-pine sand hills northeast of Wilmington, N.C., No. 83 Eagle Point Golf Club is a Tom Fazio design with considerably more bite than his residential or resort offerings. This exclusive golfers-only club has some truly heroic tee shots along water hazards and several diagonal greens with frontal bunkers that require aerial approaches. Drives and iron shots are complicated by ocean winds from the Atlantic just a mile away. A graceful course to walk, with no homes or cartpaths, Eagle Point has a timeless appeal as a low-country version of Pinehurst or Pine Valley.
After being ranked in every 100 Greatest since 1971, Crooked Stick Golf Club in the Indianapolis suburb of Carmel fell off the list in 2007 but returns this year at No. 100. An early, seminal design of Pete and Alice Dye, it was their first to be inspired by their 1963 pilgrimage to Scotland, with such death-or-glory features as vertical railroad ties and vast edge-of-the-fairway bunkers and water hazards. It's also the first Dye course to be the site of a major championship, the 1991 PGA, won by an unknown John Daly. Pete recently added more back tees, so Crooked Stick can play even longer in July, when it hosts the 2009 U.S. Senior Open.
DANCING ABOUT ARCHITECTURE
The classic put-down of a music critic is Elvis Costello's line, "Writing about music is like dancing about architecture."
It makes you wonder what he'd say about those of us who rank golf architecture using mathematical formulas. Still, this is what we do. Occasionally we have tap-danced around a course ranking we didn't agree with, but we don't choreograph the results. The numbers are what the numbers are.
Between survey periods, we do tinker with our system, always striving to reach a level of statistical bliss. In the past, we introduced bonus Tradition points to balance the buzz of hot new courses. We also added bonus points to promote walking. Both are gone now.
In 2005, we began training panelists at periodic summits. Our goal is to teach them how to think, not what to think. We remind them, for instance, that they are to analyze Shot Values hole by hole, that backdrops of oceans or mountains are just one element in our definition of Aesthetics, and that we have a new definition of Conditioning. (How firm, fast and rolling were the fairways, and how firm yet receptive were the greens on the day you played the course?)
Two years ago, we hired statistician Dean Knuth (whose invention of the USGA's Handicap Index system earned him the name "The Pope of Slope") to examine the 2007 results. He confirmed what we suspected: Some of our 900-plus panelists score like Santa Claus and others are simply grumpy old men.
To reduce the influence of such extreme voters, he devised a version of "Winsorization," eliminating outlying scores, and applied it to every course in our 2009 survey. Instead of dropping three highs and three lows (a standard Winsorization practice), Knuth's system is more sophisticated, removing all scores beyond two standard deviations from a course's mean. So it might remove three high scores and one low outlying score from one course, but only one high but no lows from another, because its lowest scores were still within range.
It's applied equitably, and no course is targeted for promotion or punishment. (If you're wondering about Augusta National's ascent to No. 1: It was on top even in the raw scores.)
Our most recent improvement to the 100 Greatest ranking system will take effect with the next survey. Golf Digest has retained the professional services firm of PricewaterhouseCoopers LLP to oversee the tabulation of the results for future rankings of America's 100 Greatest Golf Courses, America's 100 Greatest Public Courses, Best in State, and Best New Courses of the Year.