A dozen impressions of the Challenge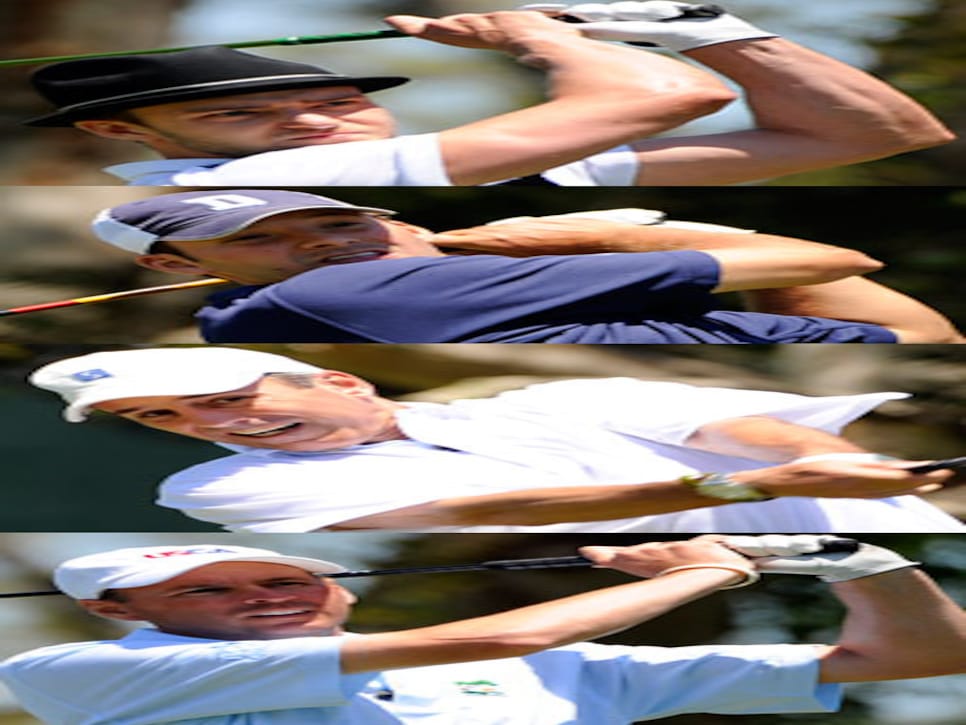 We were there for the Golf Digest U.S. Open Challenge taping last week and for the editing of the show that will run before Sunday's final round. Here are some impressions of the day, the week, the contest:
1. The score. We called the contest, "What would you shoot?" and for most contestants it became "Can you break 100?" but for a contest based on score, in end the score didn't really matter.
It didn't matter that John Atkinson, 11-handicap at Torrey Pines, did not break 100, not even close. It didn't matter that Tiger was right when he said that even a 10-handicap couldn't do it. It didn't matter that we all got a crash course in just how good tournament professionals are, something we tend forget after we've nutted a five iron.
John Atkinson demonstrated that score is something we aim for, not something we live for, or define ourselves by.
2. The start. I won't forget Ron Read, the jacketed and bow-tied USGA official famous for announcing competitors in the Big Open, introducing first the three celebrities--Timberlake, Romo and Lauer--and each getting polite applause from the gallery of about 500. He then introduces Atkinson to an ovation ten times as loud. Family, Omaha friends, members of his church and supporters from the Lung Cancer Association are out in force. John stripes a drive with hybrid. He's the only one to hit the fairway. The celebs high-five and jostle John and anyone who knows John's story has tears in his eyes. It's John's moment, delivered to him perfectly. The celebrities know who the celebrity is today. What was it Quincy Jones said to all the famous "We Are the World" participants? *Check your ego at the door. *No such instruction needed here. We're off to a good start.
3. Four great holes. John's bogeys on holes 1, 2, 3 and 4, leaving him tied for the lead, Romo having four-putted the third. Romo says later: "I'm starting to feel a little pressure. I'm thinking, 'Is this guy gonna' beat me?" John's gallery is giddy. Reality sets in soon after. After an interview with NBC's Roger Maltbie, John heads to No. 5, catches the rough on his second shot, can't escape, reaches the green in five and four-putts. His nine is followed quickly by a couple of 8s and a 10. He's 24 over par for nine holes, a 59, and virtually out of the break-100 competition. He looks exhausted. The USGA agrees that John, given his condition, may have a cart if he needs. His brother Kevin also has a folding chair for him if he wants. John will have none of it. He forges ahead to the back nine.
4. The caddies. It's fascinating to watch Bob Rotella, the game's leading sport psychologist, Greg Norman, the former no. 1 player in the world, and Butch Harmon, the country's leading teacher, on the bags for Atkinson, Lauer and Timberlake. They're businesslike, taking the challenge personally, like jockeys coaxing and cajoling their horses to the barn. (Though I must say, they didn't rake all of their bunkers). Unexpectedly to most of us cynics, two of their players--Lauer and Timberlake--are in contention to break 100 mid-way through the back nine, and one hears that Harmon has gone to the whip, telling Timberlake, whose handicap has been as low as 3, but who is 24 over after 14 holes, to "get focused and play golf." Timberlake grinds out a bogey, bogey, bogey, par finish to break 100 by two.
5. Timberlake. No one had more fun or was more into this event than Justin Timberlake, the first to arrive for practice early in the week, the only one of three "average" golfers to break 100. He loves the game like we do. His swing is technically sound if a bit formal, especially on short shots. To secure a sub-100 score, he faced the shot we all fear most, an approach to 18 from about 100 yards over the corner of the pond fronting the green. Not a problem. He makes sure to keep his official scorecard, done exactly as the competitors in the Open. Would he do it again next year, someone asks. "Sign me up!" A staff member from the USGA suggests to Craig Bestrom, our man with the celebs, that it would be wonderful to have Justin's black hat for the Far Hills museum. Craig asks Justin. "I'll send it next week." Lauer sinks a 20-foot, downhill put on the final hole and members of the gallery are asking one another it's for birdie (99) or par (100). Alas, it's the higher number. Lauer says later his biggest disappointment is that he didn't deliver for Norman.
6. The other guys. Our four semi-finalists play the course the day before. It takes them seven hours! Ross Troike, the FedEx pilot from Memphis, shoots 95; Erik Norton, the MIT grad, shoots 99; Matt Rice, the LA cop, barely misses breaking 100-he shoots 101; Philip Dembure has 106 (See photo below). They all walk every step of Atkinson's round. Norton keeps count of shots on a home-made scorecard. "They've got Lauer wrong," he says to me on the 9th. "He should be one more over par." Sure enough, two holes later, Lauer's score is adjusted. That one shot will be important. Norton bet his buddies in Cambridge and New York that he could break 100, with proceeds going to the Dystonia charity of contestant Rick Staab, one of 11 semi-finalists, and his 10-year-old son, Tyler, who has the Parkinson-like disease. Norton's round will send some $25,000 to Tyler's cause. Watching John, Norton is concerned for his stamina. "I was kicking myself for not telling him to walk on the path they cut from the tee to the fairway," he says. As Erik learned the day before, even walking in the kikuyu rough is exhausting.
Troike, the finalist fighter pilot who like all of the finalists walked the course with John, meeting the USGA starter Read near the 16th tee. Read asks Troike to recite the essay that got him into the finals, arguably the best of the 56,374 submitted.* "Tiger doesn't know real pressure. He's the most talented golfer the world has ever seen, but ... pressure is staring at the back of an aircraft carrier on a pitch-black night after flying for two hours over Iraq knowing there's only enough fuel for one attempt to land or you're swimming in the Persian Gulf. Men who choke on the course are still breathing afterward. I can break 100." *When Troike is done, Read is wet-eyed. Troike's son, Wyatt, wearing an autograph-covered Open hat, and daughter Marin, a golfer herself, beam. Dad's all right
7. The parents. Romo's, Timberlake's and Atkinsons's parents follow along like it was a junior club championship. Given the limelight John finds himself in today, his Dad's recollection of his son's early television (and then sales) career is funny. "John used to sweat heavily when he was nervous, you know, like the anchor in that movie (Broadcast News)," he says. When John learned of an operation that could curtail the problem, he had it. "He just took off from there. It changed everything." Today, there's not a sign of sweat on John's light blue shirt. Romo's parents tell of the Christmas day when Tony got his first set of golf clubs. There was snow that day, but Tony took clubs and ball outside and tried them out, putting one ball through a neighbor's window. These were kids once. And like most golfers, they still are.
8. The gallery. Among the couple thousand people watching are two executives from major golf companies. They do a Darrell-survey-like count on the amateurs' equipment. It was a clean sweep for both the club and ball companies involved; each went four-for-four. (You can guess). One exec thinks it might be worth promoting. One thinks it might be counter-productive, given that these are only amateurs, not such great ones at that. But today who really cares?
9. The "photographer". Atkinson on the 14th tee, having just made triple at the endless par-5 13th, freezes mid-swing before hitting his ball, pointing suddenly to a photographer, Tiger-like, and saying, "not during my swing!" It's a spoof, of course. Atkinson high-fives caddy Bob Rotella, and Butch Harmon nearly falls down laughing.
10. The rules. Dick Rugge, the USGA's equipment guru walks along the uphill 12th hole, I wonder if Rugge thinks this might be the final argument for "bifurcation", that is, having two sets of equipment regulations, one for recreational play and one for high-level competition. After 12, Atkinson, Lauer, Romo and Timberlake were 31, 19, 8 and 20 over par respectively. Rugge is said to be open to bifurcation in the past, though the USGA executive committee has not been. Somehow, paradoxically, the round proves both sides: Clearly we amateurs don't play the same game as the professionals do. And just as clearly we love the game exactly as they do, sometimes more so. How do you bifurcate a heart?
11. The finish. The still-cheering gallery assembles along the 18th fairway, and John, long past the 100 mark, nears the green, doffing his cap, saluting his supporters. John's brother is now on his bag, having taken over from Bob Rotella on the 18th tee. (John and Kevin walked the first few steps of the hole hand-in-hand.) As they approach the green, Romo, Lauer, the caddies, the crowd, everyone is clapping for John. "We were all crying," says Lauer. It has been the perfect day, regardless of what anyone shot. Our winner, John Atkinson, gave it his all, despite the conditions, despite his condition; his playing companions and supporters gave it right back to him.
12. The idea. We borrow so many of our golf traditions from Ireland, England and Scotland that I wonder how this one would fit in there. I imagine flying over to the Open Championship next month and a having English friend say, "Glad you came early, we can go out and watch the Little Open". "What's that?" one would ask. "That's when a weekend golfer gets to play the course under Championship conditions and we all go and root him on. The pros toast amateurs and amateurs toast pros and we all remind ourselves that the game is bigger than any one of us, no matter how well or poorly we play." Wouldn't we think that was a wonderful tradition? A tradition worth a toast, an idea worth repeating.