They Played Their Hearts Out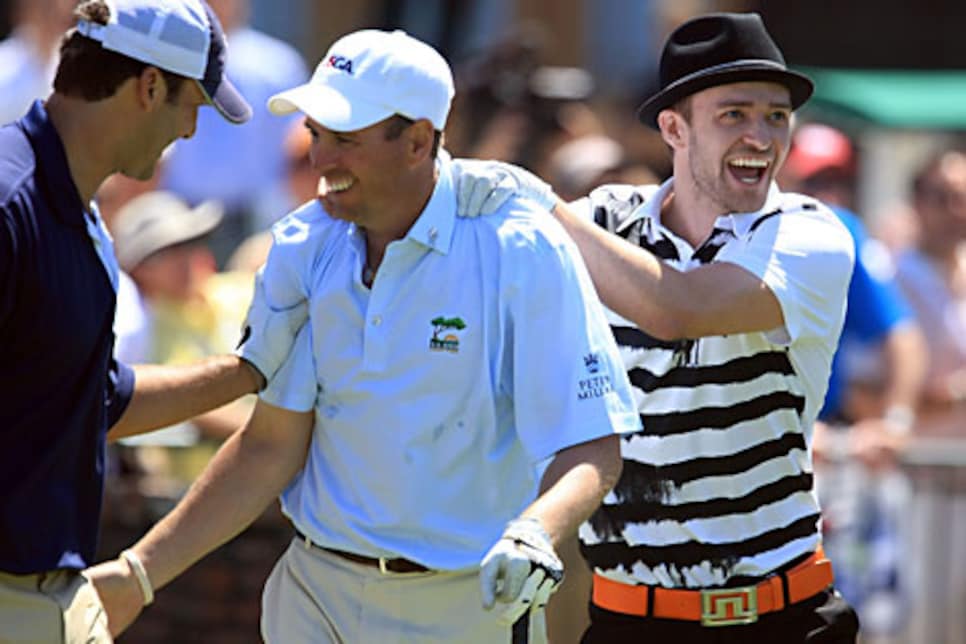 Romo and Timberlake give Atkinson (center) a good ribbing on the first tee.
LA JOLLA, Calif. -- The Golf Digest U.S. Open Challenge Friday was instructive, which is to say that it met its own challenge, and in the process proved that Tiger Woods was right.
A year ago, Woods said at Oakmont CC, site of the 2007 U.S. Open, that a 10-handicap couldn't break 100 there. That became the challenge for a foursome of single-digit amateurs, who played the South Course at Torrey Pines, site of the 2008 U.S. Open next week, largely from the back tees Friday.
The damage report: Dallas Cowboys quarterback Tony Romo (whose handicap index is 2.2) shot a 13-over par 84; pop star Justin Timberlake (a 6.0) shot 98; Today Show host Matt Lauer (a 6.2) shot 100; and John Atkinson (an 8.1), who was chosen from a pool of 56,000 contest entrants nationwide, shot 114.
"They're inhuman, how well they stripe it," Timberlake said of the professionals who -- albeit better armed on the talent front -- will face the same challenge next week. "We're just proud to be a part of actually showing it."
Not a single birdie was made, and the longest putt holed was a 20-footer Lauer made for par at the last hole. Atkinson failed to make a single par, yet he was the winner by anyone's measure. A year ago, Atkinson was diagnosed with inoperable lung cancer.
His own personal gallery included an estimated 60 people, family and friends from his hometown of Omaha, who spent the six hours, 15 minutes it took the foursome to complete the round loudly encouraging his every swing. So did the the celebrities in his group and their caddies, who included Greg Norman (looping for Lauer) and Butch Harmon (working for Timberlake).
"I had a great time," Atkinson said. "I had a certain score that I wanted to hit, but that wasn't going to happen. But I feel it's like life -- you've just got to keep going."
Atkinson bogeyed each of the first four holes, according to a game plan that called for him to hit hybrids off the tee to keep the ball in the fairway and to play for bogey. After that, "the wheels came off," he said, and he was unable to reattach them.
"For a guy who's played one member-guest [tournament] in his life it was pretty impressive," said his own caddie, renowned sport psychologist Bob Rotella. "I think he felt very good about it."
The course also won, incidentally. "It's hard to tell anyone how thick that rough is," Rotella said. Atkinson played one shot from the rough when he couldn't actually see his ball, he said.
Romo, clearly the best player in the group and one who has entered U.S. Open qualifiers, was in thick rough off the tee at 18 and swung as hard as he could with a sand wedge and advanced the ball only about 20 feet and into a fairway bunker.
"I think we've got the rough about right," said Mike Davis, the USGA's senior director rules and competition.