News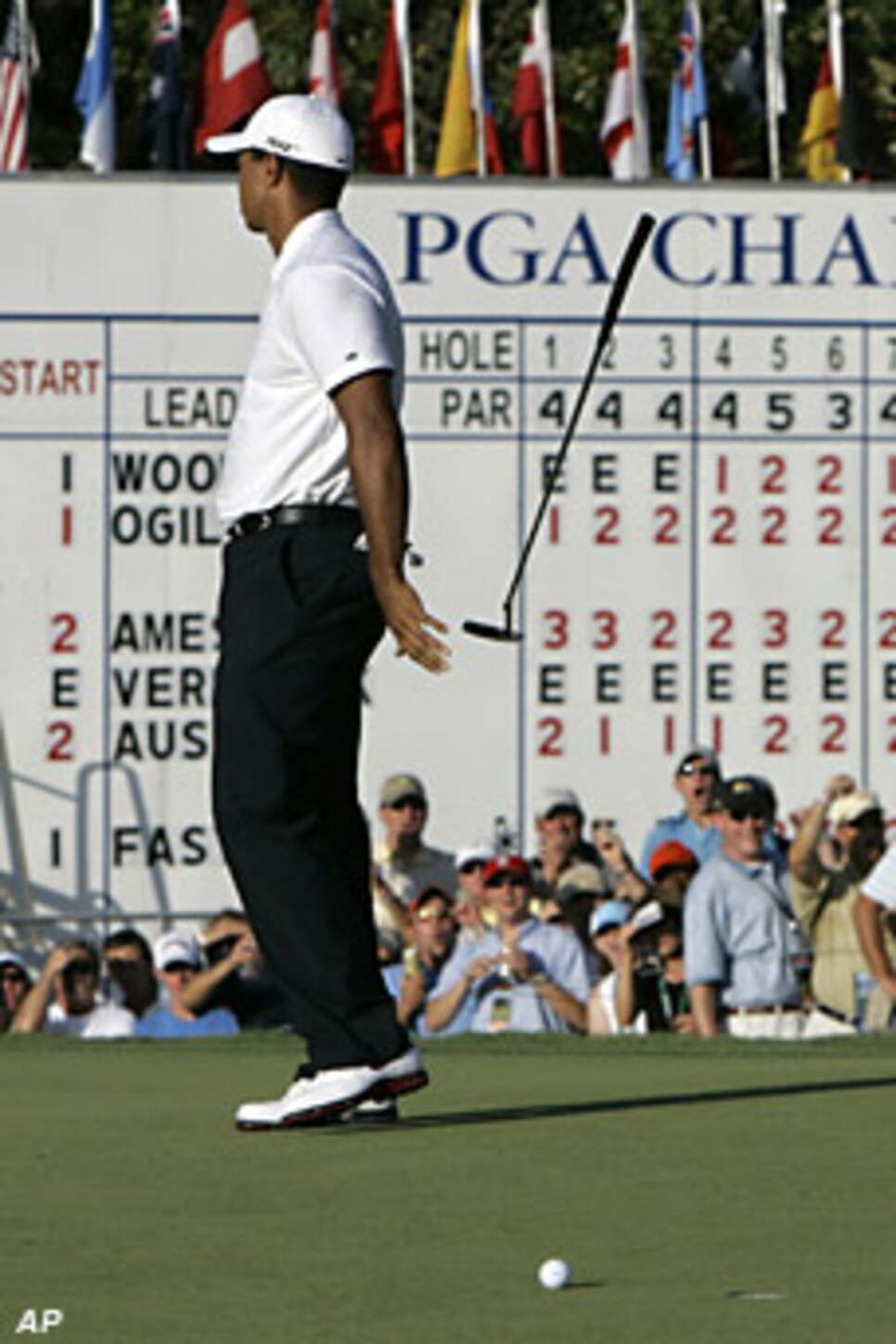 A lipped-out putt on 18 robbed Tiger of sole possession of the record.
TULSA, Okla. (AP) - Another record for Tiger Woods. Another major might not be far behind.
Woods matched the major championship record with a 63 in the PGA Championship on Friday, turning away in disbelief when a 15-foot birdie putt on the final hole spun 270 degrees around the cup that would have given him the record alone.
Of greater interest is adding to his collection of majors, and Woods took a big step on a steamy afternoon with eight birdies and one key par save that carried him to a two-shot lead over Scott Verplank.
A gallery dripping with sweat rose to their feet when Woods hit his approach into 15 feet on the final hole, and they braced for history when Woods' birdie putt took a dip inside the cup before spinning out the other side. Woods began to raise his putter when he turned away and let it fall from his fingers.
"I knew if I made that putt on the last hole it would have been a nice little record to have," Woods said. "A 62 1/2 is all right."
Woods is 7-0 when he has the 36-hole lead going into the weekend at a major, and even more history is on his side at Southern Hills. The past six major champions on this course all had the lead after 36 holes.
"We've got a long way to go," Woods said, trying to avoid getting shut out in the majors this year.
It might seem even longer to those trying to catch Woods, who was at 6-under 134, two better than Verplank, who had a 66.
Former U.S. Open champion Geoff Ogilvy was matching Woods birdie-for-birdie on the back nine until he closed with two bogeys for a 68 that left him at 3-under 137 with Stephen Ames (69).
Ernie Els did well to shoot 68 to reach even par, but the Big Easy could not ignore the daunting name atop the leaderboard.
"You can't think or believe that it's over," Els said. "I want to believe it's not. I've got two rounds left. We all know he's No. 1 and he's on form. That's kind of dangerous. But I'm playing well myself."
John Daly put on a different show, whipping out driver and lumbering through the rough and the trees to find it. He hit enough good shots to salvage a 73 that left him six shots behind and asking an important question.
"How do you cool Tiger off?" Daly said.
It was the 23rd round of 63 in the majors, but only four others have gone on to win -- Johnny Miller in the 1973 U.S. Open at Oakmont, Jack Nicklaus in the 1980 U.S. Open at Baltusrol, Greg Norman in the 1986 British Open at Turnberry, and Raymond Floyd in the 1982 PGA Championship at Southern Hills.
Woods will be in the final group Saturday with Verplank, whose bogey-free round fired up a gallery who have been cheering him since he won the U.S. Amateur title and a PGA Tour event while at Oklahoma State. It looked like it would be enough to give the 43-year-old his first lead in a major championship.
Then Woods teed off, made birdie on the first hole, and began a swift and stunning charge up the leaderboard.
Coming off his lone bogey at No. 7 when he caught an awkward stance in the bunker, Woods stuffed his approach into 2 feet on the ninth and 3 feet on the 10th to get within one shot of the lead.
Even though a putt for 62 rimmed out, his biggest putt of the second round might have been for par.
Woods found another bunker at No. 12 and blasted out some 30 feet by the pin. He started walking to the side when his par putt broke toward the cup and pumped his fist when it curled in the right side.
"The putt on 12 was huge to keep the round going," Woods said.
Then came a charge into the lead and into the record books. He got up-and-down from a bunker at the par-5 13th for birdie, chipped in from 15 feet from just behind the green at No. 14 and holed a 30-foot birdie putt on the 15th.
Needing one more birdie over the final three holes, Woods gave himself three good chances, especially on 18. The immediate emotion didn't belong to someone who had shot 63 for a two-shot lead in a major.
"Mad," Woods said. "I hit a good putt and thought I made it. It would've been nice to have gotten a record and a three-shot lead going into the weekend. The good thing is, I hit a good putt. That's the important point."
Thomas Bjorn was the last player to shoot 63 in a major, in the third round at the 2005 PGA Championship at Baltusrol. Woods might not have predicted a record-tying round, but even after opening with a 71, he said he hit the ball far better than he scored. This time, he made a few putts _ only 24 in the second round.
"I was just trying to get myself back in this tournament," Woods said. "And lo and behold, here I am."
The company is getting smaller.
Only eight players remained under par, with Woods and Ogilvy the only ones in that group who have won a major.
Woody Austin (70) was at 138, while John Senden (70), Niclas Fasth (68) and Pat Perez (69) were another shot back. Daly joined Els in the large group at 140.
Ogilvy was among those who refused to concede the PGA Championship only halfway through.
"He does pretty good when he leads for two rounds and even better when he leads for three rounds," Ogilvy said. "So I guess that is kind of ominous. But at some point, he's not going to win."
For some, victory was simply getting a chance to play two more rounds.
Chad Campbell ran off four straight birdies on his back nine for a 68, while Steve Stricker birdies his last hole for a 68, and both made the cut on the number at 5-over 145. Colin Montgomerie also made the cut at 145, the first time he will play the weekend in a major since he took double bogey on the final hole at Winged Foot and finished second in the U.S. Open last year.
Also making the cut with no room to spare was Sergio Garcia, who suffered through a swift turn of fate. He was one shot out of the lead until taking three shots to get out of a bunker on No. 11, then finished off a 41 on the back to post a 75.