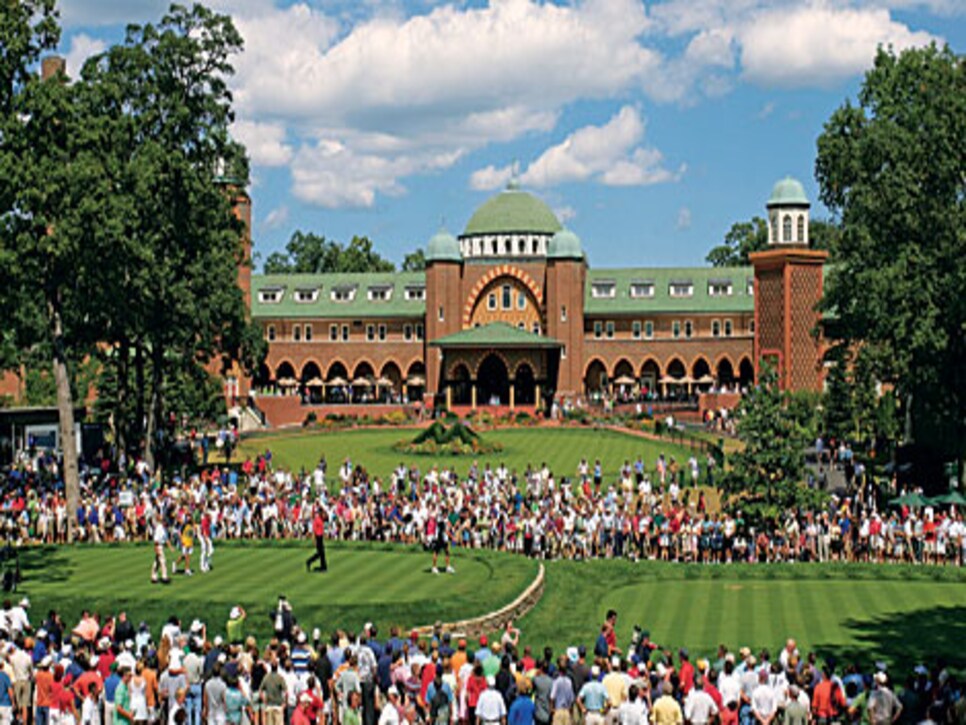 Since everybody knows that today's steroid-laced, blood-doped golf ball flies longer and straighter than Tarzan going after a banana, it's wished that the courses set up for the PGA Championship—like Medinah at this year's last major—wouldn't provide greens that hold like a platter of corned-beef hash and putting surfaces that roll with church-lady speed. It annually opens the tournament up to everyone in the phone book and makes life more tedious for the players with real talent, such as Tiger Woods, just to pick a name at random.
It can make Tiger mad, for one thing. Forces him to say, "Oh, it takes birdies this week? I get it."
Medinah No. 3 was a tough track when the U.S. Golf Association prepared it for the Opens of 1949, '75 and '90, when the winners' scores were 286 for Cary Middlecoff, 287 for Lou Graham and 280 for Hale Irwin. Not so this time, even at 7,561 yards. Distance, as we know, has become irrelevant, especially for a guy who can strike a 7-iron 200 yards. Never in a major had you seen so many iron shots grab a chair right next to the pin with hardly a bounce, or so many flat 20-footers meander their way into the cup for birdies and pars. The tipoff that it was going to be a cake week came in the first round when four club pros, of all people, were among the 60 who broke par.
"It wasn't your typical major championship, in the sense that you had to go make a bunch of birdies," Tiger said. "If you've made a bunch of pars and shot even par, you'll just get run over."
In the end, Tiger's winning score of 270 was 18 under par, and he broke 70 all four days, something he'd done only one other time (2000 at St. Andrews) in his 12 pro major victories.
The phone book led the championship through two days. People named Chris Riley and Lucas Glover. The too-small Luke Donald, the overfed Tim Herron, the handsome Swede Henrik Stenson and the alternate Billy Andrade. As anticipated, they disappeared in various ways. Shaun Micheel, the 2003 PGA winner, was the runner-up, five strokes back, despite recent battles with low testosterone, a condition that afflicts millions of Americans and, apparently, the rest of the field.
Where are Tiger's challengers?
Two months after Phil Mickelson was a shot away from winning his third consecutive major, he finished a dozen strokes back at Medinah and looked as if he'd lost a footrace from the ninth hole, which is about as far away from the clubhouse as Gary, Ind.
Ernie Els did no better, and Retief Goosen would have needed four strokes a day to match Tiger. Vijay Singh didn't even make the cut.
It wasn't just the rest of the Big Five who couldn't get it done. Sergio Garcia finished second to Tiger in the 1999 PGA at Medinah at age 19, but seven years later, he's still teasing us. Sergio looked whipped despite sharing third with Adam Scott and Donald. It turned out the toughest test Tiger had all week was at the final press conference when a guy from China quizzed him about the number of autographs he gives.
The night of his victory, Tiger flew to Houston to pick up a running mate for his border collie, Taz. The new addition's a cross between a Lab and a poodle and goes by the name Yogi, even though this tournament was over before it was over.
Meanwhile, U.S. Ryder Cup captain Tom Lehman was looking for a few good men to stand up and qualify for the team, but by Sunday afternoon it looked as if everyone was diving for seats in musical chairs. Davis Love III had made the last six teams and was seven under coming to the 17th hole in the first round before making a triple-bogey 6. Davis' final-round 76 made Lehman look the other way for his captain's picks, Stewart Cink and Scott Verplank. So, Team America includes Ryder Cup rookies Vaughn Taylor, J.J. Henry, Zach Johnson and Brett Wetterich. Imagine Ben Hogan announcing this group and starting to snicker at the part, "Ladies and gentlemen, the United States Ryder Cup team: The finest golfers in the world."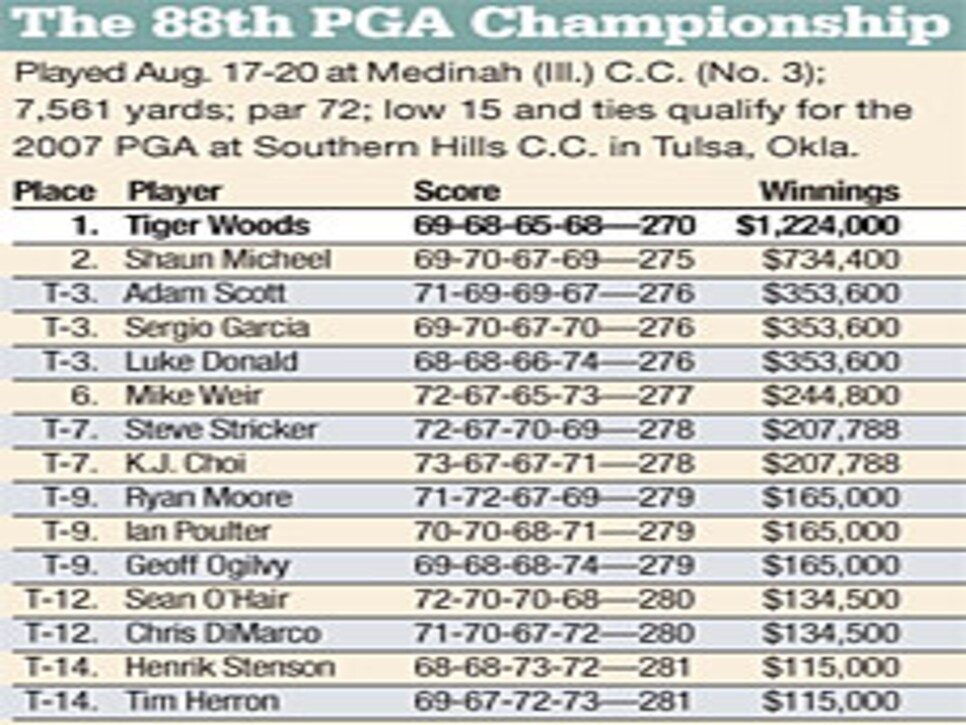 [Ljava.lang.String;@183afd3e
The Ryder Cup is about the only thing Tiger hasn't dominated. This third PGA title gave him his 15th major overall—you count his three U.S. Amateurs once he wins a pro major—and he's now won each of the majors by at least five shots.
You could be picky and say that 15 majors still leaves him one behind Walter Hagen, because the Western Open was a major in Walter's day, and he won it five times. And of course Tiger is five behind Jack Nicklaus' 20 trophies (two of them Amateurs), but Tiger's only 30 years old, for goodness' sake. After going majorless in 2003 and 2004, Tiger has won four of the last eight. The last time he was on a streak like this, he won seven of 11, including the Tiger Slam of four in a row. If he wins his fifth Masters next spring, Tiger Slam II could happen at the U.S. Open at Oakmont.
Medinah called to mind the drastic differences between it and the British Open stop at Hoylake, where Tiger brought a scalpel in his bag along with some long irons nobody knew he carried, much less knew how to use.
Hoylake was maligned before the Open because it was deduced to be a flat, old-timey course with nothing to say for it but deep bunkers and out-of-bounds opportunities. But it turned out to be a joy, a layout that called for well-positioned shots, lay-up shots—in other words, thinking. That's a fading commodity on the PGA Tour, which generally requires an attitude of hit-it-long-flip-the-wedge-make-the-putt-see-you-later.
Hoylake, officially known as Royal Liverpool, became more historic when Woods joined Hagen and Bobby Jones as the only Americans who have won there. Then came the PGA, proof once again that Tiger Woods can win on any type of golf course, hard or easy, with whatever it takes. His ability overwhelms the sport.
The thought here is that there are only six things that can stop Tiger from passing Nicklaus' 20 majors. Not necessarily in order, they are an injury by way of:
• Underwater cave diving in the Caribbean.
• Spearfishing in the Caribbean.
• Bungee jumping in New Zealand.
• Race-car driving in New Zealand.
• Water-skiing in Florida.
After that emotional win at Hoylake when Tiger wept because he'd lost his father in the spring, it was understandable. Maybe he should have wept at Medinah because he'd just destroyed his sport.