13 Majors (And Gaining On Jack)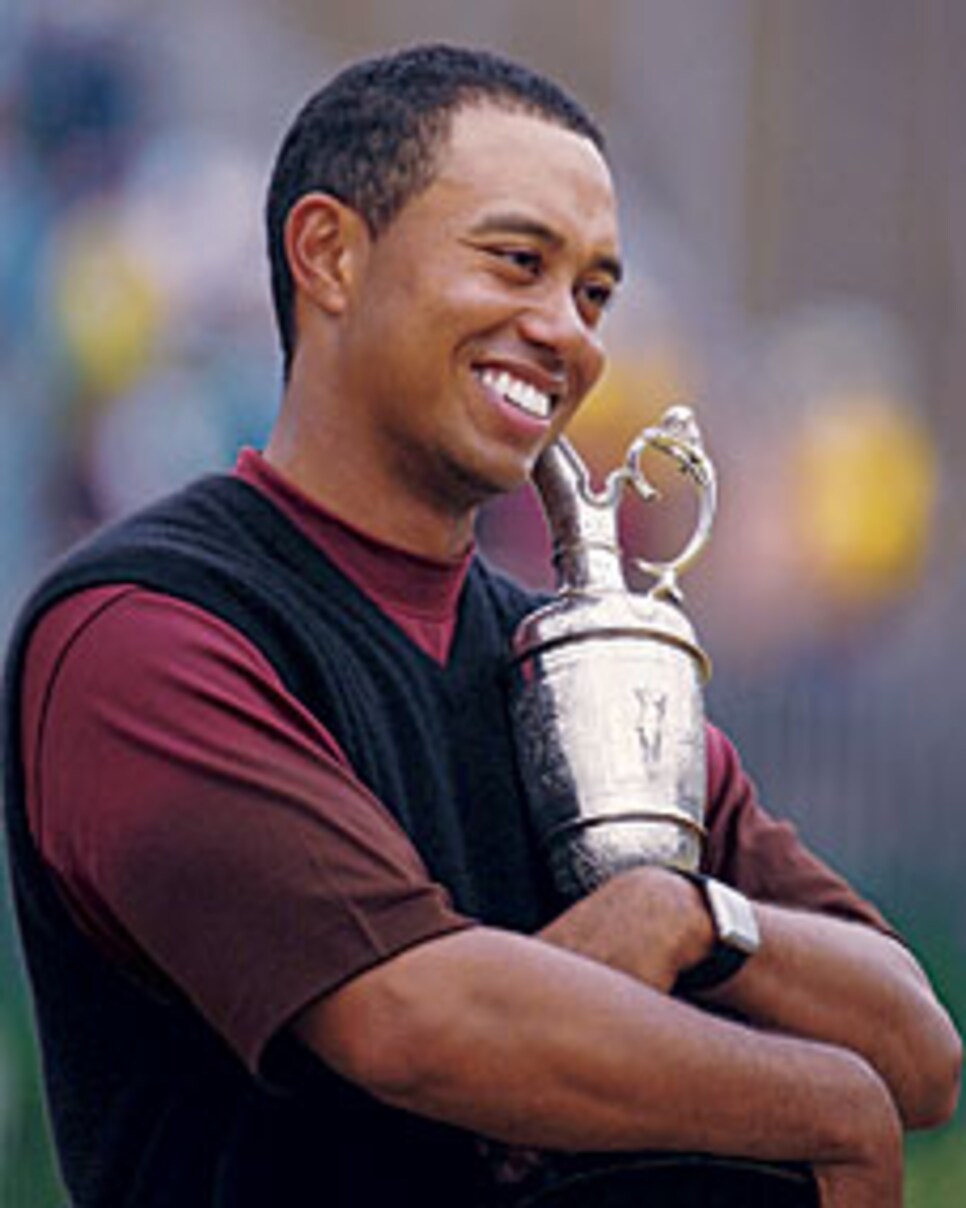 Beyond all the hordes of fans from all nations loaded down with their shopping bags of souvenirs, the loud, sweat-soaked punks spilling out of the pubs with beer mugs, poised to slosh the suds on any innocent passerby, and the countless numbers of chalk-white Scottish girls ill-advisedly clad to display their flabby tummies, there was a British Open played at St. Andrews, the birthplace of severely limited hot water for bathing, that was dominated by the emotional leave-taking of Jack Nicklaus and by the ho-humness of another victory stroll for Tiger Woods.
For those of us whose pace has been slowed by the years, Jack's farewell will remain the most memorable moment of the week. The cheers followed him all the way around his two trips over the Old Course. Then as he came to the last holes of his final round, with the grandstands and the town close on his right, the roars began to build.
No grizzled veteran had ever heard anything as touching on a golf course as the sounds that greeted Nicklaus from tee to green on the 18th, even during the photo-op pause on the Swilcan Bridge.
On the green above the Valley of Sin, where the last putt he would sink in a British Open would be a 14-footer for a birdie to top off an even-par round of 72, everyone was standing, even on the rooftops of buildings, and many who weren't shouting their appreciation were weeping with affection. Players came out of the locker room to stand and applaud, writers came out of the press tent to stand and applaud, and dozens of RA officials even left their glasses of claret in the clubhouse to come out, stand and applaud.
Nicklaus had first come to St. Andrews in '64. He finished second that year to Tony Lema in a gale-swept tournament, one of Jack's seven runner-up finishes when he wasn't winning three Opens. It was at the Old Course in '70 that Jack beat Doug Sanders in a memorable playoff, and in '78 that he saved the press from Simon Owen. Jack tied for 31st in '84, tied for 63rd in '90, tied for 79th in '95, and this time missed the cut after rounds of 75-72. I asked the research department to tell me the last time a man 65 or older matched or beat par in a round of a major, and out poppedGay Brewer's 72 at Augusta at age 66 in 1998, when Jack tied for sixth as a youth of 58 to beat a defending champion named Woods by two. (For you history buffs, Sam Snead was 62 when he tied for third in the 1974 PGA.)
As one who covered 16 of Jack's 20 major championships and enjoyed a wonderful relationship with him as the decades slid by, it behooves me to take this opportunity in print to say, thank you, Jack, for making my job so much easier all those years.
Notice I said 20 majors. You count a man's U.S. Amateur titles after he starts winning professional majors. That's something any intelligent golf writer with a sense of history is supposed to know. This is opposed to some who insist on not counting the amateur majors for Nicklaus, Tiger, even Bobby Jones. This means they take two majors away from Jack, three away from Tiger, and six away from Jones (including his British Amateur).
It's all part of a world that's growing sillier by the moment, is how I look at it—while begging for another drop of water out of the shower in my rented St. Andrews flat.
Tiger became the first wire-to-wire British Open winner since Tom Weiskopf at Troon in '73, but it was of more importance that his second Open trophy was his 13th major win and tied him with Bobby Jones. If there's a hiccup in there somewhere, it's that Jones reached 13 at the age of 28. Tiger is 29.
Six of Tiger's 13 major wins have been at Augusta and St. Andrews, where he should have another dozen opportunities to add to his haul before turning 40. And it's worth noting that 12 of Jack's 20 major titles came on four courses: Augusta (6), St. Andrews (2), Pebble Beach (2; an Open and an Amateur) and Baltusrol (2). "If all the majors were played at Augusta National and St. Andrews, Tiger might win 30," says Hank Haney, the guru who has overseen Tiger's swing changes.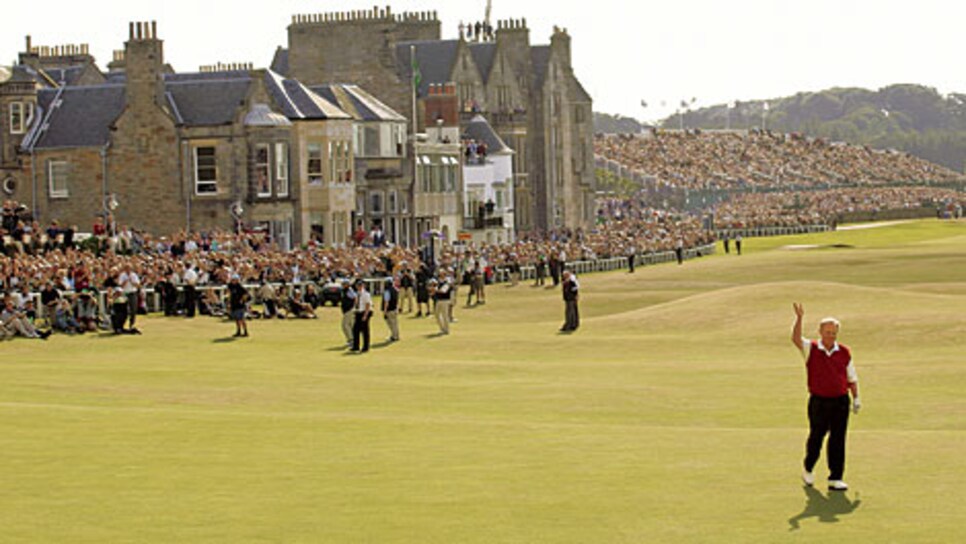 Why make changes after winning seven of 11 majors from 1999-2002? "First, second and first in the last three majors—that's why," said Tiger, who won the Masters in April and would have been going for the calendar Grand Slam in the PGA at Baltusrol had his putting not let the U.S. Open slip away at Pinehurst.
It was the second career Slam for Tiger (two British and U.S. Opens to go with two PGAs and the four green jackets), leaving him behind Nicklaus' totals of three, four, five and six. Tiger also won for the 44th time in his pro career, tying Walter Hagen for seventh on the tour's all-time list and trailing only Snead, Nicklaus, Hogan, Palmer, Nelson and Casper. Not a bogey in that bunch.
Although the St. Andrews business got a little close on Sunday's opening nine, it was never really a serious contest. That's primarily because the Old Course is such a pushover for Woods, and his closest pursuers ended up being Colin Montgomerie, Jose Maria Olazabal and Fred Couples. What about Vijay, Retief, Sergio, Ernie and Phil? Nonfactors on Sunday. When Tiger and Phil passed each other, one going out on the second hole and one coming in at the 16th, Phil looked like roadkill. He was on his way to a 76 and a tie for 60th, both of which matched 50-year-old Greg Norman, who's only a dozen years removed from winning his last major.
Happiness is catching the Old Course in a relative calm for four days, and that's what Tiger did for the second time. The strong breezes were missing back in 2000 when he fired a scary 269 total, and the challenging wind, rain and chill were absent this time for his 66-67-71-70—274, a five-shot victory.
With no weather to defend it, the Old Course presented four par 4s Tiger could drive and two par 5s he could easily reach in two. Despite almost 165 yards added since Tiger won by eight—he averaged just under 320 on measured drives five years ago and led again at 341 this time—at least 11 of the 18 holes left him no more than a wedge, a pitch, a chip or a putt for his approach. What's not to like, undercooked lamb aside?
In Friday's round of 67 Tiger merely had five putts for eagle. In the third round, which was the closest he came to looking human, Tiger took penalty strokes for unplayable lies on two holes but left those greens grinning after a bogey and a par.
Thinking about the Old Course in a calm, I could only imagine what must have been going through the mind of the recreational golfer back home watching TV, one who'd never been to Scotland, hearing that this or that hole is a par 4 but then seeing a drive wind up pin-high just off the green and a player use his putter for the second shot: "Good grief, Martha, come look at this—and they call it golf!"
Frankly, the biggest surprise of the week was Monty, often maligned and frequently made sport of, 42 years old now. Happiness was also knowing Colin Montgomerie was your nearest challenger.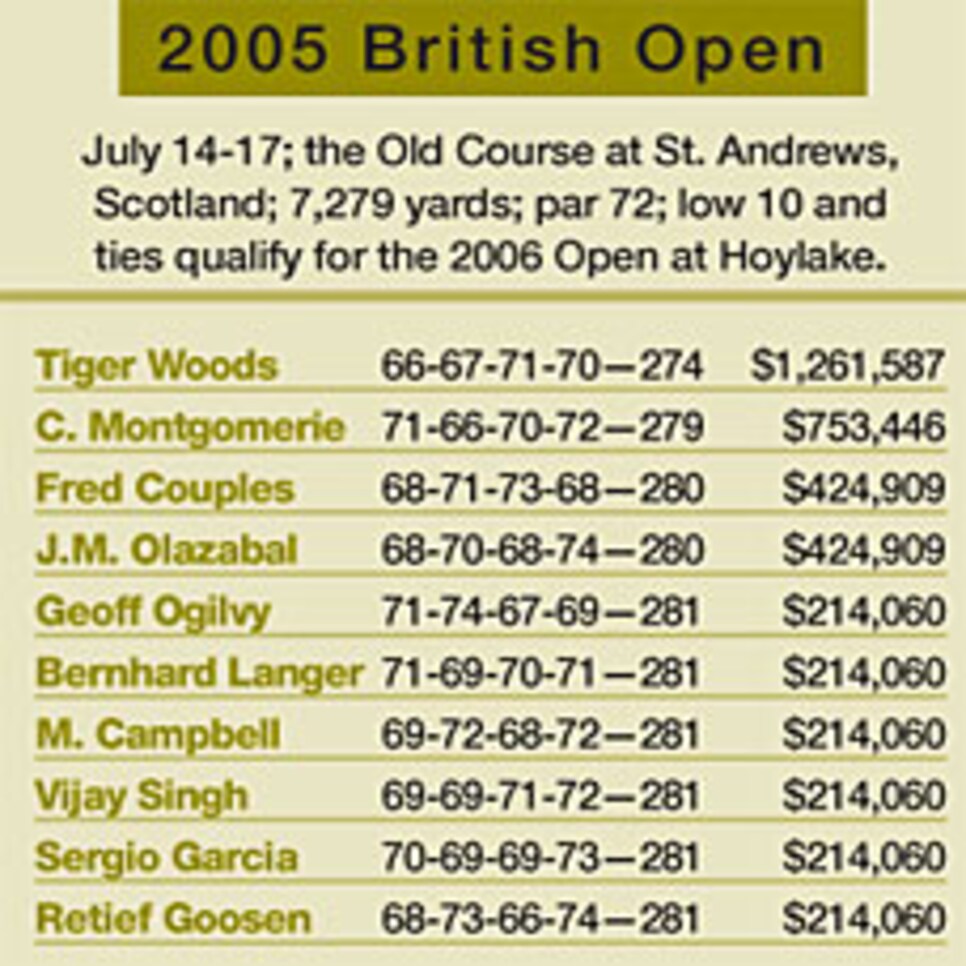 It was the fourth time Colin, a Ryder Cup star, had been a runner-up in a major. Previously, he was second in the U.S. Opens of '94 and '97, and second in the PGA of '95. All he needs now is a second place in the Masters to match the Norman Slam.
I think Colin was inspired to show off at St. Andrews for his new lady friend. She was on the premises and drew nice galleries herself, a 44-year-old mother of two, Jo Baldwin. According to the tabloids, they met last year, and when she's not with Colin, she still lives in Surrey with her understanding husband, Nigel. Jolly old England.