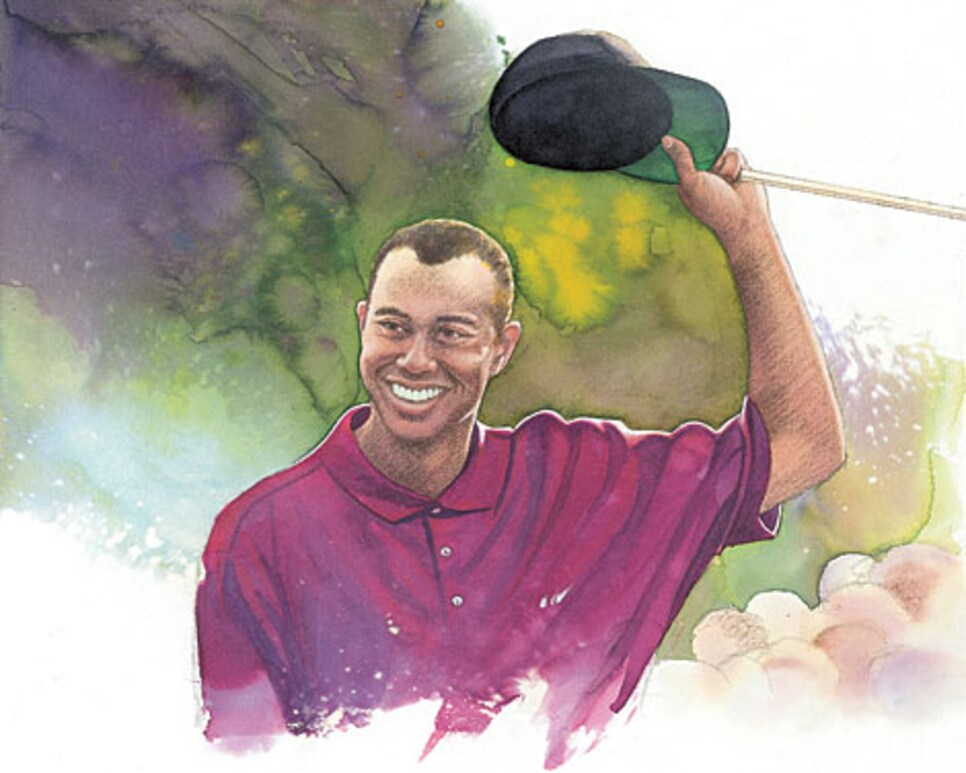 It's 2005 in Augusta, and Tiger Woods is out of contention to win his fifth straight Masters and Grand Slam because he hasn't been able to play any practice rounds—his young wife has made him go to the mall every day to look at ceramic tile and wall covering.
Tiger admits he's had no luck in getting his wife to read my helpful book on marriage: Men Are From Carpet, Women Are From Hardwood Floors. He explains that she's still too busy exchanging the wedding-gift crystal that came in the wrong pattern.
He also arrived in town with a sprained shoulder from helping his lovely young wife, the former Miss Barbara Valerie Palmer, move a 10-piece sectional sofa to the other end of the living room to see if it might look better down by the fireplace.
Plus, Tiger hasn't enjoyed a good night's sleep all week, since he's been up with their newborn triplets, Ben, Byron and Sam. What all this means is that either Phil Mickelson or David Duval will finally win a major after all these years.
OK, enough of that. Let's talk about reality. What to make of Tiger and this Slam thing?
When last seen in the press emporium at the Augusta National on the evening of Sunday, April 8, sportswriters from around the globe were feverishly hammering away on their machines to come up with a suitable name for Tiger's awesome achievement of holding all four professional majors at the same time, even if it took another calendar year to do it.
Actually, we'd been working on it all week, long before Tiger would prove his mastery yet again, and long before Mickelson and Duval would do their anticipated pratfalls in the 2001 Masters.
The best efforts seemed to be:
Phi Granda Slamma, Thai Slamma Granda, the Tiger Slam, the Fiscal Slam, the Bum Slam, 4 for the Road, the Major Sweep, the Mulligan Slam.
Personally, I leaned toward the Mulligan Slam, inasmuch as it took Tiger two attempts—last year and this year—to win the Masters and complete the deal. Made sense.
But then I strained two muscles in my back and broke a leg off a chair to come up with The Woods Wins Quartet.
Only history can decide if my Woods Wins Quartet will scale the heights of the Impregnable Quadrilateral that some scribe attached to Bobby Jones' feat in 1930, back when men were men and some were amateurs and they all played golf in shirts and neckties.
This is no attempt to belittle what Tiger did. It surely ranks among the five greatest accomplishments in golf. But right now it's sort of difficult to rank it ahead of Jones' same-year Grand Slam of 1930, Ben Hogan's Triple Crown in '53 (and five out of six wins for the year), Byron Nelson's streak of 11 victories in a row in '45, which was really 12 in a row unofficially, or Jack Nicklaus' steady scooping up of 20 major championships over a career, spanning four decades.
I will certainly yield those treasures if Tiger wins the year's final three majors to make it a true Grand Slam, seven in a row, as in seven tricks in the game of bridge, from where the term originally leaped to land on Bobby Jones and O.B. Keeler and Grantland Rice. That crowd.
Who's to stop him? The majorless Mickelson? The majorless Duval? Perhaps, but it'll more likely be the law of averages, a destiny thing, a twist of fate. Maybe someday a Jack Fleck-type guy like Chris DiMarco, the Florida Gators' hope—"I try not to think too much when I'm playing," he said—who benefited from the slowest greens in years at Augusta to glue himself to the leader board for three days but one year will refuse to evaporate, as he did eventually.
Or Argentina's double-wide, Angel Cabrera, The Poorly Dressed Bull of the Pampas. He drives it so far he frequently doesn't know what to do next, but he tied for 10th, very nice, and left some of us thinking that Cabrera's sounds like a good name for a restaurant chain.
Or perhaps a Greg Chalmers from deeply out of the pack, who in the first round at Augusta this time hit a spectator on the skull, then hit another spectator on the shoulder, proving that at least for the moment he was head and shoulders over everybody.
And remember, Tiger was almost stopped last summer at the PGA by the invisible Bob May, the classic lurker.
The point is, there's a short list of players who have won majors since Tiger started competing in them as a pro in 1997. They are: Ernie Els, Justin Leonard, Davis Love III, Mark O'Meara, Lee Janzen, Vijay Singh, Jose Maria Olazabal, Payne Stewart and Paul Lawrie.
Frankly, there has never been a gap like this between the No. 1 player in the world and everybody else. Tiger now has nine majors at the age of 25, counting the three U.S. Amateurs, and no other competitor who can be taken seriously today has more than two.
Jones, Hogan, Nelson, Nicklaus . . . they all had a far greater number of established stars to beat in their respective eras. More brand names who shared the limelight with them.
You want to talk about it? Just to drop a few names, Jones faced Walter Hagen, Gene Sarazen, Tommy Armour, Macdonald Smith, Jim Barnes, Francis Ouimet, Chick Evans. Hogan and Byron battled each other along with Sam Snead, Jimmy Demaret, Lloyd Mangrum, Cary Middlecoff, Jackie Burke, Bobby Locke, Julius Boros and Tommy Bolt. And Nicklaus, it should go without saying, had to deal with Arnold Palmer, Gary Player, Billy Casper, Lee Trevino, Tom Watson, Johnny Miller and Hale Irwin. If you're counting, that's a total of 39 majors in the last group, not including Jack's.
I point this out for all the majorless superstars on the PGA Tour who insist that Tiger has tougher competition today, meaning, of course, themselves.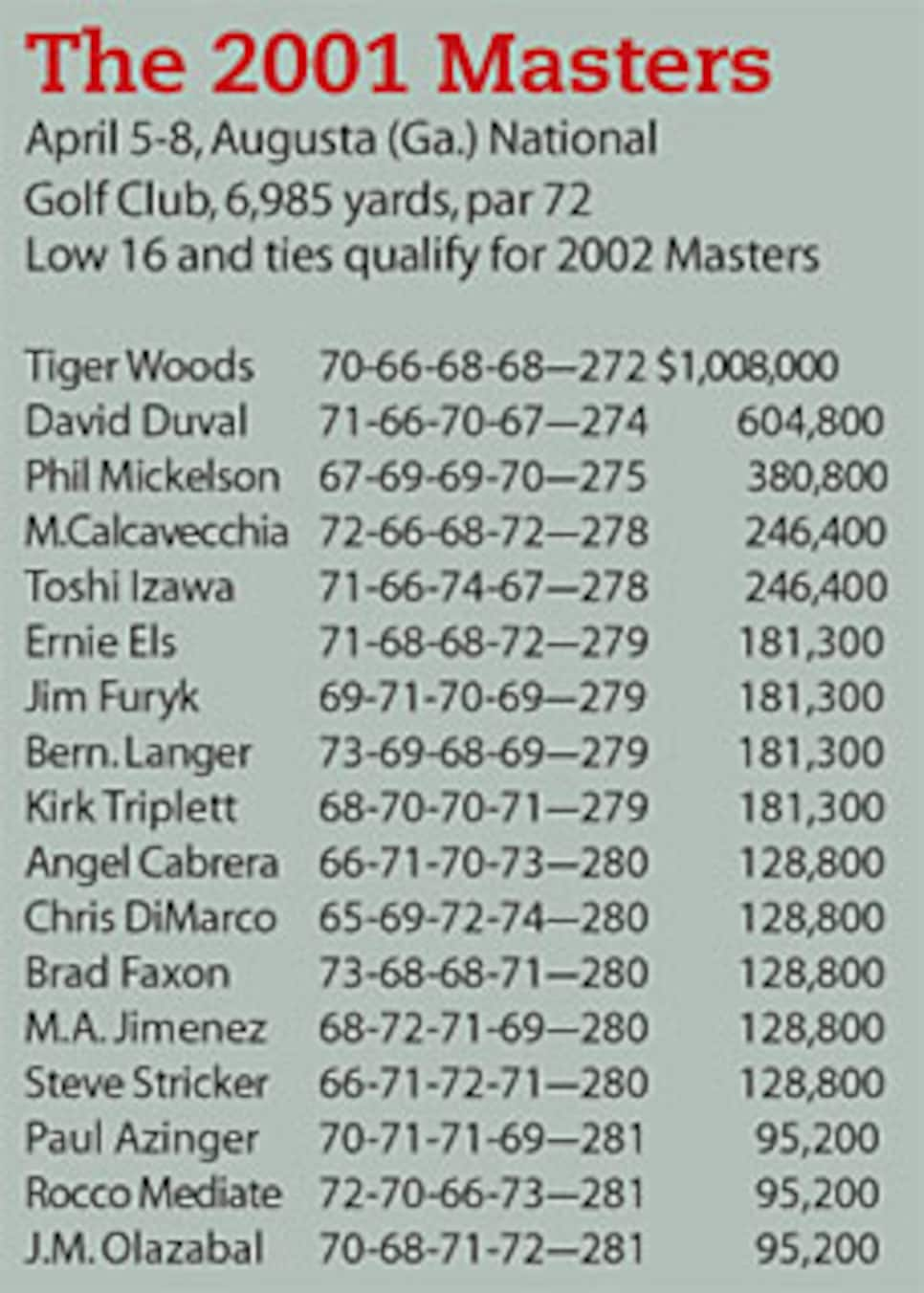 All right. Quoth the geezer nevermore. How about those slow greens at Augusta this time? It had been years since anyone had seen downhill putts stop short of the cup, which they did regularly all week. Not since the bent had been put in to replace the Bermuda in 1981.
The best guess is that it took a combination of a lot of things to slow them down. Rain early in the week. No wind the rest of the week to help dry them out. One architect guessed that today's bent might have a "larger leaf" and therefore hold the moisture longer. Tiger himself complained about "grain" on the greens for the first time. Some Augusta National members even blamed the "new golf ball" the pros are all using for not rolling as far or as fast as the ball of the recent past.
Whatever the cause, the slow greens together with the lack of any challenging winds opened the door for some of the unworthy to make it a contest for Tiger.
For instance, despite the short putts that Mickelson and Duval missed at the exact time they didn't need to when they were trying to slug it out with Tiger, they rolled in far more putts than a man would normally expect to make over the four rounds, and did it from some unexpected distances and over some unruly slopes.
After all, the stats confirm that Mickelson finished tied for fifth in putting in the tournament and Duval finished tied for 11th, while Tiger was back tied for 37th. Woods over and over stared at the slow speed of his putts with disbelief, but he made up for it by winding up first in greens hit in regulation and first in driving distance.
Tiger looked upon his overall performance through the first three rounds as "plodding," a word he used often in interviews. The old plodder. He hadn't brought his "A" game to town, in other words.
"I haven't done anything tremendous," he said as the 54-hole leader, "but I haven't done anything horrendous, either."
If that was the case when all the smoke had cleared, then you had to credit the eased-up conditions not only for opening the door to the unworthy, but also for allowing the Old Plodder to shoot rounds of 70, 66, 68 and 68 for the 272 total that was merely the fourth-lowest ever shot on the premises.
In the 65 Masters, the only totals that beat it are Tiger's own 270 in '97, Raymond Floyd's 271 in '76 and Nicklaus' 271 in '65, which broke Hogan's record of 274 that was set in '53.
MAKING THE COURSE TOUGHER
Maybe the Augusta National is right about wanting to toughen up some of the par-4 holes with more length and doglegs and bunkering, although it seems a shame in some ways to move the ceiling in the Sistine Chapel over to a wall.
Anyhow, all plodding aside, drama and suspense took over in Sunday's final round, as they usually do.
Mickelson and Duval, the two players who stayed with Tiger down the stretch, basically wound up bringing more heat on themselves than they did on Woods.
When Duval birdied five out of six holes, from the fifth through the 10th, it suddenly looked as if he truly was Darth Biker, Tiger Killer, but just as suddenly over the last three holes he turned into David Duval again, flubbing up the 16th for bogey and blowing short birdie putts on 17 and 18. And he'd made two earlier bogeys in the round.
Meanwhile, Mickelson was still trying to overcome his previous mistakes. Such as the three- and four-footers he'd blown the day before, and the short iron into the water at the 12th on Friday, and the dumbbell flop shot he'd tried from the front edge of the 14th green on Saturday, which cost him a double bogey. All that stuff. Phil didn't help himself with some rancid tee shots on Sunday. He sliced one into the woods at the 10th, but it bounced out and he saved a par, and he hooked one into the pines on the 11th, but he found it and almost saved a par. He went 4-5 on two holes where he might just as easily have gone pocket-pocket, and his challenge would have ended abruptly. Should have, probably, given the timing of his mistakes.
The thing about Mickelson is, even when he hits a good shot, the expression on his face seems to say, "I wonder where this one's going?"
It's plain to see that in his 10 majorless seasons on the tour, Phil, who once represented the future himself, hasn't worked nearly as hard at his game as Tiger has. But then again, maybe he's just left-handed.
When it came down to letting everyone know who's in charge, Tiger again did it in his own incomparable variety of ways. The four clutch putts of seven or eight or nine feet he sank at 7, 8, 9 and 10 for two birdies and two pars—they kept at least a share of the lead in his hands.
The flop shot he hit to birdie the eighth showed Mickelson how the shot is supposed to be played. Tiger took a full swing at the ball with his lob wedge on a 25-yard shot the rest of us can hit either three feet or 100 yards and pulled it off as near to perfection as possible.
Then, all he did over the back nine was play golf as smartly and powerfully and solidly as anyone ever had under the circumstances.
His drive on 18, the 72nd, said it all.
Here's a guy with a slender one-stroke lead for the Masters, for the modern Slam. So what does he do? He takes out the old driver and flirts with severe tragedy—the trees on the right—but confidently busts it 327 yards, around the corner, uphill, leaving himself nothing more than a 78-yard pitch shot to the pin.
Pure gravy that he holed the birdie putt to win by two. He clinched it back on the tee with his talent and nerve.
Talk about showing everybody who's boss. Well, everybody but Bobby, Ben, Byron and Jack.