The Loop
Media: Oak Hill 'an old lady who's lost her teeth'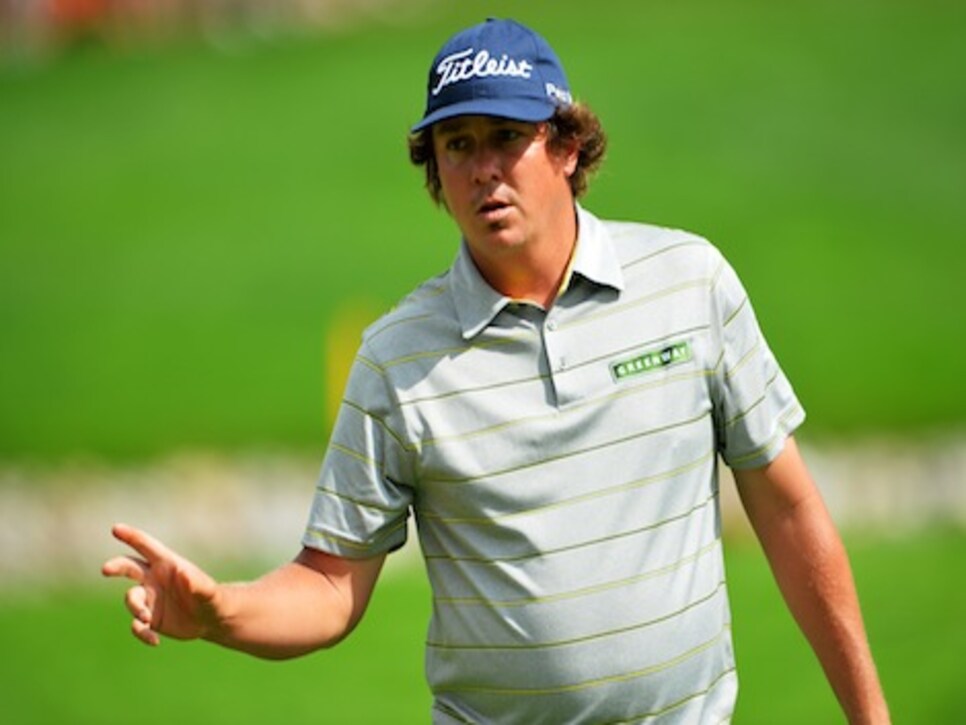 The story of the day was Oak Hill Country Club on Friday, not for baring its teeth, but for losing them. That, at least, was CBS' David Feherty's explanation.
"I was expecting Oak Hill to be a ferocious, elderly place, but it's like an old lady who's lost her teeth and is sort of searching for them," Feherty said during his stint on TNT's telecast of the second round of the PGA Championship.
Overnight rain and a steady downpour Friday morning softened the course to the point that Jason Dufner erased a competitive course record of 64 that was set by Ben Hogan in the Times-Union Open in 1942 and matched by Curtis Strange in the '89 U.S. Open and Webb Simpson Thursday morning. Dufner shot 63 and even left a birdie putt short at 18 for 62.
"It's the opposite of the amateur game," Feherty said. "The longer this golf course gets the easier it plays for these players because it plays wider. These are very, very narrow fairways, but when the ball hits and stops and stops on the greens it just plays a great deal easier for them. Right now, Oak Hill is pretty benign."
It made for some low scoring and interesting viewing. Or, as the estimable Dan Jenkins of Golf Digest noted on Twitter, "As second days of majors go, this one is pretty darn good."
Feherty was amused at Jason Dufner's reaction when his approach shot at the second hole spun back and into the cup for eagle. Dufner, who always appears as though he could use a shot of Jim Furyk's 5-Hour Energy, displayed little more than a hint of a smile.
"That's Jason Dufner going mental," Feherty said.
"I think Steve Stricker was a little happier about that than Jason Dufner was," Ian Baker-Finch said of Dufner's playing partner.
Peter Kostis won't be working the CBS telecast of the PGA Championship this week as he continues his recovery from surgery for colon cancer. Still, it doesn't mean that he isn't providing his insights, only that he is doing so via the written, rather than the spoken, word, via Twitter.
"Today, for whatever reason, Tiger is struggling to match up his arms and body. His body is out in front making timing difficult," Kostis wrote.
Kostis also identified an annoying problem, the sluggish speed of PGA.com and its leaderboard.
"The PGA website is a metaphor for golf's slow play problem!" he wrote.
And this: "PGA should have Shotlink this week. The website is painful and slow. There's not much 'live' about it."
Scott turned pro in 2000, a year in which Tiger Woods dominated golf. Scott's swing has often been compared to Woods' swing, circa 2000, yet he hadn't won a major championship until the Masters this year. Now he's in contention for a second major. What has changed?
"In the last decade or 15 years, we've seen a number of great golf swings that didn't necessarily produce consistent results, didn't necessarily produce great ball striking," Golf Channel's Brandel Chamblee said. "And I think the difference is the tension that you see in those great golf swings because, it seems, that is the goal to those players, to make that great golf swing.  When you watch Adam Scott, you don't get the sense that he's trying to make a great golf swing. It's the golf shot that's more important to him.  And that's really what's unlocked all of this improvement in major championships is his ball flight."
Moments before Tiger Woods' five-foot birdie attempt at the 14th hole, Baker-Finch noted a conversation he had with Craig Harmon, Oak Hill's pro for 41 years. "these greens just don't break quite as much as you think. And we've seen that a lot."
Woods played the putt on the left edge and missed. "Just like that," Baker-Finch said. "That was a straight putt and he hit it where we all though, inside left edge and it was dead straight."