The Loop
Players face early test at Congressional's No. 2
BETHESDA, Md. -- A lot of talk this week at Congressional CC has centered around golfers starting one of their first two rounds on the difficult par-3 10th. For those teeing off the front nine, though, playing No. 2 just one hole into to their round won't be much easier.
Tipped out, the mammoth par-3 second measures a meaty 233 yards. It plays even longer.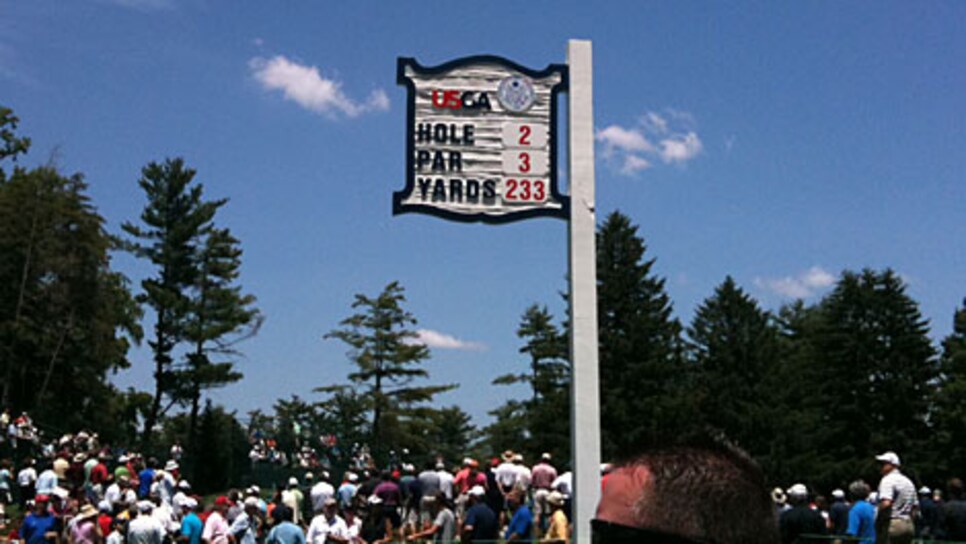 A daunting sign greets players on the second tee.
Slightly uphill and well guarded by bunkers and deep rough, balls finding any part of the narrow green drew cheers from the gallery during Wednesday's practice round. One group coming through showed just how tough it can play.
First, David May flared an iron right and came up about 30 yards short of the putting surface. Bennett Blakeman, next to play, hit hybrid, but despite his ball just landing on the front, it bounded through to and into a buried lie on the bank behind the green.
Perhaps Fred Funk, who came to the hole next along with Chad Campbell, has the best attitude when dealing with what will surely be one of the toughest holes all week when stretched out. The 55-year old stepped up onto the tee, pulled out a fairway wood and remarked "One of the shorter par 4s out here," to draw a big laugh from the crowd. Funk then hit his shot and upon seeing it land short of one of the greenside bunkers, yelled out, "Not even close!"
Funk may have been kidding when he referred to it as a par 4. But maybe treating it as one during what could be a tough week of scoring, isn't such a bad idea.