News
6 health and safety questions that remain as the PGA Tour hits reset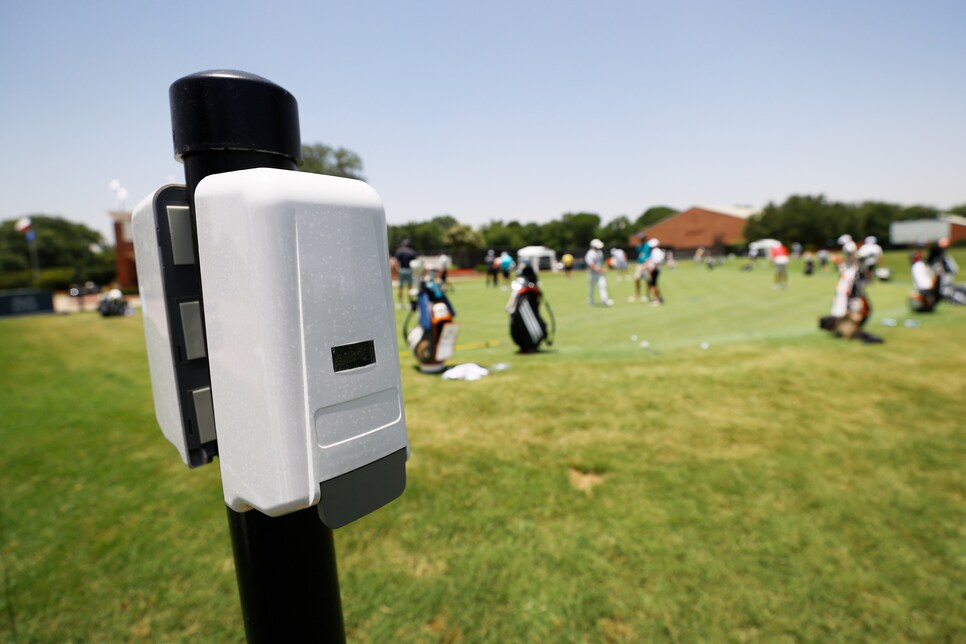 Hand sanitizer is available for use next to the practice putting green during a practice round prior to the Charles Schwab Challenge.
Tom Pennington
As you're aware by now, the PGA Tour resumes its season this week at the Charles Schwab Challenge at Colonial Country Club in Fort Worth. It's been three months since the tour last held an event, fans won't be allowed at the first five tournaments, and there's a long list of protocols outlined in a 34-page document titled "Participant Resource Guide" as the circuit returns to action.
Many topics are covered in that playbook, with most actions for players and their caddies "encouraged" but not "required." The biggest exception, of course, is on-site testing, which players and caddies must undergo upon arrival in a tournament's host city.
"We wanted to have the most comprehensive health and safety plan in sports, frankly," Tyler Dennis, the Tour's chief of operations, said on the Golf Digest podcast earlier this week. "We want to make sure for all our constituents, whether it's the players, the caddies or some of the limited media members who are going to be there, we wanted to be safe. And we just looked each other in the eye and said 'We're not going to do it, if we can't pull it off.' "
Still, questions linger. The COVID-19 pandemic is very much ongoing, and no plan or "bubble" can be completely airtight.
When the tour was last in action, at the Players Championship 91 days ago, Rory McIlroy was asked what should be done if even one player or one caddie tested positive. "We need to shut it down, then," he said at the time.
Should that happen this week, or beyond, though, the tour won't shut the tournament down; just the individual. The infected person will be required to quarantine in that city, while health officials begin contact tracing and the tour goes into disinfecting mode. Once a negative test is returned following quarantine, that person will be allowed back on tour.
As for other logistical questions regarding the resumption of play, we attempt to answer them as best we can:
How many positive cases would it take for the tour to pull the plug on its season or an event?
"When there is a positive test, there does have to be some contact tracing that takes place, which is why social distancing … is so important," Andy Levinson, senior vice president of tournament administration, said last month. "And so we haven't identified a specific number, but obviously if it was a large number then we would have to evaluate the situation."
So, TBD. Where things could get tricky is when that player contracted coronavirus, if they took the Tour's chartered flight with fellow players and caddies, or if others were exposed in any number of areas, including the locker room.
How quickly will test results be available?
Initially, players and caddies were told it could take up to several hours before results were available. But as they started arriving in Fort Worth on Sunday and Monday, it ended up taking a lot less.
"I got my results in about 2½ hours," said Marc Leishman. "The whole process of testing took about 10 minutes. It was easy."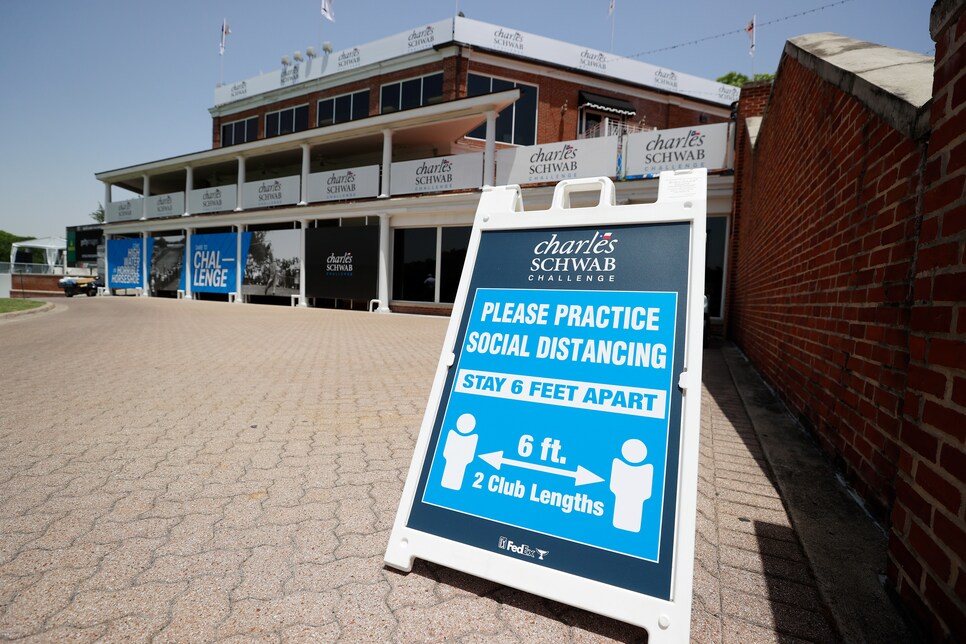 A big reason for the expediency: The tour has partnered with Sanford Health, which is deploying mobile testing units staffed with several lab technicians at tournaments for the rest of the season.
At what point would rising cases around the country make the tour change course?
This is another TBD. As Levinson said earlier, there is no specific number of positive tests that the tour has deemed to be a threshold to cause it to shut down a tournament or the season. Similar logic applies to a spike in overall cases as the tour moves around the country, from Texas, to South Carolina, to Connecticut, to Ohio and beyond. That said, if local government authorities were to change their protocols due to a rise in positive test within their region, it could easily cause the tour to have to alter plans for a specific tournament.
When will fans be allowed to attend events?
The Memorial, July 16-19, is currently expected to be the first tournament to have fans in attendance after Ohio Gov. Mike DeWine signed off on a limited number of spectators (up to 8,000, according to the Columbus Dispatch) being allowed on site. Is it then safe to assume all tournaments afterward would follow suit? Not exactly, given guidelines regarding large gatherings vary widely from state to state, and local officials will make that call, not the tour. For example, the 3M Open, which follows the Memorial, is operating under three scenarios: A small number of fans would be allowed at TPC Twin Cities in Blaine, Minn.; the event will be held without spectators; or the tournament is canceled. The latter brings us to our next question.
Yes. The John Deere Classic in Illinois was called off for this year because of the state's restrictions limited gatherings to 50 people at the time the tournament was slated to be played. Staging the Deere without fans also would have made it financially unviable, according to tournament director Clair Peterson. As noted above, one possibility for the 3M, however slight, is that it's not be played at all. "But I think that one only takes place if, unfortunately, some type of outbreak occurs in Minnesota," tournament director Mike Welch told the St. Paul Pioneer Press a few weeks ago. "And nobody is wishing for that."
How tight, really, is the tour's "bubble"?
While the tour is encouraging players to use its host hotels in tournament cities and making available charter flights to get from one tournament to the next, there are opportunities for players to be exposed to people outside the bubble (hence the vigilance in continued testing, scans and questionnaires). There are no mandatory restrictions on player or caddie movements within a city once they get there, only rules imposed by local officials (if that). And players and caddies can, in short, stay wherever they want.
Ultimately then, the responsibility for all of this to be successful falls not just on the tour with its established protocols and safety guidelines but the players for adhering to recommendations and taking proper precautions, even if they are inconvenient.
"It's going to be different," said Justin Thomas, who is in the field this week at Colonial and also a member of the tour's Player Advisory Council. "That's the thing that I was trying to get across to people, that you can't go into this thing like it's going to be normal because it's not. … If we all want to get back and play the game that we love and not just for us but for the fans and everybody at home, we're just going to have to get over the fact that it's going to be different and be a little weird.
"But after going through all the protocols and doing everything thus far, it's been a very, very easy process and the tour has done an unbelievable job of making it organized and making it very easy once we get there and quick. I hope everybody feels the same way I do. But it's been nothing but easy so far."
The tour is hoping players will be saying the same thing in the weeks and months to come.