1 / 6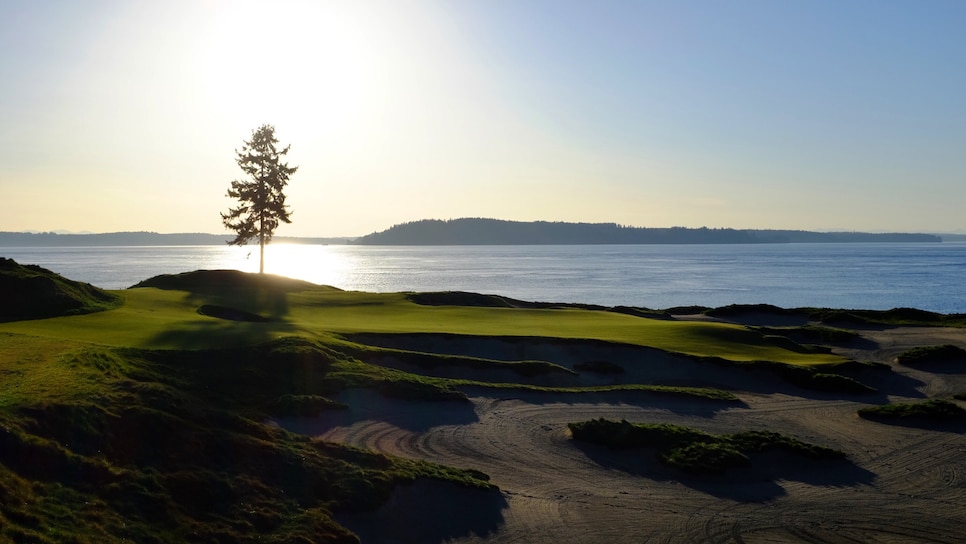 2 / 6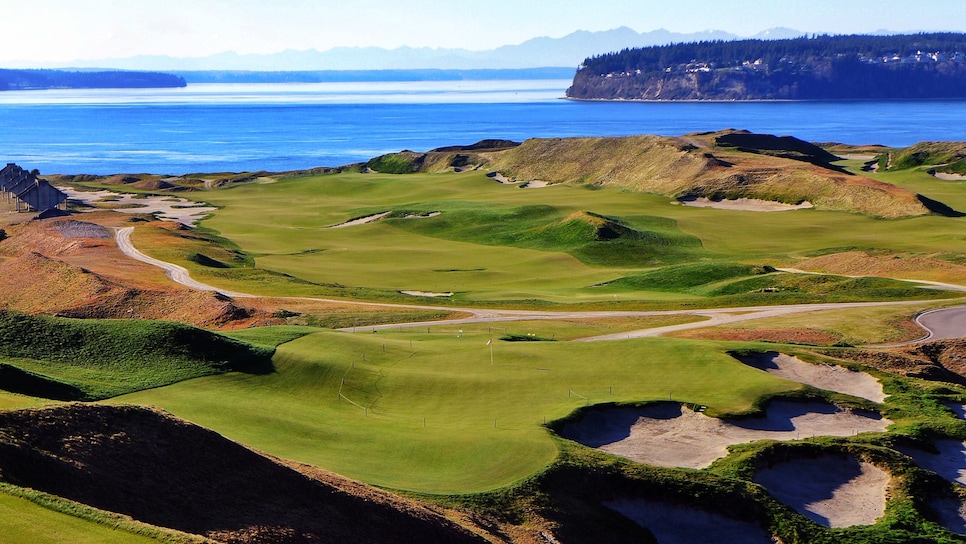 3 / 6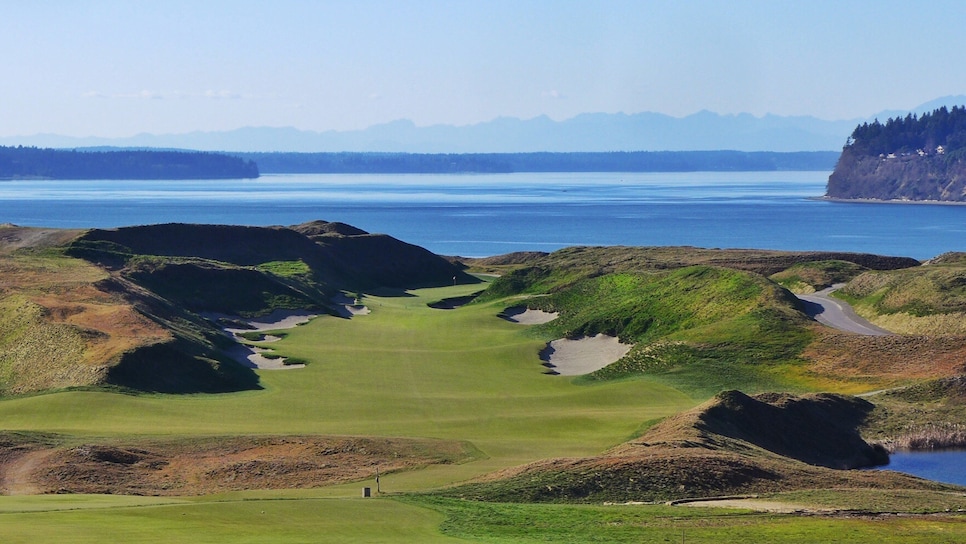 4 / 6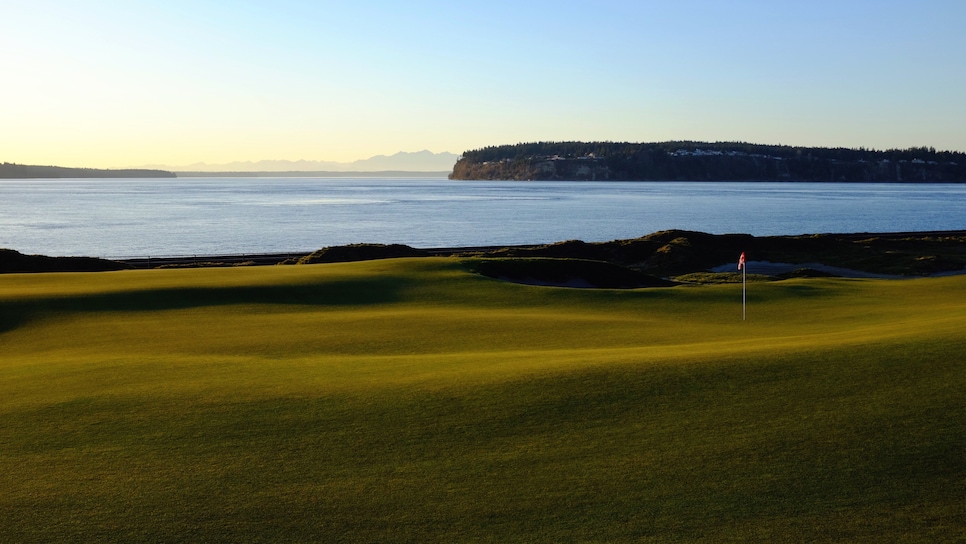 5 / 6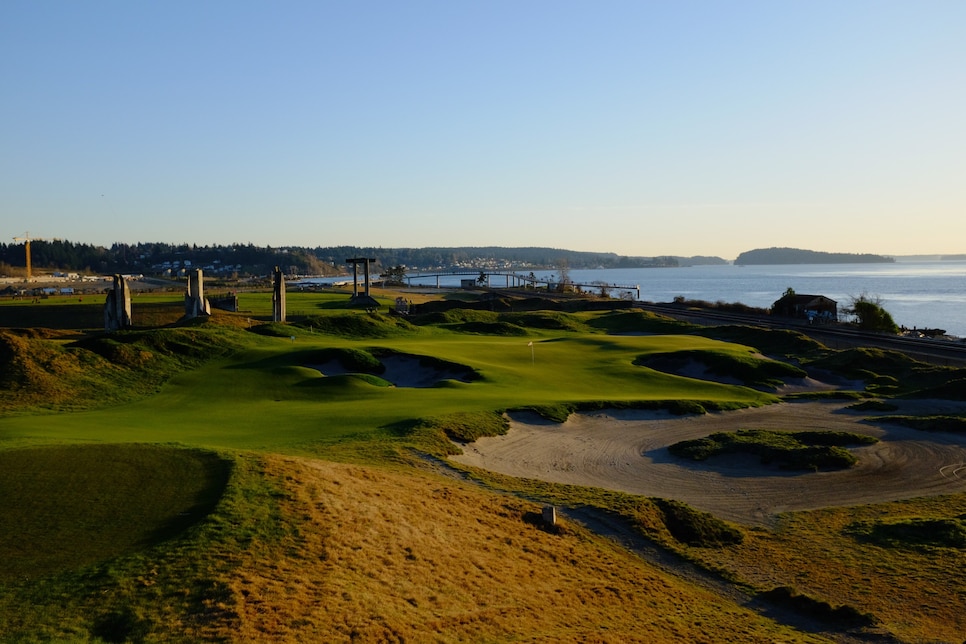 6 / 6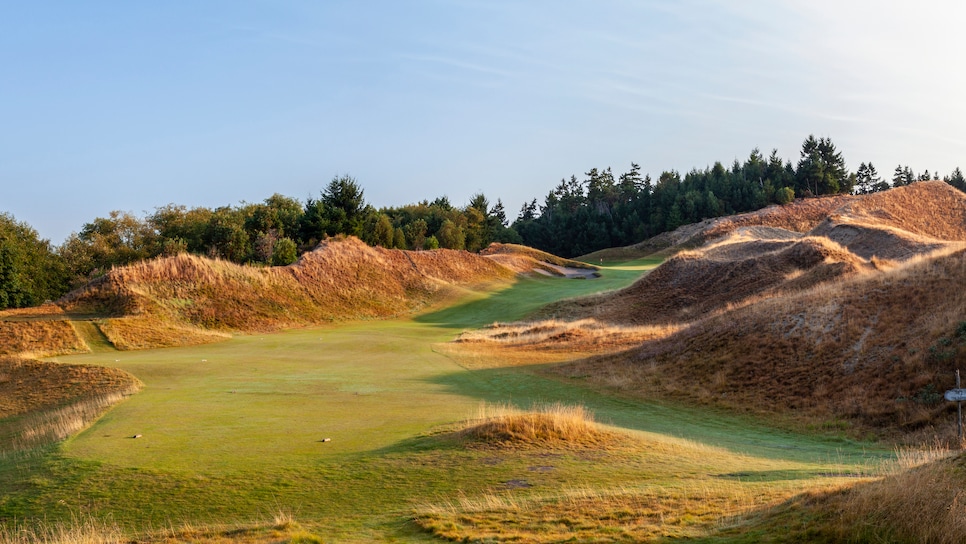 Overview
Prodded by his partner, Bruce Charlton, and their then-design associate Jay Blasi, veteran architect Robert Trent Jones Jr. agreed to a radically different, vertical-links style when building Chambers Bay in an abandoned sand quarry near Tacoma. By the time Golf Digest named it as America's Best New Public Course of 2008, the course had already been awarded the 2010 U.S. Amateur and 2015 U.S. Open. In the Amateur, Chambers Bay proved to be hard, both in the firmness of its dry fescue turf (Jones called his fairways, "hardwood floors") and its difficulties around and on the windswept greens. For the U.S. Open, the firmness and surrounds were more manageable, but the greens were notoriously bumpy. That's now been remedied, as the fescue turf on the putting surfaces has been replaced with pure Poa Annua. What's irreplacable are the views of Puget Sound from nearly every hole, multi-level fairways that entice bold driving to gain second-shot advantages and two holes running parallel to a railway that's invokes feelings of early Scottish and Irish links courses.
About
Designer
Robert Trent Jones, Jr. and Bruce Charlton
Awards
Second 100 Greatest: Ranked since 2013.
2023-'24 ranking: 125th.
Previous ranking: 132nd.
Highest ranking: 121st, 2013-'14.
100 Greatest Public: Ranked since its debut.
2023-'24 ranking: 20th.
Previous ranking: 22nd.
Highest ranking: Current.
Best in State: Ranked top 5 since 2009.
Current ranking: 1st.
Panelists
Ratings from our panel of 1,900 course-ranking panelists
100 GREATEST/BEST IN STATE SCORES
Reviews
1 / 14
Review
"Great test of grit and endurance. This is a loop where regardless of score you feel a sense of accomplishment after the round. The day I played it we were forced to endure the elements for roughly half the round. Cold, rainy and windy, but sun would open up occasionally."
Read More
2022
2 / 14
Review
"Beautiful views and course. New greens greatly improve the experience. Worth taking a caddie for advice on approach shots and putting. I am not a fan of hole 7 — very steep uphill approach — but the other ups and downs are a load of fun. Stay out of the large waste areas/bunkers bordering many of the holes. Very close to a links golf experience. One of the more unusual holes in golf is the par 3 ninth which can play either uphill or steeply downhill."
Read More
2022
3 / 14
Review
"Play it from the right tees for the best experience. Much improved since greens were replaced. Pace of play can be an issue in the afternoon. A course like no other in Washington State. Beautiful vistas. Anyone visiting from out of state should have this at the very top of their list."
Read More
2022
4 / 14
Review
"A beautiful, challenging layout with outstanding views of Puget Sound from nearly every hole. An invigorating course to walk. Having a caddy helps considerably with understanding optimal targets and slopes. I thought the conversion of the greens to poa annua was a big success."
Read More
2022
5 / 14
Review
"One of my favorite places to play. Chambers Bay offers firm links style conditions and always offers a different shot on every hole regardless of how many times you play the course."
Read More
2021
6 / 14
Review
"Chambers Bay is a fun golf course to play...period. The firm and fast setting, along with some really interesting elevation changes and internal contours makes it a blast to navigate your golf ball around this gorgeous layout and setting."
Read More
2021
7 / 14
Review
"If one accepts the challenges, it can be a very fun course to play. Don't expect conventional. It's a course that is better after it has been played once - one gets to know where to hit it in order to get the most out of a shot. Some holes have great backboards (7, 8 "
Read More
2018
8 / 14
Review
"Fun, fun, fun. Interesting layout with multiple playing options on most holes. Beautiful layout up against the Sound is a treat for your senses and game."
Read More
2018
9 / 14
Review
"When I play Chambers Bay one word comes to mind, "FUN!" Forget about the negativity surrounding the 2015 US Open and what all the haters say, go play here and you'll enjoy it. This course is a thrill ride."
Read More
2018
10 / 14
Review
"There's something unique and fun about getting around on Chambers. The staff and the practice facilities are always great, but the views and course routing make it special. While it can be frustrating at times, it's an experience that you can't get many places. Once the new greens come in, you'll be hard pressed to find a better course."
Read More
2018
11 / 14
Review
"Enormously daunting for any but the best, but if you want access to a US Open level course, well worth the visit, but prepare to suffer."
Read More
2018
12 / 14
Review
"Beautiful scenery, suspect conditioning"
Read More
2018
13 / 14
Review
"Great golf course, greens were unimpressive. The location by the sound is worth the price of admission. Walking with a caddie on the bag is my favorite way to play the game."
Read More
2018
14 / 14
Review
"Nice to play where the pros play. Expensive unless you can pay "in-state resident" prices. The single tree on the course is a great photo opp. Great practice facilities and driving range will help get you warmed up before the round."
Read More
2018
Readers
Collection of reviews from our readers
There are no reader ratings yet
Reviews
There are no readers reviews yet. Be the first to write a review.