1 / 6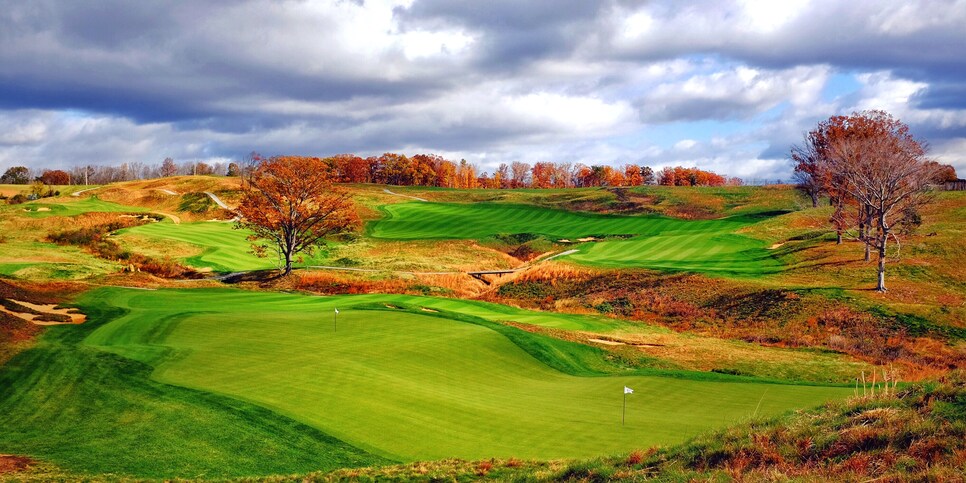 2 / 6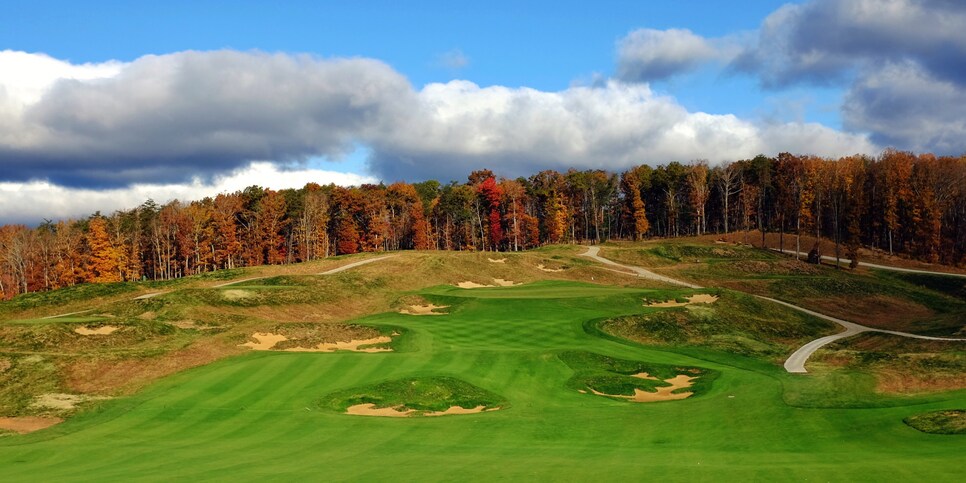 3 / 6

4 / 6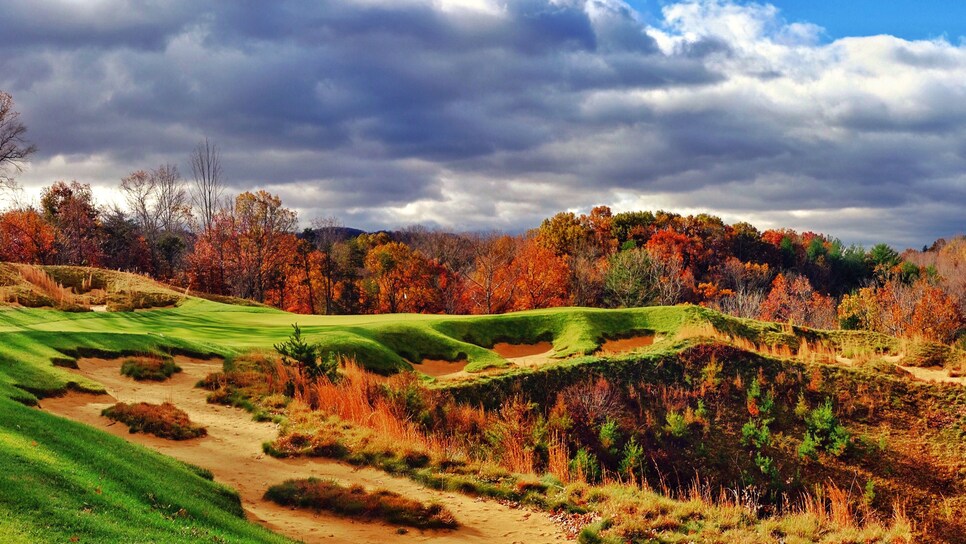 5 / 6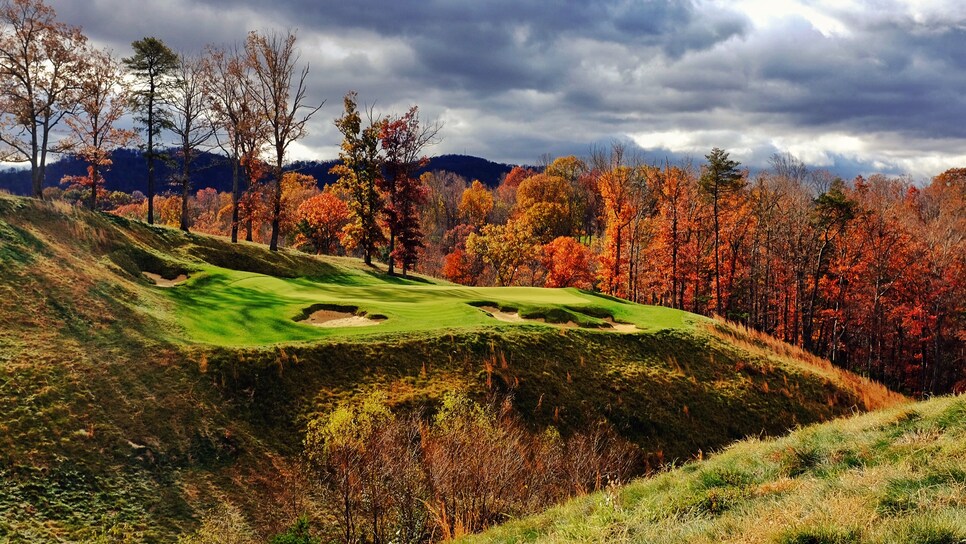 6 / 6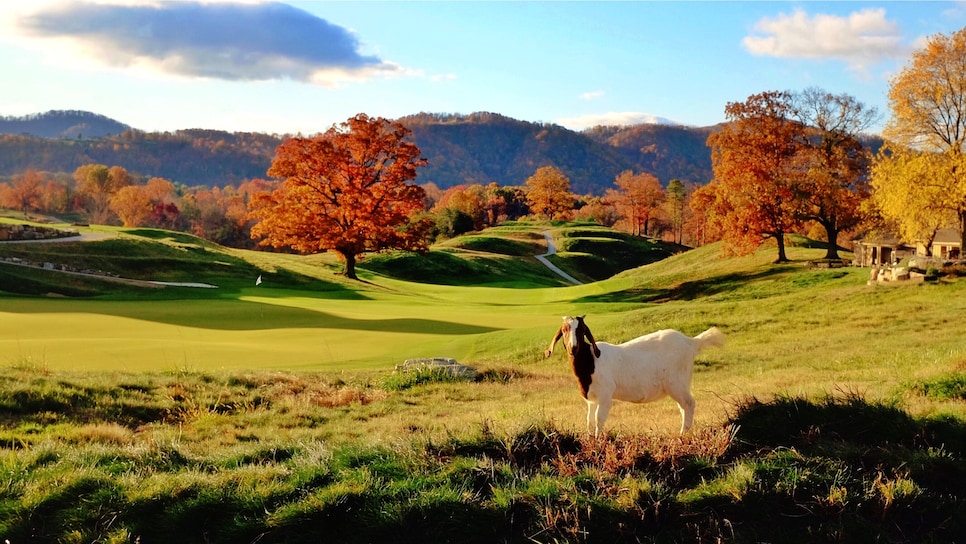 Overview
After architect Lester George completed his design of No. 66 Kinloch, with its dual fairways, optional routes and triple-fairway ninth, he relished the opportunity to do it again on a site that might give him even more flexibility. He got that chance in hills outside Roanoke, and his Ballyhack design is Kinloch on steroids, with vast landing areas, joined fairways, center bunkers, double greens and a plethora of choices off the tees and into the greens. Call Ballyhack a pluperfect blend of challenging shots, rugged terrain and nasty native roughs, The Ballybunion of southern Virginia.
Awards
Second 100 Greatest:
2023-'24 ranking: 191st.

Best in State: Ranked fifth, 2023-'24.
Panelists
Ratings from our panel of 1,900 course-ranking panelists
100 GREATEST/BEST IN STATE SCORES
Reviews
1 / 17
Review
"What a property! The scale of the place is breathtaking. The course does a great job utilizing width and angles including one of my favorite features, the double fairway on 2. The green complexes were very interesting, giving players many options in how to get the ball close to the hole. The direct route isn't always the best way, and really makes you think strategically instead of just firing at flags."
Read More
2021
2 / 17
Review
"The rhythm of the course is a joy, there are birdie opportunities if you are smart and skillful, and the variety of holes will keep you interested throughout the round. If you are thrilled by forced carries, play from one of the back tee boxes and enjoy the ride."
Read More
2021
3 / 17
Review
"Great, unique course without being contrived. The use of the existing land was superb, with holes seemingly dropped in over the slopes and ridges that already were there."
Read More
2020
4 / 17
Review
"Vast and enormous property provides a very spread out "links" style layout with elevation changes on most every hole. Sloping fairways that can produce unique bounces and rolling balls. Many shots ended 60 or more yards from where I thought they were going to end up."
Read More
2020
5 / 17
Review
"So much strategy on most holes. Some pin placements could ruin your day! Fantastic layout and in the wind, is extremely challenging."
Read More
2022
6 / 17
Review
"Course has quite a few really good holes but also has some very strange holes which look as if they were sort of forced into the location. First hole straight up a very steep hill does not make for a friendly opening hole and there was a par 5 which it turns out you are better off hitting a mid iron off the tee."
Read More
2022
7 / 17
Review
"This course is hilly with great views. Many of the holes have multiple shot options. The greens have lots of slope but are fair so you can make some putts."
Read More
2021
8 / 17
Review
"Big in every way, in land forms and greens. Many will say it is too hard. Interesting greens but some pins are just inaccessible."
Read More
2021
9 / 17
Review
"Great design and fun to play. The five par holes are very good!"
Read More
2021
10 / 17
Review
"This course is so much fun and an experience like no other. The design, terrain and greens are truly unique. Not to mention the goats that like to join play."
Read More
2021
11 / 17
Review
"Ballyhack is a very challenging golf course with amazing views and 18 signature holes. There are no two holes alike, lots of elevation changes, some of the craziest greens you will play and its all always in great condition. Ballyhack is part of the Dormie Network and a really great national membership deal for those looking to be a member of world class courses with exceptional service and not an outrageous price tag."
Read More
2020
12 / 17
Review
"Good condition, routing is good, several forced carries, has cabins for over nights, good restaurant."
Read More
2018
13 / 17
Review
"This is one great golf course, laid out on some severe terrain. A warm welcome awaits the golfer in the comfortable clubhouse. The course is difficult so play the correct tees."
Read More
2018
14 / 17
Review
"Lester George designed his dream course on 190 acres of rollicking terrain. The scale is enormous and the holes inventive. If you are looking for tame county club golf, stay home. This is a ride on the wild side."
Read More
2018
15 / 17
Review
"You will either love it or hate it, but I promise you won't forget it. Some of the most exhilerating shots you will hit on a golf course in the Eastern United States."
Read More
2018
16 / 17
Review
"Good course on an interesting piece of rolling hilly land. Friendly pro shop."
Read More
2018
17 / 17
Review
"A Lester George design that captures the rolling mountain terrain on a links style course. Several holes can be played multiple ways allowing the player various strategic options. Immense greens with multiple interior contours present the player with plenty of challenge on the greens. The course can only be walked if you are an Olympic athlete. This is one of the most unique memorable courses I have seen. Every student of good golf architecture should visit Ballyhack to see for themselves."
Read More
2018
Readers
Collection of reviews from our readers
There are no reader ratings yet
Reviews
There are no readers reviews yet. Be the first to write a review.