1 / 3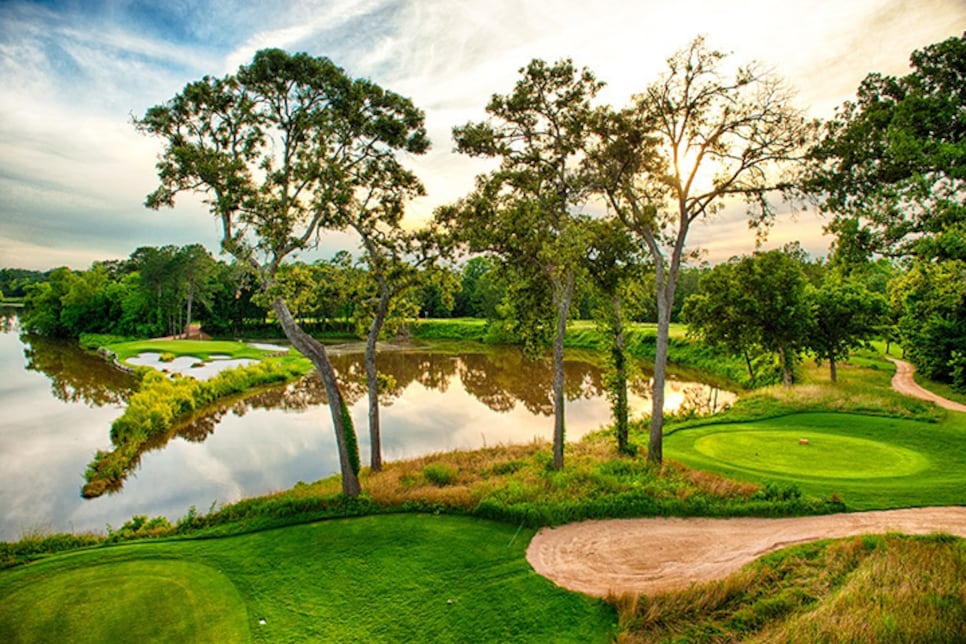 Hugh Hargrave/Courtesy of Whispering Pines CC
2 / 3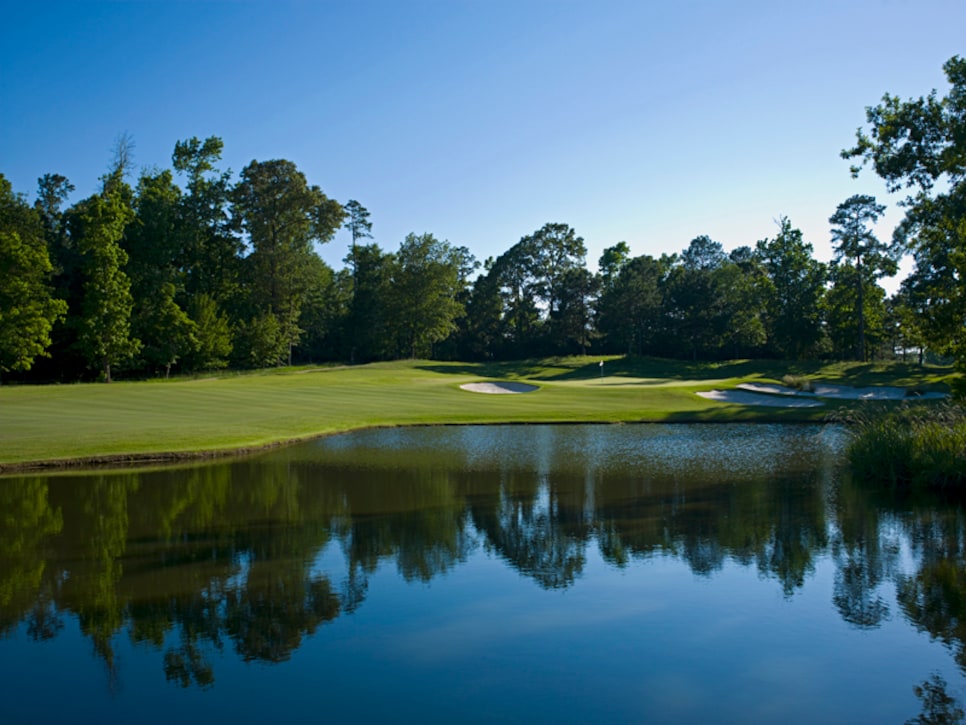 3 / 3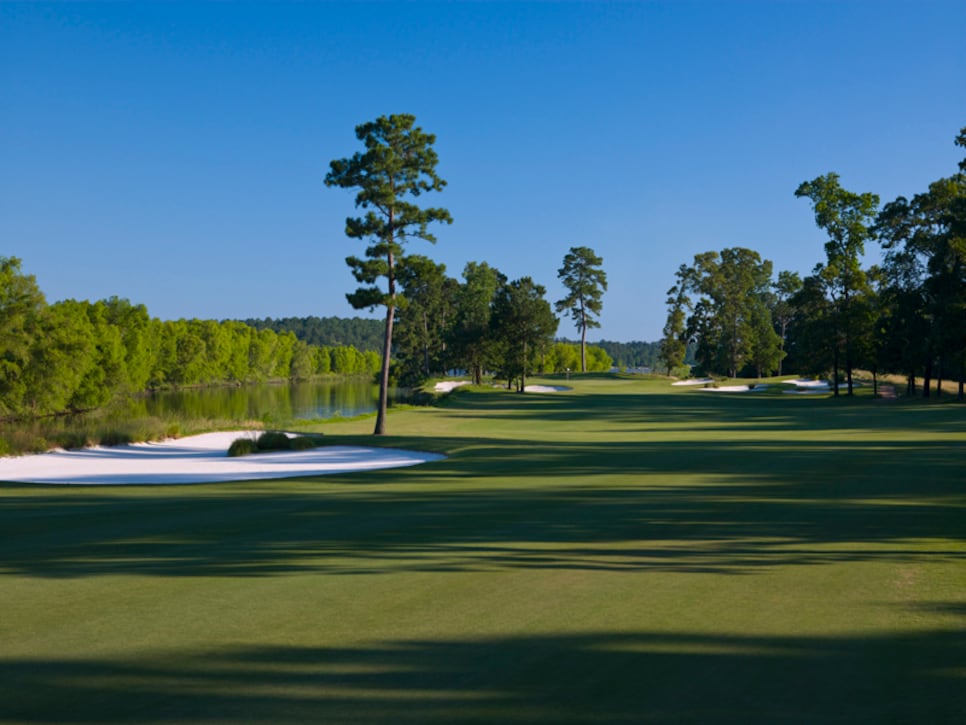 Overview
Corby Robertson, who made a fortune in coal reserves, staked out the Whispering Pines course in the early 1990s, then brought Texas-based golf architect Chet Williams (at the time a design associate of Jack Nicklaus) to help him create strategies through bunkering and green contours. Williams refined the rough-hewn routing cut through east Texas piney woods into a dazzling romp across a gently rolling landscape, culminating in a final six-hole stretch along gator-infested Caney Creek and the headwaters of Lake Livingston. Whispering Pines continues to rise in the rankings since its debut at No. 75 in 2013.
About
Designer
Chet Williams (Nicklaus Golf Design)
Awards
100 Greatest: Ranked since 2013.
2023-'24 ranking: 51st (highest).
Previous ranking: 55th.
Best in State: Ranked Top 5 in Texas since 2013.
Current Ranking: 1st since 2013.
Panelists
Ratings from our panel of 1,900 course-ranking panelists
100 GREATEST/BEST IN STATE SCORES
Reviews
1 / 10
Review
"Major changes after course reopened in 2020 primarily affecting conditioning and playability- TifEagle greens, the rest of the course Zeon Zoysia, new bunkers, new irrigation, some drainage. Essentially, other than better conditioning, the bones of the course- its routing- and primary design features remain largely unchanged. As previously noted, the course was built on large site with relatively minor elevation changes, rugged terrain, creeks, ponds, wetlands, and a tributary of the Trinity River in play, mostly laterally, but with some forced carries. Excellent variety of short, medium, and long holes Hole corridors guarded by trees or water and bunkers, with native grasses also in play. A fair, but stern test from the back tees for the scratch player, requiring both power and accuracy, simultaneously on some holes."
Read More
2022
2 / 10
Review
"Chet Williams of the Nicklaus Design Group designed in 2000, and revamped by the same group in 2020. Long par 3's with well protected greens. Several holes have long forced carries either on the drive , or on approach shots. No two holes are alike. The par 3's have a variety like the 164 yd. par 3 island green on hole 16. Nice balance of doglegs in both directions, short and long holes. Beautifully sculptured bunkers. No blind shots. All the holes are nicely framed to the eye. Lush trees and vegetation abound. Water hazards are intimidating, but add to the aesthetics."
Read More
2022
3 / 10
Review
"Cut out of the woods in the middle of nowhere. A great mix of long/short par 3/4/5's. Overall it's an amazing golf course that keeps you excited to see more. The last stretch of golf holes were a true but fair test of your ability on the golf course."
Read More
2022
4 / 10
Review
"Wonderful firm and fast conditioning throughout the course. First three holes greet the player w/ a shortish par 4 opening hole w/ an incredible dual tiered green, a long uphill par five 2nd hole that wraps around penal bunkering with the 2nd shot, and the 3rd hole that challenges the player w/ a long downhill approach to a difficult green complex. Awesome risk reward cape type hole w/ #14 which is a shortish par 4 that provides the player w/ a risk reward tee shot over water that can be played aggressively left of a tree or conservatively right of the tree. Par three #15 felt overdone w/ the bunkering and rock work surrounding the green surface for an island green hole. Long difficult finishing hole that requires a solid drive to setup a long approach over water to a difficult green complex. Three of the par 5's and three of the par 3's largely go the same direction."
Read More
2021
5 / 10
Review
"Exclusive private club open in spring and fall. Core routing (no houses) in remote area bordering a large lake. Large site with a lot of trees, bunkers, and water. Excellent variety of holes; challenging without being overwhelming. Very good green complexes and most hole corridors are sufficiently wide."
Read More
2021
6 / 10
Review
"One of my personal Top 10 favorite courses to play. Combination of great design with excellent conditions and FUN!!!"
Read More
2018
7 / 10
Review
"Tranquil setting throughout the pines of Trinity, TX. Golf course is beyond amazing with one of the best/most difficult stretches of holes from 14 through 18."
Read More
2018
8 / 10
Review
"Exceptional! Finishing 6 holes are as good as anywhere. Drive from opening gate to the course sets the mood; course is a real gem. Watch out for alligators!"
Read More
2018
9 / 10
Review
"Excellent golf and surroundings. If you have time, play the Needler—a 9-hole short course that is fantastic too."
Read More
2018
10 / 10
Review
"Fantastic golf experience all the way around. Great golf course usually in great condition and services and amenities are first class in every way."
Read More
2018
Readers
Collection of reviews from our readers
There are no reader ratings yet
Reviews
There are no readers reviews yet. Be the first to write a review.