1 / 4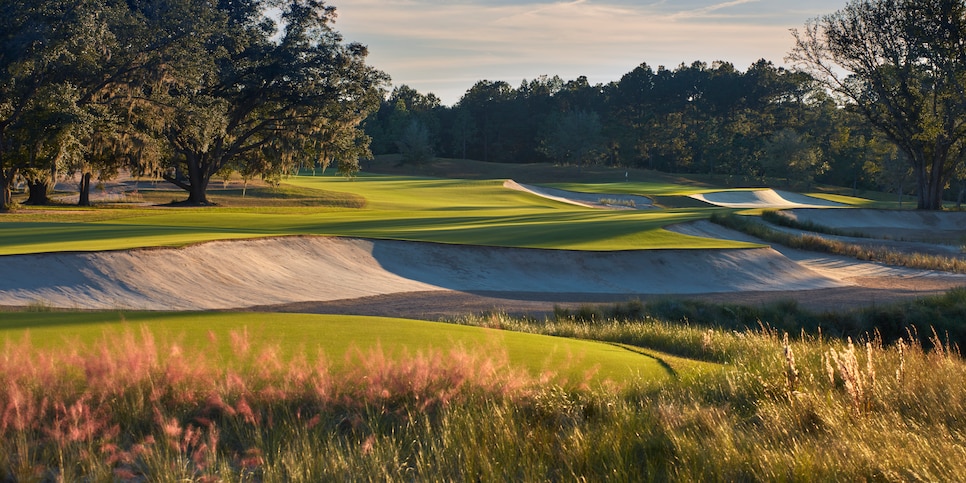 2 / 4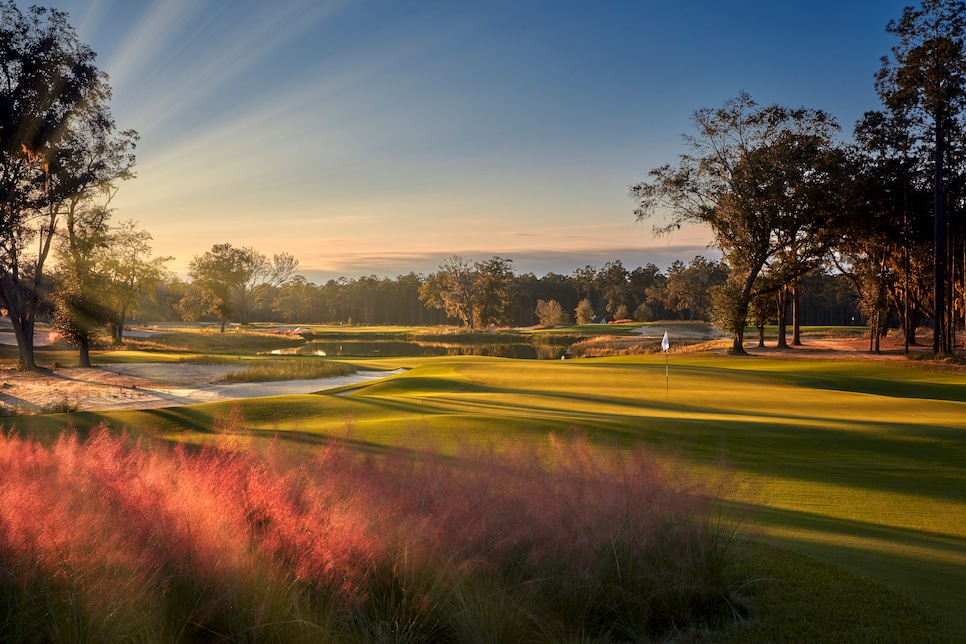 The view from behind the 3rd green at Congaree.
James Haefner Photography, Inc
3 / 4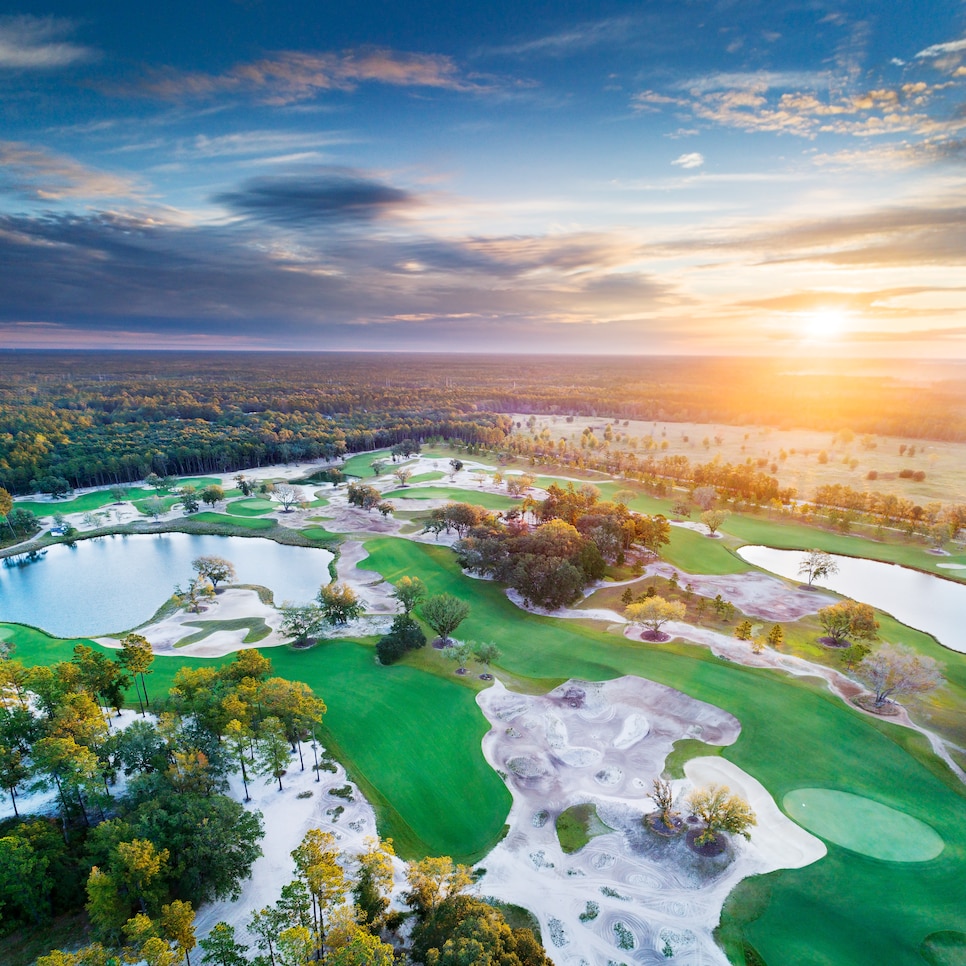 4 / 4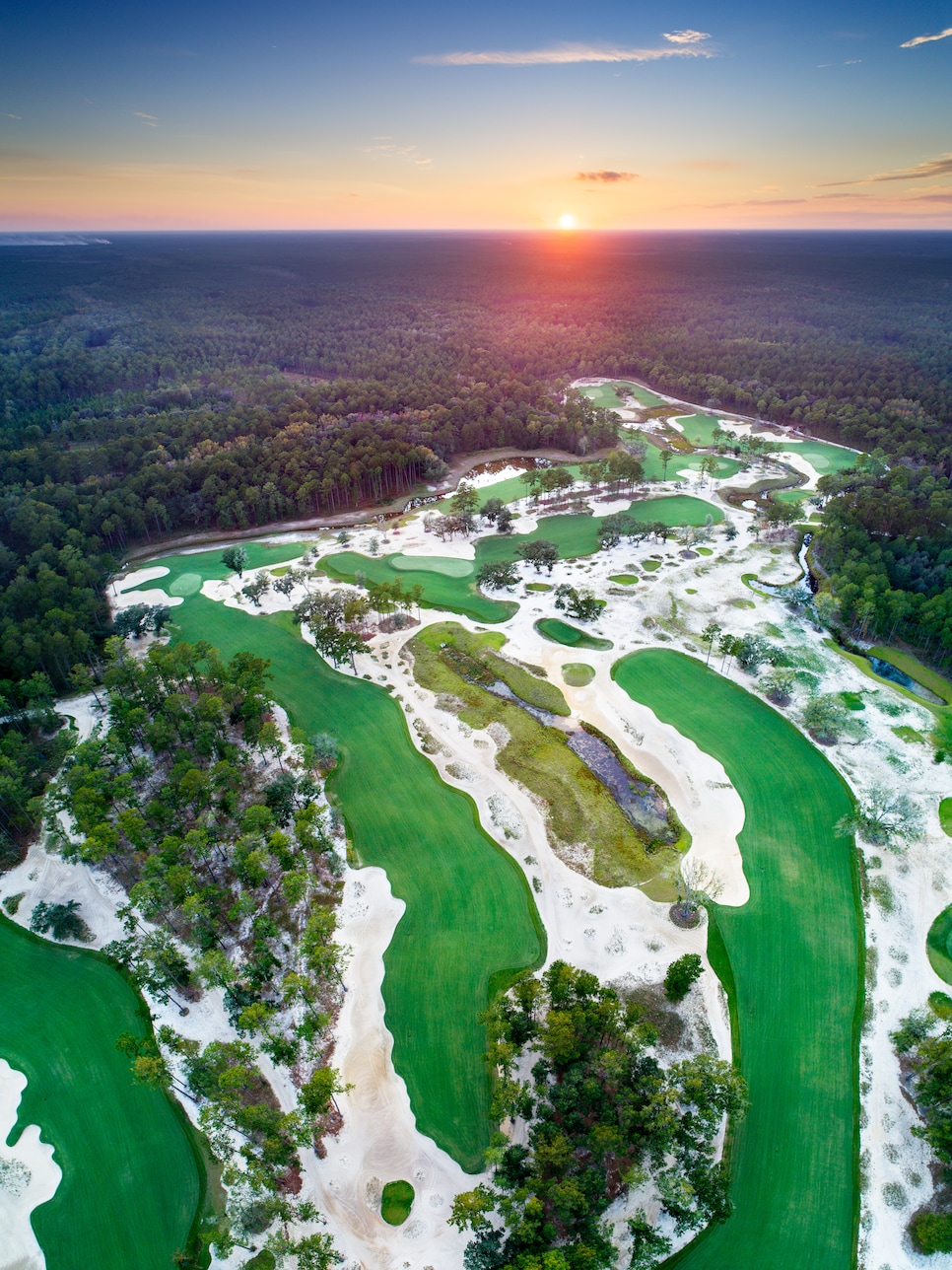 Overview
Tom Fazio has designed countless compelling golf courses on sites that weren't. But at Congaree, 30 minutes inland from Beaufort, S.C., he at least had great material: sand, in the form of two deep sections of it separated by a lowcountry wetland area. The sand made it easy to scoop and shape long ridgelines, creating significant movement across an otherwise level property—and dozens of stately live oaks, carefully transplanted for effect—further outline the design. Finely edged Melbourne-style bunkers sweep up to the edges of fairways and into greens, catching shots that drift too far and leading to challenging hi-lo recovery situations. Congaree hosted the 2022 CJ Cup after making its debut as a tour venue for the previous year's Palmetto Championship, which replaced that year's Canadian Open.
Awards
100 Greatest: Ranked since 2021-'22.
2023-'24 ranking: 42nd.
Highest Ranking: 39th, 2021-'22.
Best in State: 2nd since 2022.
Panelists
Ratings from our panel of 1,900 course-ranking panelists
100 GREATEST/BEST IN STATE SCORES
Reviews
1 / 9
Review
"Played Congaree the weekend before the Masters. Arrived to find PGA pro's on the range / putting green getting ready for the Masters. Greens/ Fairways were so fast and true, the head pro guessed that the greens were running at 15! One of the best courses I've ever played, this is Mr. Fazio at his very best. The layout, bunkering and green complexes are spectacular. Shot options with significant risk reward are available on virtually every hole. I rated this course slightly lower on Challenge when compared to Shinnecock, but not by much. This is a wonderfully fair / brute of a golf course with good recovery options around the large / hard to hold greens."
Read More
2023
2 / 9
Review
"Congaree weaves beautifully around the Lowcountry like it has been there forever. Nearly every hole offers multiple shot options, and each decision can reward or penalize a player accordingly. Good players may find themselves taking angles that will reward them with birdies if they can pull off difficult shots over large bunkers and waste areas to fairways that turn both right and left. It plays hard, fast, and true to what the eye sees. This makes the course challenging, unique, and a lot of fun for players of all abilities."
Read More
2022
3 / 9
Review
"The most unique tee boxes I've seen that are wavy "
Read More
2022
4 / 9
Review
"Very exclusive private club only open Nov-May. Great caddie staff and outstanding facilities and service. Never play Augusta but it can't be in much better condition that Congaree. Should be on everyone's golf bucket list!"
Read More
2021
5 / 9
Review
"This course is simply stunning. The corridors are wide but the shot into the greens are demanding. The green complexes have a lot of movement and demand great touch, skill, and imagination. It is very private but drop everything if invited."
Read More
2018
6 / 9
Review
"Spectacular experience! Some of the best turfgrass you will ever play. Great course and wonderful people - also love the charitable mission. Don't miss this one if asked to play."
Read More
2018
7 / 9
Review
"Congaree is in the middle of nowhere South Carolina on an old plantation. Course is in excellent shape and plays extremely firm and fast. There are no tee markers on the course so depending on your handicap the course remains extremely playable. Playing from the tips is extremely difficult. Ambience is at an all time high here with great views throughout the course."
Read More
2018
8 / 9
Review
"It doesn't get much better than this. The campus is extraordinary and Fazio designed a gem of a course. It is sand based with big rolling greens and fairways, immaculately conditioned to be fast and firm, and provides exciting golf shots. If you are invited drop everyhting and go."
Read More
2018
9 / 9
Review
"Amazing facilities and service. Supreme conditions that rival some of the best in the world. Two drivable Par 4s that mix into your round. Different shots and angles from the doglegs and slopes of the fairways and greens. You can putt from anywhere you would like. They have tee boxes to match the scorecard, but no official tee markers. These tee boxes are just leveled out areas in the fairways (which are very tight and pristine)."
Read More
2018
Readers
Collection of reviews from our readers
There are no reader ratings yet
Reviews
There are no readers reviews yet. Be the first to write a review.