1 / 8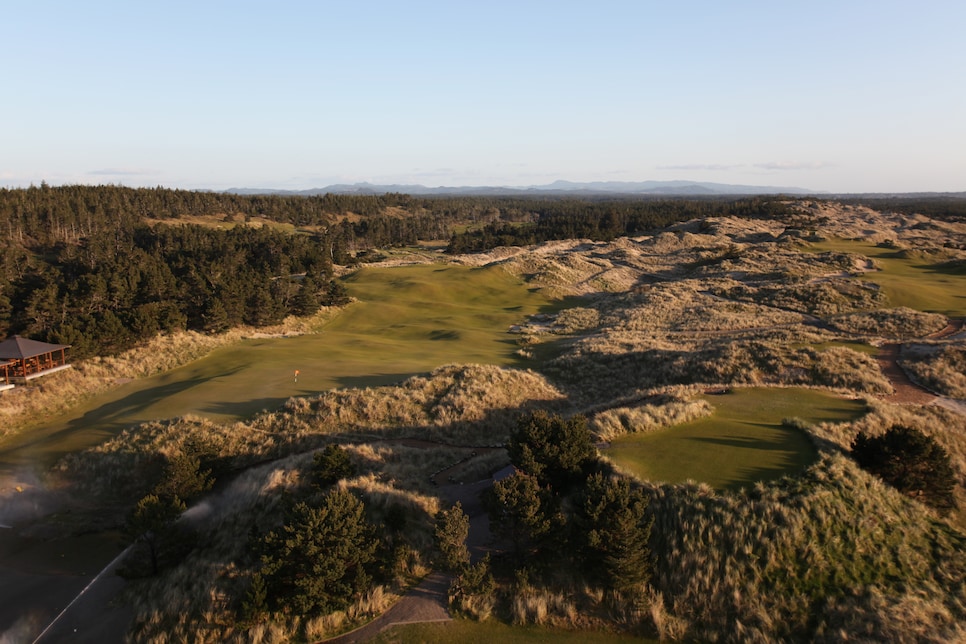 2 / 8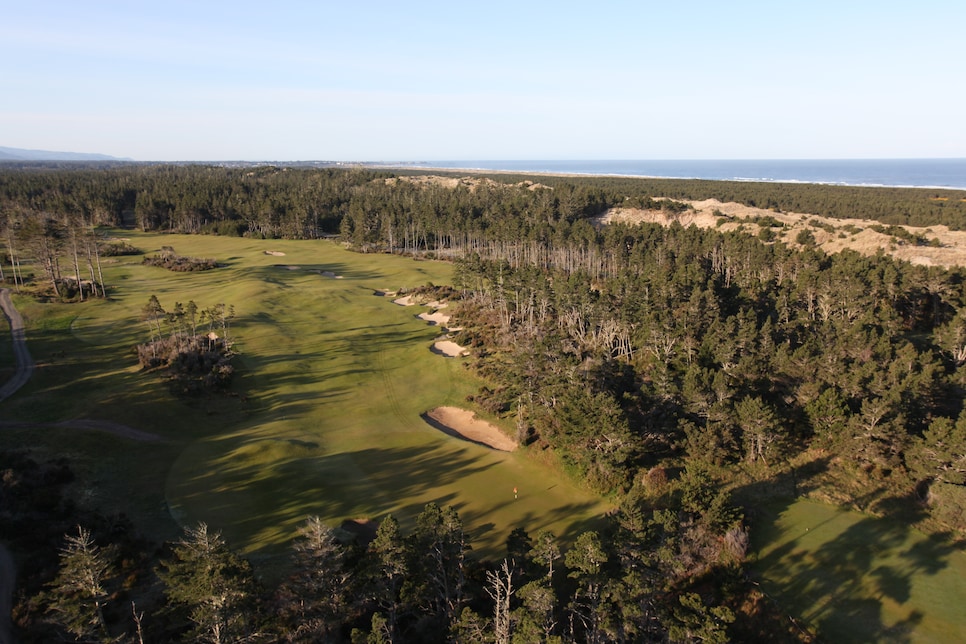 3 / 8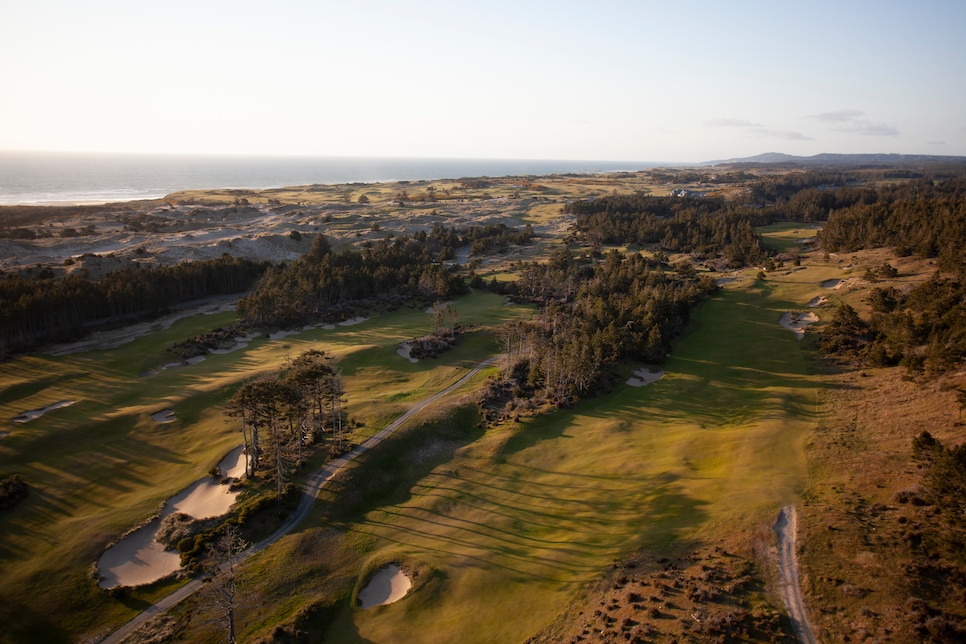 4 / 8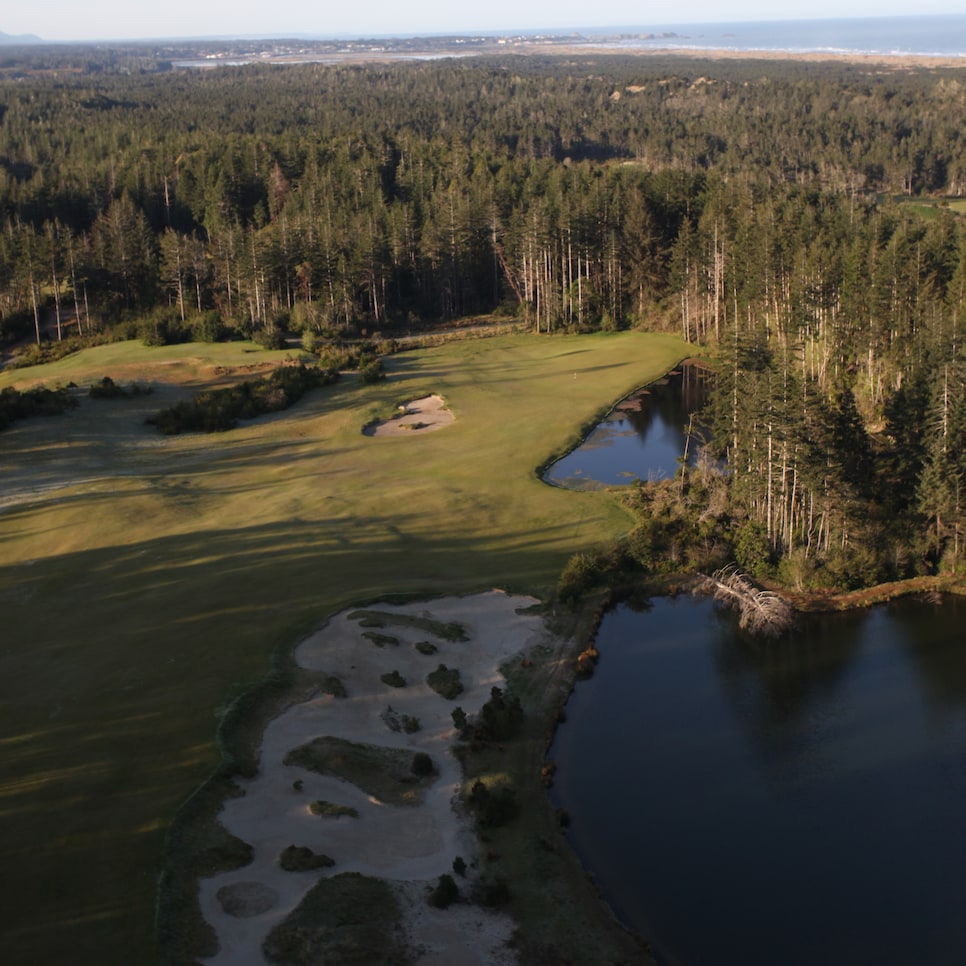 5 / 8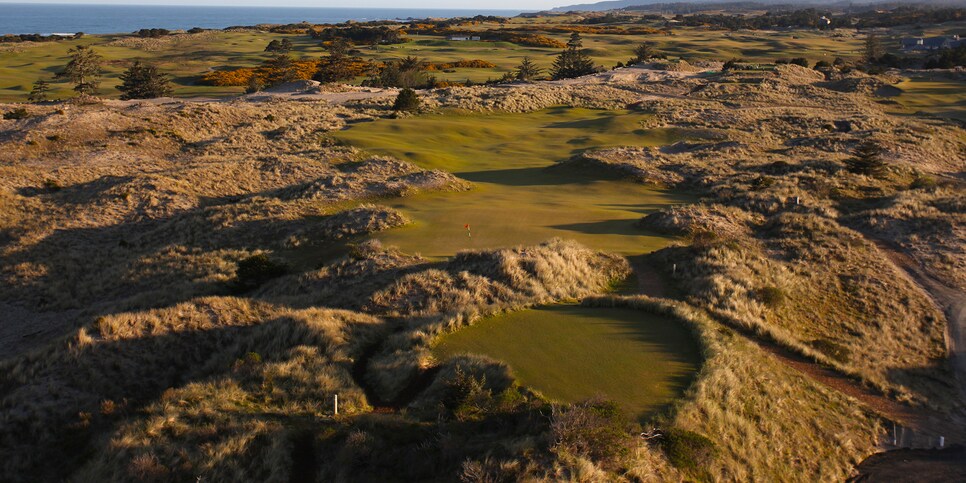 6 / 8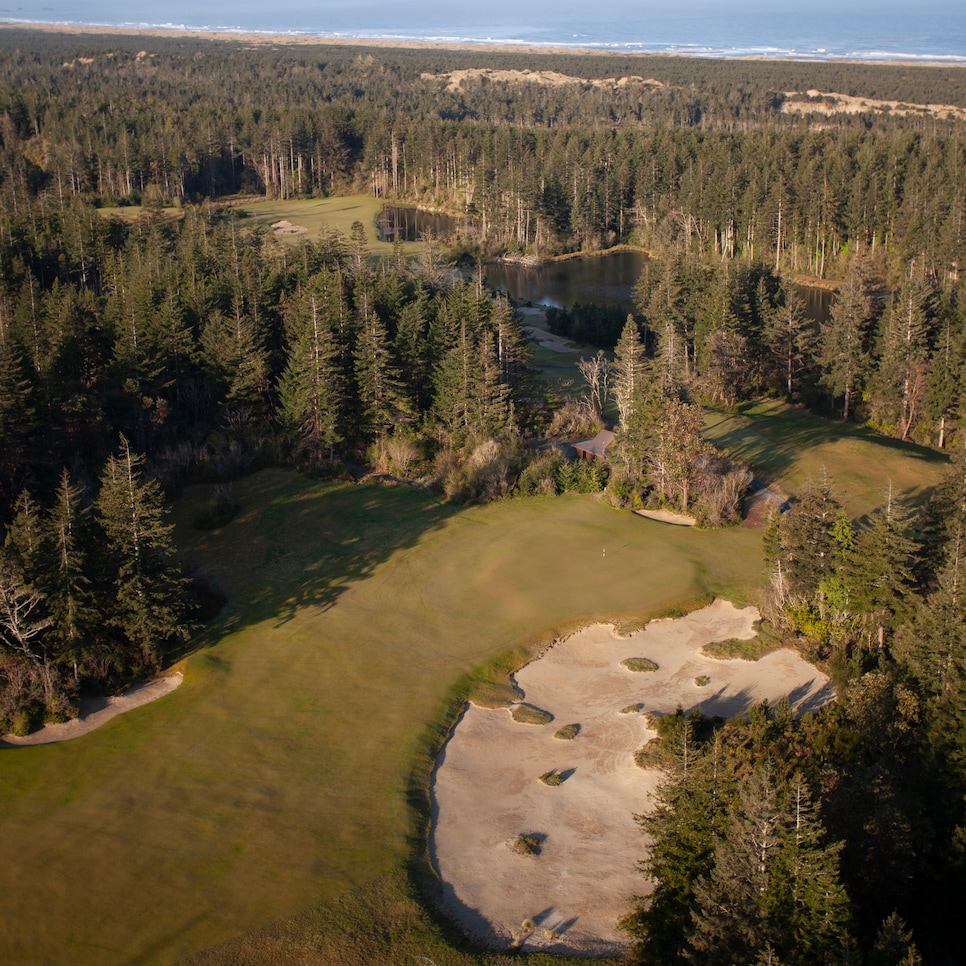 7 / 8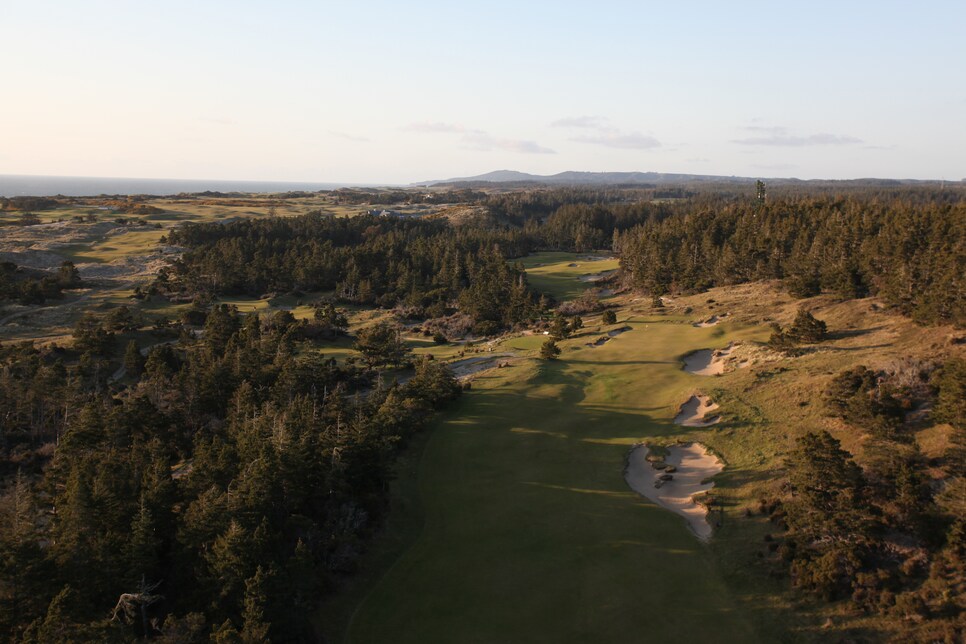 8 / 8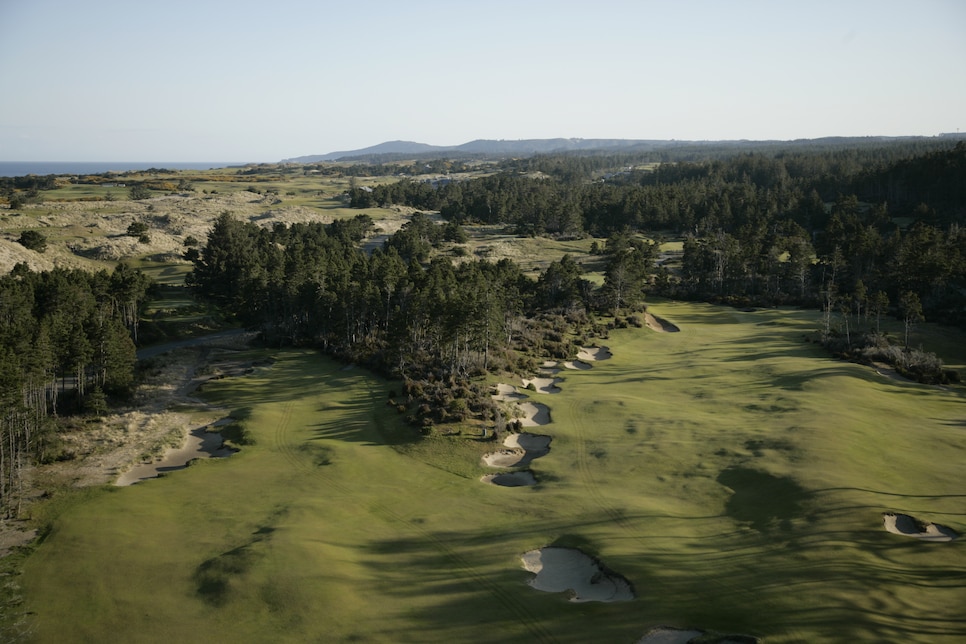 Overview
The only one of Bandon Dunes' five 18-hole courses that isn't immediately adjacent to the Pacific coastline, Trails scores points other ways, taking players on a fantastic journey through three distinct ecosytems. The course starts in serious sand dunes then turns inward toward meadows and dense Oregon rainforest, climbing toward an upper section at holes nine through 13. Fourteen is a love-it or-hate-it par 4 to a thumb of a green personally fashioned by Crenshaw that can be driven with an unerring drive off a high bluff, dropping the holes back to the meadows and ultimately to the dunes at 17 and 18. Bump-and-run is the name of the game but the structure of each hole requires thoughtful bumps and targeted runs.
About
Designer
Ben Crenshaw/Bill Coore, ASGCA
Awards
100 Greatest: Ranked since 2009.
2023-'24 ranking: 65th.
Previous ranking: 67th.
Highest ranking: 63rd, 2011-'12.
100 Greatest Public: Ranked since 2007. Highest ranking: No. 13, 2021-'22.
Best in State: Ranked third, 2011-'12, 2023-'24. Ranked fourth, 2013-'22. Ranked inside the top five, 2007-'10.
Current ranking: Third.
Panelists
Ratings from our panel of 1,900 course-ranking panelists
100 GREATEST/BEST IN STATE SCORES
Reviews
1 / 19
Review
"not as interesting or scenic as the other Bandon courses but still worth playing"
Read More
2022
2 / 19
Review
"Probably the best course on the entire property. The lack of ocean views can be the only reason it is not ranked higher. Great flow, terrific elevation changes, beautiful inland setting, spectacular scenery. This course is fun and challenging, and the holes are distinctive. 16 great holes (only the last two are somewhat lacking). Make this a priority if you go to this resort."
Read More
2021
3 / 19
Review
"The ocean holes are superlative, and much stronger on the whole than the inland holes. There are some gems in the inland holes, and much has been said about the 14th hole, but it is at the least a standout hole; there are spots on the middle of the golf course that can become a bit repetitive. Furthermore, the course is challenging, but this challenge borders on unfair along the edges of the course. Balls can run through bunkers and into hazards, or out of play, or into a bush and unplayable. A couple of fairways even end at the boundary of a dense thicket of bushes, so that a ball can roll along the fairway and roll completely out of play; I can't remember seeing that elsewhere on a golf course."
Read More
2021
4 / 19
Review
"Great mix of ocean views and tree lined holes. Rivals the best at Bandon Dunes resort."
Read More
2021
5 / 19
Review
"Bandon and Pacific Dunes along with the Sheep Ranch receive significant attention (and rightly so) given the holes that are played along the Pacific. However, Trails is an absolute gem and ranks up there just as highly in terms of a must play while on property."
Read More
2021
6 / 19
Review
"The cult favorite at Bandon Dunes, even though it lacks the ocean views of its sister courses. A shotmaker's course that provides a stern challenge (though it's been softened recently). It looks like it's been there forever, a testament to Coore "
Read More
2020
7 / 19
Review
"Bandon Trails is the hidden gem of the resort. Although not seaside, it is a great design with amazing hole layouts."
Read More
2020
8 / 19
Review
"Very underrated inland course at Bandon Dunes Resort."
Read More
2020
9 / 19
Review
"It has been 10 years since I played this course. For some reason I enjoyed it much more this time. No ocean but great variety. I would rate it the 2nd best course at Bandon behind Pacific Dunes."
Read More
2019
10 / 19
Review
"The best holes on this course are so good. Maybe some of the best at Bandon. I felt some disconnect between the dunes holes and the rest of the course, though I realize this was the intended "story." Least walkable, but most wind resistant of the Bandon courses. A real treasure with only a few glaring weaknesses."
Read More
2018
11 / 19
Review
"Not quite the links course the others at this location are, but still a great place to play. It has some parkland feel as well as links holes. Its a fun course and you will enjoy this one a lot."
Read More
2018
12 / 19
Review
"It is a fantastic course by itself, but it is overshadowed by all the oceanside golf at Bandon. A very good workout walking the course with its significant elevation changes. Greens complexes are very interesting - a lot of Coore/Crenshaw design DNA. I would drive a couple hours to play this course - but I might drive 5 hours to play Bandon Dunes or Old Macdonald. And I might drive 9 hours to play Pacific Dunes."
Read More
2018
13 / 19
Review
"Coore "
Read More
2018
14 / 19
Review
"Good inland layout which starts and ends in sand dunes and then proceeds up and through rolling terrain. Good condition, some very good holes. Good 4th course for this resort."
Read More
2018
15 / 19
Review
"Great Coore/Crenshaw course with a few strange holes."
Read More
2018
16 / 19
Review
"A really good Coore/Crenshaw layout that includes dunes and woodland holes. As part of the overall Bandon experience, I think it falls short of the other courses. It's still a fun and scenic course that shouldn't be missed."
Read More
2018
17 / 19
Review
"The overall experience of being at Bandon is so special. Bandon Trails is a great course with very friendly staff. Being that it's a little further from the practice facilities makes it a little tougher to warm up, but the service you get at the resort is top notch."
Read More
2018
18 / 19
Review
"Really fun. Doesn't get as much credit as the others since it is not on the ocean, but just as good."
Read More
2018
19 / 19
Review
"Much different than the other courses at Bandon, not on the ocean. It's no less entertaining though, playing through wooded, heathland-type terrain with some great elevation changes. After the round, head to the Bandon Dunes restaurant at the Trails clubhouse, which has some nice Asian eats."
Read More
2018
Readers
Collection of reviews from our readers
There are no reader ratings yet
Reviews
There are no readers reviews yet. Be the first to write a review.