1 / 10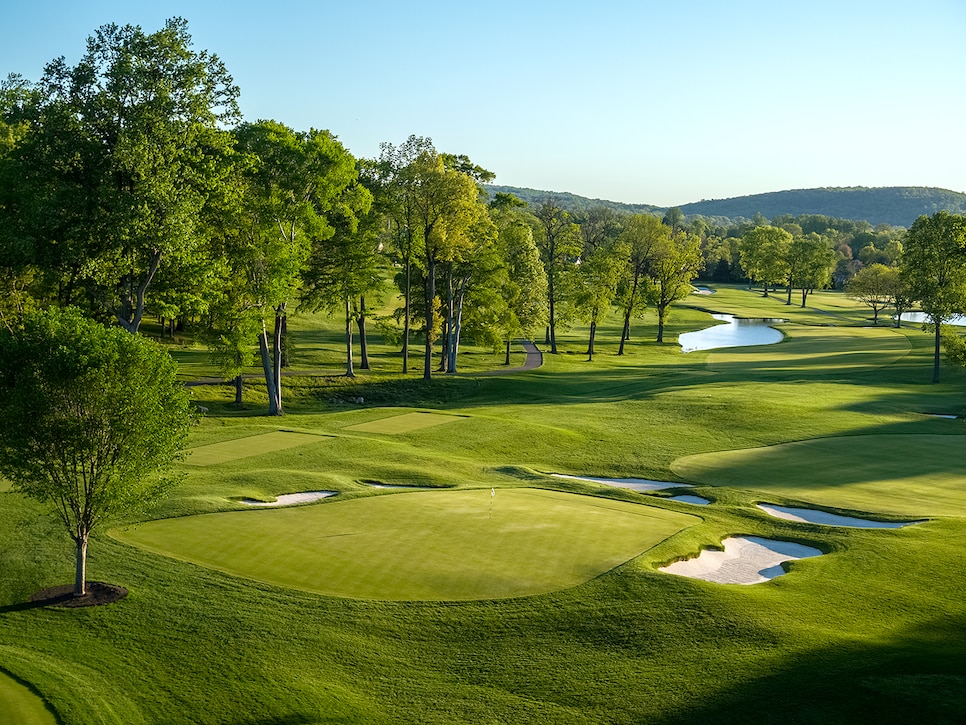 2 / 10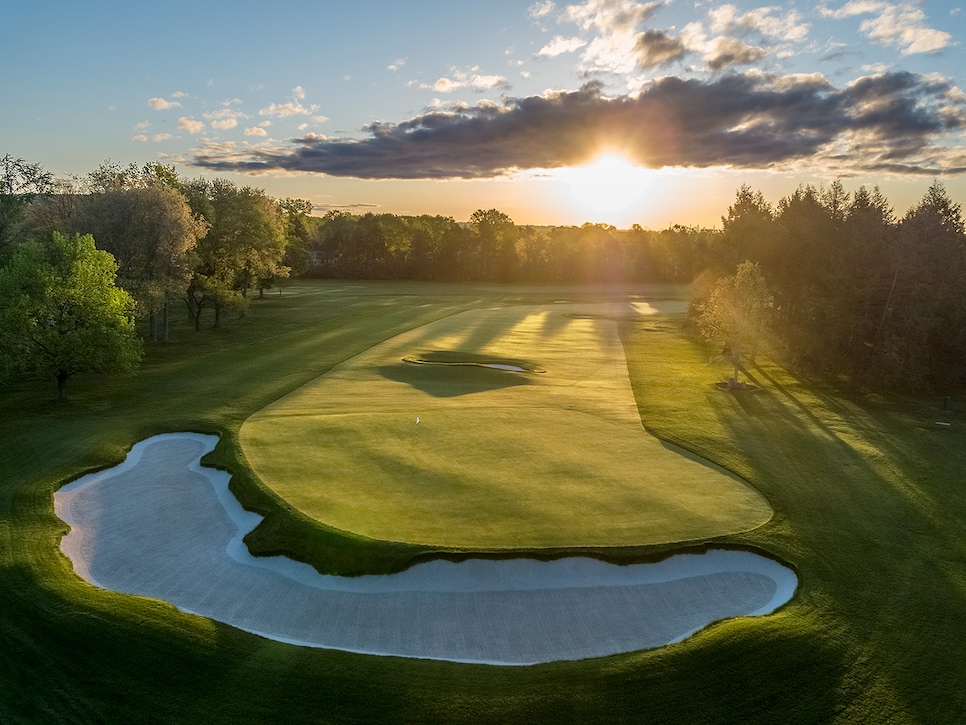 3 / 10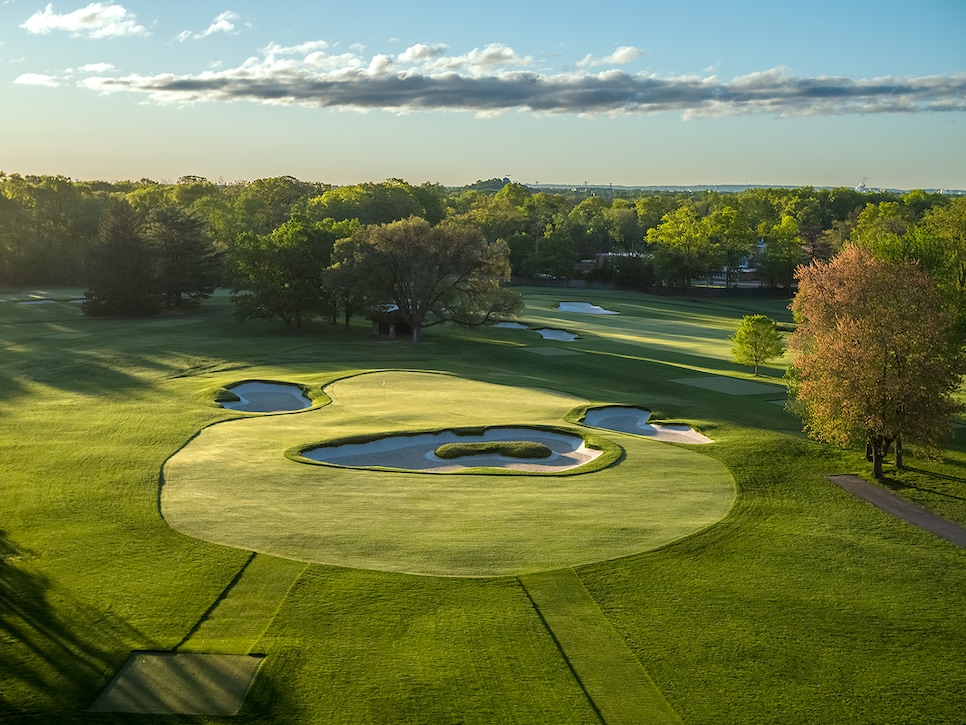 4 / 10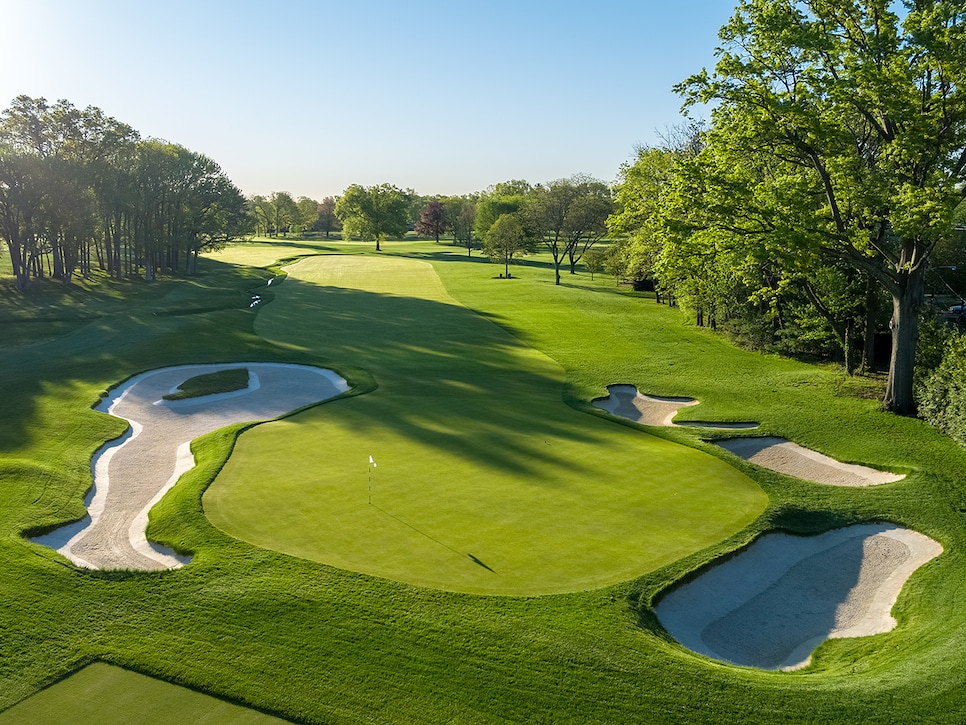 5 / 10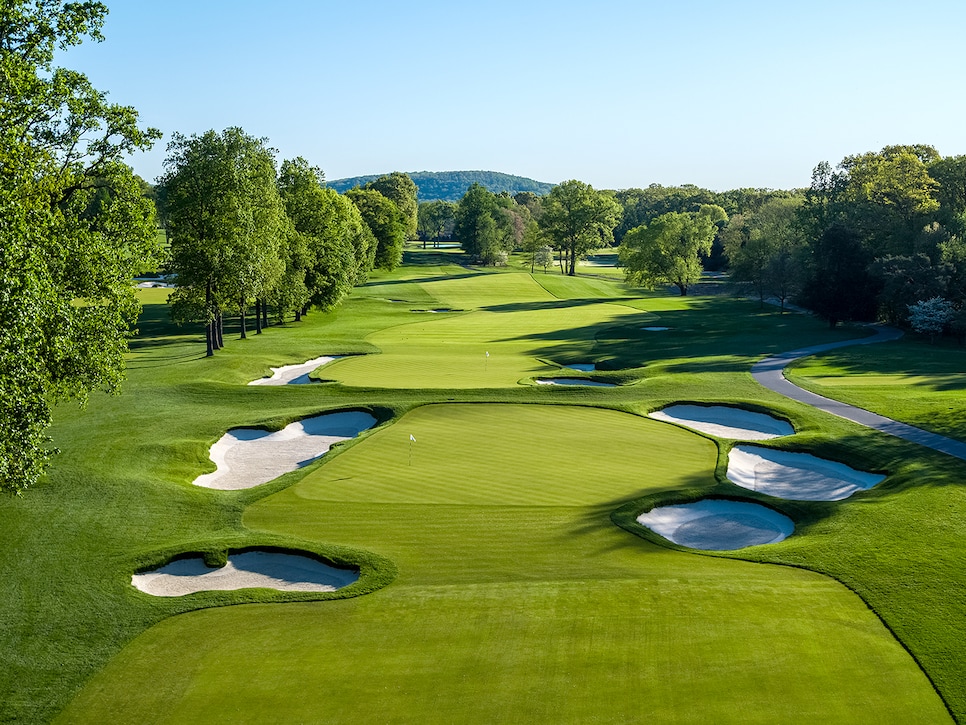 6 / 10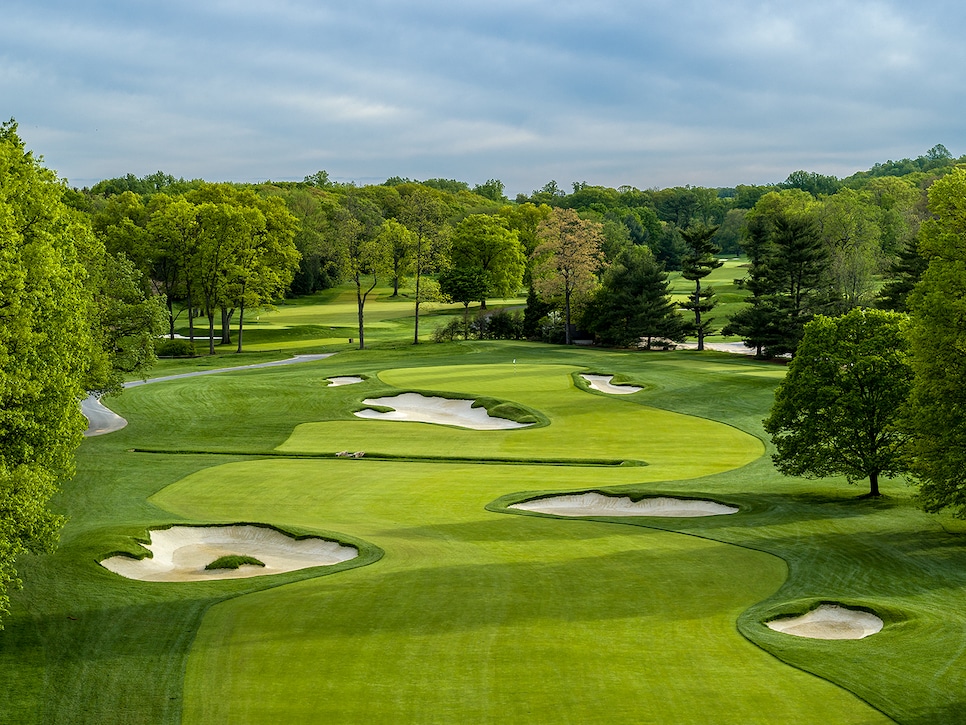 7 / 10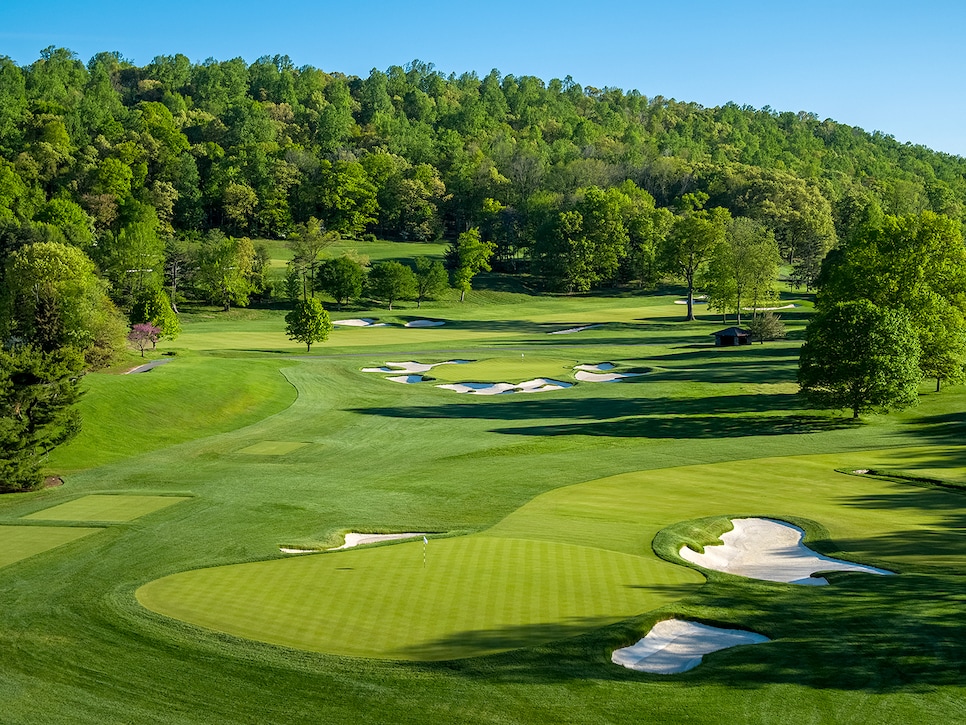 8 / 10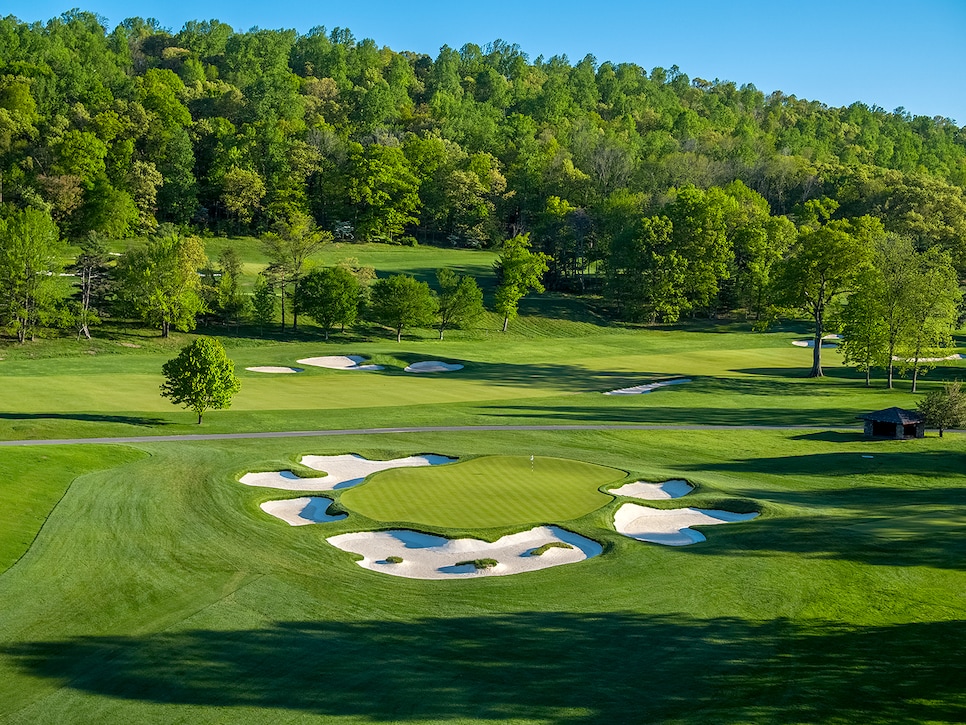 9 / 10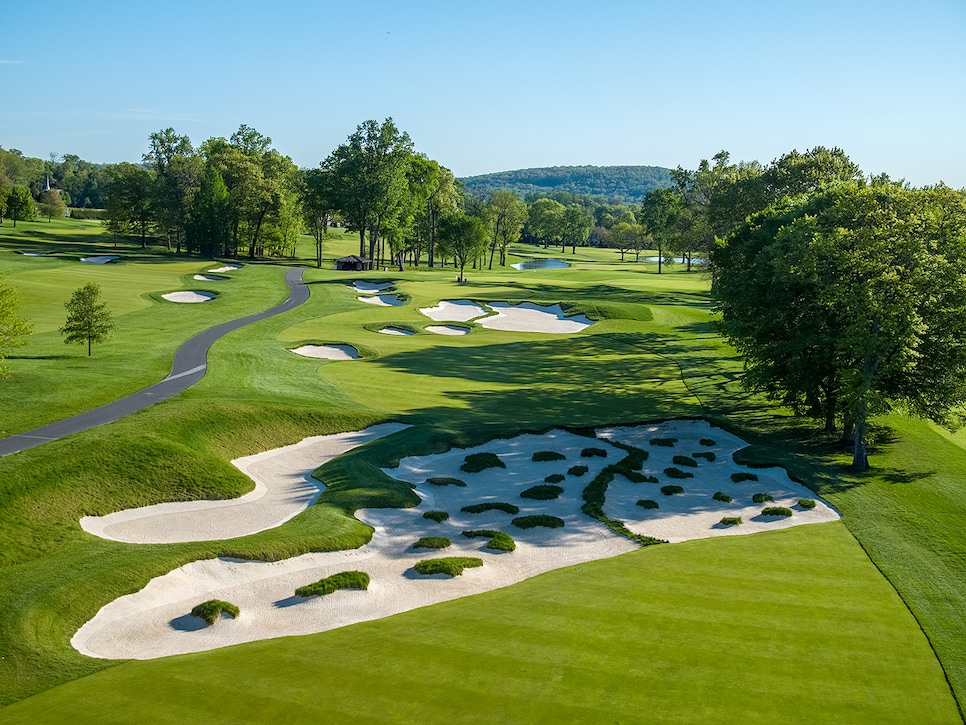 10 / 10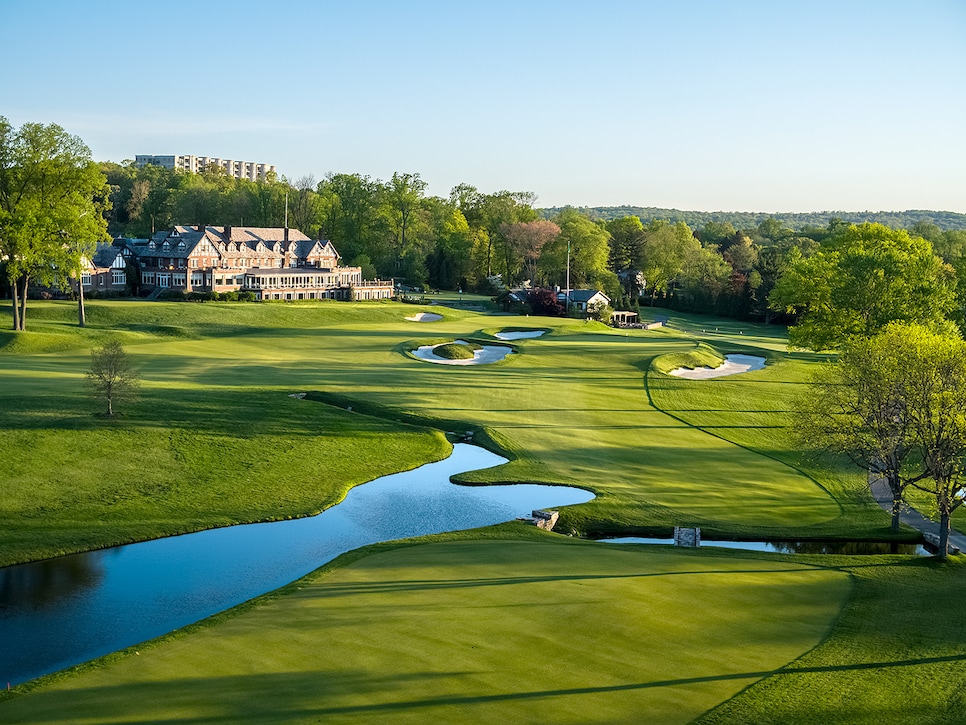 Overview
Jack Nicklaus won two U.S. Opens on Baltusrol's Lower Course, setting a tournament record each time. Phil Mickelson and Jimmy Walker won PGAs on it. But the Lower's most historic event was the ace by architect Robert Trent Jones in 1954 on the par-3 fourth, instantly squelching complaints of critical club members who felt Trent's redesign made it too hard. Trent's younger son, Rees, an avowed A.W. Tillinghast fan, lightly retouched the Lower's design for the 2016 PGA Championship. But there has been another changing of the guard at Baltusrol, as architect Gil Hanse and his team took over as the club's new consulting architects, and re-opened the restored Lower course—after carefully examining Tillie's old plans and reclaiming green size and rebuilding bunkers—in May 2021. The results, while praised, did not alter the course's standing in the 100 Greatest ranking--it remains at no. 45.
About
Designer
A.W. Tillinghast/(R) Robert Trent Jones, Sr., ASGCA/Rees Jones/(R) Gil Hanse
Awards
100 Greatest: Ranked since 1966.
2023-'24 ranking (and previous): 45th.
Highest ranking: 15th, 1985-1986
Best in State: Ranked in Top 5 in New Jersey since 1977.
Current ranking (and previously): 2nd.
Watch our exclusive drone tour
Panelists
Ratings from our panel of 1,900 course-ranking panelists
100 GREATEST/BEST IN STATE SCORES
Reviews
1 / 16
Review
"Excellent work by Hanse to get some variety, character and green details back into this championship layout. There used to be a monotony to its difficulty, but now there are different flavors of hard. Very good shaping on the greens with lots of new options, which creates new lines of charm working back to the tee to make sure you have the right approach lines. Difficult counterintuitive shaping on the putting surfaces making them hard to read, but not unfair, you just have to pay attention to things like drainage exits."
Read More
2022
2 / 16
Review
"Thoughtful restoration of Tillinghast designs. I enjoyed the strong use of crosshazard bunkering and "brows" on the far sides of bunkers to create blinds. Fairways were medium firm with some tee shots leaving pitch marks. I applauded the shaved approaches into the fronts of greens, increasing playability for all levels of golfers. Green speeds were inconsistent. The use of coarsely bladed grasses in the rough pose a significant penalty and must allow for increased difficulty as needed. Many of the tee boxes were set at disorienting angles to the fairways and cross hazards. The course features an excellent collection of teeing grounds allowing for play for all levels of skill."
Read More
2022
3 / 16
Review
"It was masterful how well placed the fairway bunkers are laid out. If you take the par 4 2nd hole that only measures to 365 yard your ideal shoot is a 230-yard fairway finder to lay up short of a smattering of fairway bunkers leaving you with a short iron or wedge into the green. If you choose to hit driver and fly the first set of bunkers, there are another set of bunkers from about 100 yards and in to the green. Time and time again you are focused on avoiding fairway bunkers that appeared to be on either side of exactly were my landing area was from the tee. Something that truly stood out to me was I felt like I used every single club in my bag which I cannot remember a time that has happened out of need versus choice."
Read More
2022
4 / 16
Review
"Hanse did a masterful job restoring some of the Tillinghast nature of the course. I especially like what he did to numbers, 2, 5, 7, 15,16, "
Read More
2022
5 / 16
Review
"Gil Hanse and his team did their best to recreate what A.W. Tillinghast completed in 1922. The restoration was bold, as Hanse removed what seemed like hundreds of trees to its members, while also completely restoring the green complexes back to the size and scale that Tillinghast intended. Another noticeable feature was the twisting and turning of the fairways that were widened, while they also reinstated several bunkers that had been removed over the years. A great example of this was on the 2nd hole, as the three bunkers that were restored on the left make the hole much more visually intimidating off the tee. It looks as though you must hit the perfect draw to find this tight narrow fairway, but there was actually far more room than it had looked off the tee as the fairway was widened to the right. The restoration of the Sahara bunkering was done on 2nd, and 17th hole, as they moved it some 40 yards down the fairway on 17 in order to make up for the the distance gains in today's game while also recreating the original design. The green complexes that were raised for framing purposes in previous renovations were restored to the original design levels. The course provides an extremely stiff test, challenging every facet of your game with a multitude of shot options. It requires you to position the ball well off the tee in order to have the proper angle into most greens, while also punishing you around the greens with any arrant approaches. While the fairway bunkers provide great defense, it's the thick lush rough that really penalize any arrant tee shots."
Read More
2022
6 / 16
Review
"Championship golf at its finest—and now it's truly at its best post-restoration. A complete ball-striking test with the greens restored back to their full Tillinghast glory. The green complexes are now in the conversation with Tillie's best"
Read More
2022
7 / 16
Review
"I found the Lower to be predominantly uninspiring outside of a small portion of holes. I thought 1,3,4,5,16 and 17 were all high quality golf holes and found the rest of the course to fall flat. Particularly the stretch of 6-14. During that stretch I needed to constantly remind myself that I was at a "Top 50" course. The conditions were pure, but slow given the lack of rainfall in the area. The course presents a fair challenge and is certainly suitable for a championship. However, based on our scoring criteria, I struggle to see how this course is worthy of its ranking with so much of the course being lackluster. I can't help but think that this is a case of raters "stamping" based on course history and pedigree. I have spoken with multiple other panelists who feel similarly here. I hope that we can begin seeing beyond this and rate courses like this fairly."
Read More
2022
8 / 16
Review
"The renovation makes the course much more visually impressive (and intimidating). Not much to say other than if you have the chance to play, be sure to take advantage of the chance. Conditions were impeccable even though we went out 2 days after a severe storm. Course opened in June of 2021. I played in Sept and it had grown in perfectly. I understand that the renovation of the upper course is next."
Read More
2021
9 / 16
Review
"Gil Hanse and his team have done such incredible work at the game's best clubs over the past dozen or so years, and their job here belongs near the top of that list. The intrigue and ingenuity of Tillinghast's greens have been restored — their brilliance reclaimed and preserved. One could spend hours putting to different hole locations and never get bored. Cross bunkering is some of Tillie's boldest. Balty remains one of the game's greatest venues for championship golf."
Read More
2021
10 / 16
Review
"The green complexes are severe, with their dramatic slopes and contours protecting its various pin locations with the firm and fast conditions. The bunkering is something that grabs your attention throughout your round, providing some intimidating tee shots along with some scary looking approaches into these well guarded greens. It always seemed like I was short-sided when I did find one of those green-side bunkers. The layout has a good variety of holes, such as the Par fives, starting with the easily reachable Par-5 1st and 7th vs the beastly Par-5 633 yard 17th. It was a round that challenged every club in my bag and required a multitude of shots tee to green. Overall, Baltusrol provided a wonderful challenge in which I thoroughly enjoyed. It was also really enjoyable to take a stroll through one of the more iconic clubhouses in the country as you soaked up its rich Championship tradition. After all, not many clubs are designated a National Historic Landmark by the United State National Park service, a truly museum like golf experience."
Read More
2021
11 / 16
Review
"Great old Tillinghast design. Prestigious club and wonderful distinguished clubhouse. Real honor to experience."
Read More
2018
12 / 16
Review
"The better of the two courses at this club. Site of US Open, PGA and other top ranked USGA and PGA events. A great layout which can play very difficult, but is fair. Anytime I have played here it has always been in great condition that includes fairways and greens. A great old club with all the amenities including caddies which are very knowledgeable and very helpful."
Read More
2018
13 / 16
Review
"Championship Tillinghast course with an amazing clubhouse."
Read More
2018
14 / 16
Review
"Good test of golf but includes several dull holes - play Baltusrol upper instead"
Read More
2018
15 / 16
Review
"One of the country's classic courses and clubs. Can be very challenging but is visually a treat with lots of variety. There's a great sense of history too."
Read More
2018
16 / 16
Review
"What more could you want. Tradition, history, amazing clubhouse, great course, well conditioned, challenging, fair, designed for walking, etc., etc., etc."
Read More
2018
Readers
Collection of reviews from our readers
There are no reader ratings yet
Reviews
There are no readers reviews yet. Be the first to write a review.