1 / 8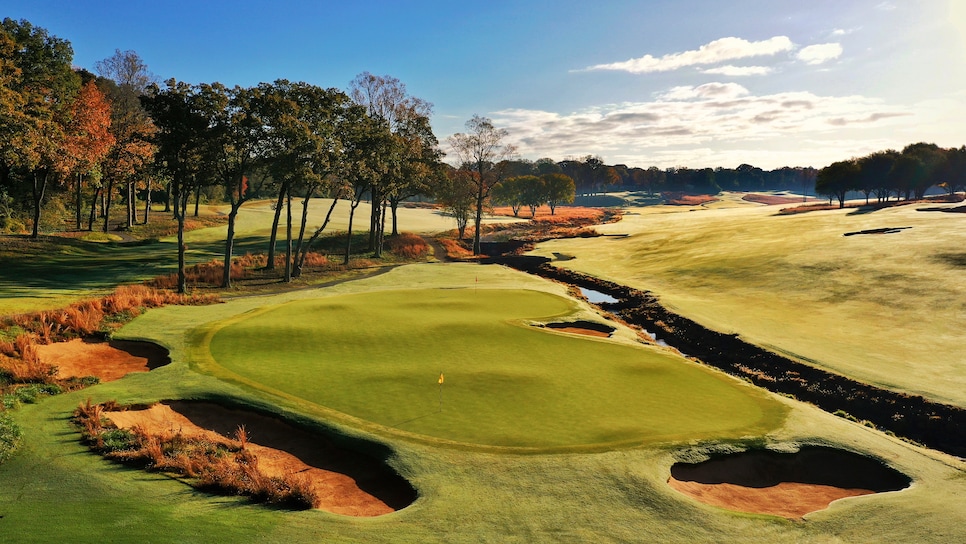 SPRINGBOARD Old Town Club in Winston-Salem, N.C., makes the biggest move in the ranking, surging from No. 92 to No. 54.
Jon Cavalier
2 / 8
3 / 8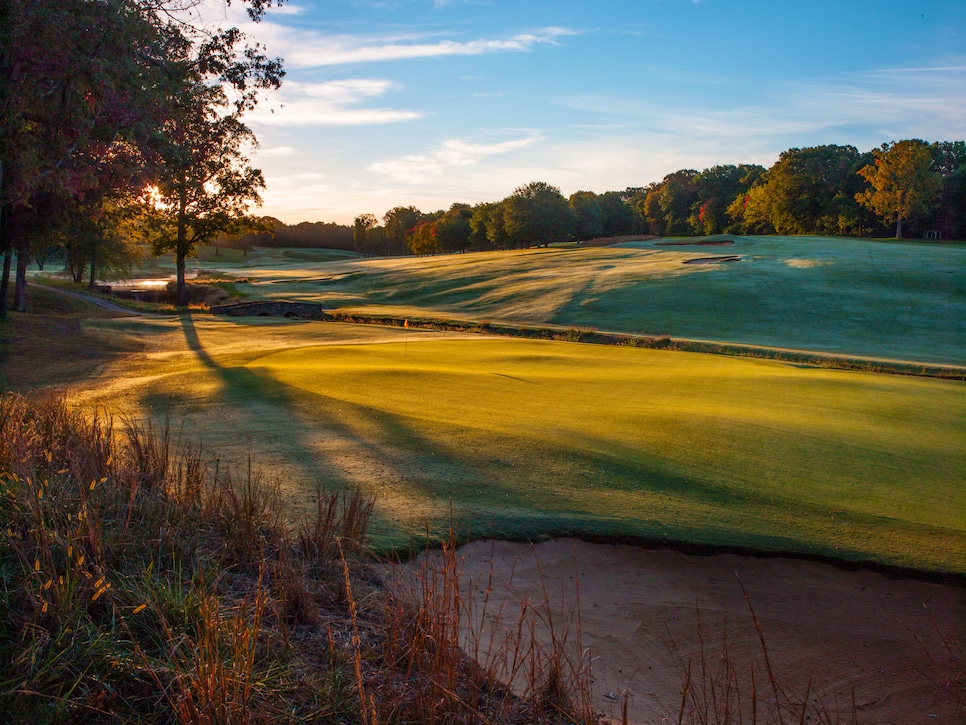 4 / 8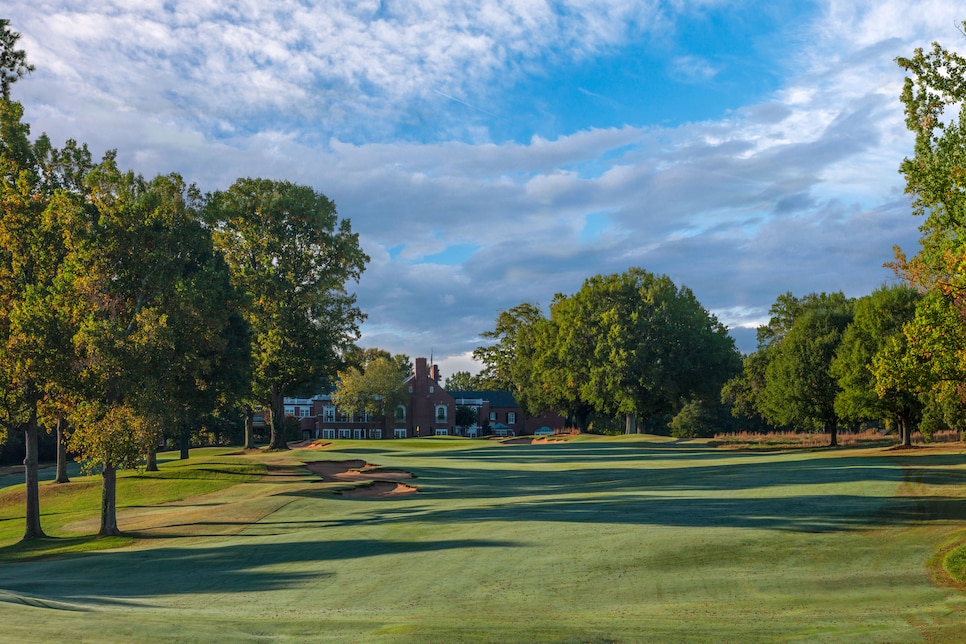 5 / 8
6 / 8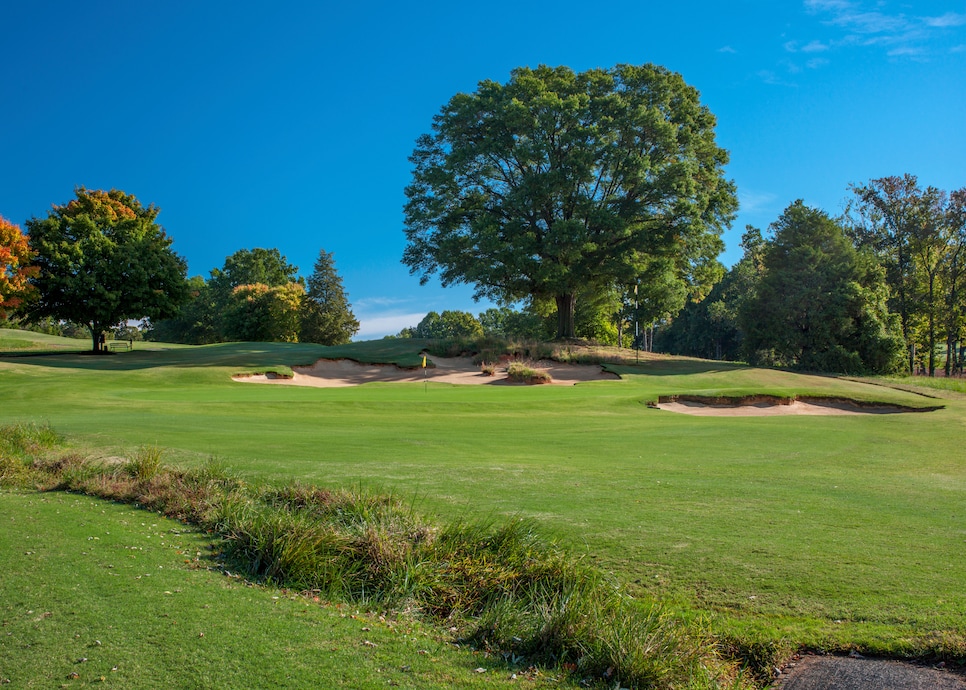 7 / 8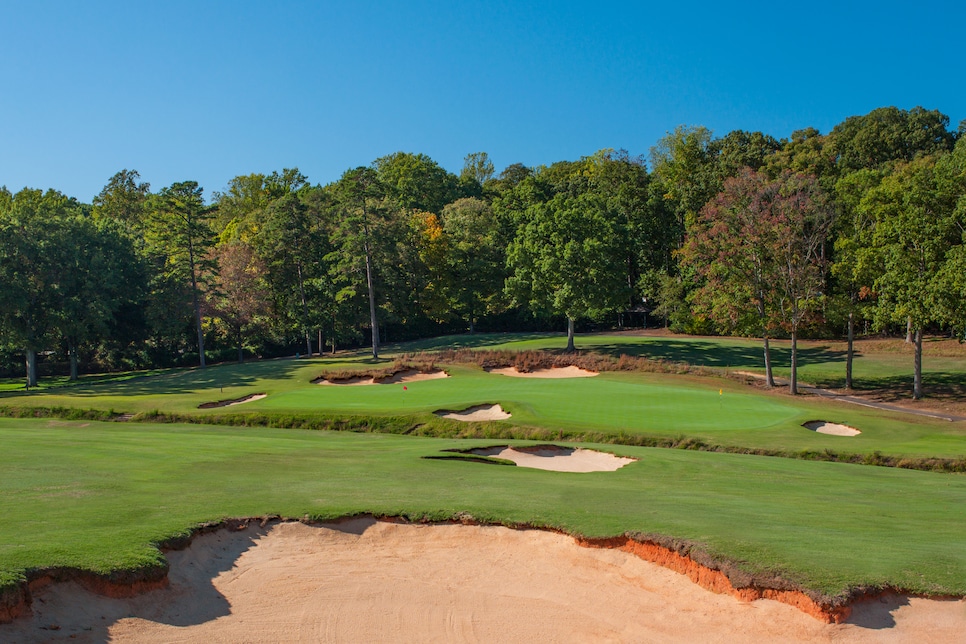 8 / 8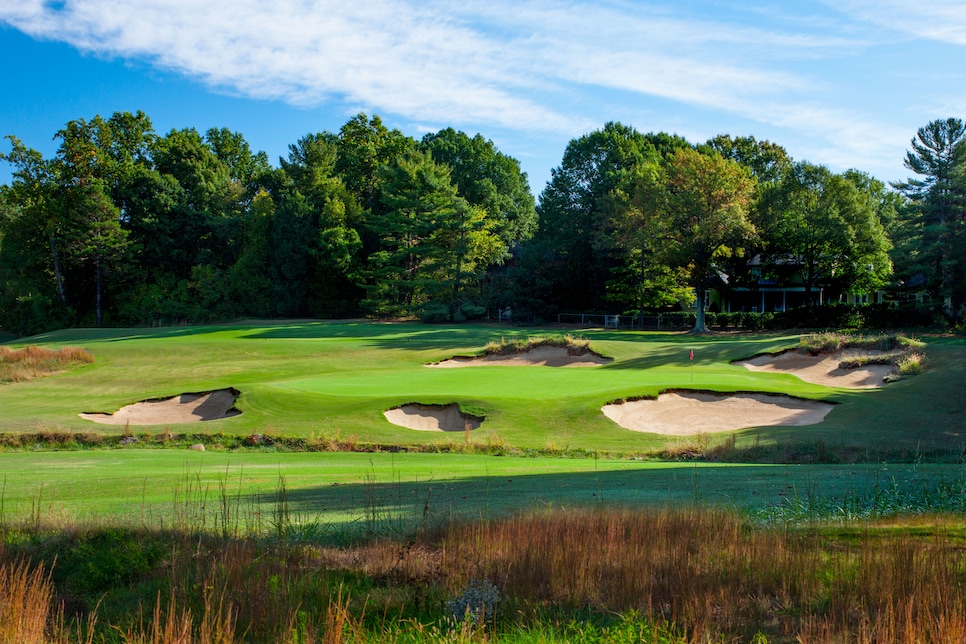 Overview
Created by architect Perry Maxwell on the heels of his work at No. 23 Prairie Dunes and No. 28 Southern Hills, Old Town Club was surprisingly unique, and included perhaps Maxwell's only surviving double green. When Bill Coore and Ben Crenshaw were hired to address the bunkering at Old Town, they opted not to reproduce the original bunkers (some of which were enormous) but rather emulate their gnarly shapes, edges and vegetation in places where bunkers naturally fit. Lots of trees had already been removed, but the architects convinced the club to get rid of even more. Now, a single swath of fairway connects the seventh, eighth, ninth, 17th and 18th holes. Very unique. The course has jumped 45 places in the rankings since it debuted in 2019.
About
Designer
Perry Maxwell, ASGCA/Bill Coore, Ben Crenshaw and Dave Axland (R-2023)
Awards
100 Greatest: Ranked since 2019.
2023-'24 ranking: 54th (highest).
Previous Ranking: 92nd.
Best in State: Ranked Top 5 in North Carolina since 2019; Top 10 in 2007 & since 2011; Top 15 in 2009.
Current Ranking: 3rd since 2023.
Panelists
Ratings from our panel of 1,900 course-ranking panelists
100 GREATEST/BEST IN STATE SCORES
Reviews
1 / 10
Review
"Each hole is distinct from the rest, and the property is used in a unique and interesting way. There are shot options galore, with closely mown areas around the greens, and width to find the right angles in the fairways. The course is also aesthetically pleasing in part due to the tree removal that the club has undertaken. This is especially evident as the golfer crests the hill on hole number four, and is able to see several holes and green complexes. Subtle contours in the greens generate a tremendous amount of interest from the approach shot through watching the last putt drop, which adds to the experience. Overall, Old Town Club is a wonderful experience to be prioritized if in the Winston Salem area."
Read More
2023
2 / 10
Review
"Old Town is often talked about among the hidden gems category, but I'm here to tell you, as many are finding out after this careful restoration, this is among the dozen or so best classic designs in America. Brilliant routing over just 165 acres, strategically utilizing all the property had to offer, creek and hilly topography. His courses remain a product of the land, bunkers brilliantly integrated into land rolls, edge of greens along with fun and broad yet difficult green complexes. This is his trademark. "
Read More
2022
3 / 10
Review
"The terrain of this golf course and how Perry Maxwell and ultimately Bill Coore used this land is just fabulous. The course has many different variety of holes from down hill tee shots, blind approach shots, a very challenging yet drivable par 4, longer and shorter par 3s. All of these holes use the same creek feature as it winds from one corner of the property. It's masterfully uses this feature on tee shots on the decision on how much you are going to cut off, as well, as crossing back on the double green approach shots on 8 and 17."
Read More
2022
4 / 10
Review
"Great design. Many challenging shots out on this course and great finishing holes. When the bent greens are in good shape, this is a super course."
Read More
2022
5 / 10
Review
" The vast sight lines you get throughout the golf course with varying textures and colours of the fescue and bunkering at Old Town are arguably unmatched. Also unique to see a set of par 3's that all go in different directions and the Wake Forest team on site most days."
Read More
2021
6 / 10
Review
"Old Town is just a special place and my favorite in North Carolina. All the recent restoration work has really improved the strategic nature of the course, vistas, and turf conditions. I've felt very welcome both times I've visited and can't wait to get back."
Read More
2021
7 / 10
Review
"Old Town is probably the best routing I have ever seen. The acreage is not Wannamoisett small but the course uses every hill and valley in the best possible way. Good mixture of green complexes and signature Maxwell contours are featured. Certainly, Old Town is worthy of being one of the best golf clubs in the USA."
Read More
2021
8 / 10
Review
"Bill Coore did a magnificent job updating this Perry Maxwell course. He opened up the vistas and redesigned the bunkers."
Read More
2018
9 / 10
Review
"Great routing and variety of golf holes. Very fun course to play. Good conditions. Really cool double green and tee box"
Read More
2018
10 / 10
Review
"One of the best set of greens in the country"
Read More
2018
Readers
Collection of reviews from our readers
There are no reader ratings yet
Reviews
There are no readers reviews yet. Be the first to write a review.