1 / 5
2 / 5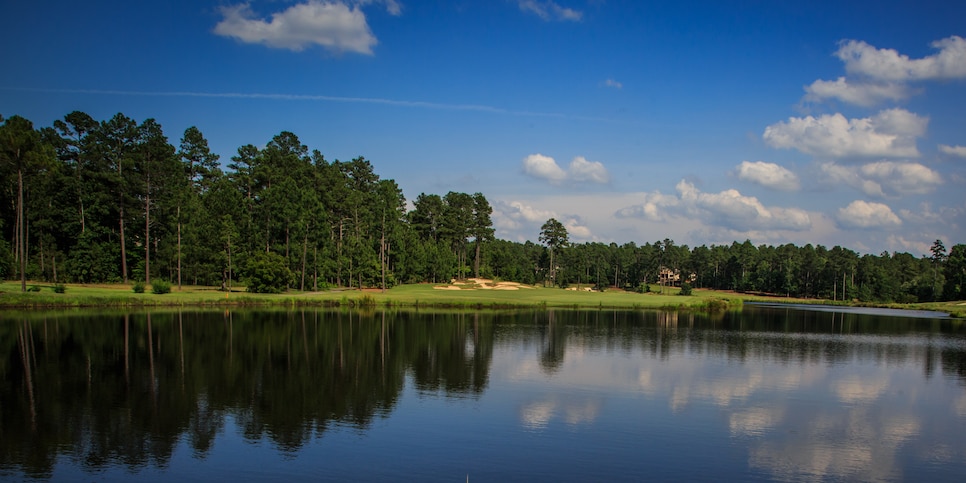 Courtesy of Laura L Gingerich
3 / 5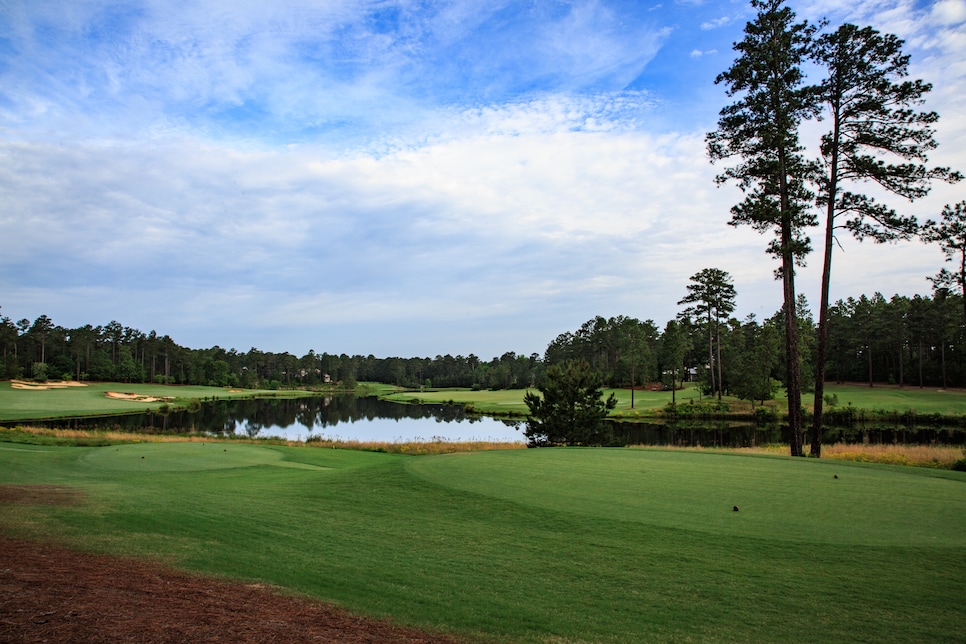 Courtesy of Laura L Gingerich
4 / 5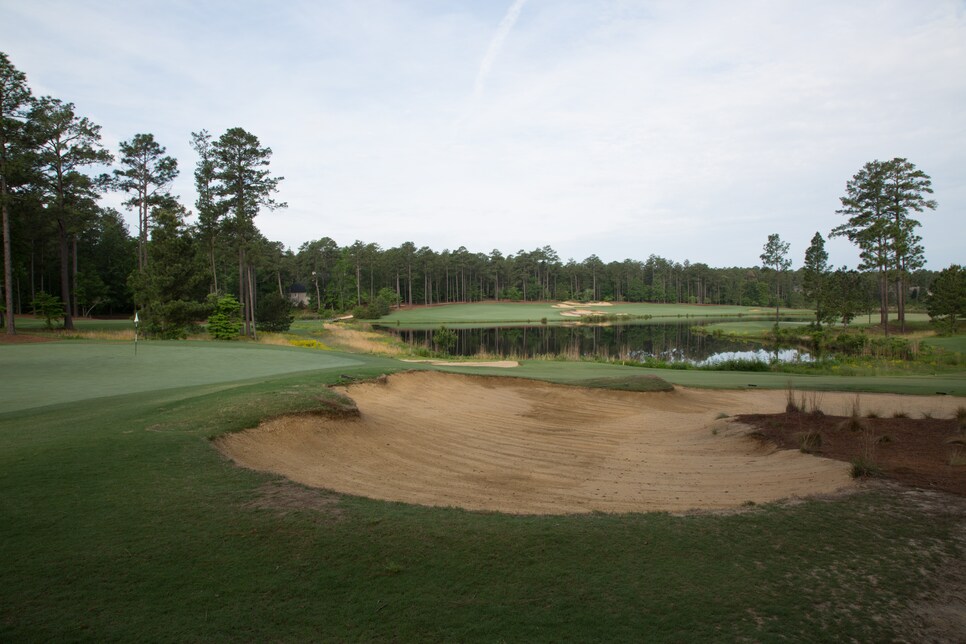 Courtesy of Laura L Gingerich
5 / 5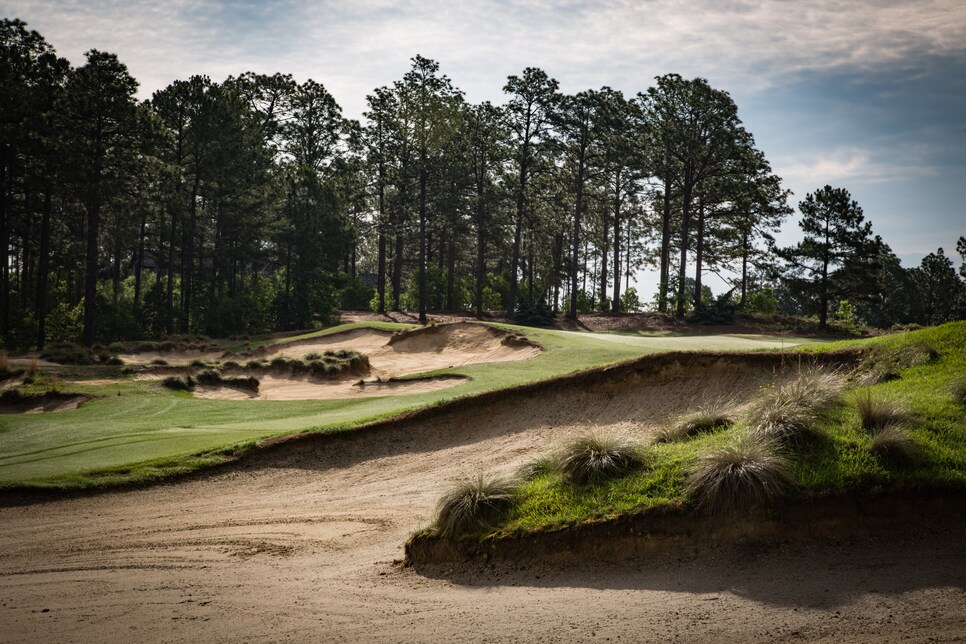 Courtesy of Laura L Gingerich
Overview
Tom Fazio did the first 18 at Pinehurst's ultra-private Forest Creek G.C., the South Course, in 1996, carving it from a rolling pine forest, with most tee shots playing downhill and most greens amenable to low, running shots. When he returned nearly a decade later to add the North Course, he and his team decided on a different approach, a more organic, lay-of-the-land 18. So the North has more uphill holes and semi-blind tee shots. The sandy base of the pine forest is exposed on many holes, incorporated not just to frame holes but also as carry hazards on certain shots. Formal bunkers are edged with clumps of bushy wiregrass or dwarf pampas. The only water hazard is encountered late in the round, on long lake around which the 15th, 16th and 17th play. This course wasn't inspired by sand-scarred neighboring courses like Pinehurst No. 2, Mid-Pines and Dormie Club.
About
Designer
Thomas Fazio, ASGCA
Awards
Second 100 Greatest: Ranked from 2013-2016 & from 2019-2020. Highest Ranking: 144th, 2013-2014.
Best in State: Ranked Top 10 in North Carolina from 2007-2009 & 2015-2020; Top 15 from 2011-2014 & since 2021. Current Ranking: 11th.
Panelists
Ratings from our panel of 1,900 course-ranking panelists
100 GREATEST/BEST IN STATE SCORES
Reviews
1 / 6
Review
"Classic rolling hills design in the Sandhills. All about the private club experience including the 19th hole for settling bets!"
Read More
2022
2 / 6
Review
"Good variety w/ gentle elevation changes, use of a lake on a couple of holes, and towering pines all adding to difficultly throughout the round. Wonderful firm and fast green complexes that were recently resurfaced from bent to Bermuda. Expansive and plentiful bunkering greets one at seemingly every shot. A little odd the sand seemed to be a version not natural to the area and pea gravel was prevalent in a lot of the bunkers despite the area having natural sandy soil"
Read More
2022
3 / 6
Review
"A very demanding Course with lots of strong shot values. You need to be smart attacking the greens with lots of subtle dropoffs on the edges of the Greens. The back nine layout is really memorable."
Read More
2022
4 / 6
Review
"Members say that this is their "slightly more favored" course of the two here. I have now played both and prefer this one. It is an excellent and engaging test of golf. Dirt cart paths keep unfortunate bounces at bay. Plays hard and extremely fast. Bump and run is a regular option, here. Natural layout inspired by Pine Valley. It looks 'laid down' across the terrain, with native sand in large waste bunkers. Distances appear longer than reality due to landscape contours. While some bunkers merely frame holes as Fazio tends to like to do, he placed the strategic ones in perfect locations for players selecting appropriate tees. They truly provide a line of charm for good players to follow. Course is challenging and inspiring ... not intimidating, and also fair, with suitable teeing grounds for almost anyone. Interesting how a couple of the back tees sit lower in elevations than those in front. Miss a green and Fazio provides opportunities for recovery, but will challenge you to do so. It may come in the form of a false front, a flop over a bunker, or a blind, uphill pitch, sometimes out of pine straw. The course is an easy walk. Forest Creek North has few level lies, but none are severe except in recovery situations, and they're manageable. One day after heavy rains, the bunkers still retained some wetness beneath their surface. I love this golf course."
Read More
2021
5 / 6
Review
"This is the newer of the two courses and one of Fazio's best efforts. It has a killer men's locker room."
Read More
2019
6 / 6
Review
"Very special place. The men's locker room is top notch. Excellent practice facilities. Very natural course with great bunkering!"
Read More
2018
Readers
Collection of reviews from our readers
There are no reader ratings yet
Reviews
There are no readers reviews yet. Be the first to write a review.