1 / 8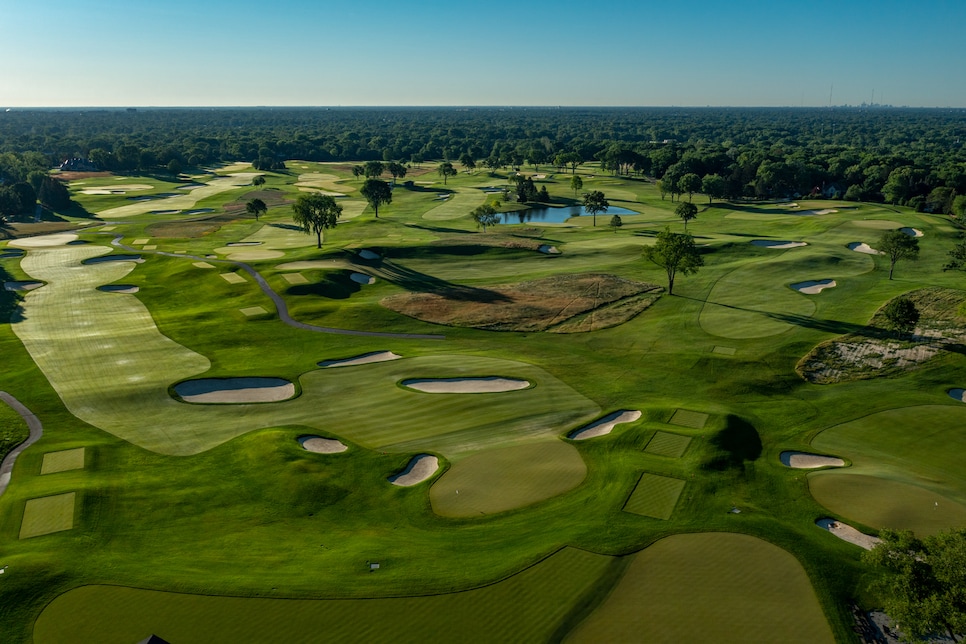 L.C. Lambrecht/Oakland Hills
2 / 8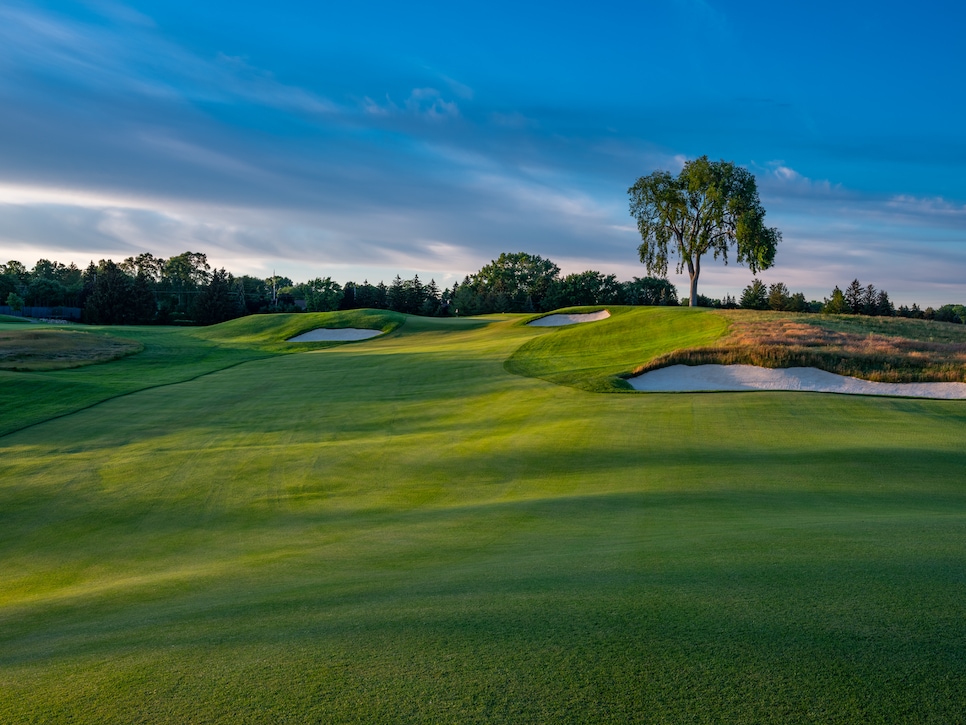 L.C. Lambrecht/Oakland Hills
3 / 8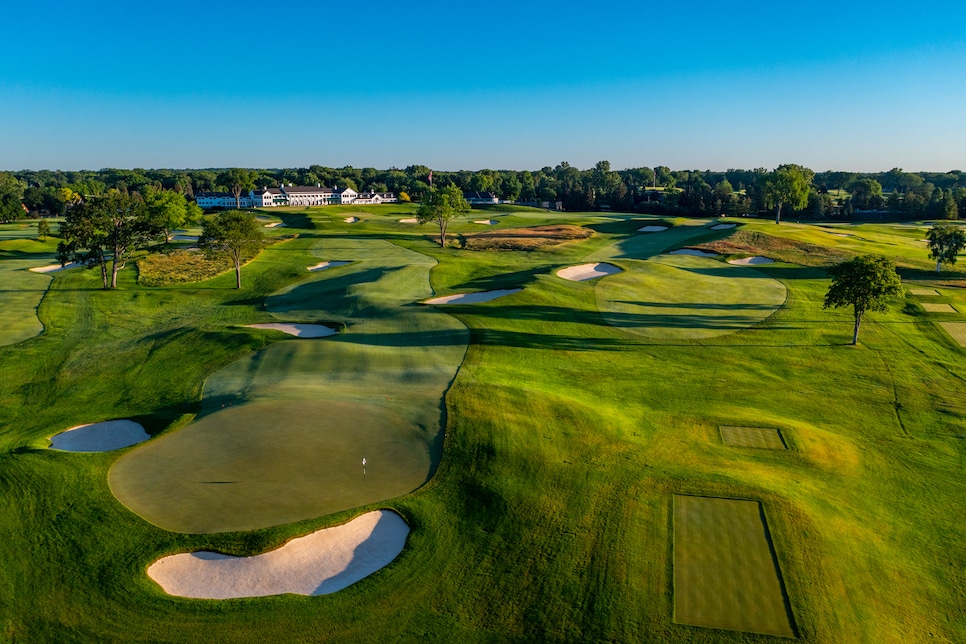 L.C. Lambrecht/Oakland Hills
4 / 8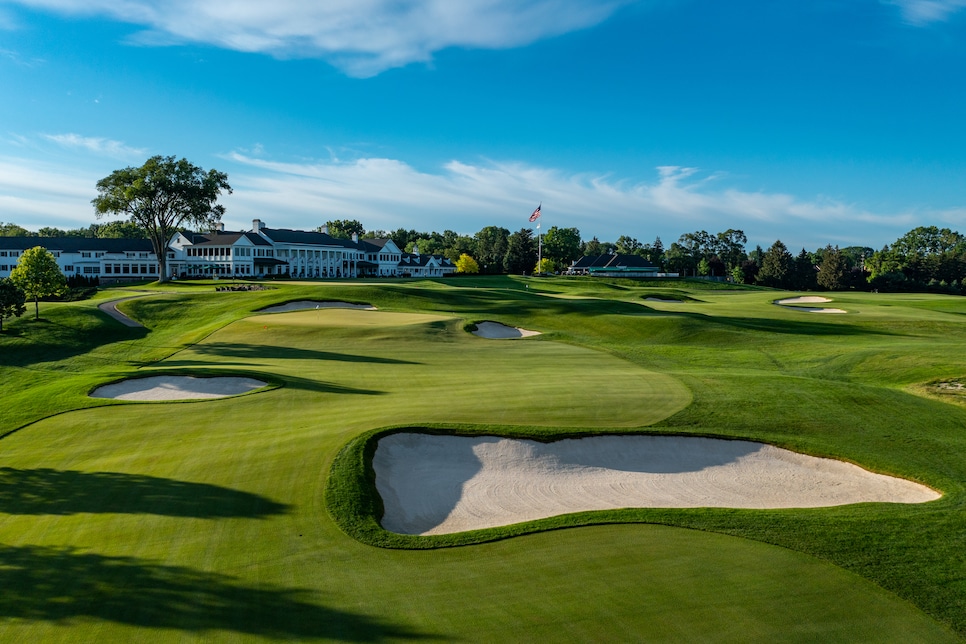 L.C. Lambrecht/Oakland Hills
5 / 8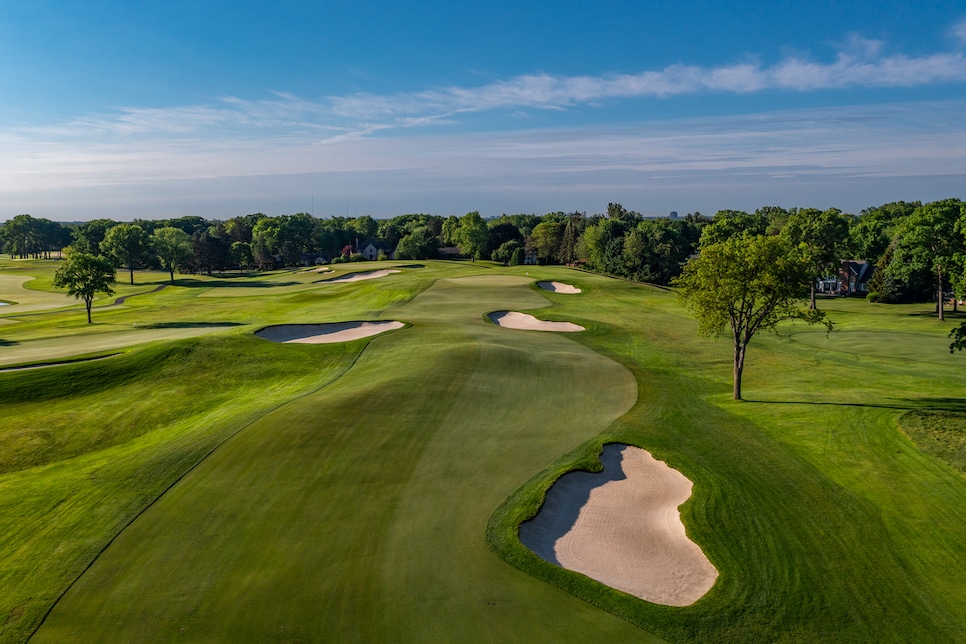 L.C. Lambrecht/Oakland Hills
6 / 8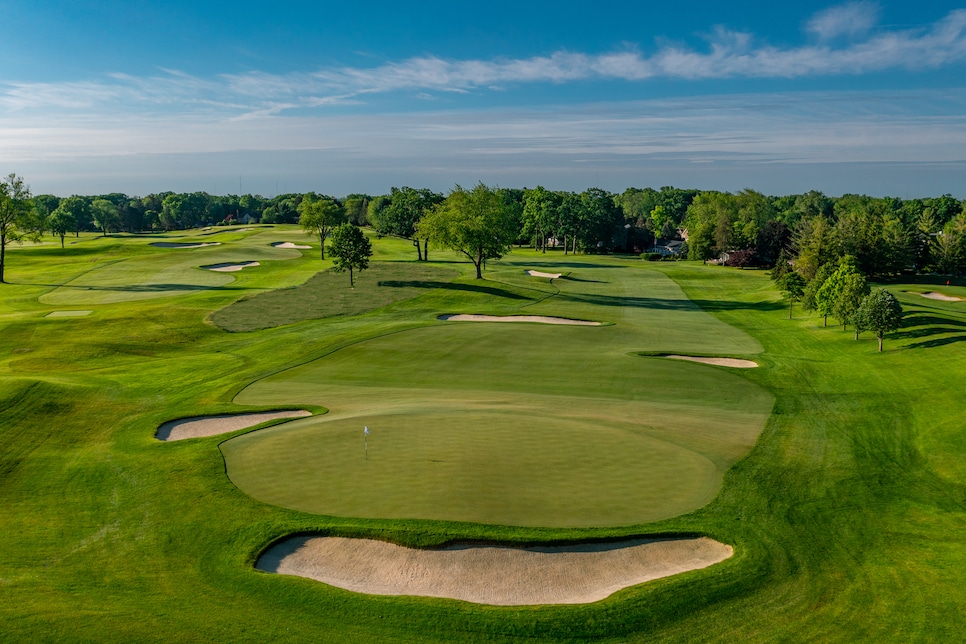 L.C. Lambrecht/Oakland Hills
7 / 8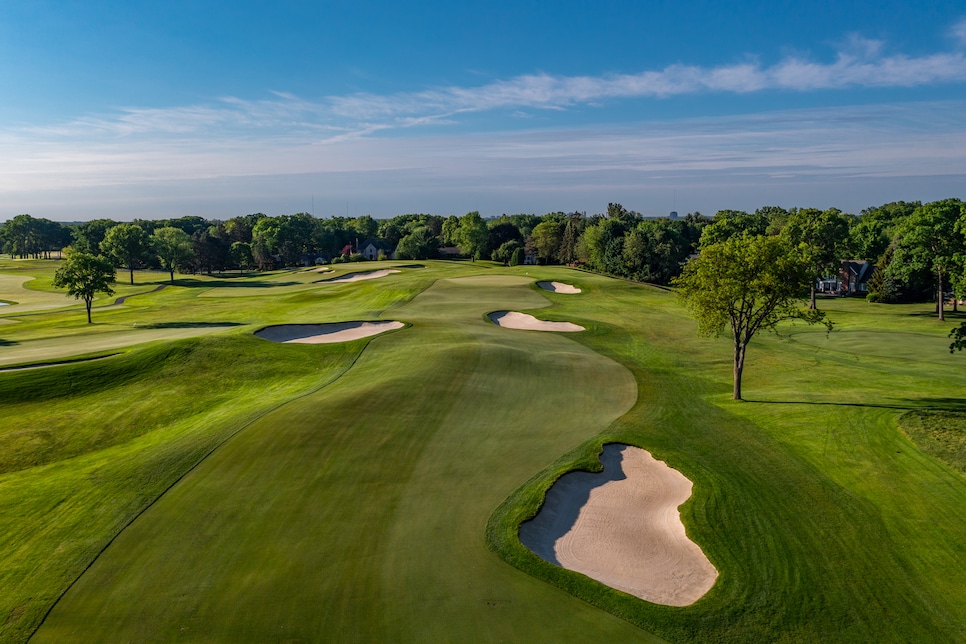 L.C. Lambrecht/Oakland Hills
8 / 8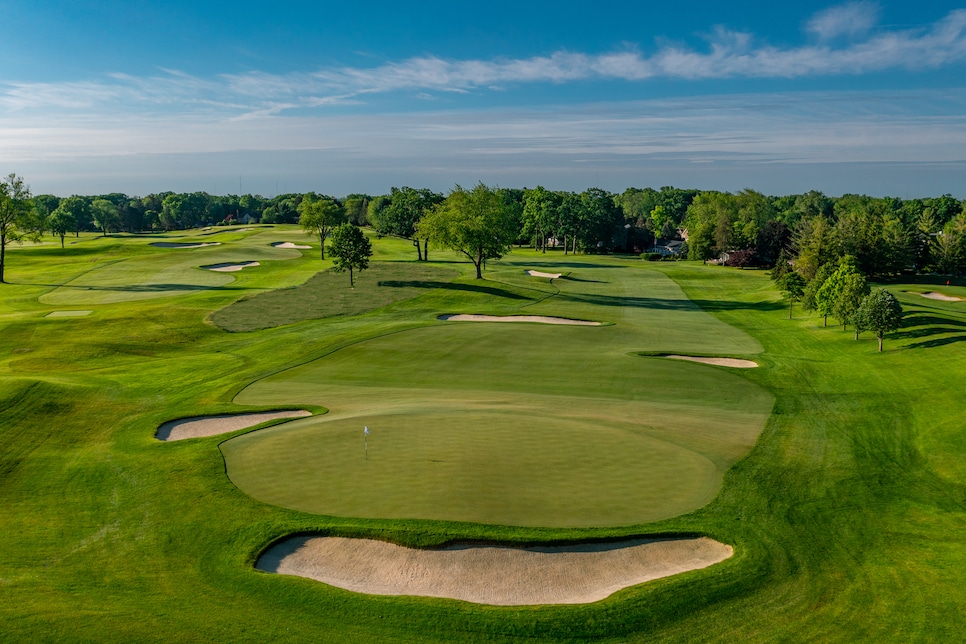 L.C. Lambrecht/Oakland Hills
Overview
Donald Ross felt his 1918 design was out-of-date for the 1951 U.S. Open and was prepared to remodel it. Sadly, he died in 1948, so Robert Trent Jones got the job. His rebunkering was overshadowed by ankle-deep rough, and after Ben Hogan closed with a 67, one of only two rounds under par 70 all week, to win his second consecutive Open, he complained that Jones had created a Frankenstein. Sixty-plus years later, Oakland Hills is even longer, but its bite wasn't severe when it hosted the 2016 U.S. Amateur. In 2019, the South course closed as Gil Hanse and his team significantly renovated the course with the intention of removing the Jones influences and restoring its Ross feel. They did that by expanding greens to recapture what are some of Ross's best contours, removed trees to show off the rolling landscape and shifted bunkers back to where Ross, not RTJ, placed them. The course re-opened in Spring 2021, and though a crippling fire destroyed the club's iconic clubhouse, the USGA delivered some kind news to the club, bringing the 2034 and 2051 U.S. Opens to Oakland Hills—as well as a number of upcoming USGA championships.
About
Designer
Donald J. Ross, ASGCA/(R) Rees Jones, ASGCA/Gil Hanse
Awards
100 Greatest: Ranked in every edition since 1966.
2023-'24 ranking: 20th.
Previous ranking: 21st.
Highest ranking: No. 8, 2003-'04.
Best in State: Ranked first, 1985-'87, 1995-2003. Ranked second, 2011-'22. Ranked inside the top 5 since 1977.
Panelists
Ratings from our panel of 1,900 course-ranking panelists
100 GREATEST/BEST IN STATE SCORES
Reviews
1 / 8
Review
"This is best renovation/restoration (2021 y Gil Hanse) I have played in many years. All traces of the Jones' are gone. The greens have so much movement that approach shots need to take them into consideration. It is brilliant. In 2022 the 90,000 square foot iconic clubhouse burned down. It was heartbreaking for the members and all golf fans but it will be rebuilt."
Read More
2022
2 / 8
Review
"A true championship golf course. So sad about the clubhouse. Not a let up hole out here. Chance for birdie, and chance for double. Incredible set of par 3 holes. As good of condition of golf course as I have ever played!"
Read More
2022
3 / 8
Review
"The 2021 Gil Hanse renovation done to the South Course at Oakland Hills is starting to shine through, with the SubAir green systems providing some of the most challenging but pure putting surfaces in the country, competing with the likes of Oakmont and Pine Valley. The tree removal done in the renovation has provided diverse sightlines across the property, while enhancing the turf throughout the grounds. This course is not for the everyday round of golf, but if you want to be challenged and left in wonder at the conditioning of the course, never miss an opportunity to play this renovated gem."
Read More
2022
4 / 8
Review
"Far to difficult for most players, but a wonderful design and greens that provide the ultimate challenge. If you really want to see where your game is, or more likely is not, give this one a try."
Read More
2021
5 / 8
Review
"Superb. Bring your A game to putt these greens. Perfect condition, but the slopes and movement will leave you breathless (and three-putting a lot). The restoration added considerable length, so even long-hitters will have a challenge on their hands. some of the best par fours in the country."
Read More
2021
6 / 8
Review
"One of America's best facilities. The course is tough but fair. A number of major events have been held here. Don't pass up any opportunity to play it."
Read More
2018
7 / 8
Review
"Always fun to play a course that has hosted majors, but it also feels like an examination of your game. Great experience, but wouldn't be an "every day" course for me."
Read More
2018
8 / 8
Review
"Two good championship golf courses available; fantastic clubhouse with superb customer service"
Read More
2018
Readers
Collection of reviews from our readers
There are no reader ratings yet
Reviews
There are no readers reviews yet. Be the first to write a review.