1 / 7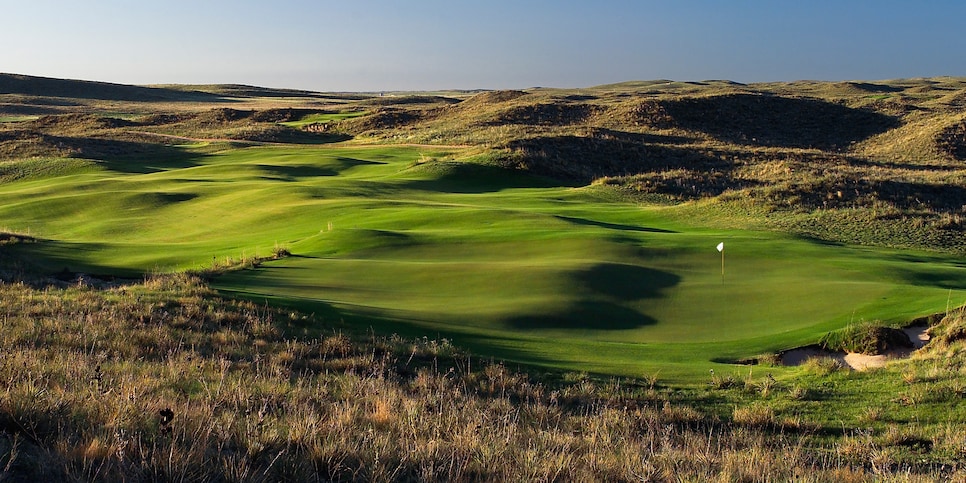 2 / 7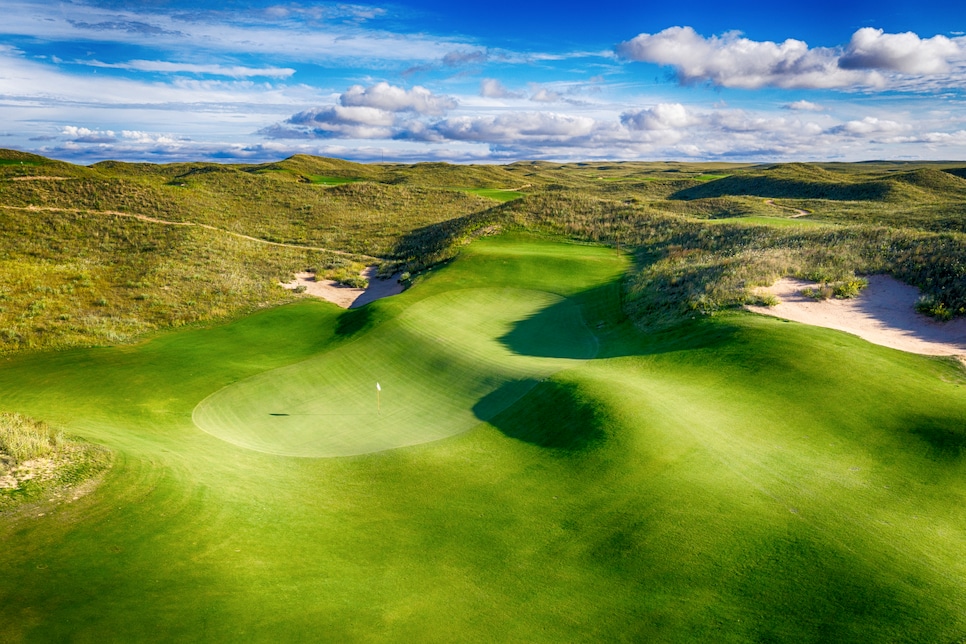 Photo by Channing Benjamin
3 / 7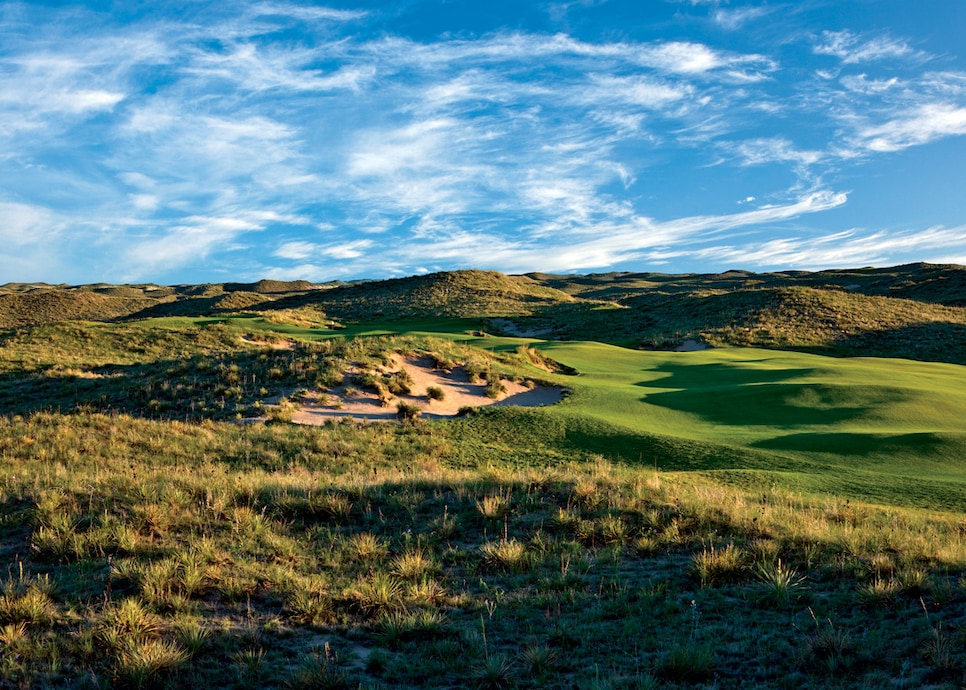 4 / 7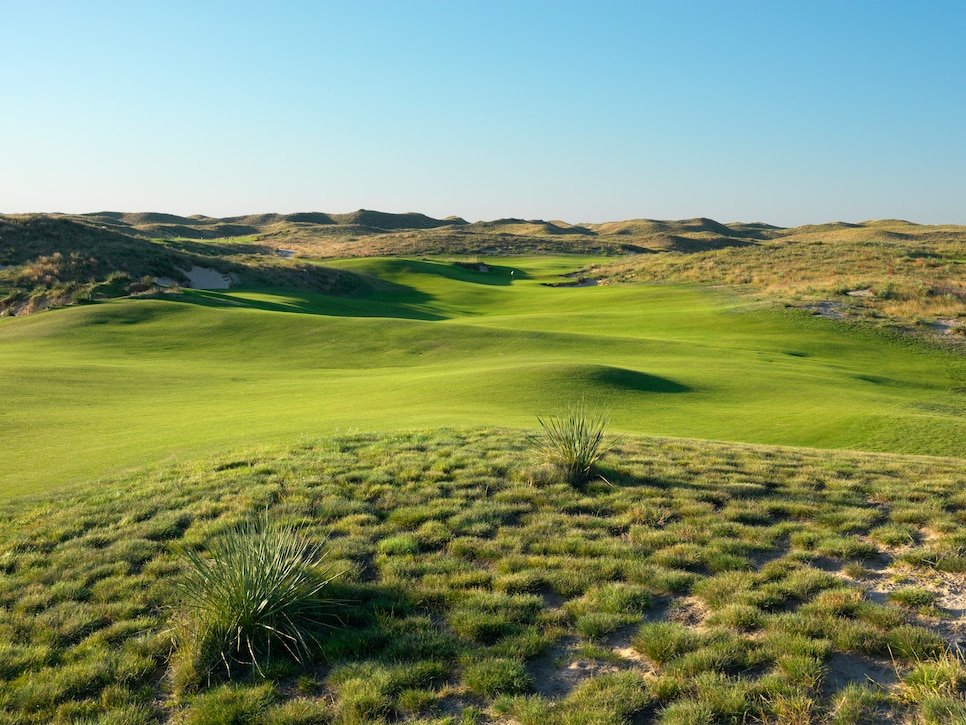 5 / 7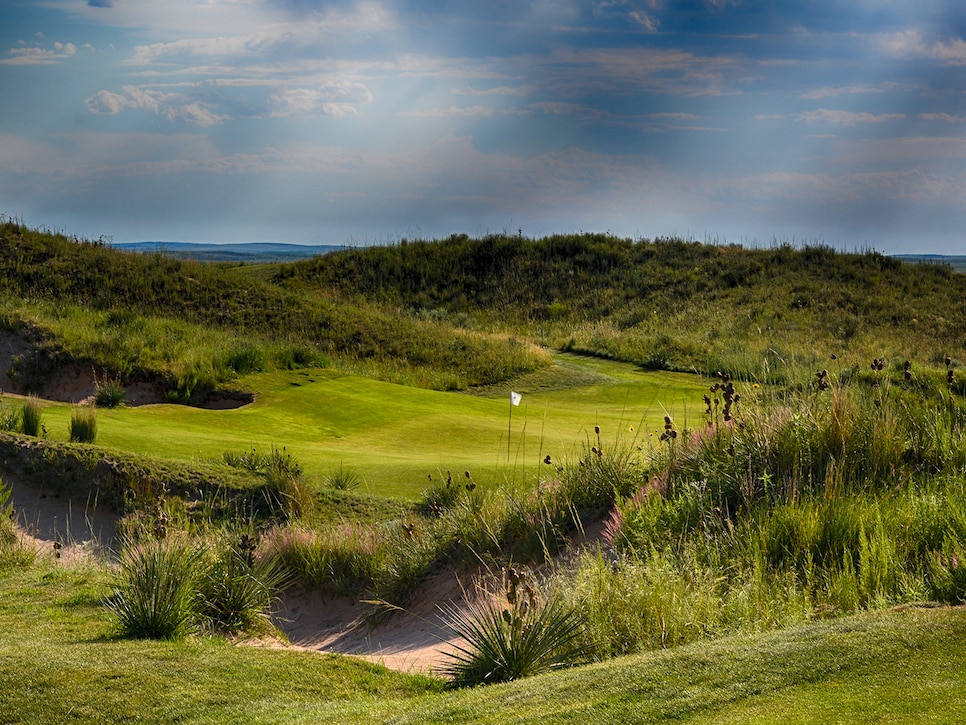 Channing Benjamin/Courtesy of Ballyneal GC
6 / 7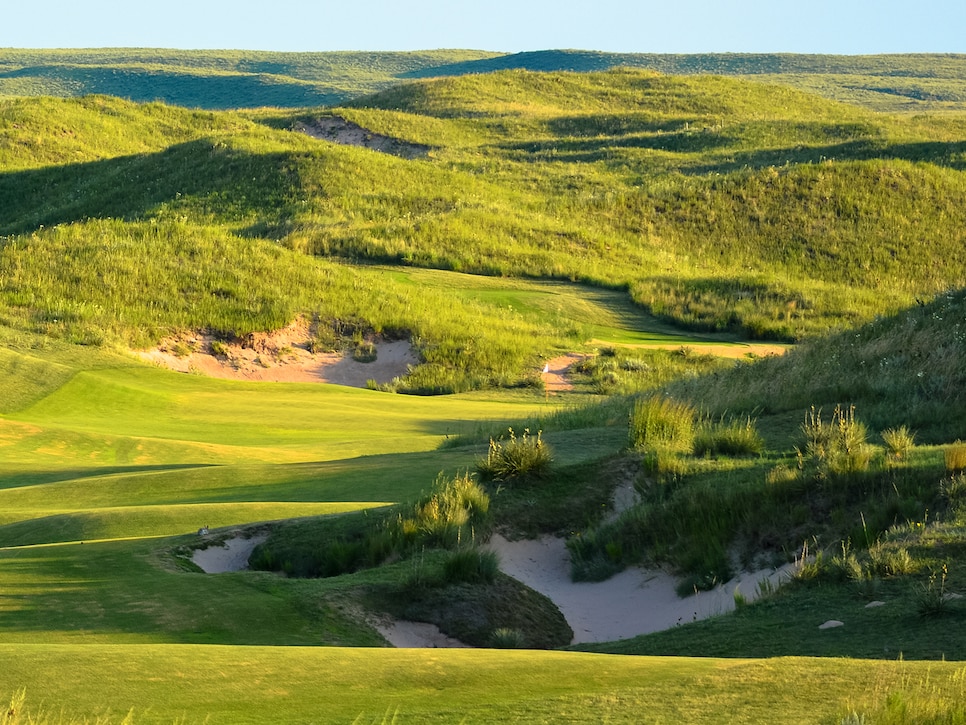 Channing Benjamin/Courtesy of Ballyneal GC
7 / 7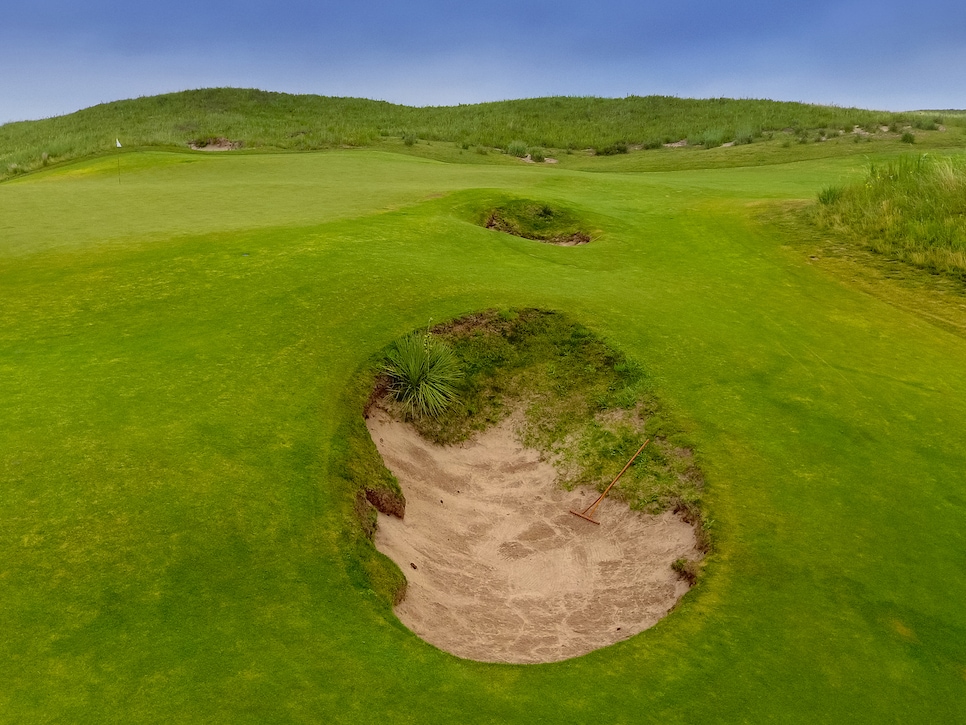 Channing Benjamin/Courtesy of Ballyneal GC
Overview
If No. 8 Sand Hills Golf Club stands for the notion that there's nothing more glorious than a round of golf beyond the range of cell phone reception, then Ballyneal (Tom Doak's northeast Colorado answer to Nebraska's Sand Hills) proves that isolated golf is even better when Spartan in nature. With no carts and with dry, tan fescue turf on fairways and greens, Ballyneal is even more austere than Sand Hills. It provides absolutely firm and fast conditions, and with many greens perched on hilltops, the effect of wind on putts must be considered. The rolling landforms, topsy-turvy greens and half-par holes make playing here feel like a joyride, and that sense of exuberance has catapulted Ballyneal from an original ranking of no. 95 in 2011 to its highest ranking to date at no. 36.
Awards
100 Greatest: Ranked since 2011.
2023-'24 ranking: 36th (highest).
Previous ranking: 44th.
Best in State: Ranked since 2007.
Panelists
Ratings from our panel of 1,900 course-ranking panelists
100 GREATEST/BEST IN STATE SCORES
Reviews
1 / 25
Review
"Very fun layout for all skill levels that choose the correct tees. Many options to play most shots/holes due to the width of fairways and size of greens. Incredible views from several tee boxes which is surprising with the boring flat land to the north and south of this site. Native areas generally allow one to find their ball and play forward, no searching for errant shots slowing down play. Excellent use of elevation change by the designer....an equal number of downhill and uphill holes. No set tee boxes, course rating, or slope for this design allowing flexibility to play holes from different yardages and in many cases angles depending on the wind direction."
Read More
2022
2 / 25
Review
"Great club, vibe, and course. Amazing piece of land with choppy dunes, even more abrupt than those in the nearby sand hills region of Nebraska. Driving in is so flat, and when you turn up to the course and see the landscape change it is amazing. Such a dramatic piece of land, and really only a small area of geography. The course plays for the wind with wide fairways, firm fast conditions with lots of options to bump and run and shot make off hills. Hard par / Easy bogey is well done here. Plenty of risk & reward with speed slots in the fairways."
Read More
2022
3 / 25
Review
"Greens are quite firm and fast, yet receptive to well struck shots. They are also rolling the most true that I have ever seen them roll."
Read More
2022
4 / 25
Review
"One of the most unique golf experiences I have ever had. Really in the middle of nowhere. No tee boxes, so play where you want! Course is a firm and fast as any you will ever play. You feel like you're in Scotland. Love the short par 4 holes. Drivable even for the medium length golfer, but you can easily make a 6. Such a natural setting. Bunkers feel like they have been there for years. This place has it all. Uphill, downhill, blind shots, length, short holes, dog leg R and L ! Love the dirt road to get there and you have to try the milkshakes!"
Read More
2022
5 / 25
Review
"Wonderful place to stay and play. Golf course is excellent."
Read More
2021
6 / 25
Review
"Can't say enough good things about the course. Interesting layout and great conditioning."
Read More
2021
7 / 25
Review
"One of Doak's best."
Read More
2021
8 / 25
Review
"Stunner by Tom Doak in the NE Colorado sand hills"
Read More
2020
9 / 25
Review
"The combination of risk reward on each shot and the ability for the golfer to pick a tee location creates great variety, and and interactive golf round unique to golf."
Read More
2020
10 / 25
Review
"One of the most remote locations in the US for a top 100 course. The trip, including the last 10 miles on gravel roads, is well worth it. The fairways and greens are cut out of rolling dunes and look like they belong along a Scottish coast. Not a tree in sight but gorgeous vistas from most tees as well as the lodge. Very severe, but fair, greens. The altitude helps a bit but it is still a great test of golf with great design variety. The sagebrush rough and rugged bunkers add to the unique feel and playability. Clearly belongs on any top 100 list."
Read More
2020
11 / 25
Review
"This is a dramatic Tom Doak course in the sand hills of Colorado. He has another a few hours up the road at Dismal River. This one, however, shines a bit brighter."
Read More
2019
12 / 25
Review
"Really great experience getting to stay in the cottages and play bocci ball on the putting green. Excellent Doak design. In the middle of absolute nowhere."
Read More
2018
13 / 25
Review
"It's worth the trip. A lot of fun and all about golf once you're there."
Read More
2018
15 / 25
Review
"Memorable golf experience. Pacific Dunes in the sand hills. Lots of fun all around."
Read More
2018
16 / 25
Review
"Close your eyes and you would think that you are on the Scottish coast. Great layout, challenging but fair. Play the par 3, it is a hoot."
Read More
2018
17 / 25
Review
"Great experience and one of my handful of favorite courses in the United States. An absolute must play if you have the chance."
Read More
2018
18 / 25
Review
"Probably the best course in the state. A lot of fun to play with no tee markers! Choose your own! Conditions could be better though in terms of the greens. Fescue was not the best choice."
Read More
2018
19 / 25
Review
"Good routing tee to green, condition was awful the day I played. Greens are wild with much undulation. Expect to 3 putt several times if you are a good putter, if not good luck."
Read More
2018
20 / 25
Review
"you'd never believe there would be a course this great in a location this remote. winds can be very very high, but when they're not, it's a special experience."
Read More
2018
21 / 25
Review
"One of my favorite places. The course is one of Doak's best and it is a blast staying there. The views are incredible at night."
Read More
2018
22 / 25
Review
"Wild greens and well-designed holes in a remote part of Colorado, with a nice lodge and dining room."
Read More
2018
23 / 25
Review
"About as fun and good as golf gets."
Read More
2018
24 / 25
Review
"Great Doak course with blow out bunkers in the middle of nowhere."
Read More
2018
25 / 25
Review
"A real treat! A blast to play. Unique holes with crazy greens."
Read More
2018
Readers
Collection of reviews from our readers
There are no reader ratings yet
Reviews
There are no readers reviews yet. Be the first to write a review.