1 / 6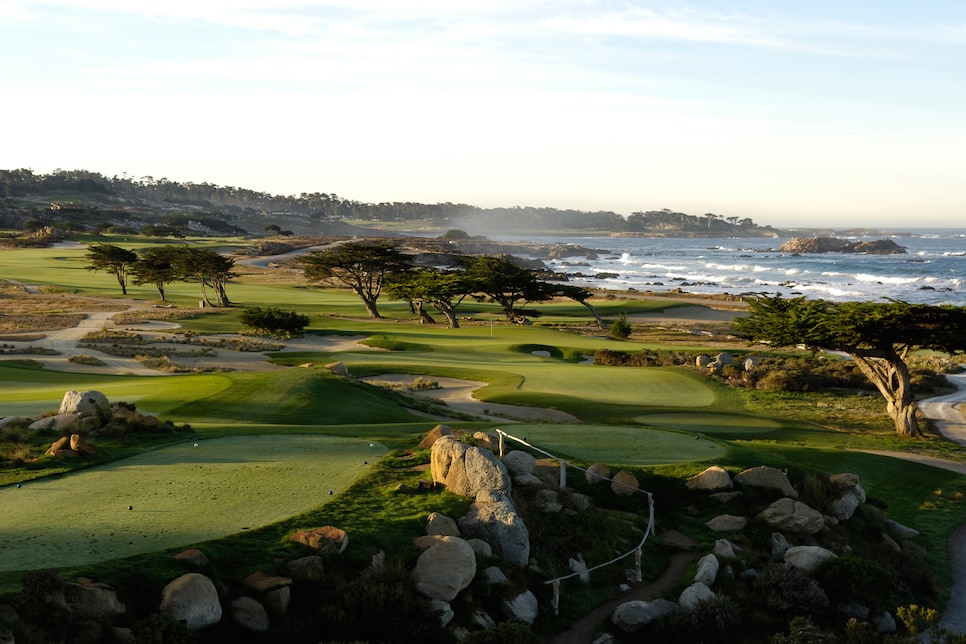 2 / 6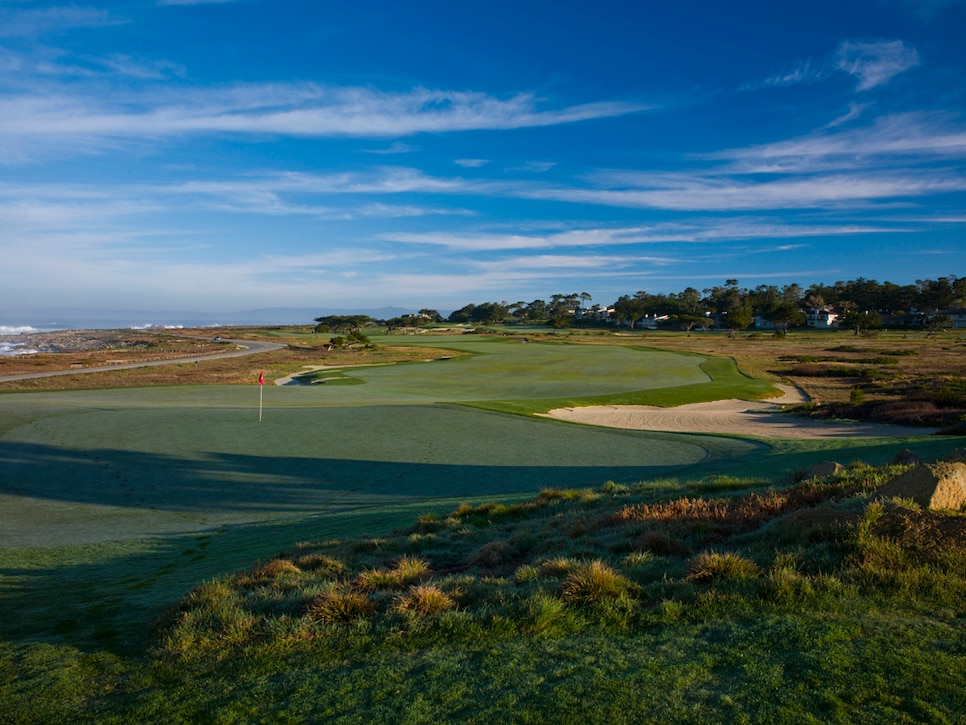 The view from behind the 12th green at MPCC Shore.
LC Lambrecht/Courtesy of Monterey Peninsula CC
3 / 6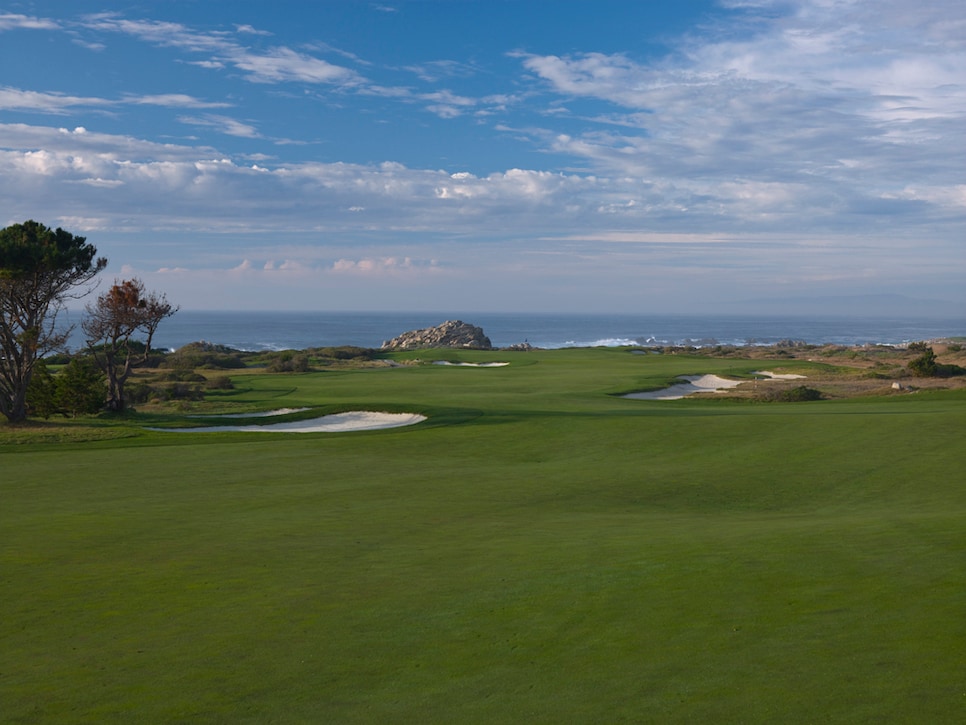 The approach to the eighth green at MPCC Shore.
LC Lambrecht/Courtesy of Monterey Peninsula CC
4 / 6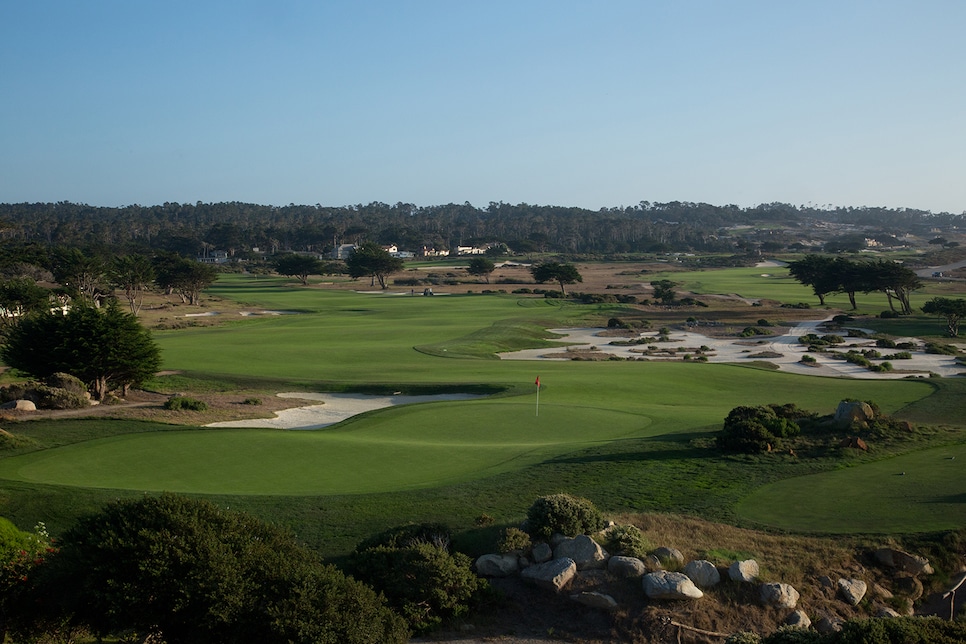 Behind the sixth green at the Monterey Peninsula Country Club Shore course.
5 / 6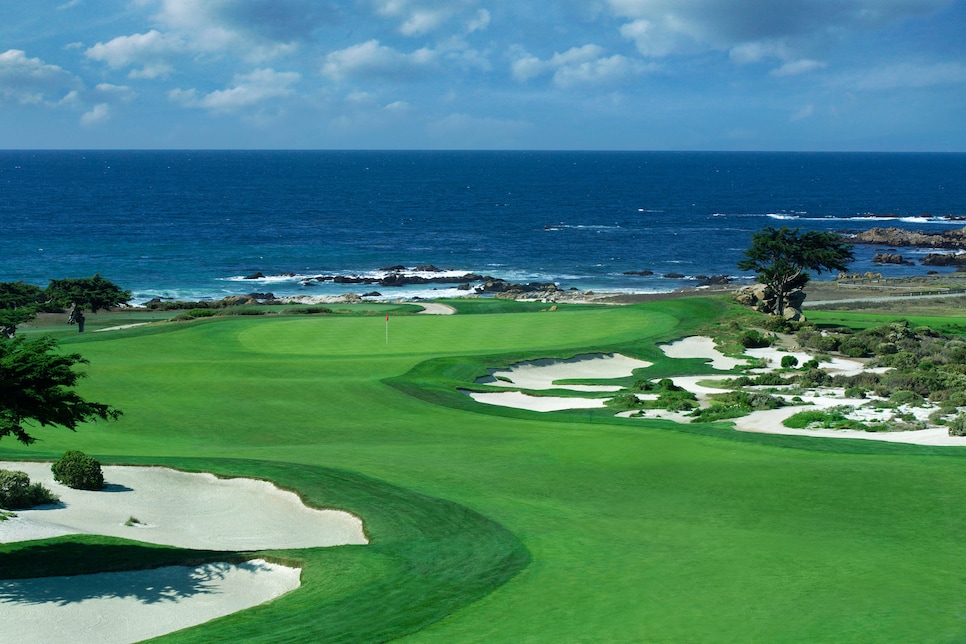 Approaching the 413-yard par-4 15th hole at Monterey Peninsula Country Club's Shore course.
6 / 6
The par-3 third hole, before the layout opens up to 17 Mile Drive.
LC Lambrecht/Courtesy of Monterey Peninsula CC
Overview
Mike Strantz was battling cancer while transforming the bland, low-budget Shore Course into a scenic and strategic marvel that rivals next-door neighbor Cypress Point. Strantz reversed direction of the fifth through 15th holes to provide a Pacific Ocean backdrop to most of them. He weaved fairways among trees so players could "dance among the cypress," and added native grasses for a coastal prairie look. The stunning landscape would be Strantz's last work of art. He died six months after completing the redesign. Former PGA Tour player Forrest Fezler, who was Strantz's associate on the project, later served as a consulting architect in order to retain the Strantz vision, until he died in 2018.
Awards
100 Greatest: Ranked since 2007.
2023-'24 ranking: 62nd.
Highest ranking: No. 53, 2021-'22.
Best in State: Ranked eighth, 2013-'22. Ranked 10th, 2011-'12. Ranked inside the top 10, 2007-'10.
2023-'24 ranking: 7th.
Previous ranking: 8th.
Panelists
Ratings from our panel of 1,900 course-ranking panelists
100 GREATEST/BEST IN STATE SCORES
Reviews
1 / 7
Review
"Beautiful golf course! The shot options and challenge were incredible. Wind plays such a huge factor being right on the ocean for most holes. This is one of the most fun golf courses I have ever had the privilege of playing.."
Read More
2022
2 / 7
Review
"The redesign of the Shore course by the late Mike Strantz was a fantastic transformation, as he reversed the direction of the 5th-15th holes bringing the Pacific Ocean's beautiful backdrop more into focus. Aesthetically this is one of the finest properties in the country, as they utilize natural rock formations framing greens and teeing areas while offering continuous views of one of the finest pieces of land and sea in this world. The vegetation and natural sand areas / dunes are a fantastic blend offering one of the most pleasurable rounds I have ever played."
Read More
2022
3 / 7
Review
"Beautiful setting, wonderful routing, links-style conditions, tons of fun if you can finagle your way on."
Read More
2022
4 / 7
Review
"MPCC is a truly top notch golf experience. Wonderful and interesting course, immaculate conditioning, 11/10 setting, with an 11/10 club experience. If you get the chance to experience this walk, just soak it in....your score will quickly fade into background noise."
Read More
2022
5 / 7
Review
"Wide fairways, smooth fast greens without ball marks, great variety, beautiful scenery. fair if no wind to fight. What else can I say?"
Read More
2018
6 / 7
Review
"What vision the club had to pick Mike Strantz to redesign this course. They deserve all the credit for going so far against the grain and Strantz delivered in spades. The best of this course is world class. The only thing holding this course back is the tight transition from the clubhouse to the ocean front holes. #2 and #17 are just bad holes. Yet so much else is spectacular. Play if you can. Dunes is great, but Shore is slightly better."
Read More
2018
7 / 7
Review
"Visually spectacular! Looks tougher than it plays."
Read More
2018
Readers
Collection of reviews from our readers
There are no reader ratings yet
Reviews
There are no readers reviews yet. Be the first to write a review.