1 / 1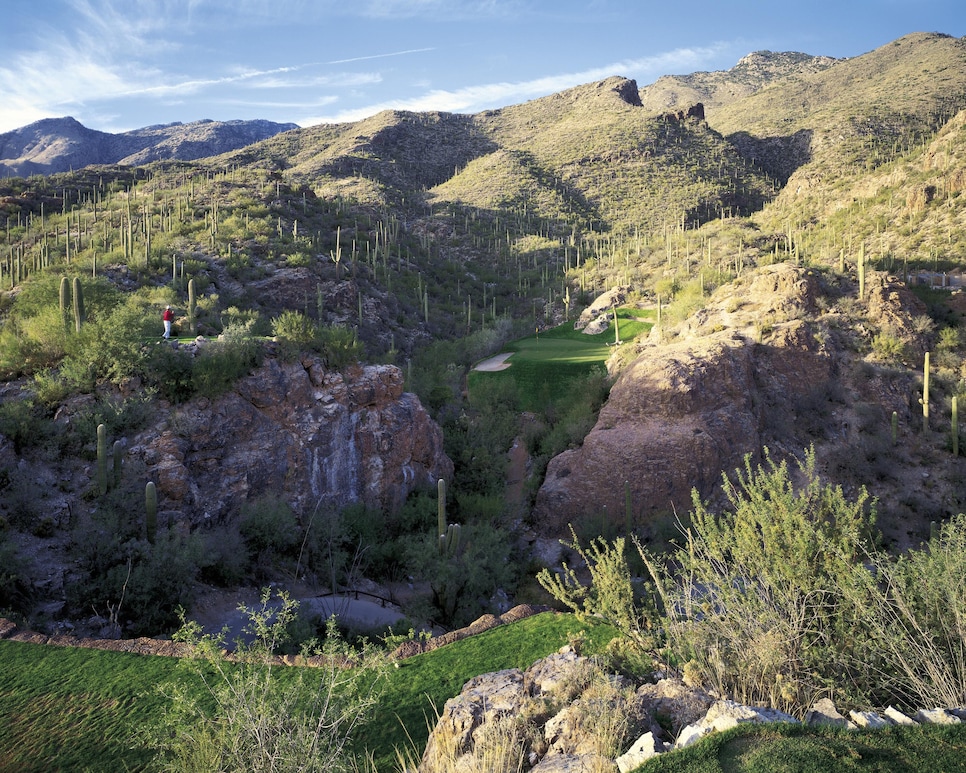 Overview
The short par-3 third hole, just a wedge even from tbe back tees, features a tiny target between rock outcroppings. But the remaining par 3s are stout, all aesthetically strong as well. The fairways are wide and fast, and the putting surfaces are pretty benign as far as Fazio greens go.
About
Designer
Thomas Fazio, ASGCA
Awards
Best in State: Ranked inside the top 5, 1987. Ranked inside the top 10, 1989-'95. Ranked inside the top 20, 1999. Ranked 32nd, 2023-'24. Ranked 34th, 2021-'22.
2023-'24 ranking: 32nd.
Panelists
Ratings from our panel of 1,900 course-ranking panelists
100 GREATEST/BEST IN STATE SCORES
Reviews
1 / 5
Review
"A fine venue for any golfer with deep pockets playing from appropriate tees. Good holes left plenty of room for imperfect shots without overtly penalizing, but then this is a resort. At times Fazio had me almost convinced that the desert did not exist. The routing ruins that. You need a GPS, not on the course but instead, for driving your cart to another long distance teeing ground. When a foursome needs to stop at a busy intersection with numerous red lights, the magic tends to dissolve. That routing is ridiculous. Hence the low aesthetics score. Conditioning was close to off-the-charts perfect."
Read More
2021
2 / 5
Review
"The Mountain Course is by far the better course at Ventana Canyon. Both are Fazio designs, but the Mountain has the fun little par three in all the photos and occupies the better land of the two courses. One of the better public options in AZ!"
Read More
2021
3 / 5
Review
"A great golf course in the desert with wonderful views and fun holes. The short par 3 third hole is a truly unique hole. It is amazing for a green to be put into this area. The rest of the course is typical Fazio with a variety of holes both long and short. Not too demanding, but makes the good player think and take on shots. A truly wonderful place to play golf..."
Read More
2018
4 / 5
Review
"Dramatic, short Par 3 3rd hole gives the course its name."
Read More
2018
5 / 5
Review
"What a great golf course. Views from nearly every tee box overlooking the mountains and Tucson. The course is in incredible condition with a practice areas at each course within the complex. It's a very busy place so be aware of people strolling the grounds and stopping to watch on various holes. The staff are super accommodating and eager to make your round as pleasurable as can be. One of the best in the area and worth the price of admission."
Read More
2018
Readers
Collection of reviews from our readers
There are no reader ratings yet
Reviews
There are no readers reviews yet. Be the first to write a review.