What's In My Bag: William McGirt
William McGirt won the 2016 Memorial, his first PGA Tour win in 165 starts. From driver to putter find out what he carries in his bag.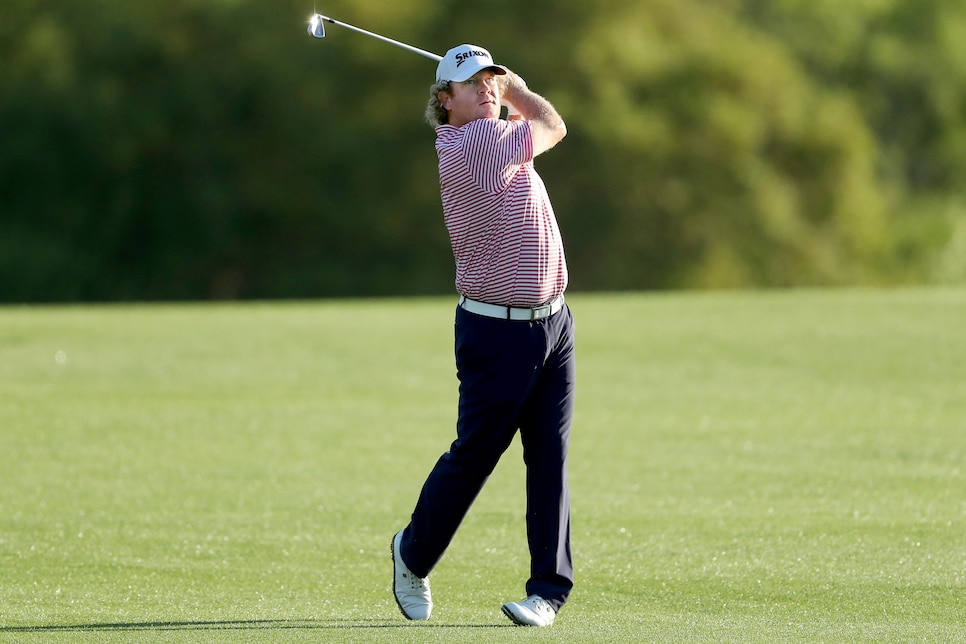 Photo By: Chris Condon/PGA Tour
Photo By: Courtesy of McGirt Family
Photo By: Courtesy of McGirt Family
WILLIAM MCGIRT
AGE: 37
LIVES: Boiling Springs, S.C.
STORY: Won the 2016 Memorial, his first PGA Tour win in 165 starts.ROAD LESS TRAVELED
Seven years after playing mini-tours, I earned my PGA Tour card through Q school. It's hard to sum up what it means to be called a PGA Tour winner.With Stephen Hennessey
PROTECTING MY MONEYMAKERS
When I travel now, I screw all the clubheads off my woods and keep them in a hard suitcase. After a flight a couple years ago, my travel bag looked like it had been run over by a truck. I can't let that happen again.
Photo By: J.D. Cuban
DRIVER
SPECS: TaylorMade M2, 8.5˚, Fujikura Speeder Evolution 661 shaft, X-flex, 45½ inches, D-3Most pros look for a club that launches high with low spin. I previously used a driver with 2 degrees more loft to find that ball flight. With this lower-lofted driver, I can launch it high with increased ball speed.
FAIRWAY WOODS
SPECS: TaylorMade M2 (13˚, 43 inches, D-3½ swingweight), TaylorMade M1 2017 (17.5˚, 42½ inches, D-3½). Fujikura ATMOS Red shafts, X-flexI dented my 5-wood in practice a couple years ago, so it has been a long search for a replacement. I've found one this year I can land soft on the green. I'll swap in a hybrid sometimes, too.
IRONS
SPECS: Srixon Z U45 (3-iron and 4-iron). Srixon Z 745 (5-iron through pitching wedge). Nippon N.S. Tour 105 S shafts, two to three pieces of lead tape, 1˚ upright, Elite gripsThese utility irons are super-forgiving yet still allow me to work the ball. I'm pretty stubborn about changing my irons: I switched to the new Z 765s for a bit, but I'm back to my old gamers. For a steep swinger, those 765s are great at sliding through the turf. We need to dial them in.
WEDGES
SPECS: Cleveland 588 RTX 2.0 (54˚, 60˚). Nippon N.S. Pro WV125 shaftsDon't try to play a shot you haven't practiced a bunch. Down the stretch at the Memorial, I trusted my go-to short-game shots to save pars when I needed to.
PUTTER
SPECS: Scotty Cameron 009 prototype, 35 inchesI figured Jordan Spieth made everything with this style putter, so I've been giving it a try since last year. It's all about looks for me: If you like the look, you have confidence.
MY ONLY SUPERSTITION
It's funny: The past two new Z-Star ball releases, I've finished T-7 the first time I've put them in play. It's become a joke with me and the Srixon tour reps.
Photo By: J.D. Cuban
SWING AID
I tend to be a steep swinger with my irons. So I'll use this Orange Whip training aid to make sure my swing is how I want it.
MY GO-TO TOOL
I've had this divot-repair tool since the 2003 North Carolina Amateur. I have to file the ends regularly to keep them dull. I have another from Baltusrol, where I finshed T-10 last year.
I KNOW JACK
I'll never forget the trophy presentation with Nicklaus last year. Jack and I now have a personal connection, which is an awesome thing to say.
Photo By: Chris Condon/PGA Tour
HOLD IT CLOSE
It brings me no bigger joy than to call myself a father. My wife, Sarah, and I have been through a lot in my career. But No. 1 is our kids.
Photo By: Courtesy of McGirt Family
A LEGENDARY ENCOUNTER
This is something our family won't forget. Last year before Bay Hill, Arnold Palmer met with us and asked to hold our baby girl, Caroline. So special.
Photo By: Courtesy of McGirt Family