Equipment
What's In My Bag: Smylie Kaufman
Age: 24 | Lives: Birmingham, Ala. | Story: Won 2015 Shriners Hospitals for Children Open; was in final pairing Sunday at 2016 Masters.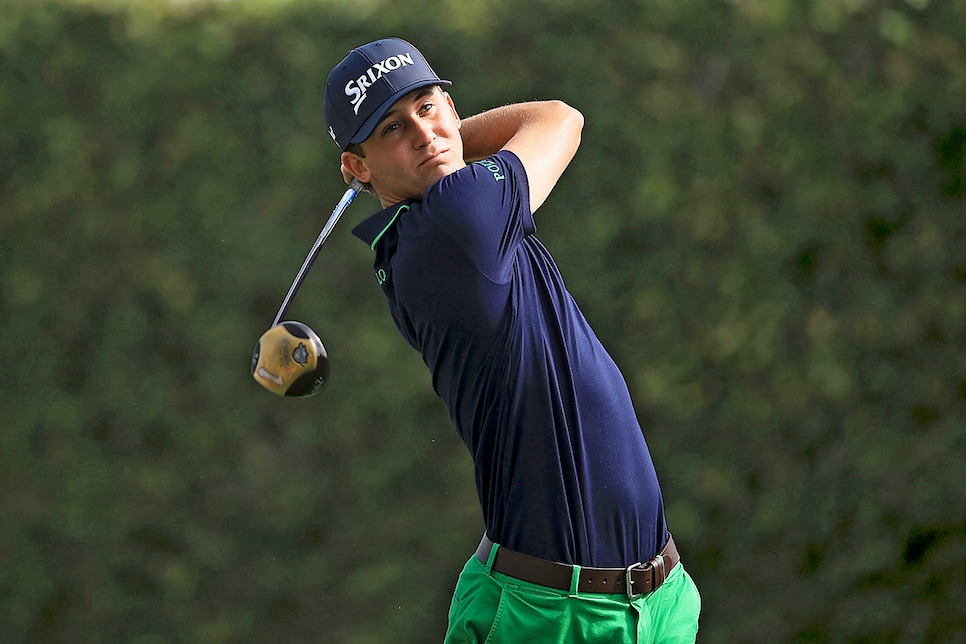 Photo By: Sam Greenwood/Getty Images
Photo By: Scott Halleran/Getty Images
Fun Even In Defeat
The Masters was so cool. That last round really stunk, but the crowd and how loud it was, the roars, is something I won't ever forget. I got to watch Jordan Spieth and just see what it was kind of like. So I'm going to try to build on it, and I'll see what I can do.
Photo By: Sam Greenwood/Getty Images
Staying On Point
I'm a competitor in all that I do. I was a point guard in high school in Alabama, and we won a state title. What can I say? I like to win.
Driver
Specs: Cleveland Classic 290, 9˚, 45 inches, Miyazaki Indigo 56 shaft, X-flex, D-4 swingweight. It's an old-school look and sets slightly open at address. I like to eliminate the left side of the course.
Fairway Wood
Specs: Titleist 915Fd, 15˚, 43 inches, Mitsubishi Kuro Kage XM70 shaft, X-flex, D-3 swingweight. This is a hot club. Very much a second driver for me, except I can hit a bigger variety of shots. I can also get to par 5s from a long way out.
Irons
Specs: Srixon Z U45, 3- through 4-iron; Srixon Z-745 5- through 9-irons, True Temper Dynamic Gold X100 shafts, D-3.5 swingweight, Golf Pride Tour Velvet 58 grips. The utility irons give me a lower flight than hybrids. The soles on my irons are special. The way they plow through the turf is incredible.
Wedges
Specs: Cleveland 588 RTX 2.0 (48˚), True Temper Dynamic Gold X100 shaft; Cleveland 588 RTX 2.0 (52˚, 58˚, 62˚), True Temper Dynamic Gold S400 shafts. I've used Cleveland wedges since I started playing. The 62-degree is a real weapon around the green. The 52 has higher bounce that helps on chips that need more run.
Putter
Specs: Scotty Cameron by Titleist Newport 2 T10, 35 inches, 4˚ loft, 72˚ lie, Winn Dri-Tac putter grip. I've been using this putter for eight years. I love the look, especially the topline. For some reason it always lines me up to hit it on the center.
Some Like It Tough
The Srixon Z Star XV has a soft feel, but it's really durable, too. It's great in the wind. Some balls turn hard, but this holds its line.
A Ready Reminder
I caddied for a friend in the 2013 U.S. Amateur and bought this ball marker/divot tool. It's a reminder that it's better to be playing than caddieing.
Well-worn Wedges
My wedges are the favorite clubs in my bag. They tend to wear out fast, too.
All About Precision
To compete on the PGA Tour you need to have control of your approach shots. Sometimes when practicing I put these cones at specific distances so I can aim at a precise target.
One Of The Cool Kids
After I won in Vegas I got texts from Keegan Bradley, Graeme McDowell and David Toms. Those are guys I look up to, so that was cool.
Photo By: Dylan Coulter
An Early Jump
My goal this season is to be rookie of the year and play in the Tour Championship. My win in Las Vegas helped get a jump on both of those.
Photo By: Scott Halleran/Getty Images