Golf Style
The Week In Style: 08.05.15
What worked – and what didn't – this week at the Quicken Loans National and Ricoh Women's British Open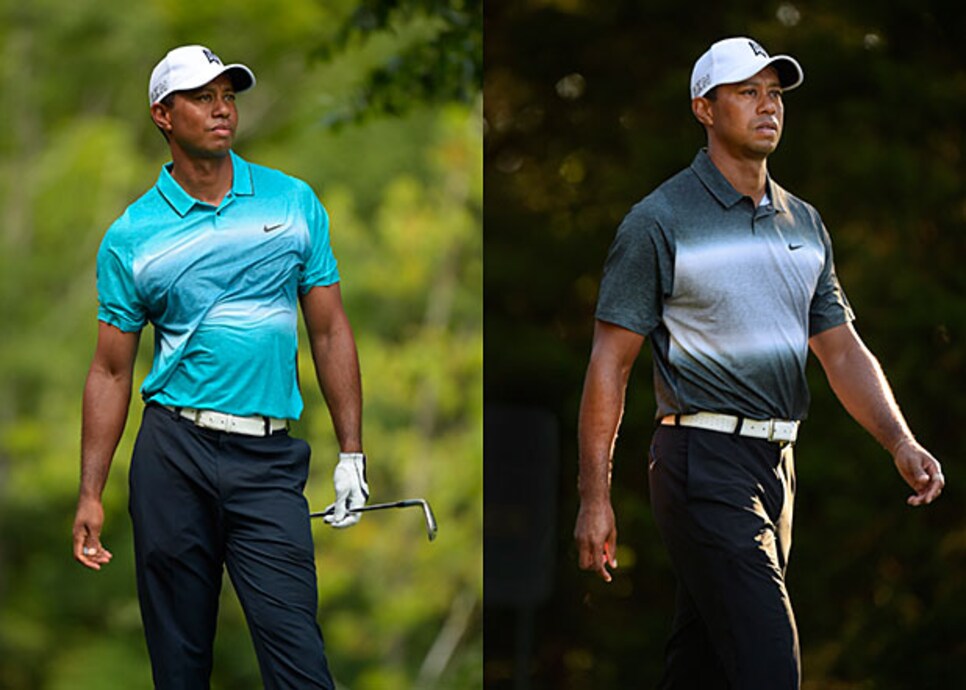 Photo By: Stan Badz/PGA TOUR/Getty Images
Photo By: Patrick Smith/Getty Images, Rob Carr/Getty Images
Photo By: Patrick Smith/Getty Images
Photo By: Stan Badz/PGA TOUR/Getty Images
Photo By: Patrick Smith/Getty Images
Photo By: Patrick Smith/Getty Images
Photo By: Stan Badz/PGA TOUR/Getty Images
Photo By: Stan Badz/PGA TOUR/Getty Images
Photo By: David Cannon/Getty Images
Photo By: Richard Martin-Roberts/Getty Images
Photo By: Richard Martin-Roberts/Getty Images
Photo By: David Cannon/Getty Images
Tiger Woods
Lets start by saying Tiger has been making some really strong style strides lately and has looked great in the last few starts. But ... he took some steps backwards at last week's Quicken Loans National. First of all Nike needs to outlaw that white belt, especially when Tiger wears darker looks. That optic white strap cuts his frame in half. The ombre stripe isn't doing anyone any favors, either, although that's hardly Tiger's fault since Nike has been throwing that style on everyone in its stable this season.
Nike Golf
Photo By: Stan Badz/PGA TOUR/Getty Images
Ryo Ishikawa
Ryo continues to lead the pack on prints, working these cool retro-inspired looks into his rigs at the Quicken Loans. This gear is exclusively designed for Ishikawa by the Japanese Callaway team (the right shirt is a multicolor print of the original Big Bertha drivers) and is not sold at retail. That's probably a good thing considering I don't know many people who would be able to put this together as successfully as Ryo.
Callaway Apparel
Photo By: Patrick Smith/Getty Images, Rob Carr/Getty Images
Rickie Fowler
This is a new look for Fowler as he doesn't wear a lot of red and gray, and I think it's pretty sharp. The paneling feels modern, the gray belt transitions the look nicely from top to bottom and you know his fit is always on point. I'm a big fan of this new hat shape, too. It feels like some of the old panel hats I used to find in skate shops. It also feels very Rickie.
Cobra/Puma Golf
Photo By: Patrick Smith/Getty Images
Kevin Chappell
One Nike man that didn't have nearly as much trouble as Tiger this weekend was Chappell. He has always been one of the more contemporary looking guys on tour, and this simple Nike color block in teal and white makes for great, modern, minimalist style. If you have difficulty putting clothes together for work (or for play), try limiting your pallet to two colors and building from there. You would be surprised how much you can come up with.
Nike Golf
Photo By: Stan Badz/PGA TOUR/Getty Images
Ben Crane
That said, make sure your minimal pallet extends beyond an entirely white setup. I'm all about the monochromatic move except when it's all white.
Hugo Boss
Photo By: Patrick Smith/Getty Images
Danny Lee
One of the best way to keep things light and fresh during the summer is to balance white polos or pants with something in light blue. Lee is turning out to be a golfer to reckon with on the style front, and a lot of that has to do with his fresh, crisp coordination. We're digging that belt, too.
Chervo
Photo By: Patrick Smith/Getty Images
Justin Rose
Rosey also generally has got some clean, cool style, but his Thursday setup at the Quicken Loans National felt a little too dark and down for this time of the season. The pants worked, but the shirt felt sad and the tonal stripe made it difficult for the TV cameras to pick it up.
Ashworth Golf
adidas golf
Photo By: Stan Badz/PGA TOUR/Getty Images
David Lingmerth
Men wear navy, gray, black and blue all year round, and there's nothing wrong with wearing darker shades in the summer. It's all about how you balance it. Lingmerth coordinated this dark gray polo perfectly with a white pant for a modern, masculine look that still felt light and fresh for the season.
J. Lindeberg
Photo By: Stan Badz/PGA TOUR/Getty Images
Jin-Young Ko
It must really have been cold last week at Turnberry because Ko showed up in a full-on parka with a fur hood to compete in the Ricoh Women's British Open. At some point, style just becomes about survival.
Photo By: David Cannon/Getty Images
Maria McBride
I love this shot not only because Maria's in a super-sweet position after impact but because she's actually sporting some fresh foul-weather fashion. The majority of rain gear is navy or black, and any time the weather gets nasty the field turns into one dark blob.
Photo By: Richard Martin-Roberts/Getty Images
Mi Hyang Lee
OK, not that much color. I take it back.
Photo By: Richard Martin-Roberts/Getty Images
Anna Nordqvist
We are starting to see a lot more cool cold-weather accessories on the market, which is a great thing. I've seen a number of these very versatile neck warmers that guys on both tours are wearing in interesting ways. This is starting to feel like one of those fall staples that your should want to keep in your bag for all season.
adidas golf
Photo By: David Cannon/Getty Images