Golf Style
The Week In Style: 06.03.15
What worked — and what didn't — this week on tour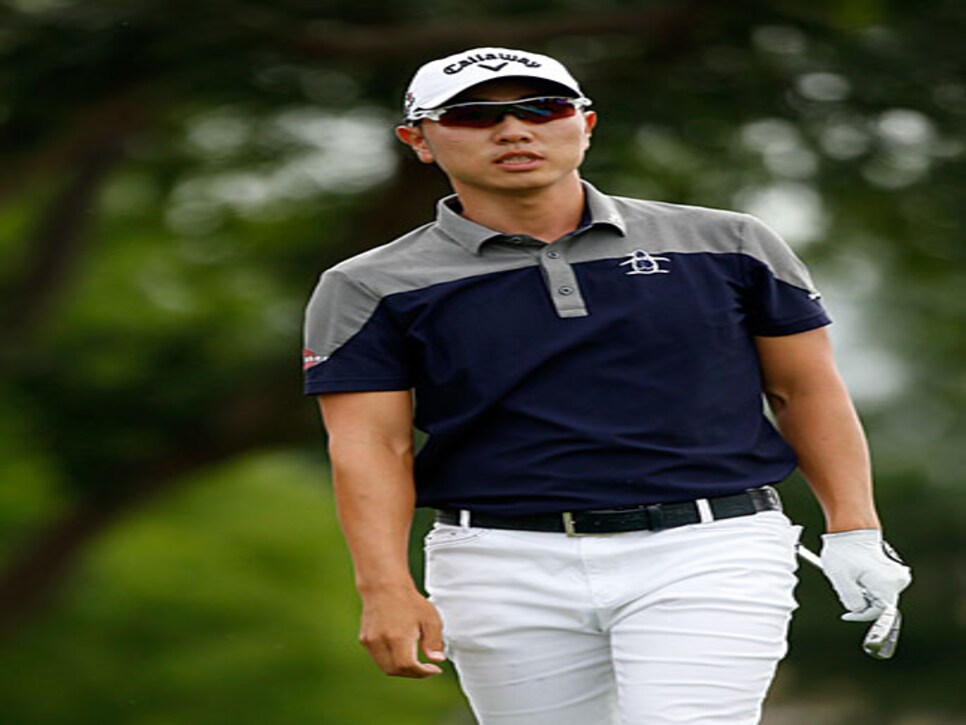 Sang-moon Bae
Bae's minimalist pallet and contemporary fit contribute to a very modern aesthetic. The color block continues to trend, and combined with his simple styling, Bae evokes an easy, "less is more" type of look. Original Penguin updates the classic kit well, and Bae looks better and better each week.
Original Penguin
Darren Clarke
When he oversees Team Europe in 2016, Clarke might turn out to be the best dressed Ryder Cup captain either side has seen in decades. His sense of fit is spot on, and he knows how to work the right amount of color into his outfits to reflect his high-energy personality without looking like a caricature of himself.
Irish Open fans
Speaking of color, these two blokes secured the top spot in the Emirate wacky trouser competition at the Dubai Duty Free Irish Open this weekend. Congratulations ... I think.
Graeme McDowell
This is a great shot for a number of reasons but most of all because it shows G-Mac smiling in a sideways squall when everyone else in the photo appears to be silently cursing the day they were born. Sometimes true style is about little more than a sunny disposition.
G-MAC By Kartel
,
ECCO
Rory McIlory
Rory made a statement with his footwear at the Irish Open, but his message was more important than any impact on the Week in Style. Rory partnered with the Cancer Fund for Children to raise money for kids whose lives have been affected by the disease.
Each of the shoes for his Irish Open script
was custom-designed by a child affiliated with the Cancer Fund.
Nike Golf
Luke Donald / Maximilian Kieffer
It's time for PGA Tour players to learn how to layer a little more stylishly. A few weeks ago when temperatures dipped at the WGC-Match Play at Harding Park, half the American pros wore short-sleeve polos over long-sleeve base layers. This week, when things weren't exactly balmy at the Irish Open, the Euros wore sweaters over their thermal layers and showed us how to stay warm and look sharp at the same time.
RLX-Ralph Lauren
,
Footjoy
,
Kjus
Rafa Cabrera-Bello / Bernd Wiesberger
Not only did the Euros layer their looks appropriately, they also showcased their creative cold weather add-ons, too. Cabrera-Bello rigged up this black-and-white bandana around his neck, and Wiesberger pulled off this retro pom-pom snow hat. These pieces are stylish and functional because they're both unique and versatile.
Under Armour
,
Oakley
,
Footjoy
Miguel Angel Jimenez
Caption Contest! "I don't always drink beer, but when I do, I drink Guinness with three Arabians and a falcon."
Jordan Spieth
Spieth may have the most consistent style of any player on any tour. He hardly strays from blues, whites and grays, and he always looks comfortable and contemporary in whatever he wears. Not only do the basics work well on all sizes, shapes and shades, they give you the ability to add unique belts, shoes and hats into your looks that create interest but don't take the whole outfit over the top. Jordan has worked these braided belts into a ton of his rigs this year, and they've worked well every time.
Under Armour
Nick Watney
Stripes continue to trend on and off the tours, and this angled chest stripe may be one of the best iterations I've seen all season. For those of you who think horizontal stripes make you like wide, here's why this one won't: Both the angle of the stripe and the diminishing grade of each line create the visual effect of widening your shoulders and narrowing your torso from top to bottom. The right clothes should make you look your best by enhancing your positive features and diminishing the less favorable ones. You'd be surprised what a couple of lines in the right direction can do.
Nike Golf
Scott Pinckney
On the topic of trend, Nike's attacked a bunch of them this season including this ombre fade-out polo. I've taken issue with almost every color way, but it's time to give 'em some credit. Pickney pured it Saturday at the AT&T Byron Nelson and finally showed us one of the only ways to wear this dark-to-light look. He smoothed out his whole ensemble by continuing the fade all the way through his white pants and shoes. It's a seamless look from top to bottom that makes a strong, yet subtle, statement.
Nike Golf