Golf Style
The Week In Style: 02.17.15
What worked — and what didn't — this week on tour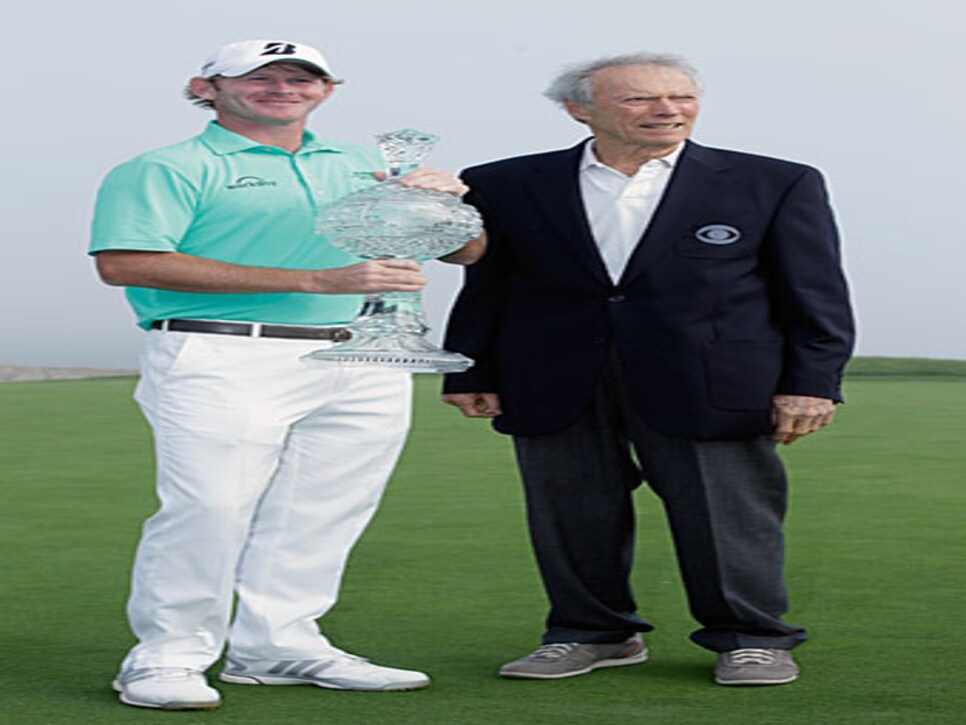 Brandt Snedeker / Clint Eastwood
The pros played with the average Joes last weekend at the AT&T Pebble Beach National Pro-Am, and Snedeker took home the trophy. Brandt has always been a pretty solid dresser, wearing some good color in classic styles. White trousers are still trending on tour, and Sneds wore them well (even if they could have been a bit shorter) with a sharp green shirt on Sunday. Dirty Harry, on the other hand, won the award for worst fitting sportcoat of all time. C'mon Clint!
Peter Millar
adidas golf
John Daly / Herm Edwards
When are pink flamingo pants not the boldest looking trousers in a group? When you're standing next to Daly in whatever Loudmouth look he's got going on. Edwards looks downright conservative in his tropical pants next to Daly in multicolored camo. Regardless of your opinion on these styles, both of these pants are way too long.
Loudmouth Golf
Bill Murray
Murray never disappoints at Pebble Beach. NEVER.
Cole Haan
Dustin Johnson / Wayne Gretzky
D.J. looks sharp in this graded-stripe adidas polo. The minimal color scheme combined with the athletic styling really helps elevate this look from some of the brand's flatter, basic set-ups. The Great One goes with all black, which always looks good. However, I would've preferred to see a light windshirt over the polo as opposed to a thin layer underneath it. There's too much strong outerwear available these days to be opting for less versatile long sleeves.
adidas golf
Andy Garcia
Channeling one of the game's all-time smoothest operators, Garcia cued up this awesome retro rig Thursday at Pebble, looking like a modern-day Sam Snead. If you feel like working a few vintage vibes into your game this season, follow Garcia's lead and toss a trilby and some wool trousers into your rotation.
Billy Horschel
Speaking of contemporary iterations of classic styles, the 2014 FedEx Cup champ may be one of the best at balancing the two aesthetics. His traditional shield-tip spikes and athletically inspired RLX gear combine the best components of past and present style and make for a modern look that's all his own.
RLX-Ralph Lauren
FootJoy
Pat Perez
Perez wore these picnic-blanket-plaid trousers Sunday at Pebble and did a nice job going with the solid black polo on top. That said, there really isn't much else that would have worked. The problem with wearing white and black is that it's very limiting. As long as you're disciplined with the narrow palette, go for it. I'm feeling that skull-and-bones belt buckle, too.
Callaway Apparel
Miguel Angel Jimenez
On the other side of the globe, an under-the-weather Jimenez teed it up at the True Thailand Classic in these washed-out pink-linen trousers. Sure they're a little baggy, but you get some leeway when you wear linen. I'm surprised we don't see more seasonal fabrics on the PGA Tour, especially at super warm and wet weather stops through the southeast. Yes, linen wrinkles. It's supposed to wrinkle. But on your next warm-weather round, own the look like Jimenez, then hang out at the bar with no worries while the rest of the guys in your group sit uncomfortably in their sweat-soaked polyester pants.
Bobby Jones
Footjoy
Nick Watney
I'm seeing more and more matte-looking trousers on tour like the ones Watney wore Sunday at Pebble Beach, and it's a really strong style upgrade. The flatter finish feels much more modern than the standard khaki chino. It also sits better on top of sportier, hybrid golf shoes. Wear these just as you would your other basic bottoms and don't be afraid to work them in off the course, too.
Nike Golf