Golf Style
The Week In Style: 02.03.15
What worked -- and what didn't -- this week on tour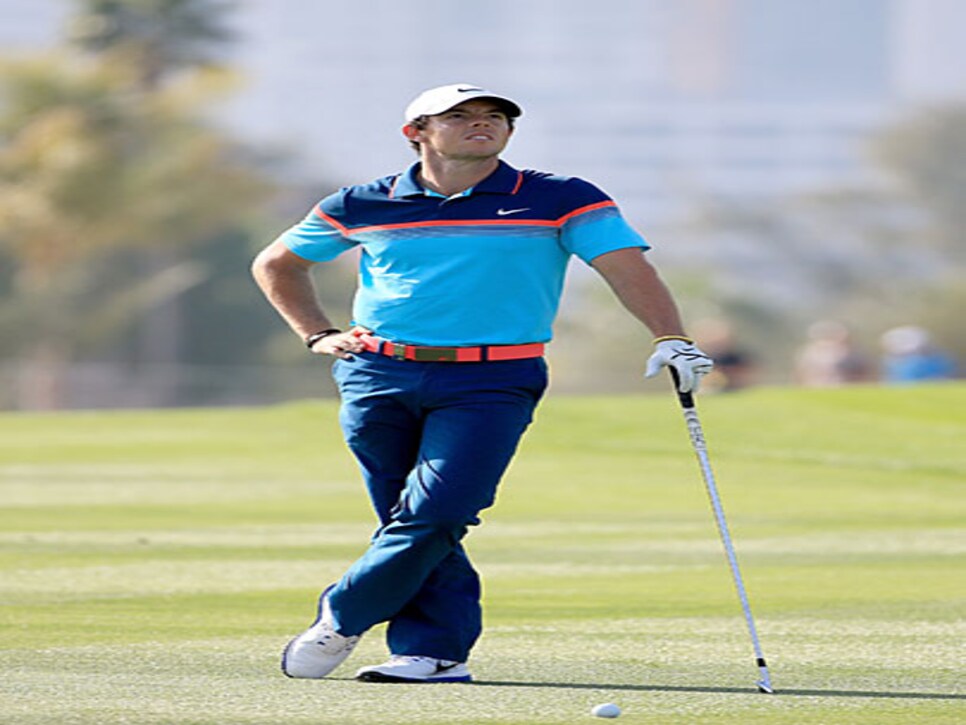 Rory McIlroy
Rory goes deep in the desert again, but this certainly doesn't look like the kid who won the Dubai Desert Classic in 2007. The rookie in the baggy khakis with the whacky haircut has long been replaced by this multiple-major-winning tour stud in his new Nike gear. Rory has worn the graded-stripe color-block polo a few times already in 2015 and pulled out another strong color-way last weekend with the tonal-blue setup. The two-tone navy and blue helps ground the multiple stripes, bright colors and pop accents, making for a minimal, modern and athletic aesthetic.
Nike Golf
Robert Streb, Justin Thomas, Rickie Fowler
Same day, different desert as the PGA Tour's Waste Management Phoenix Open saw no shortage of color either. The greenest tournament on the tour schedule lived up to its name.
RLX-Ralph Lauren
FootJoy
Puma Golf
That said, when it comes to TPC Scottsdale, there's no doubt the men and women in the gallery at the 16th hole own the wackiest wardrobes.
Bubba Watson
Bubba got in on the green Saturday but opted for his signature shade Sunday, proving once again real men most definitely can wear pink. Whether it's pink, green, blue, red, whatever, I hope Watson keeps working bold colors into his clothes because they look so much stronger than the drab blacks and tans he's put in play lately.
Oakley
Henrik Stenson
The swaggy Swede tried this Boss Green Label look Sunday at the Omega Dubai Desert Classic. I'm all for the monochromatic move, but you better be a plus-2 if you're showing up to the local muny with a full-on Kelly outfit like this. Our suggestion: stick to the basics with navy, gray and black.
Hugo Boss
Lee Westwood
We are seeing lots of white trousers on tour early this season as they make sense for warm-weather rounds in places like Hawaii, Phoenix and even Abu Dhabi. The problem here is that Westwood pairs his pants with a pale shirt and dark belt, creating the wrong kind of contrast and drawing attention towards his waistline. Westwood's gotten into great shape, but this even looks awkward on him.
FootJoy
Ryan Palmer
Palmer, on the other hand, puts the white pant together with a super-saturated dark-blue polo that pops against the trouser and makes for a simple outfit that attracts the right kind of attention.
Ashworth Golf
Tiger Woods
The debut of Tiger's new TW '15 shoes in Phoenix was muted by his poor play, but the kicks looked like a cool, comfortable evolution from the TWs we've previously seen. I like the flatter gray on this sneak better than a crisp white because it makes them easier to wear with more trousers. Sometimes shoes with this much webbing and technical detail in bright white can look a little, "Look ma, new sneaks!" That said, no matter what color they were, they went back into the locker looking a little too fresh after only two rounds and a missed cut.
Nike Golf
Ryo Ishikawa
He's human! Not sure what Ryo was thinking here, but his Friday look in Phoenix just didn't work. He mixed his scales well enough by separating micro and macro patterns on his pants and sweater, but the colors don't match leaving the whole thing looking off. These guys may be good, but nobody's perfect.
Callaway Apparel
Ryan Moore
Moore continues to stack up cool, casual looks one after the next. The key here are his matte-color trousers. Flatter blue/gray looks like the one Ryan has been sporting lately feel like a mix between your favorite pair of jeans and your most comfortable khakis -- but look better than both. Step up your style with a set of these pants in softer, in-between shades and wear them wherever your weekend takes you.
True Linkswear
Michelle Wie
The LPGA returned to work last week at the Coates Golf Championship, and Wie picked up right where she left off in 2014 with very cool, modern, athletic threads from Nike. I'm totally digging her retro mega visor because she balances the throwback style with neon shades that make it pop. Hopefully we see some more high-crown caps in cool colors for the men, too.
Nike Golf
Morgan Hoffman
OK, not quite that high crown.