Golf Style
The Week In Style: 01.28.15
What worked -- and what didn't -- this week on tour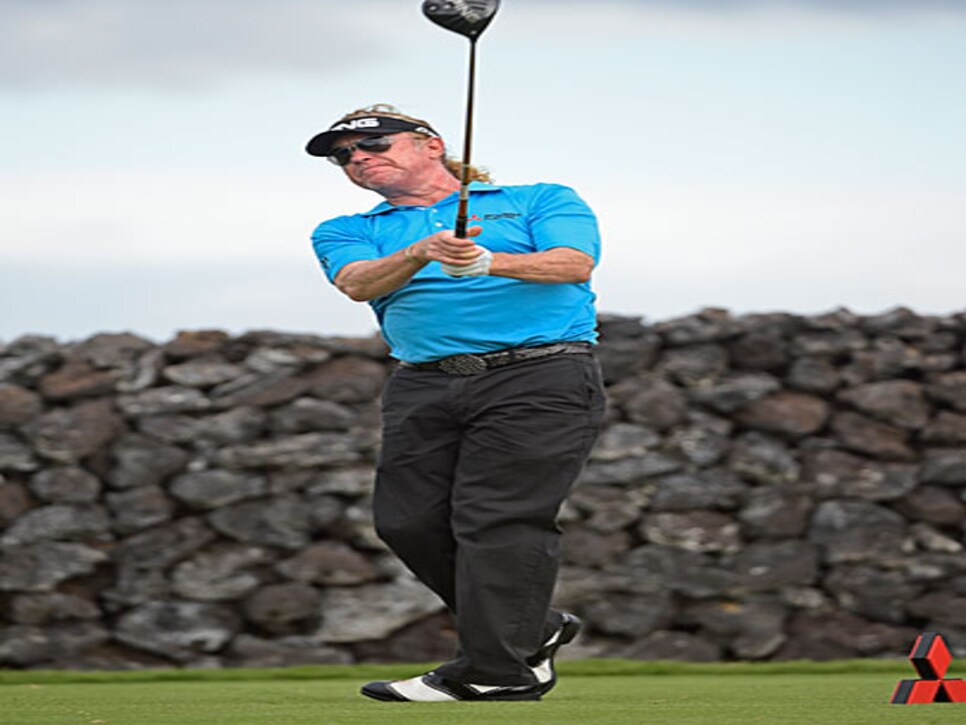 Miguel Angel Jimenez
The ever stylish Jimenez won the Champions Tour's season opener, the Mitsubishi Electronic Championship. Golf's most interesting man has always kept his fit on point and still rocks some of the classiest kicks on tour with his custom wing tips.
Bobby Jones
Oliver Fisher
So far the styles we've seen from Nike's spring line look very strong. Fisher's outfit from the third round of the Qatar Masters was yet another example of its super-cool athletic and modern styling. Nike has managed to work in tons of high-intensity color while balancing the overall look. The teals and blues are bold but work well together as they're based in the same shade. The small orange accents on the sleeves add some flare, and the white trousers help make the whole setup pop.
Nike Golf
Tom Lehman
This is a lot of look, and shades of olive and brown are not the easiest to wear. Still, Lehman is very close to being very cool. His five-pocket trouser is way too long, but it's a fresh new style that works for most pros. It's hard to believe the closest thing to jeans on tour come from the senior circuit, but hey, I'll take it wherever it comes from. The floral-print polo is also a fresh break from the norm.
Tommy Bahama
adidas
Billy Horschel
This guy has made bright-colored bottoms his signature style and dropped these mint-green trousers Sunday at the Humana Challenge. If you dig the look and want to work it into your own repertoire but are worried about actually pulling it off, follow Horschel's lead and keep things as
simple as possible
. A fresh white polo works every time.
RLX-Ralph Lauren
Colin Montgomerie
This is a clean, simple and modern look on Mongomerie. His flat-front navy trousers fit perfectly and pair nicely with the navy shoe laces and visor. He also does a great job of syncing his gray belt with the faint stripes in his polo. Soft and stylish from head to toe. Well done Monty!
Callaway Apparel
Ryo Ishikawa
This is a great close-up shot of the micro patterns we're starting to see more of on and off the tour. They wear just like solids and match with all the same shades but add another level of interest to your look. No surprise that the "Week in Style" stalwart leads the pack here.
Callaway Apparel
Jason Dufner
Early outfits from Dufner's new Vineyard Vines whale wear look somewhat suspect. The colors are OK, but everything looks solid and flat so far, and the fit can be tightened up. Also, what's up with the white belt?! Come on Duffman, I thought we were past that!
vineyard vines
Keegan Bradley
On the other hand, Bradley's new Travis Matthew gear is on point. Keegan's SoCal looks are dark and simple, and feel very modern. The MJ golf spikes are going to attract most of the attention no matter what Bradley's wearing, so it's smart to pick pants in the same shade as the shoes to smooth out the transition as much as possible.
Travis Mathew
Stuart Appleby
"Less is more" looks like this! Appleby is one of the simplest and sharpest dressers on tour, thanks to his razor-sharp attention to fit and a strict adherence to a uniform color pallet. Black and white can be difficult to execute this well but try limiting yourself to colors like navy and gray for a week and you'll be surprised how quickly you can develop the look of your new uniform.
Cross Sportswear
Justin Thomas
You wouldn't wear white gym socks with your dress shoes, so why wear them with a dressed-up classic spike like Thomas' FJ wing tips? White gym socks may be OK with softer, hybrid spikes but they look pretty Steve Erkel with a saddle shoe. Thankfully, everything else in Thomas' look is on point. I don't believe in hard-and-fast rules, but you'll never go wrong matching your socks to your pants.
Polo Golf-Ralph Lauren
Footjoy
Lucas Glover
I think Lucas lays out a really simple style upgrade here whether he knows it or not. Next time you go to throw on your standard khaki chinos, swap them for a matte, pale gray or slate trouser like this one from Glover. They look much more modern and match every single color in your closet.
Linksoul
Brian Davis / Justin Thomas
Whether we're talking about light belts with dark pants or light pants with dark belts, the contrast between the two shades creates serious separation between your torso and lower body that doesn't look good wherever you wear it. If you don't wear your white belt with dark denim when you're out to dinner with your girlfriend, why wear it on the golf course?