Golf Style
The Week In Style: 12.16.14
What worked -- and what didn't -- this week on tour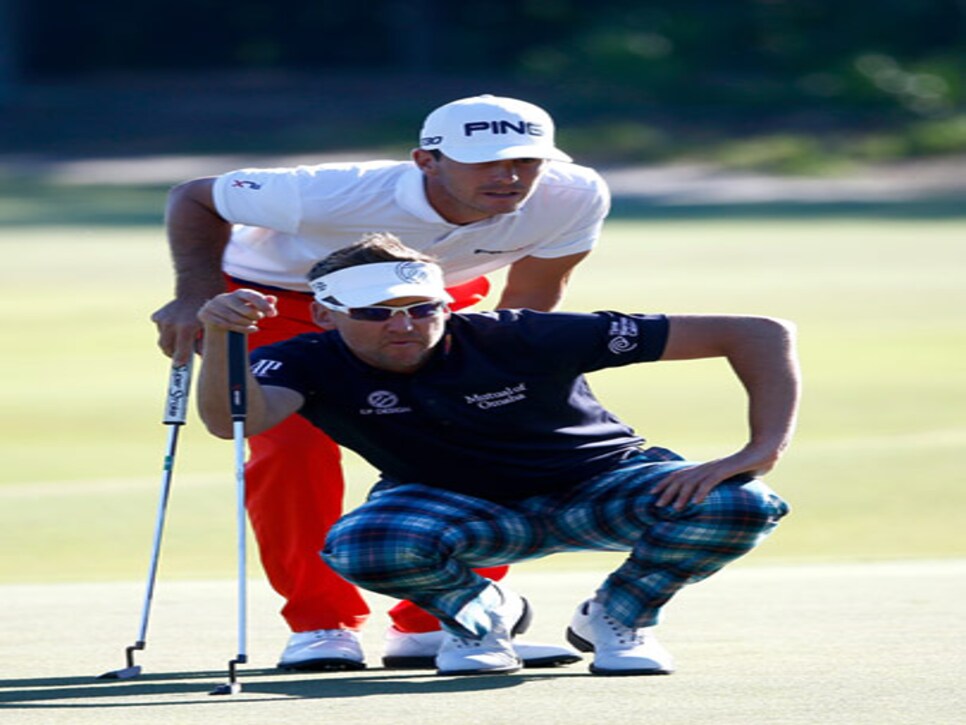 Billy Horschel Ian Poulter
I'm not sure if this stylish duo meant to work it this way, but Horschel's orange pants pair perfectly with the orange overpane in Poulter's tartan trousers. I like what Poulter is trying here better than some of the dark, 1980s-mod looks he has recently sported.
RLX-Ralph Lauren
IJP Design
Charl Schwartzel
There's a lot going on with this ombre stripe on the chest panel of Schwartzel's polo and what appears to be a completely different style with the teal solid on the back. Some of Nike's sharpest looks are defined by brilliant color and smart accents. Here, though, it feels like there is just too much design for one shirt.
Nike Golf
Brendan Jones
Talk about a lot of look. The Aussie seemed to put a few too many styles in play at the Australian PGA. The printed polo, red trouser and the custom shield tips are all cool pieces, but all together? Really?
Wade Ormsby
Ormsby showcased a strong, striped look back home at the Australian PGA. Anytime you keep the base of your shirt and the stripe in the same shade it makes for a softer, subtler approach to the style. Ormsby works with a couple of different types of blues and sets up a really sharp kit.
FootJoy
Keegan Bradley
With these patent-leather red Jordans, Air Keegan now officially rocks the most non-golf-shoe-looking golf shoe on tour. I'm on the fence about these kicks. Sneakers have definitely been trending in the menswear market, and I'm all for a crossover into conventional golf gear. Still, this looks awkward. Golf spikes seem to be getting scaled down each year yet these look like moon boots. That said, I'm looking forward to seeing how Keegs puts them into play in 2015 after
announcing his new deal with TravisMathew on Monday.