Golf Style
The Week In Style: 04.21.15
What worked — and what didn't — this week on tour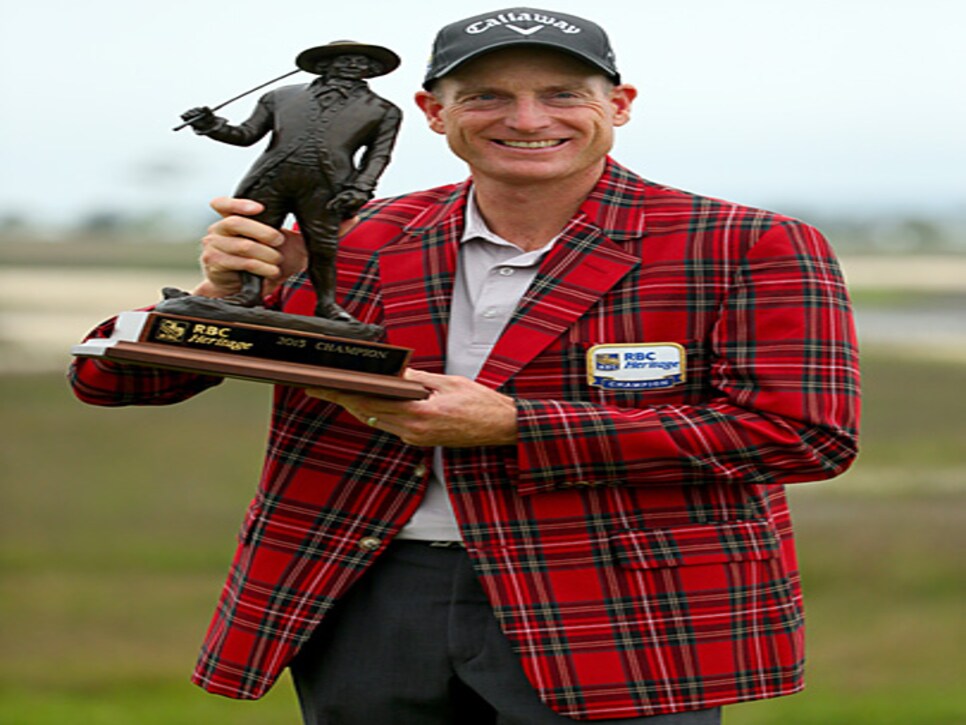 Jim Furyk
Furyk closed with a 63 at Harbour Town and beat out Kevin Kisner in a playoff to capture one of the tougher-to-love sportcoats in all of golf. Furyk wore it about as well as anyone could. Nicely done, Jim. And welcome back to the winner's circle.
Troy Merritt
Furyk didn't have a choice in the matter; the folks at Harbour Town make you wear that jacket when you win the RBC Hertiage. Merritt on the other hand elected to wear this shirt on his own accord. Sometimes designers can
over
design styles, and Merritt's shirt feels like one of those instances. The color, the extended placket, the double-pocket detail and the scale of the exploding plaid all combine to make one very busy polo.
Sligo
Graeme McDowell
G-Mac was hands down the best dressed golfer at Hilton Head. The man really has a sense for color and pattern. Even more importantly, he knows how and when to wear them. Each one of Graeme's looks either featured a print, a plaid or a bold color, and everything else in that day's ensemble was subtle and solid.
G-Mac by Kartel
Alvaro Quiros
I still think the monochromatic move is the most worthwhile tour trend to work into your own game. Quiros was last week's example of a seriously powerful single-color setup. The guy's already long and lean as it is. This just doesn't even seem fair.
Cobra/Puma Golf
Hyo Joo Kim
Sometimes the subtlest details can be the sharpest ones. I'm really digging the mix of horizontal and vertical Bengal stripes on Kim's shirt.
Paula Creamer
Paula's always had a sporty vibe that works well with her athletic aesthetic. The digital mélange skirt with the pink accent feels much fresher than standard tech fabrics in solid primary colors. Her skirt also feels more in line with the printed tights I see all over the active-wear market.
adidas golf
I.K. Kim
I'm in favor of the golf dress and am honestly surprised not to see more of them on tour and around my local tracks. They're feminine, sporty and would seem to be more versatile than some of the super-synced up golf gear from the game's biggest brands.
Michelle Wie
Wie looks more intimidating than a state trooper in those reflector aviators. Keep 'em in the rotation.
Nike Golf
Luke Donald
Ralph Lauren is one of the best at stacking super-saturated shades on top of each other for maximum impact. Luke's pink-and-black combo Thursday at Hilton Head was one of the week's strongest style statements.
RLX-Ralph Lauren
Footjoy
Carl Pettersson
You don't have to be a beanpole to look good in golf gear, and Pettersson set another great example of that last week. A sweater in a dark shade that doesn't bunch up around your waist and a straight-leg pair of flat-front chinos will go a long way in helping you look your leanest. On a separate note, those Adidas Samba looking spikes feel a little too sneakery with the chinos and would definitely look better with shorts.
adidas golf