Style
The Week In Style: 11.25.15
What worked – and what didn't – this week in Georgia, Florida and Dubai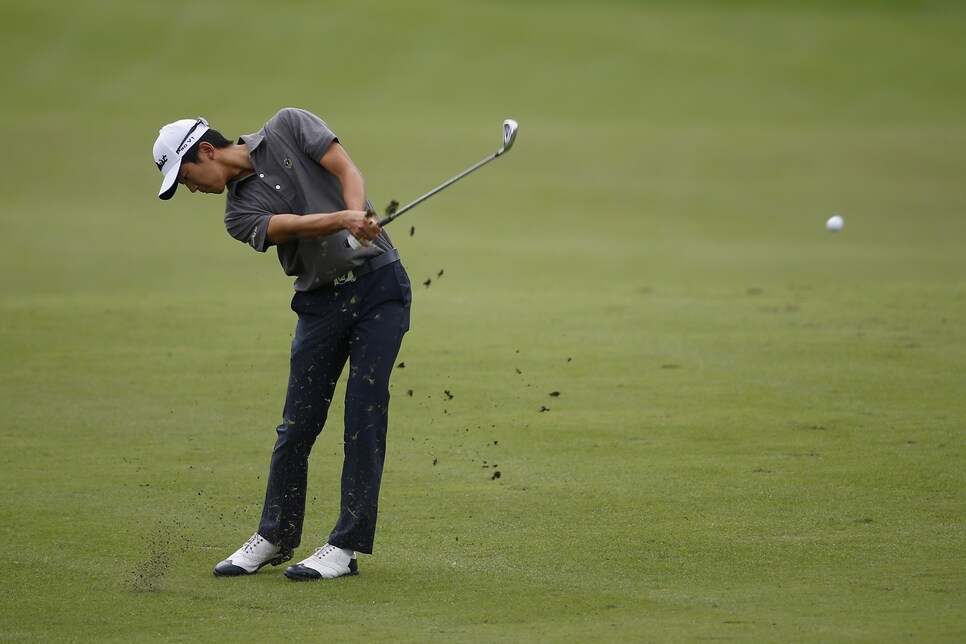 Photo By: Todd Warshaw/Getty Images
Photo By: Matt Sullivan/Getty Images
Photo By: David Cannon/Getty Images
Photo By: Andrew Redington/Getty Images
Photo By: Todd Warshaw/Getty Images
Photo By: Matt Sullivan/Getty Images
Photo By: Stan Badz/PGA TOUR/Getty Images
Photo By: Todd Warshaw/Getty Images
Photo By: Sam Greenwood/Getty Images
Michael Kim
Balance is one of the most important elements of good style, and you can strike the right balance in a number of ways. Kim does a nice job pairing a dark solid with some super sartorial shield-tip spikes for a mix of classic and contemporary style.
FootJoy
Photo By: Todd Warshaw/Getty Images
Jamie Lovemark
If you keep up with the Week in Style, you know we're not big into contrasting base layers under short-sleeve polos. That said this geometric print base layer might be an exception. It's dark enough not to strike too much contrast with the rest of his outfit but subtly styled to balance the other solids in his look. This is pretty cool.
Nike Golf
Photo By: Matt Sullivan/Getty Images
Rory McIlroy
McIlroy debuted his new Lunar Control 4s en route to victory at the DP World Tour Championship in Dubai. He worked with the Nike team to leverage the company's fly-wire technology, which enhances his shoe's stability. Given his result, I guess they worked out pretty well.
Nike Golf
Photo By: David Cannon/Getty Images
Miguel Angel Jimenez
It's no surprise the World's Most Interesting Man has the world's most interesting warm-up routine. Well played, sir. Yet another activity on the list of things only you could look cool doing.
Bobby Jones
Photo By: Andrew Redington/Getty Images
Graeme McDowell
G-Mac gets a lot of attention for wearing bold looks but sometimes his simplest styles are the most stylish. If you're looking for a casual Friday outfit that can transition seamlessly to the golf course, this navy wool trouser and navy sweater combo is your move.
G-Mac by Kartel
Ecco
Photo By: Todd Warshaw/Getty Images
Kevin Kisner
A five-pocket cotton trouser is the upgrade for the guy who either wears jeans or dress pants and doesn't own anything in-between. Check out Kisner's trousers. They're perfect for any occasion (like winning your first PGA Tour event) where you don't need to wear a tie.
Bobby Jones
FootJoy
Photo By: Matt Sullivan/Getty Images
Kevin Chappell
This is a very cool shot of one of the game's sharpest looking dudes. Chappell generally wears solids but flexes some serious color to keep things interesting. If you're going to put some bright blue bottoms into play make sure you keep the rest of your rig subtle and solid, like Chappell here.
Nike Golf
Photo By: Stan Badz/PGA TOUR/Getty Images
Tyrone Van Aswegen
I like the bright tartan polo, but when your trying to pull off an out-of-the-box look the details must be on point. Sure the shirt is aggressive, but it's the contrasting white sleeves and pockets that make this whole thing feel awkward. No need to make this thing trickier than it already is.
Iliac Golf
Photo By: Todd Warshaw/Getty Images
Mi Hyang Lee
These sleeves are tempting when the temperatures start to drop, but we remain fully opposed to these things. There is simply too much good knitwear on the market than can be worn on and off the course to support such a specific style.
Photo By: Sam Greenwood/Getty Images