Style
The Week In Style: 11.04.15
What worked – and what didn't – this week in Turkey and Malaysia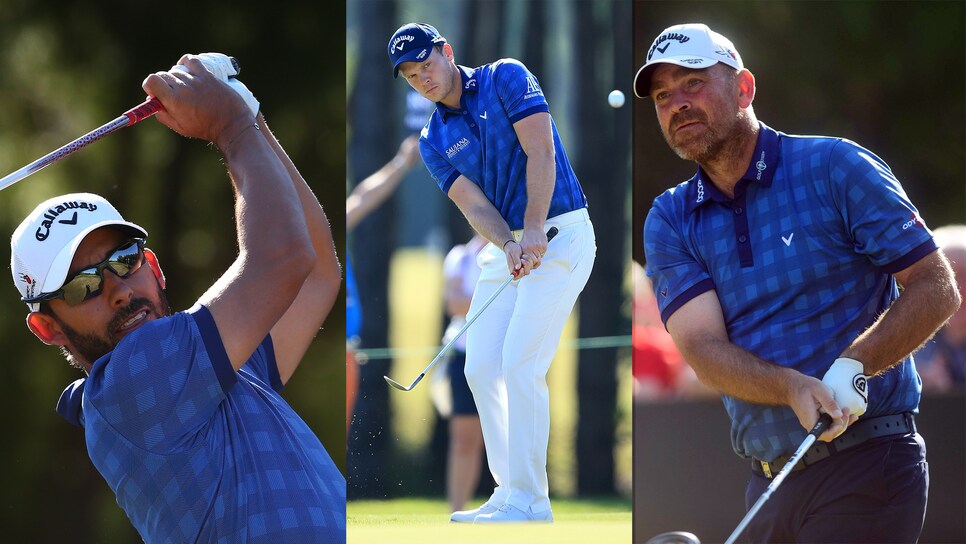 Photo By: Stanley Chou/Getty Images
Photo By: Khalid Redza/Asian Tour/Asian Tour via Getty Images
Pablo Larrazabal, Danny Willett, Thomas Bjorn
Who wore it best? All these guys looked great at last weekend's Turkish Airlines Open, and I loved Callaway's tonal iteration of this classic blanket plaid. Even so, three dudes in the same shirt on the same day? You'd think the brand would want to give a little more scripting direction to avoid this kind of thing.
Callaway Apparel
Photo By: Getty Images
Rory McIlroy
Light blues and teals continue to feel very fresh, and when they are balanced this well -- with an athletic stripe and navy grounded polo -- the bright accent color doesn't feel too strong at all.
Nike Golf
Photo By: Getty Images
Rory McIlroy's Shoes
Rory's still rocking the Lunar Control 3s, but these custom Nike ID jobs are definitely some of my favorite. Nike's digital platform for customized kicks is miles ahead of anything else on the market. If you want to take your footwear to the next level, Nike ID is definitely worth a look.
Nike Golf
Photo By: Getty Images
Ian Poulter
This is one of the stronger looks we've seen recently from Poulter. The rich blues and deep purples in his tartan trousers blend nicely to create a bold, balanced look. Plaid isn't the easiest pattern to pull off, but working in soft colors with little contrast is always the safest way to put this style into play.
IJP Design
Footjoy
Photo By: Getty Images
Matthew Fitzpatrick
Fitzpatrick has clearly won "most improved style" honors for 2015. A year ago the European Tour rookie looked like he was swimming in hand-me-downs. Now his shirts tuck neatly into his trousers, his sleeves hug his biceps and his trousers rest sharply atop his shoes with minimal break. Fitzpatrick pulled together modern looking, well-fitting rigs week after week this year and rode this stepped-up look all the way into his first European Tour victory last month.
Under Armour
Photo By: Getty Images
Victor Dubuisson
Victor, congrats on your big win at the Turkish Airlines Open. And we appreciate that you march to the beat of your own drummer. However, your flow is getting out of control. Isn't it time to trim that mullet?
Hugo Boss
Photo By: Getty Images
Peter Uihlein
Peter, I get you were a stud at Oklahoma State. But if we're encouraging girls to give up their Uggs, it's only fair you leave your college gear behind, too. Even on Halloween weekend, orange and black isn't the smartest color combo on anyone.
Titleist
Footjoy
Photo By: Getty Images
Justin Thomas
In winning his first PGA Tour title Sunday at the CIMB Classic in Malaysia, Thomas gives us an opportunity to address one of the style questions I get asked most often: "Can I wear low-cut socks with pants?" The short answer is yes. However, like any other article of your clothing, your socks should be balanced with your overall look. I like low-cuts with sportier styles and more casual, hybrid golf shoes. Thomas has a very sartorial aesthetic, which he shows by wearing classic, structured golf shoes. As such, I think a longer sock would've worked better for JT.
Polo Ralph Lauren
Footjoy
Ernie Els
This is a pretty sad look on the Big Easy. Sure the styling is basic, but a better fit would go a long way to cleaning this up. His pant legs look wider than garbage bags, and his sleeves are practically down to his elbows. Trimmer trousers elongate your frame, and shorter sleeves not only give you a more flattering shape, they stay out of the way of the rotation of your upper body.
Ecco
Photo By: Stanley Chou/Getty Images
Adam Scott
Scott's razor-sharp attention to fit allows something as simple as a contrast placket on a white polo to feel fresh and modern. Sure, the guy is literally a human clothes hanger, but in the right size, this Uniqlo polo is as close to a can't miss move for anyone as you'll get.
UNIQLO
Footjoy
Photo By: Khalid Redza/Asian Tour/Asian Tour via Getty Images