Style
The Week In Style: Hits and misses from the Evian Championship and KLM Open
What worked -- and what didn't -- this week on tour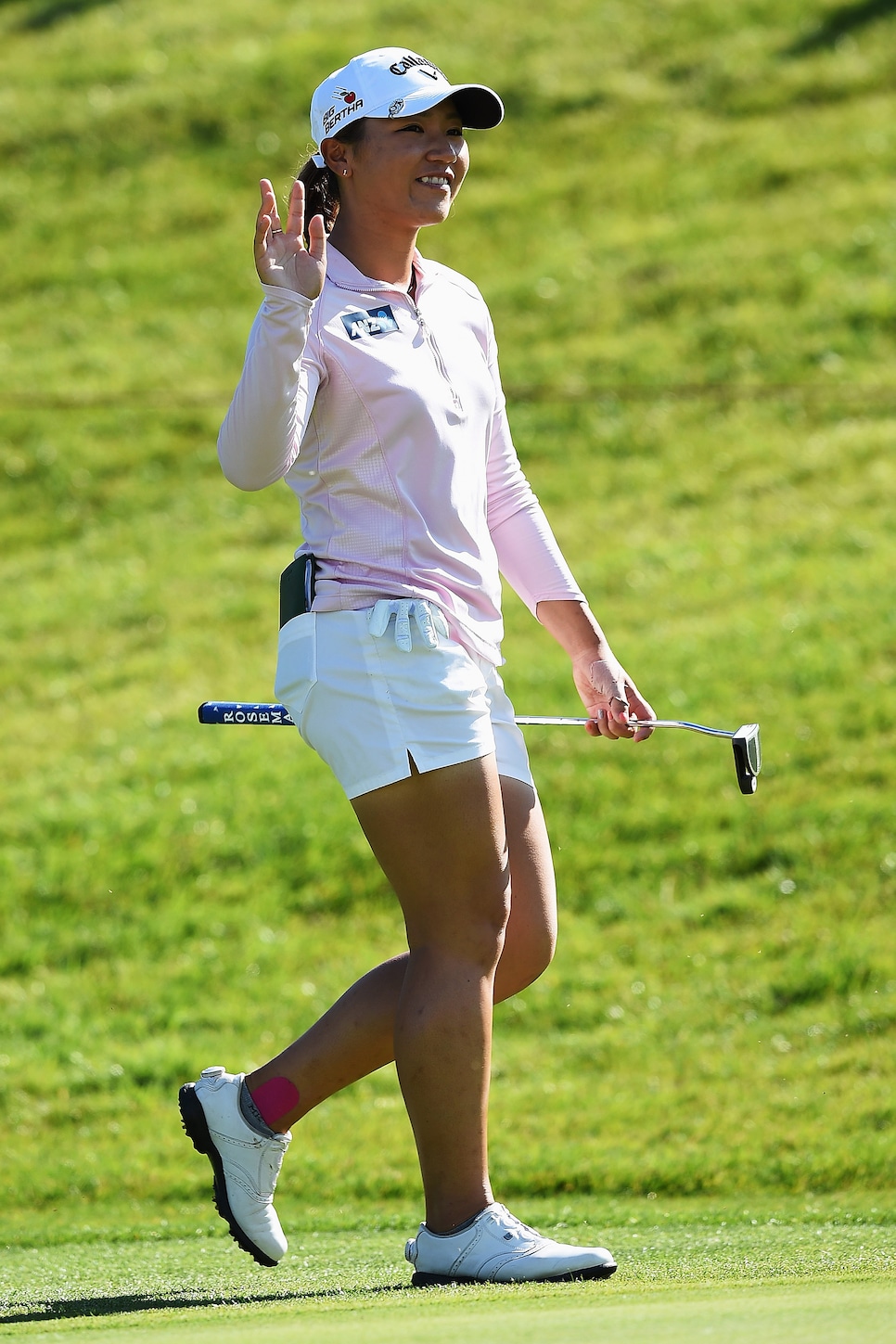 Photo By: Stuart Franklin/Getty Image
Photo By: Stuart Franklin/Getty Images
Photo By: Stuart Franklin/Getty Images
Photo By: Dean Mouhtaropoulos/Getty Images
Photo By: Dean Mouhtaropoulos/Getty Images
Photo By: Dean Mouhtaropoulos/Getty Images
Photo By: Dean Mouhtaropoulos/Getty Images
Lydia Ko
Ko made history as the youngest women to ever win a major with her Evian Masters victory and, as always, looked cool and casual doing it! Even at just 18, she has natural swag that draws people to her. She's never been one for outlandish looks, and her clothes tend to be less athletically inspired than most other LPGA players. Even so, her simple, laid-back style looks comfortable and seems to perfectly match her personality.
Callaway Apparel
Photo By: Stuart Franklin/Getty Image
Michelle Wie
Conversely, Wie not only rocks pure, athletically inspired outfits, she's constantly pushing the boundaries and bringing new looks to the game. Her style fits her frame perfectly. Friday's outfit packed a powerful punch by mixing subtle patterns with the skirt and leggings but still keeping everything in a modern, two-tone pallet.
Nike Golf
Michelle Wie
Wie's new hairdo was anything but two-tone. But it looked absolutely awesome -- pretty punk-rock and very cool.
Nike Golf
Charley Hull
Big, bold stripes continue to trend on and off the course, and Hull's retro rugby stripe is another cool iteration of the look.
Lacoste
Photo By: Stuart Franklin/Getty Images
Shanshan Feng
It wasn't all smooth sailing at the Evian Masters as the LPGA Tour is always good for a couple of whacky patterns. I honestly don't know what's going on here.
Photo By: Stuart Franklin/Getty Images
Wade Ormsby
If you dig flat brims but can't quite pull off the full-skater flat, you'll be happy to know many brands are showing headwear styles that feature less curve but still give you a bit of shape. Ormsby's lid fits him perfectly.
Titleist
Photo By: Dean Mouhtaropoulos/Getty Images
Soren Kjeldsen, Joost Luiten, Raphael Jacquelin
Another Euro headgear trend is the short-crown visor. I'm not sure how or when we moved away from the majestic high-crown version of old, but these new ones don't look anywhere near as cool. While we obviously see some in the U.S., it's nowhere close to the numbers on the European Tour, and I have no idea why this headwear movement has such prevalence across the pond.
Photo By: Dean Mouhtaropoulos/Getty Images
Rafa Cabrera-Bello
We'll talk more about this as we move into fall, but the dark, long-sleeve shirt under a short-sleeve polo in a contrast color is not a good look. There is simply too many good knitwear options to wear this ridiculous style. Also, looking at the market for fall, we will talk a lot more about great looking long-sleeve polos and, yes, wearing those over compression layers will be acceptable.
Oakley
Photo By: Dean Mouhtaropoulos/Getty Images
Darren Clarke
Alright Mr. Clarke, I see you and your Hermes belt. Man, must be nice being a Ryder Cup captain.
Hermes
Dunlop Clothing
Photo By: Dean Mouhtaropoulos/Getty Images