Social Media
Photos: The Week in Golf Instagrams
Lunching with President Clinton, pitching at Fenway and soaking up the last days of summer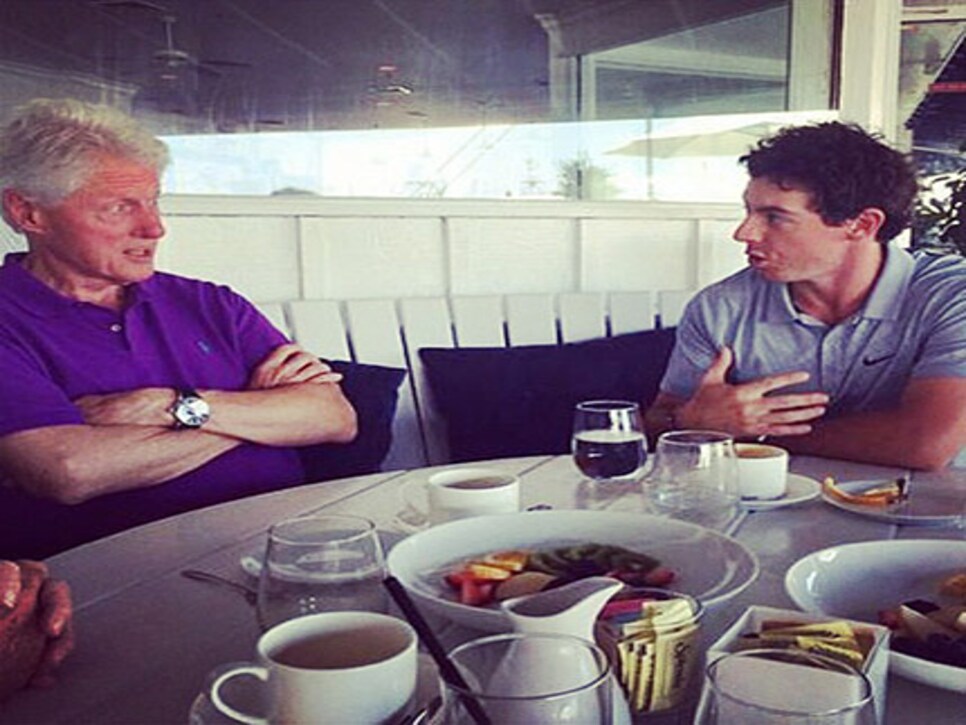 Rory McIlroy @rorymcilroyofficial
Had a great time today catching up with President Clinton, always a pleasure and education spending time in his company!
Golf Channel @golfchannel
All the way to the bank. Chris Kirk (-15) fires a flawless 66 for his 3rd #PGATour title at the #DBChampionship.
Oli Berg @thehighfade
Would love to see the home town kid grab a W this week @ TPC Boston and lock up a Ryder Cup Captains pick! @keeganbradley1 #beantown #deutchebankchampionship #pgatour #fedexcup #playoffs #keegansNuts #thehighfade
750 TheGame @750thegame
Austin Ernst followed up a career low 62 in a round here in 2013 by winning the Portland Classic in 2014. #lpga #portlandclassic #austinernst #golf #portland #columbiaedgewater #750thegame
Justin Rose @justinprose99
Getting prepped to hit balls with a great mobility drill for the hips and t-spine. Make sure you follow @360_healthperformance
Kiel James Patrick @kjp
At the driving range with @SarahKJP setting these in the ocean with the sun.
Michelle Wie @themichellewie
Air Wiezy pt. 2 @nikegolf @nike @jumpman23 #AirWiezy
Bud Cauley @budcauley
excited to get my first win as a pro today!! it was a BLAST can't wait for next week- thanks everyone for the texts and calls!
Golf Digest @golfdigestmag
It's official: Paul McGinley picked Ian Poulter to be on the Euro Ryder Cup team. He'll be BACK! McGinley also chose Stephen Gallacher and Lee Westwood
Morgan Pressel @mpressel
Thanks @callawaygolf for overnighting me two new three woods after mine broke yesterday! Off to the range to see what will work this weekend! #x2hot #bigbertha #vseries #teamcallaway @barrylyda #pdxclassic14
Blair O'Neal @blaironealgolf
Tryin to catch myself a fowl ball! #GoDBacks @Dbacks
Steven Garcia @steven_garcia.flac
1930 Ruxton C #pebblebeach #ruxton
Amanda Dufner @aduf99
Trying to soak up the last days of summer. #poolday #tantime