Social Media
Photos: The Week in Golf Instagrams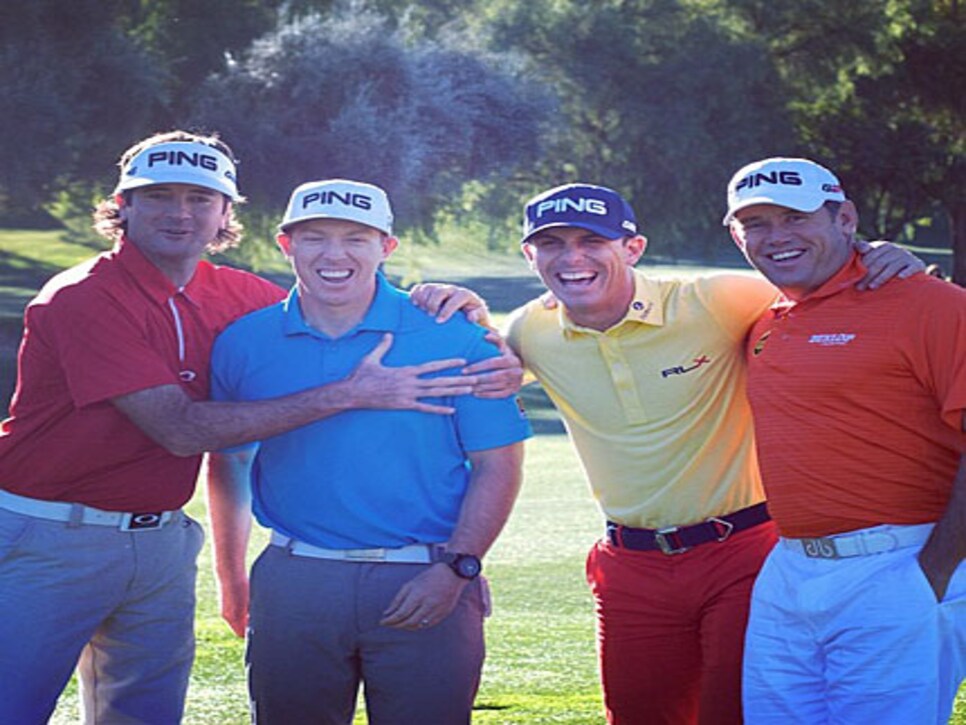 Ping Tour @pingtour
That's a wrap! The 2014 #PINGShoot is in the books. A special thanks to PING pros Billy Horschel, Hunter Mahan, Bubba Watson and Lee Westwood! #TeamPING #PlayYourBest
Bandon Dunes Golf @bandondunesgolf
Out getting some #sunrise photography #nofilter #JanuaryInBandon
Morgan Pressel @mpressel
Just your typical Tuesday morning yoga class with @madisonpressel! #aerialyoga #defygravityyoga #loveinversions
Chad Coleman @hashtagchad
Name that player. #HumanaChallenge
Lindsey Vonn @lindseyvonn
Surgery went well and I'm resting with loved ones
galfapp @galfapp
TIP OF THE DAY: Don't think just swing!!!
PGA Tour @pga_tour
Kevin and Elizabeth Chappell have differing outlooks on today's football game. #PGATOUR
Nomad Mediatv @nomadmediatv
And the winner is #lukedonald #formula1 #yasmarinacircuit #abudhabihsbcgolfchampionship #Race with #sergiogarcia #paulcasey #matteomanassero
Donald J. Trump @realdonaldtrump
Best speech in #GoldenGlobes history-
Natashaaaa @natashamccolmxo
Had the best first day in Abu Dhabi ♥♥ #golf #golfers #selfie #sergiogarcia #jamiedonaldson #padraigharrington #philmickelson #abudhabi #pro #golfchampionship #adgc #blondie #raybans #love #instadaily #potd #uae #dubai
Blair O'Neal @blaironealgolf
Wearing my orange! Go Broncos!!!!