The Week In Style: 02.19.14
Mr. Style's weekly look at what people are wearing on and off the golf course.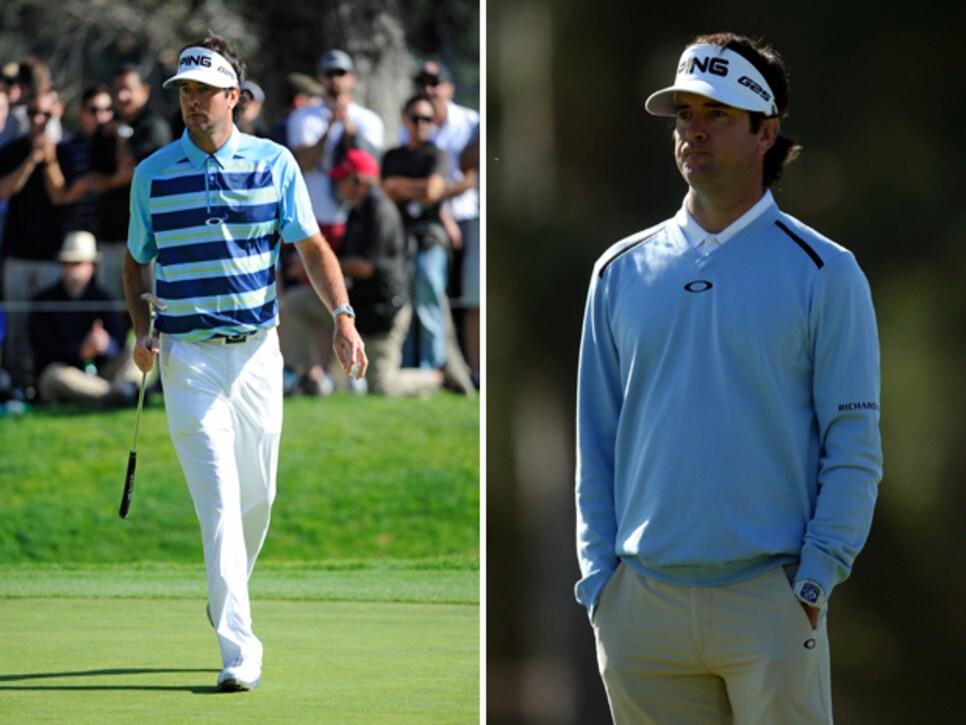 Bubba Watson
We're really impressed that Bubba is now wearing his Oakley golf shirts in the correct size. And he's also right on trend with the big bold stripes. While we're throwing compliments around, we ought to mention that baby blue is the perfect color for the camera.
Ian Poulter & Matt Kuchar
For our next act... Kuchar and Poulter. Well, at least they made the style cut this week.
Dustin Johnson
It's hard to find anyone on tour with better fit than Dustin Johnson. He's thought out all of the details, and consistently delivers from a style standpoint. Simple, straightforward, no-nonsense. Good stuff!
Jim Furyk & Justin Rose
Talk about contrast. I'm sure your first impression when you see the Dunning clothes on Furyk, is "OK, all dark." But with the addition of those adidas shoes, it really makes a stylish, sporty statement. Now, let's address the Ashworth outfit on the U.S. Open champ. Interesting color choice, interesting coordination and very savvy to wear the dark belt rather than a white one.
Cameron Tringale
Tringale always looks trim and fit in the Nautica Golf apparel, and it's nice to see him playing well, too.
Keegan Bradley
Check out the Red Storm laces on Keegan Bradley. But of course, we always assume he'll be in red, white and blue.
Wayne Gretzky
The great one in GFORE Gallivanter shoes! (Between you and me, I prefer Paulina following Dustin around).
Ryo Ishikawa
Just look at the details: An unusual belt, perfectly-coordinated watch and bracelet, synchronized armband, and striped placate on his shirt.
Lee Westwood
We just wanted to share this image of Lee Westwood simply because it looks terrific. Trust us, he looks good up close as well.
Jason Dufner
Here's Jason Dufner looking like he just came from a cookout. Check out those new FootJoy DNAs, and check out the beautiful cut of those trousers.
Ryan Moore
Ryan Moore at Riviera taking a page from Hogan's book with the pinstripe shirt and classic pair of trousers.
Aaron Baddeley
Baddeley has been wearing Ogio apparel for some time now and it appears he's having fun with it.
William McGirt & Brian Harman
Say hello to Sergeants McGirt and Harman (to be fair, DJ also wore the stripes on Saturday). I prefer this take on team unity as opposed to identical outfits, and all three played beautifully.