The Week In Style: 11.20.13
Mr. Style's weekly look at what people are wearing on and off the golf course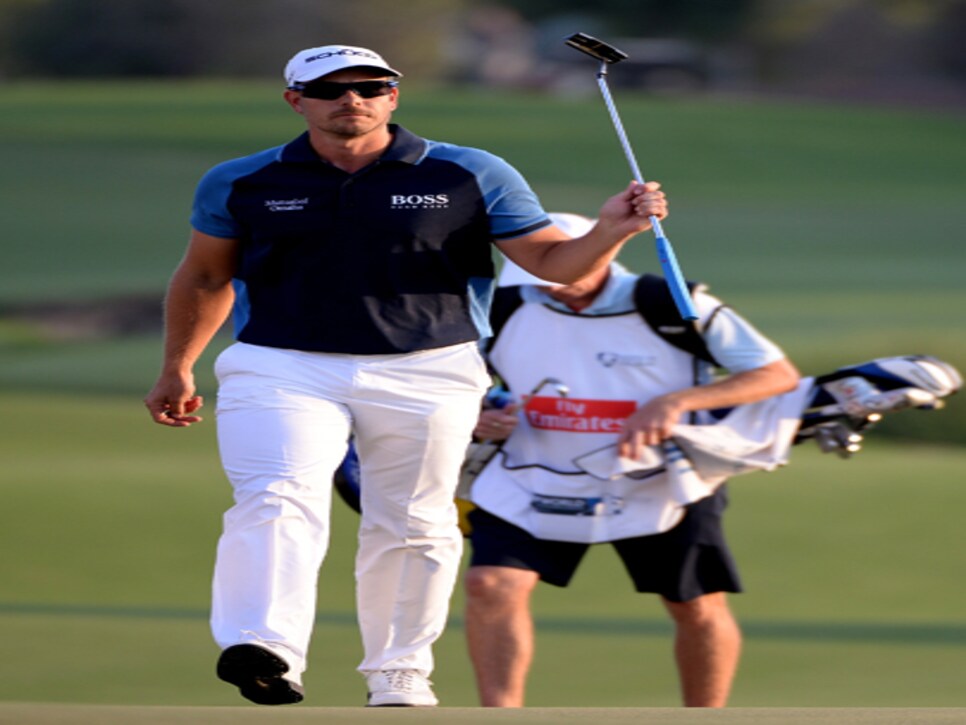 Henrik Stenson
Henrik is definitely a Boss. What I find interesting about this is how he's matching his shirt to his putter grip. Maybe this is a new trend? If he's doing it, I'm positively doing it.
Lexi Thompson
This is a photograph of a very successful teenager, dressing and looking like a teenager. It's all good, don't you think?
Rory McIlroy
Let's hope Rory makes a New Year's resolution to drop the white belt. It might be the real reason for his struggles. Also, notice how body language affects the overall look of his outfits. Keep those shoulders up!
Adam Scott
Message to tournament directors: Do your best to find out what size your potential winners are before having them don a jacket. Taking nothing away from the winner or the tournament, but this might be the only image of Adam Scott that exists of him not looking particularly good.
Lee Westwood
Speaking of looking good, have you ever seen an image of Westwood where he doesn't look incredibly fit, and his clothes don't fit to a T?
Caroline Wozniacki
Caroline's still with Rory, eh? She's looking incredibly athletic in this outfit. I wish some LPGA players could take a page from Wozniacki's wardrobe.
Graeme McDowell
The 2013 Belt of the Year award goes to Graeme McDowell.
Alejandro Canizares
The 2013 Worst Belt of the Year award goes to goes to Alejandro Canizares.
Ai Miyazato
Here's another spectacular image of Ai Miyazato, who might just be the most creative dresser on the LPGA.
Luke Donald
Hold on, isn't that the U.S. Ryder Cup shirt on Luke Donald?
Michelle Wie
This is a great image of Wie. It looks like she lightened her hair, and I think it looks fantastic! I like the little zipper accent on her skirt pocket, and notice she's also playing with a watch on. Is that an Omega?
Pornanong Phatlum
Notice the compression tights on Pornanong. Another LPGA player who rarely disappoints in the style department.
Harris English
Harris has clearly been working out, and with great success. Congrats!