Golf Instruction
9 Ways To Lower Your Handicap This Year
Want to get better at golf this year? Get serious and follow these nine rules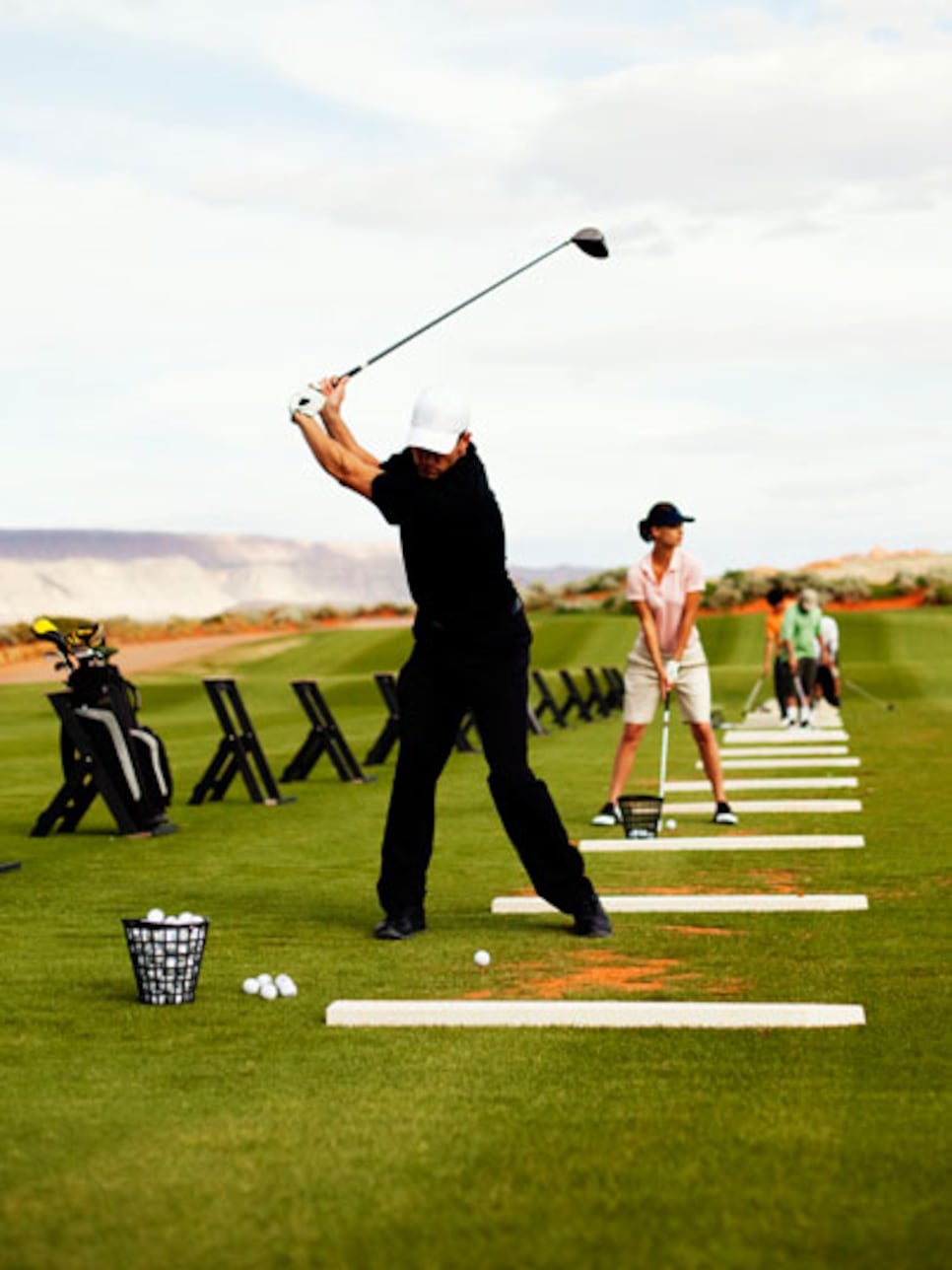 Go To The Range
And keep going to the range. It's not enough to play as many rounds as you can. Hitting balls at the range helps to groove a repetitive swing (hopefully, not a bad one) and will keep the number of "I haven't played this poorly in years!" rounds down. So go to the range early and often.
Practice Your Short Game, Too
When was the last time you practiced your short game? You know, really practiced beyond just rolling a few putts before teeing off on No. 1? This year, pick a putting drill and commit to practicing it before or after every round for 15 minutes. And really work on those four-footers. Columbia professor Mark Broadie writes that a 90-golfer makes 84 percent of his/her three-footers (a scratch golfer makes 93 percent), but just 65% from four feet, while a scratch golfer converts 80 percent. Those putts just outside the gimme range can add up quickly.
Check Your Equipment
Do you play a driver that Ben Hogan used to endorse? Are the grooves on your wedges so worn down you can't see them anymore? Do your grips disintegrate in your hands? Then it's time for an upgrade. Oh, and while you're at it, get fitted for clubs. Regardless of your skill level, having equipment that fits your body and swing can make a huge difference.
In our 2013 case study
, eight out of nine players (ranging from single digit handicappers to guys that shoot in the 90s) gained 1.7 strokes after getting fit. Off the tee, the average yardage gain was 21 yards.
Take Fitness Seriously
Oh, you do 30 seconds of stretching before you tee off? Good for you! That's not enough. Check that, that's not nearly enough. A full daily stretching routine will do wonders for your flexibility (a winter of sitting at your desk hasn't done your swing any favors) as well as help prevent injuries that could end up shortening your season. And don't stop with stretching. Golf Digest fitness guru Ben Shear says golfers should work on core strength. And if you're building strength, you're helping to add distance. In Mark Broadie's book, "Every Shot Counts," he says a 90-golfer is 70 yards shorter on average than a pro golfer, leaving the less-skilled golfer a longer approach. From 100-150 yards out, that golfer will hi the green nearly half the time, but from 150-200 yards, that drops to just 26 percent.
Play Different Courses
We're not saying to abandon your home course, but branching out when given the opportunity will help your golf game. Golf is about making adjustments so playing the same course over and over can lead to a golfer getting too comfortable and usually skew a player's handicap down since the familiarity with a course makes shooting lower scores easier. Yes, the goal is to lower your handicap, but you also don't want it to be inaccurate. Challenge yourself by playing different tracks that feature faster greens or more hazards and you'll improve your all-around skills. Plus, you'll make your rounds feel more fresh.
Play By Yourself
Sure, you look forward to your weekly game, but getting out by yourself -- even if just for a few holes -- is fun too. It's also a great way to practice. With no one else around, playing multiple golf balls on the same hole, can be very useful, especially for figuring out how far you actually hit all of your clubs. Get a range finder to get accurate yardages so you can stop throwing away shots by coming up short on well-struck iron shots. Just be prepared to lose a few more balls than usual -- and don't hold up anyone behind you while looking for those balls.
Play In Less-Than-Ideal Conditions
After an especially brutal winter, many courses won't be in top shape for a while. That doesn't mean you shouldn't play on temp tees and greens, though. Practice is practice, and the sooner you get outside walking and swinging, the sooner you'll find your "mid-season" form. And don't be afraid to play in the rain/cold/heat/etc., either. It will make those times you find yourself stuck playing in bad weather (hey, it happens) a lot more bearable and make you a lot more likely to avoid carding bad scores that will inflate your handicap.
Keep Track Of Your Stats
Knowing your score is nice, but knowing how you got to that score is even better. Did you "play better than your score"? Then prove it. Keep track of your fairways hit, your greens in regulation, your putts per hole, and where you miss fairways and greens to start. Want to go deeper? Download an app that will give you detailed feedback on every shot you hit. That kind of information can tell you what you need to work on most. You know, for when you go to the range.
Maintain An Actual Handicap
Stop saying you "used to be a 15" or labeling yourself a "90s/80s/etc. golfer." That's too vague. Having
a Golf Digest handicap
will immediately give you a better gauge of what level golfer you are. Not only will it keep track of your scores, but it will factor in the different golf courses on which they came. More importantly, having an official handicap it will allow you to monitor how much you're (hopefully) improving and let you compete with players who are better than you. Keep up the good work and you might also need a calculator to keep track of all your new-found nassau profits.