Style
The Week In Style: 10.28.15
What worked – and what didn't – this week in Las Vegas, Hong Kong and Taipei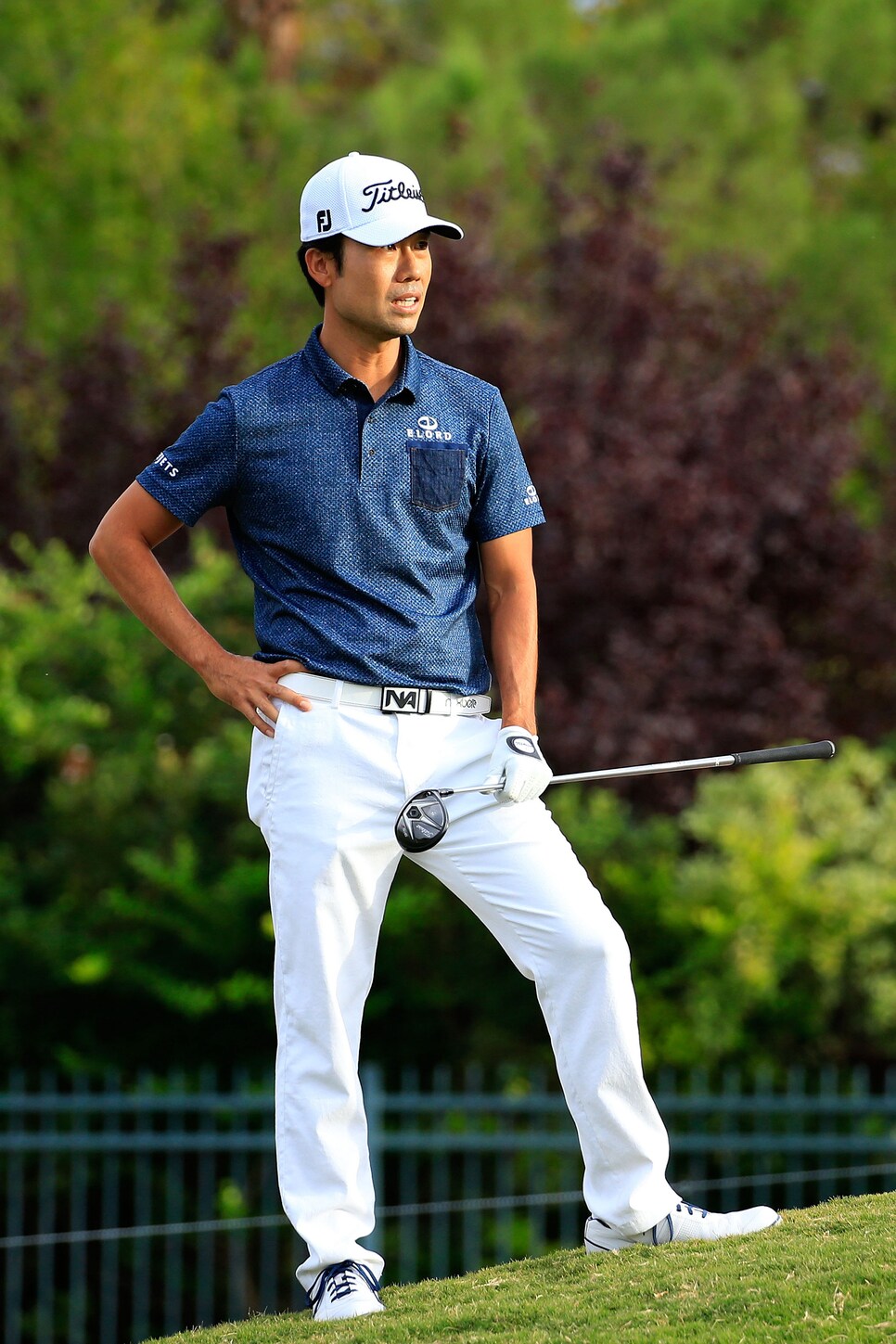 Photo By: Cliff Hawkins/Getty Images
Photo By: Scott Halleran/Getty Images
Photo By: Cliff Hawkins/Getty Images
Photo By: Cliff Hawkins/Getty Images
Photo By: Scott Halleran/Getty Images
Photo By: Victor Fraile/Getty Images
Photo By: Ian Walton/Getty Images
Photo By: Victor Fraile/Getty Images
Photo By: Thananuwat Srirasant/Getty Images
Photo By: Thananuwat Srirasant/Getty Images
Photo By: Thananuwat Srirasant/Getty Images
Kevin Na
We kid Kevin for all of the whacky Elord designs he has worn this year, but he finally landed on a solid one. This denim-effect polo looks cool because it creates interest through texture as opposed to pattern. Those are the type of subtle details we can get behind.
Elord
Footjoy
Photo By: Cliff Hawkins/Getty Images
Smylie Kaufman
Smylie showed his pearly whites in Las Vegas after winning his first PGA Tour title at Schriners Hospitals For Children Open. Kaufman's Sunday style was sharp and simple: gray pants and a well-fitting white polo that look never gets old.
Polo Ralph Lauren
Photo By: Scott Halleran/Getty Images
Rickie Fowler
This is some seriously boss headgear! Rickie has always looked sharp in this small curve brim, but now his hat says KING (named after his new Puma Driver) and it looks awesome in every color. Sure the typeface is cool, but let's be real. He's wearing a cap that says KING and that just looks really sweet.
Puma Golf
Photo By: Cliff Hawkins/Getty Images
Ryo Ishikawa
Not all plaid pants are created equal, and the tone and scale of Ryo's trousers make them look more "modern tour pro" than "bad Caddyshack costume." A good mix of black and gray always helps soften a pattern, and the smaller square pattern help make these pants look less optical.
Callaway Apparel
Photo By: Cliff Hawkins/Getty Images
Jason Dufner
The Dufman finally lost the white belt! This is the way to do it. You don't need to match the color of your pants or polo exactly. You've just got to stay in the same color tone. This green-on-teal move is perfect.
Vineyard Vines
Footjoy
Photo By: Scott Halleran/Getty Images
Justin Rose
Solid work from Rose this weekend. The UBS Hong Kong Open champion put these two solid looks in sharp color together this weekend and rolled into the winner's circle. A white pant pops any outfit, and this a very cool look at how the simplest looks can feel very stylish.
Ashworth
Photo By: Victor Fraile/Getty Images
Anirban Lahiri
That said, white pants tend to look better with lighter-colored shoes. Less contrast below the belt equals smoother style from head to toe.
Photo By: Ian Walton/Getty Images
Victor Dubuisson
If Joe Dirt and Donald Trump had a child it would look like this …
Hugo Boss
Photo By: Victor Fraile/Getty Images
Suzann Pettersen
I love this look. This is the perfect way to blend minimal, modern color with personal touches of pop color. I really do like the neon movement trending on and off the course this year, but it's important to remember a little pop color goes a long way. Hats, shoes, belts and other accessories are some of the best ways to bring this bright move into the most amount of your looks without going full on day-glow.
Nike Golf
Photo By: Thananuwat Srirasant/Getty Images
Lydia Ko
Patterned outerwear is another look that I love and hope to see more of in 2016. Most of the foul-weather gear on the PGA Tour tends to be blue, black and boring. Most men would do well to take a page out of Ko's book here and look for a small check rain jacket like this one. This is exactly what we're talking about when we say, "stand out in subtle style."
Callaway Apparel
Photo By: Thananuwat Srirasant/Getty Images
Morgan Pressel / Xi Yu Lin
Flex the floral! Floral prints aren't going anywhere next season, and I'm looking forward to seeing more botanical bottoms on both tours in 2016. I get that most guys may be weary of wearing flowers, but no matter what pattern your working with, playing with prints on a darker ground makes any design easier to wear. If you're taking the pattern-pant training wheels off this season, follow Lin's lead and keep whatever you wear against a black base and your patterns in abstract designs.
Lilly Pulitzer
Photo By: Thananuwat Srirasant/Getty Images